If you've only got 24 hours to see Vancouver, you better get cracking!
Research is your friend, and this guide to what to do in a day in Vancouver will sort you right out. I've actually been to the city three times now – I know, lucky, lucky.
The west coast Canadian city with its mountains, coastline, indigenous history and epic food scene will definitely make you want to come back. But, let's focus on what you have this time round: one day in Vancouver.
You're going to need to stick to the centre, which means you'll miss the likes of Grouse Mountain, but the fact the city is easily walkable means you'll be able to pack in a fair few of the top Vancouver attractions.
Of course some things are weather dependent, but these would be my top recommendations to see Vancouver in a day.
8am: Walk around Stanley Park
Wherever you're staying in the city, I'd get up as soon as it's light and make your way to Stanley Park. The 405 hectares of parkland with towering trees lie right on the water with views of the mountains before giving way to beaches, lagoons and lakes.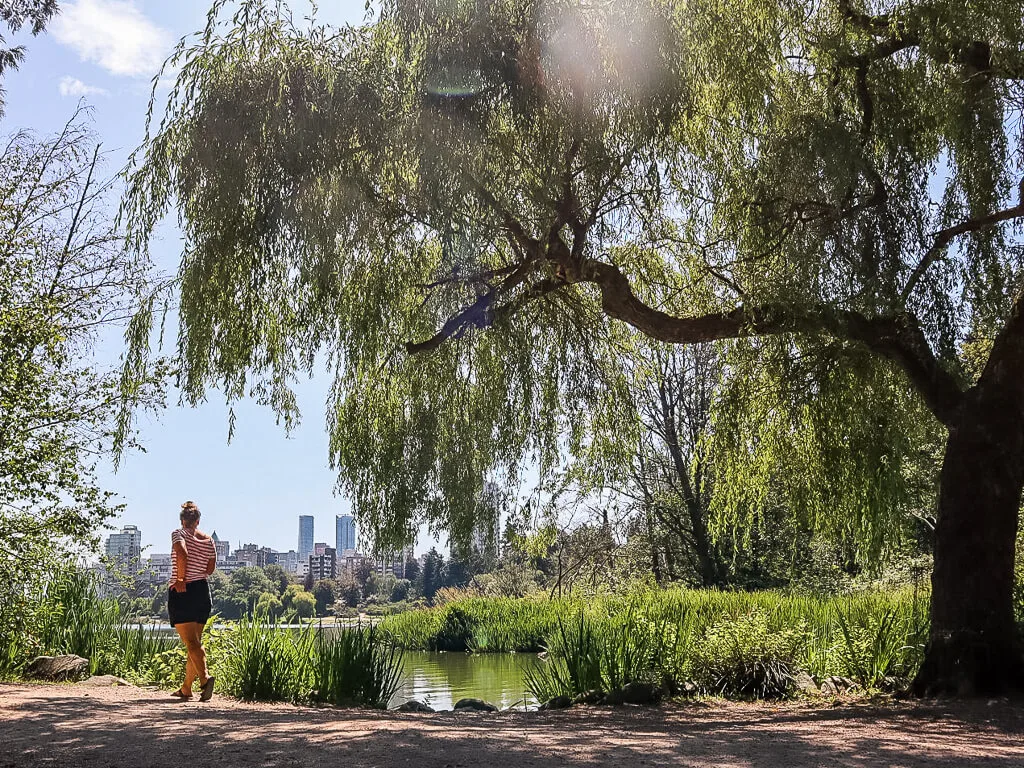 You can dive straight in and get lost under the canopy of leaves or follow some of the seawall around the area.
Stanley Park is the perfect way to start your 1 day in Vancouver.
9am: Breakfast at Nelson the Seagull
After your morning walk, breakfast in arguably the coolest part of town, Gastown. Nelson the Seagull is just one among many trendy joints in this area but the coffee here is often talked about as the best. The menu is quite minimalistic but the eggs and avocado hit the spot to get you the energy for your 1 day in Vancouver.
10am: Wander around Gastown
This is kind of a cool neighbourhood so before you move on, take a walk along Water Street's trendy boutiques, stopping for a picture with the Gassy Jack statue and checking out the Gastown steam clock. Time it right – somewhere between the hour and quarter past – and you'll hear one of its bizarre sounding hourly whistles.
11am: Keep the zen going at Dr. Sun Yat-Sen Park
Just a 10-minute walk away, you can then pop in for a quick wander around this Chinese garden. Part of it is totally free and a really beautiful and tranquil place to spend half an hour. There's a lake, colourful flowers and traditional Chinese awnings.
If you don't mind paying $10, you can also hop next door into a second garden that is said to be even more beautiful and the first Chinese garden built outside of China.
Noon: Learn about the indigenous peoples
Another quick walk away is the impressive Vancouver Public Library. It's a cool building from an architecture perspective but inside they have an indigenous storyteller in residence.
Oral storytelling was, and still is, a big part of indigenous communities and to safeguard the tradition, a person spends a year here running various initiatives and telling some of the traditional stories for free.
How cool is that?
1pm: Ferry over to Granville Island
From here, hop on a quick ferry to Granville Island. They run every five minutes and cost no more than $5 depending on where you board.
Once you dock, head straight for the public market where you're spoiled for choice with lunch options.
The Stock Market, Zara's Deli and Celine's Fish and Chips are among the most popular. Once you've got a full belly, explore the rest of the island's boutiques, art stores and craft co-ops. If you're anything like me, you'll be on the ferry back with bags full of souvenirs.
Ben still wears the Mountie socks I bought him from here, and I still think about the ice cream.
3pm: People watch in Robson Square
Back over on the main island, see if you can squeeze in a quick half hour in Robson Square.
They say it's one of the city's most important landmarks and you'll often catch loads of free events here: concerts, plays, salsa classes and even ice skating in the winter.
Plus it's the place to join on a Toonie free walking tour if you fancy getting a bit more info on Vancouver.
5pm: Jump aboard a seaplane
Over by Vancouver Harbour, you can just sit and take in the stunning views of the mountains and lake, which I'm not sure ever get boring, or you can see them from the sky with a seaplane tour.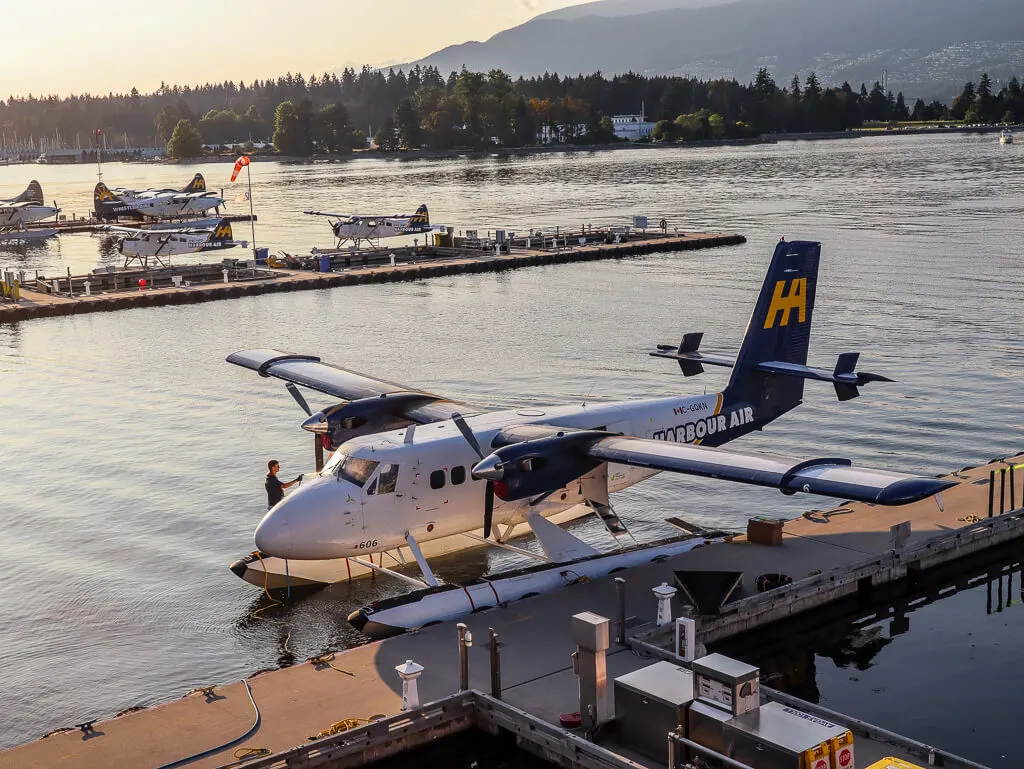 Granted, this is a little on the extravagant side but it's totally worth it in my opinion. The classic panorama experience costs $135 and if you time it right you might catch sunset over the city.
---
READ MORE
Victoria Island by Seaplane and Ferry
---
6pm: Finish off all the food in Coal Harbour
Because of the big mix of cultures in the city, Vancouver is known for its food scene. A lot of the best restaurants are in the Coal Harbour area where there's also a bit more of an atmosphere.
Depending on what you feel like, I'd book in somewhere like Ask for Luigi, Tacofino Taco Bar or Bao Bei.
7pm: Catch a hockey game
Depending on what time of year it is, the ultimate Vancouver thing to do would be to catch a Canucks ice hockey game at Rogers Arena. Tickets are around $80 but you'd need to book in advance.
Alternatively enjoy drinks and dancing down Granville Street, in Yaletown or Davie Village.
More than a day in Vancouver?
If all of this has you tempted to stay a little longer in Vancouver and its surrounding areas, here are just some of the other things you can do in Vancouver.
Vancouver is a really, really cool city and there's so much to enjoy for free as you wander around. I really hope I get to go back one day, and I hope you have a brilliant time there too!
READ MORE: How to Drive from Vancouver to Banff
---
Here's why you need to go to Canada…
More travel advice for Canada
7 Best Places to Go in Canada in Summer