It's easy for Brits to enjoy a long weekend in Italy. You can get return flights for less than £100 and it's only two hours away. Perfect. Let's weigh up exactly where you should go for this long to Italy, shall we?
I've spent about four months in Italy in all, over five years, with the longest stint being a month and the shortest just a few days. Where to go in Italy for the weekend is always the biggest question though.
I love Italy – not everywhere I've visited, as you'll see – but in general I'm sucked in by the food, architecture, drink, outdoors lifestyle and cute little towns and villages surrounding the lakes.
Not showing off or anything but I've been to:
Florence
Lake Como
Mantova
Alberobello
Venice
Pisa
Genoa
Turin
Ancona
Pompeii
Verona
Trento
Ceglie Messapica
Champoluc
Naples
Lecce
Trentino
Where to go for a long weekend in Italy
If you are looking for cheap flights to Italy, Latest Deals can help you. Their website publishes new flight deals to Italy and other European countries starting at £30. Make sure to check them out and save money on your next flight.
Contents
If I had to narrow it down to my top 5 places to visit in Italy for the weekend, the list would read like this:
1. Lake Garda
2. Cinque Terre
3. Mantova
4. Florence
5. Trento
And the least?
1. Naples
2. Milan [2019 update]
The others float somewhere in between.
The worst places in Italy (IMHO)
Milan for a long weekend
Milan was a super flashy city, which apart from the incredible Milan Cathedral I couldn't really see much justification for.
Everyone just seemed to wander about looking skinny and wearing big sunglasses while shopping, apart from the sunglasses part I'm not really into any of that. I was there for three days and wasn't impressed.
♥
[UPDATE 2019] Since writing that I've actually been to Milan for the weekend TWICE, for work reasons, and have found a bit more to the city. I've changed my mind and I think if you're looking for a weekend in Italy, Milan is actually a pretty good shout.
It's easy to get to and easy to navigate, and IMO there's not that much to do, especially for a city, which means you can spend more time on the food and drink. If you're into religious buildings, then you'll have a great time, but for a city, it's more of a business place than sightseeing. If you need some accommodation, check out Rentola.
I'd definitely recommend heading to the Navigli area for dinner – this was an absolute game changer for me. The aperitivo there is amazing. Also, I was surprisingly interested in the San Siro Football Stadium and enjoyed my tour there (courtesy of my boyfriend).
Milan wouldn't be in my top 10 for a weekend in Italy, but still, it's not as bad as I thought after that one visit.
---
READ MORE: What to Do in Milan for a Weekend
Before you leave, you need to check the current ETIAS requirements for Italy on this link.
"At the end of the year 2022, it is expected that travellers from visa-exempt countries will need to have a valid ETIAS visa waiver to enter Italy and other Schengen member countries for short-term visits. Citizens of several non-EU countries are required to obtain a Schengen visa for tourism and business purposes to enter Italy for short-term stays."

– ETIAS Italy
---
Long weekend in Naples?
And the other one on the 'not impressed' list would be Naples. It's a dirty, grimey city, to put it bluntly. While we were waiting for our hostel to open my boyfriend (at the time) got beaten up for no reason on some church steps, and had to be rescued by the local taxi drivers. Obviously that didn't make for a good start to our trip.
Added to that there was rubbish and dirt everywhere. We went to see Mount Vesuvius and Pompeii and then left ASAP.
I would however go back to Naples, but only to go to the Amalfi Coast – next up on my list of places I want to go in Italy for the weekend, or, maybe longer.
The BEST places for a long weekend in Italy
If you want to go on a weekend break to Italy, let me show you where to go…
1. Lake Garda for a weekend
Lake Garda is stunning. I stayed in Bardolino for the Wine Festival and went on bike rides round the lake to see more of the area. It was great value for money, lots going on and loads of outdoorsy things to do.
I had a brilliant time in my week round Lake Garda exploring the cute little towns and villages surrounding it.
I'd 100% go back to Lake Garda on a long weekend in Italy.
2. Weekend in the Cinque Terre
The Cinque Terre is one of the most beautiful places I've ever seen, despite the rain when I was there. You can hike between the five villages around the cliff face stopping off for wine and anchovies at every one. Each of the villages has its own character and delicacies; this is somewhere I'd definitely go back to.
The Cinque Terre is the perfect choice for an Italy weekend break – the nearest airport is Genoa.
Check out my Quick Guide to the Cinque Terre
READ MORE: 15 Cool Things to Do in Cinque Terre
---
Follow me on Instagram Stories for the latest from my travel adventures!
[instagram-feed]
---
3. Mantova for the weekend
I'd never even heard of Mantova / Mantua before but I was invited to check out the Beatilla Farm Resort (which was great). It seemed like the perfect way to extend my time round Lake Garda as it was only an hour away.
Mantova is a bustling town come market day, but the rest of the week there's enough people for atmosphere but it's not overcrowded like the big Italian cities. The lake is beautiful, the shops boutique and the bars and restaurants flit between classic Italian and hipster Italia. It's also just an hour from Verona.
This means you can get cheap flights making it the perfect choice for a long weekend in Italy.
4. Weekend in Florence
Florence has the most incredible Duomo, and Ponte Vecchio. There were so many museums too – the Uffizi was awesome. I also had the most incredible pistachio gelato here that I've remembered for the next 7 years of my life.
If you're looking for accommodation in Florence then check out Housing Anywhere – they have some great properties all over the city.
My top three recommendations for Florence for your weekend in Italy are:
– A visit to the world famous Ufizii Gallery
– The Florence hop on, hop off tour around the city
– The Florence Walking Tour to see more of the centre
5. Trento for the weekend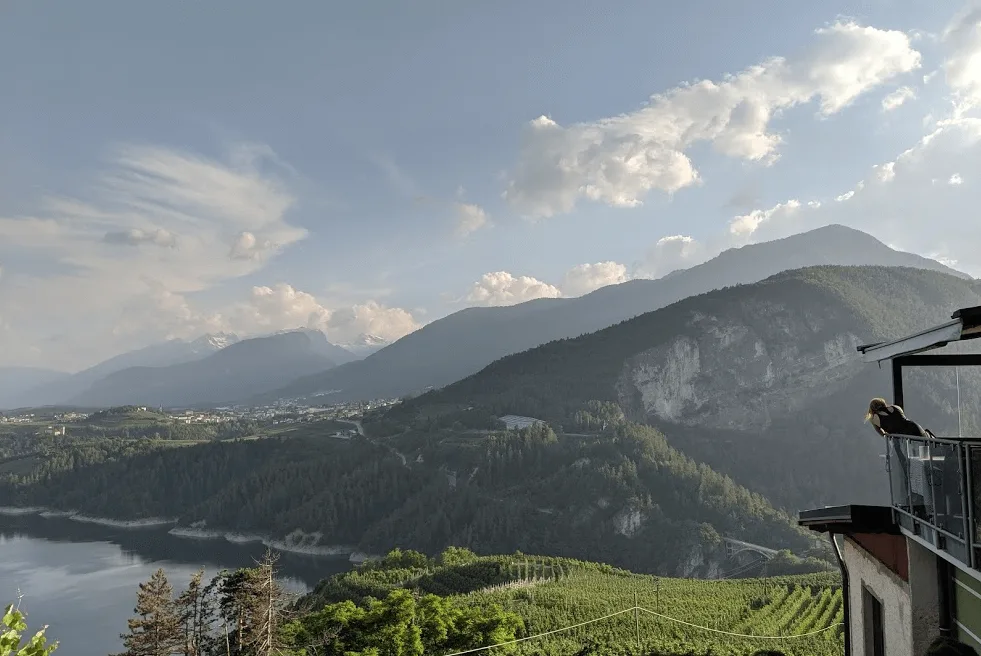 I loved Trento. Such a cool and beautiful city in the Trentino area of Italy. I spent the weekend there on a press trip so didn't really get to look around much, but I'd totally go back. Here you have easy access to the Dolomites, as you're surrounded by them, and then all the comforts of the city too.
The nearest airport to Trento is Milan so if you want to go to Italy for longer than a weekend, you can double up on cities. Read about all the castles I visited in Trentino here.
If you want to explore further, or have an extra day to spare, then South Tyrol is only 45 minutes drive from Trentino. There are so many great things to do in South Tyrol, but you can easily pick your favourite and pop in for an afternoon.
Italian cities in a weekend
Rome of course has a crazy amount of attractions to enjoy – it's one of the main things Italy is famous for. I'll never forget seeing the Trevi Fountain for the first time. And as I wandered around the ruins at night it was as if I'd gone back in time.
READ MORE: 13 of the Coolest Things to Do in Rome / The Best Souvenirs from Rome
Click here for some interesting news from Italy to understand a bit more about the country before you go.
Some people say Venice is overrated. I was meant to stay for three days and ended up there for seven so you can tell what I thought. Just walking the labyrinthine streets and getting lost at every turn to find a new marvel was an unforgettable experience.
Ah sweet Verona. I stood on Juliet's balcony, ate pizza in the main square, and gorged on gelato. And then we were late for the train and had to run with it all in our bellies. Definitely the most underrated city in Italy, that I've seen anyway.
I went back recently, just for the day, but got caught up sitting around in the squares drinking Aperol with friends, rather than looking around. Still had a fabulous time though and would totally go back again.
Perfect city for an Italy weekend break. There are so many great things to do in Venice on a weekend in Italy – you could go on a Venice food and wine culture tour, or take a private tour with a local guide, or how about an 'unusual' walking tour of Venice?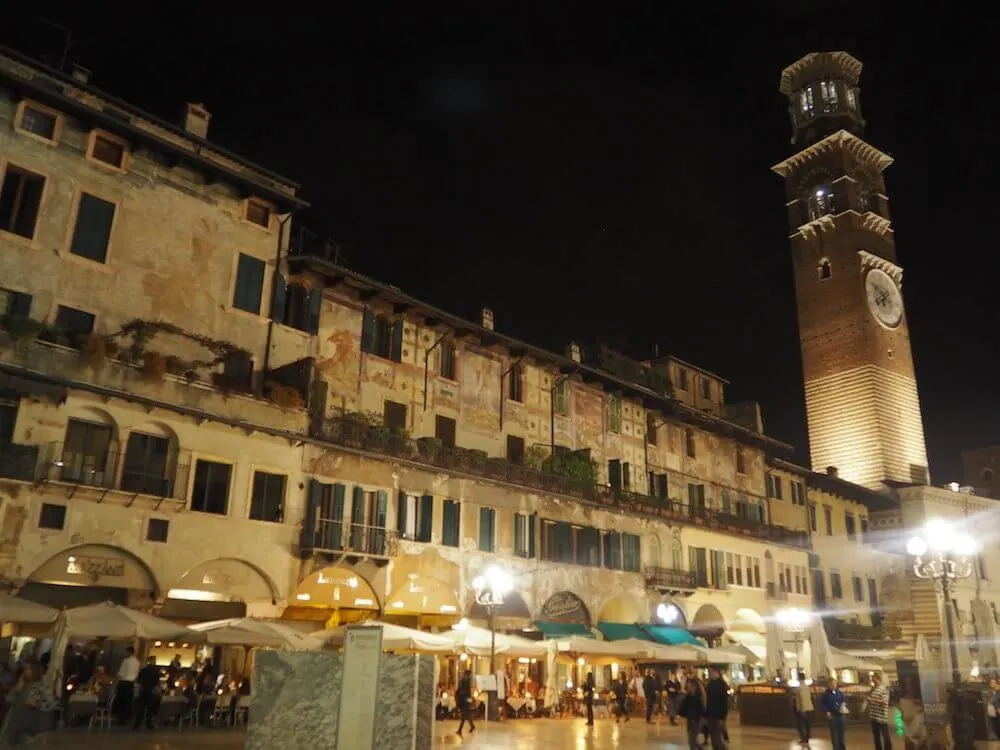 I was pretty disappointed by Pisa, in fact, we questioned whether it was actually the famous tower when we there. It seemed so small compared to the photos. Worth a day trip from Florence though and pretty easy on the train too. Once you get away from the Leaning Tower of Pisa, it's a really great city.
Turin is another great spot for a weekend in Italy. It's quite a small city, so you feel like you've done a lot in a weekend. I went for the day before I went out to Champoluc for the skiing, and vowed to come back one day. Also, my brother and his wife had a great weekend there a few months ago.
I visited Ancona purely for the ferry crossing over to Zadar in Croatia. I think we might've missed out on a beautiful part of Italy though. Ancona is known for its beaches and hill top cathedral. The harbour is a wonderful spot to spend the evening, and there are museums aplenty.
And finally, down south you can explore the town of Alberobello with its coned roof trulli houses. Make the most of the cheap prices and beautiful countryside down in Puglia. As yet it's the most undeveloped part of Italy. It's not far from Lecce, where I remember almost boiling to death in a botanical garden somewhere. Alberobello has got very busy in recent years, but there are plenty more amazing Italy hidden gems nearby, just check out that post.
Southern Italy is HAWT.
Really, really beautiful though.
The Italian Lakes in a weekend
Lake Garda. Loved it. See above for my top 5 places to visit in Italy. Would definitely go back, and my friend I was with has booked her second trip for this September.
Lake Maggiore – we had a lovely time at Lake Maggiore. We were on the less touristy side of the water, and had an amazing villa to enjoy so it was super chill. My absolute favourite part of the trip was driving up to Switzerland as the scenery was just incredible. It's so well located for many activities, and the food was great there too.
READ MORE: 25 Awesome Things to Do Around Lake Maggiore
Lake Como was difficult – to enjoy it as much as possible we needed a car, which was pretty scary to drive with those Italian drivers on the cliff face roads. It was SO expensive too. The views from the top were fantastic but I had to close my eyes on the drive back down. I wasn't the one driving don't worry.
Lake Orta was an easy visit from Lake Maggiore. It's the smaller, cuter lake, but it was raining on the day we went, so it was difficult to see it in all its glory. I wouldn't necessarily recommend you go to Italy for the weekend just for Lake Orta, but it'd be great to visit if you're nearby.
Ski weekend in Italy
Where to go in Italy for a ski trip hey?
I went to Champoluc, near Turin, for a weekend and had a fantastic time. I'd totally go again if the opportunity came up. The weather was great, the snow perfect, and there was barely anyone around.
READ MORE: Weekend Skiing in Champoluc
---
Map of the best weekends in Italy
More long weekend breaks in Italy
I think I've had a pretty good go at Italy but of course, there are always more places I'd love to visit.
I really want to go to Sardinia and Sicily, although they might actually be better for a week, rather than a weekend.
Bologna is an easy place to visit from the UK, and as I said somewhere above, I'm desperate to check out the Amalfi Coast – looks absolutely stunning.
– Flashdance moment in the Dolomites…
After my trip to Trento I'd also like to see more of the Dolomites, and I'd love to do some sort of Vespa ride around the countryside for a weekend in Italy. It'd be great to go back to Trento on my own time, as I was there for a press trip. It's a beautiful and totally underrated part of Italy I'd love to see more of.
Check out these great ideas for the best Italian souvenirs to bring home with you.
Getting around Italy
There's no reason why you can't see a few places in Italy if you have a week or longer – it's so easy to get around.
The trains in Italy are simple to use. You'll find the electronic board in the main hall, just like in England, and the individual train destinations are usually listed just outside the steps up to the entrance too.
Remember that you need to validate your ticket on the yellow machine before you get on the train or it's as if you never bought one.
Getting an overnight train was a fun experience too. I took one from Rome down to Alberobello and it was like an olde Harry Potter style train where we had to face each other and sit in a red leather carriage.
Loved it.
Although we did arrive absolutely shattered after barely getting any sleep all night. So, swings and roundabouts.
A few tips on food and drink in Italy
Take every opportunity to eat all you can in Italy. I've never had such an incredible plate as the gnocchi, mushroom and truffle oil I tried in Sirmione round Lake Garda.
Right now I feel like I'd go back just for that.
Have a long weekend in Italy and you'll need to get in touch with the 'aperitif'. Popular aperitifs in Italy include Aperol, Campari and Vermouth and they're knocked back just before dinner. The usual social thing is to meet your friends for an aperitif and then go out for a meal. They're served with a few tapas so if you're feeling a bit skint you can survive on the crisps and nuts that come with the aperitifs, like I did.
And of course, Prosecco goes down nicely whatever time of the day it is.
Never say no in Italy.
When I was in Lake Maggiore I decided to have a salad for lunch one day, to try and balance the indulgence, and then regretted every mouthful of the tinned tuna and lettuce as my boyfriend shovelled delicious creamy pasta into his mouth.
---
INTERESTED IN AN ITALY ROAD TRIP? Read my Italy road trip guide!
---
Best time to visit Italy
I've been to Italy in May, September and October in multiple years and have experienced sun, heat, cold and rain. If you want guaranteed sun obviously it's best to go from June to September, but of course that's when everyone else is there too.
Do you want heat? Or peace?
Where to go in Italy for the weekend
I think, essentially, there's no bad place to go in Italy, really. We all have our favourites, and I'm lucky to have seen quite a few places. It's difficult to decide exactly where to spend your Italian weekend, but I hope, I've helped in some way.
Italy is a beautiful country and wherever you go, I'm sure it'll be amazing.
Ciao!
Where to go in italy, long weekend breaks italy, weekend to italy, long weekends in italy, italy for the weekend, italy weekend break, weekend break to italy
Any plans for an Italy weekend?
If ever you need any help on planning your trip, give me a shout!
Join 60,000 monthly readers with my monthly update!