During my travels I've passed through Osaka a few times and each time I have no problem finding stuff to do, it's just such a cool city and one I'm happy to keep coming back to. But, if you're going, you really should tear yourself away from the city's sake and sushi scene to explore some other spots on a day trip from Osaka.
Osaka is a great gateway to nearby southern cities and with an average train delay time of 18 seconds in Japan, you can pretty much rely on the rail links to get you where you need. There's so many cool places to visit from Osaka, it'd be rude not to.
13 Best Day Trips from Osaka
It's easy to take a side trip from Osaka, thanks to the excellent rail service in Japan. There's also a great, modern new airport in Osaka, which means you can base yourself there, and take day trips from Osaka for a more unique trip in Japan.
Disclaimer –
some of these experiences were enjoyed on a press trip basis. All thoughts and impressions my own though, of course.
1. Osaka day trip to Lake Biwa
I'm recently back from a week around Lake Biwa – exploring the many things to do in Fukui, in the north, and researching a guide to Shiga, around the lake. There's so much to do around Lake Biwa, making it a great choice for a day trip from Osaka.
The capital city of Shiga, Otsu, is only 1 hour 15 minutes away from Osaka on the train. From here you can join day tours to make the most of the lake. Visiting Lake Biwa is a great way to release yourself from the craziness of the city.
Mt. Hiei and the Enryakuji Temple are the two biggest highlights, along with the stunning Shirahige Jinja shrine too.
2. Day trip from Osaka to Koyosan
A day trip from Osaka to Koyasan may be pushing it a bit, but if you're really short on time it's still worth fitting in. Koyasan is known as the birthplace of Shingon Buddhism, and is filled with over 100 temples high up in the mountains of Koya.
One of the most popular things to do in Koyasan is a temple stay, which is exactly what I did at the Henjosonin Temple. You'd obviously need to stay overnight for this though.
If you only have the day to spend in Koyasan then I'd recommend checking out the Tori Gates, getting a traditional Japanese lunch, visiting the Okunoin Cemetery, the Kobo Daishi Mausoleum and going to see the view from the Daimon (the Great Gate).
---
READ MORE: What to Expect from a Koyasan Temple Stay
---
3. Osaka day trip to Sakai
Sakai is only a few stops on the train from the centre of Osaka, yet, a more relaxed and green world. The big thing to do here is to check out the Daisen Kofun, known as the Japanese pyramids. These are mausoleums on islands set up in ode to the emperors gone by.
No one is allowed on the islands, so your experience will just be through VR, but they're a fascinating thing to learn about and will give you an insight into Japan's past.
One of the highlights of my day trip to Sakai was to have lunch in a traditional home, the Hanachawa, to try the Kofun curry. Basically, a bit like a Katsu curry but in the shape of a Kofun. What more could you want?!
The lady was lovely and I really liked being in her home. Also, I wrote in her guest book in Japanese (using Google translate) and everyone said how amazing my Japanese handwriting was so I thoroughly enjoyed that.
Other things to do in Sakai include the Sakai Hamono Museum. Here you can learn more about Japan's ironmonger production and invest in a knife (think £80+ to thousands) and see the incredible amount of knives for different purposes.
You can learn about the traditional tea ceremony at the Sakai Plaza of Rikyu and Akiko. Here you'll see a traditional tea house, and even go in it, and also get to try some Japanese confectionary, and some macha tea.
Speaking of Japanese confectionary, how about a little workshop? At Café Sacay, you can learn about the ancient art of confectionary making. Using a mixture of soy bean and sugar you too can create such delicacies as these above.
On the left is what it was meant to look like, versus my effort (right). To be honest, I actually like mine better. That tasche!
4. Osaka day trip to Arima Onsen
Arima Onsen is an onsen town just over an hour away from Osaka. Here you can wander around the pretty town and do a bit of shopping in the many handmade shops. From Japanese woodwork, to an entire shop dedicated to pepper, and another to pens with tiny dolls who pop out when the pen is used – you can pick up some real local treats here.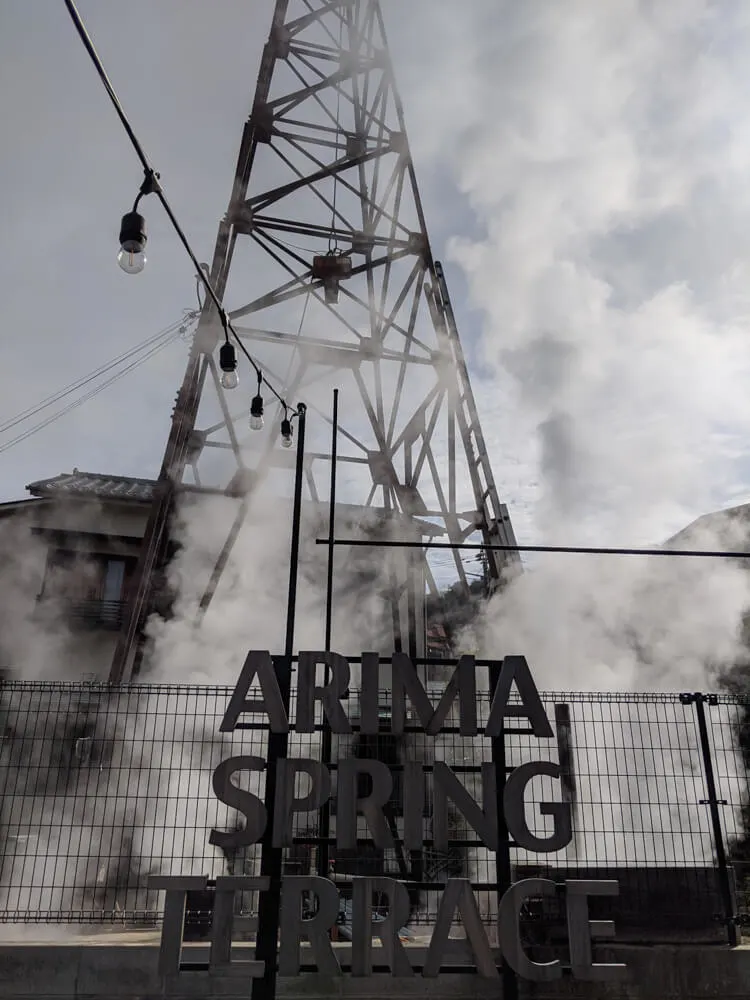 You can also bathe in the public onsens, which all use the geothermally heated water, straight from the ground. Thanks to the tectonic activity here the water comes through at 98C.
Boiling!
If you'd rather have more of a personal experience at an onsen, then visit the Gekko-en Korokan. Here you can book to have a private room to yourself so you don't have to get your bits out in front of everyone else. I had a really nice 40-minute bathing experience in their hot waters.
As well as the bathing, which was lush looking out the Arima hills, there was also all kinds of moisturiser, face pack and hair treatment to play with. It was kinda like being let loose in a Boots, just getting to use what I wanted, as I pleased. Loved it!
My restaurant recommendation would also be here, as you can enjoy a traditional Japanese feast, served by a waitress in full on geisha kimono. The plinky music, muted green and pink tones of the decoration and gentle ambience, just felt so Japanese. It was a really lovely experience before the onsen.
I'd 100% recommend.
5. Universal Studios Japan day trip from Osaka
Universal Studios Japan is IN Osaka, so it's not really a day trip from there, but in there. Get me?
I had a brilliant day at Universal Studios Japan in Osaka – filled with Harry Potter and the Forbidden Journey ride and treats, laughs on the Despicable Me Minion Mayhem ride, screams on the (terrifying) Jurassic Park's, The Flying Dinosaur ride, and fun meeting the characters.
It's easy to get to from anywhere in Osaka, using the Metro. And you'll be released right in front of the park onto Universal Walk, filled with restaurants and shops to enjoy.
Some of the simulators are only in Japanese (that was a long 30 minutes on the Terminator ride) but there's still plenty to do for non-Japanese speaking people. Especially from summer 2020, when Super Nintendo World is coming to the park.
It's a me, a Mario!
6. Day trip from Osaka to Tokushima
Most people head to Tokushima, a city on Shikoku island, for its big Awa Odori Festival in August, but it's nice to go out of season too when it's a bit less crowded. You can still learn about the dance fest at the Awa Odori Kaikan building.
There are also castles, museums, shrines and temples to entertain you, but one of the coolest things is to learn about traditional indigo dyeing at the House of Indigo. If you're not feeling crafty, there's the puppet show at Awa Jorbe Yashiki or the relaxed Awa Shinmachigawa Brewery to sample the local brews.
7. Osaka day trip to Hiroshima

Two and a half hours by train, Hiroshima is primed to give a sobering history lesson. Now known as the Peace Capital, places like the Atomic Bomb Dome, the Hiroshima Peace Memorial Museum and Hiroshima Peace Memorial Park tell the city's sad World War II story.
More than just its history, Hiroshima also serves great food like barbecued oysters, okonomiyaki and saltwater eels, and is now a super modern and cool place to visit on a day trip from Osaka. Although, TBH, I'd recommend staying overnight to get the most from it.
8. Day trip from Osaka to Kobe
Got your harems with you? Whip them out for a day trip here because this is a foodie's paradise and requires some waistband wiggle room. Once you hop off the 30 minute train, you can opt for street food, a set lunch menu, a cup of sake or blow your budget entirely on a Kobe steak.
Kobe is totally doable in a day trip from Osaka. You'll arrive right in the heart of the city at Nankinmachi Street. This is the high street and where you'll find cool shops like Tokyo Hands and ChinaTown too. Also, there's a great shopping street called Motomachi, filled with cool little quirky shops, rather than the big corporate ones. Pick up your quirky knick knacks here.
The Ikutajinja Shrine is a must while you're in Kobe. And if you have time, and it's not winter, then head up to the Kobe Herb Garden. Flowers and herbs were a bit sparse in the January I visited, but the photos look gorgeous for the rest of the year. Even if it is winter, the 1460m high views from the cable car make it a year round destination.
The cafe at the top serves some great food too – and they had tuna carpaccio on the all you can eat salad buffet too, which I still haven't quite got over.
You don't have to stay at the Kobe Meriken Oriental to go and check out their 14th floor bar, right on the edge of the harbour. There'll be a singer up there, and some great cocktails. You can also see out to the Kobe Port Tower, where you should totally go and enjoy sake on the revolving 3rd floor of the observatory floor.
If you have the budget then the Kobe Beef teppanyaki experience in the Kobe Steak House Restaurant next door is without a doubt one of the best meals I've ever had. We had a lobster starter, a delicious matcha brownie dessert and Kobe Beef in every way in between.
All enjoyed with a glass of French red overlooking the frankly impressive light show on the ferris wheel at Harborland.
If you don't have $500+ to spend on Kobe Beef (I KNOW!) then you can always give the local delicacy a try at the Kobe Beef Gallery in the Shin-Kobe train station.
Could be a nice welcome / goodbye to your day trip to Kobe.
9. Osaka day trip to Kyoto
Go on a day trip from Osaka to Kyoto and this is your big chance to try out the bullet train. What would usually be an hour between Osaka and Kyoto takes only 15 minutes, and this is where you'll find the picture postcard version of Japan you've been looking for.
Teahouses, cherry blossoms, geishas, gardens, over 2000 temples; the UNESCO World Heritage Site has it all. I'd suggest starting off your day with a visit to the famous Fushimi Inari Taisha before filling up on some of Japan's best sushi.
Afterwards, when the post lunch haze is real, take a quick bathe in an onsen, wander around the Gion district or stop by the Kinkaku-ji Golden Pavilion before speeding back to Osaka.
One of the most memorable things I did in Kyoto was to dress up like a geisha and get my hair and make up done. There are lots of different places offering this service, and it's a lot of fun!
10. Day trip from Osaka to Kinosaki
This day tour from Osaka is well worth the early start and three hour travel time. Right out of a story book, Kinosaki is all narrow streets, willow trees, pretty bridges and quaint houses. A romantic little place, it's known for its many hot springs and 7 public baths so prepare to come back literally smelling of roses.
After you've bathed your troubles away, fill up on some of the local delicacy of snow crab before questioning whether this place could be any cuter with a visit to the stork sanctuary. Yes, that's an actual thing.
11. Osaka day trip to Takeda Castle
Not to be confused with Takeshi's Castle (entirely different thing), Takeda Castle is a few trains away from Osaka, oh and a 40-minute hike to the top. The castle ruins are so high up that when there are clouds if often looks like it's floating, which explains its local nickname of 'the castle in the clouds'.
If you fancy seeing it amongst all the mist, stay overnight in Asago and head up there for sunrise. Once it's light, you can wander around the old foundations of the fortress.
12. Osaka day trip to Iga
Go all black everything with a trip to Iga because this is a ninja town where hundreds of samurai warriors lived and trained. You can stop by the Iga School of Ninjutsu's museum to learn a bit about the history of ninjas, catch a ninja skill show and even get fitted for your own outfit. Not sure when you'd ever get to wear it again, but I'm sure it'd be fun at the time.
Keep your education going by stopping by some of the places the ninjas were known to train like Ueno Park, the Akame 48 Waterfalls or the Aoyama Highlands.
13. Osaka day trip to Himeji Castle
Himeji Castle is Japan's national treasure and is made up of dozens of white towers in the traditional Japanese style. Built back in the 1300s on a hilltop, it's right out of a fairytale and has over 80 buildings across six levels and huge gardens to wander around.
An hour and a half west of Osaka, you'll spend hours exploring inside. Make sure to leave time to explore the Kokoen Garden next door too. It's in the typical Japanese style and has a little tea house inside too. There are some huge koi in the pond, and pretty bridges too.
Best day trips from Osaka
See, there are loads of awesome ways to spend a day near Osaka. You can fly into Kansai Airport and be in the city on the Namba Express in less than an hour.
Who needs Tokyo hey?!
---
Pin these day trips from Osaka for later?