Want to know what there is to do in Shiga in Japan?
I spent 4 days in Shiga in November and absolutely fell in love with the place. I can't believe it's not more of a popular place to visit actually, both for international tourists, and domestic. I was in Shiga at the perfect time of year, with colourful trees, a fresh air and a chance to bask in the sun every now and then too.
– The famous Torii gates of Shiga
Shiga is the prefecture (like a county) next to the more popular Kyoto, and surrounded by Mie, Gifu and Fukui too. Shiga is actually only a 10-minute journey on the train from Kyoto but for some reason has been overlooked by many tourists to Japan.
I want to change this.
Where is Shiga?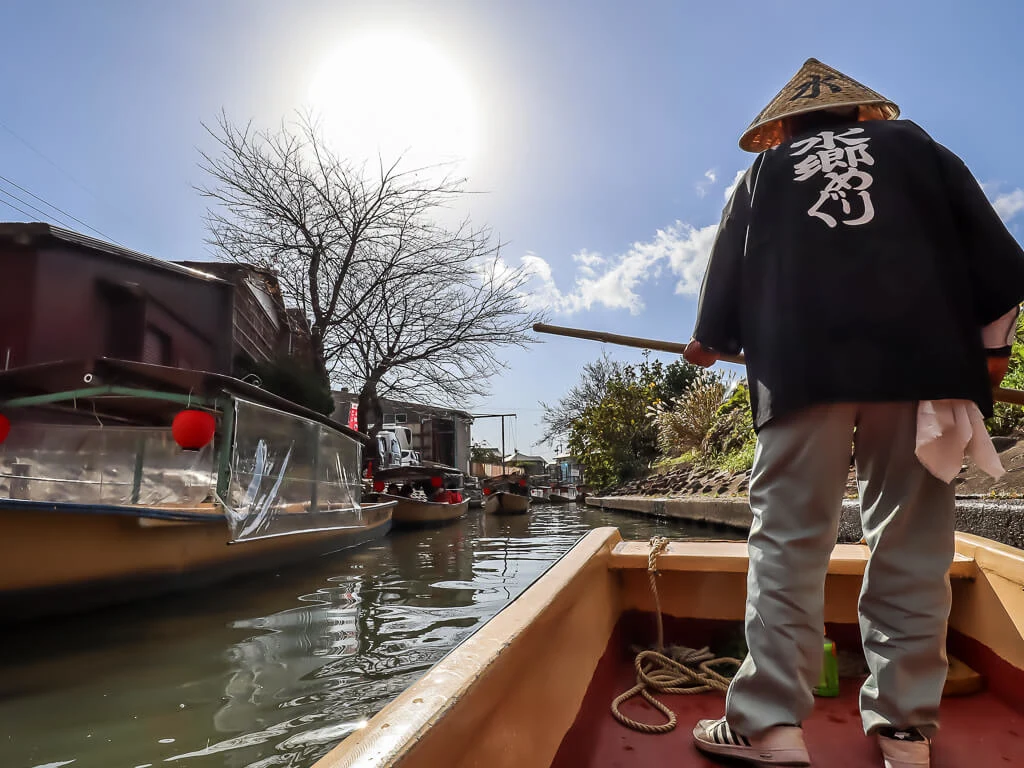 My four days in Shiga were courtesy of the Japan Tourist board and I had a wonderful time exploring temples, shrines and the local life. Northern Shiga is known for its ski resorts, and the capital, Otsu, was once the capital of Japan 1300 years ago. It protected Kyoto during the Edo period.
I know there won't be many people (yet!) searching for what to do in Shiga, and things to do in Shiga, but I want to introduce you to this wonderful part of Japan in the hope that maybe one day you'll get to visit too.
---
Check out some of the best things to do in Shiga in my video
And subscribe to my YouTube channel for more!
---
Things to do in Shiga for 5 Days
DAY ONE in SHIGA
Hikone Castle and the Genkyuen Garden
Hikone Castle
The Hikone Castle is one of only five castles listed as a national treasure in Japan. It has a long and interesting history involving samurais, emperors and revolutionary security measures.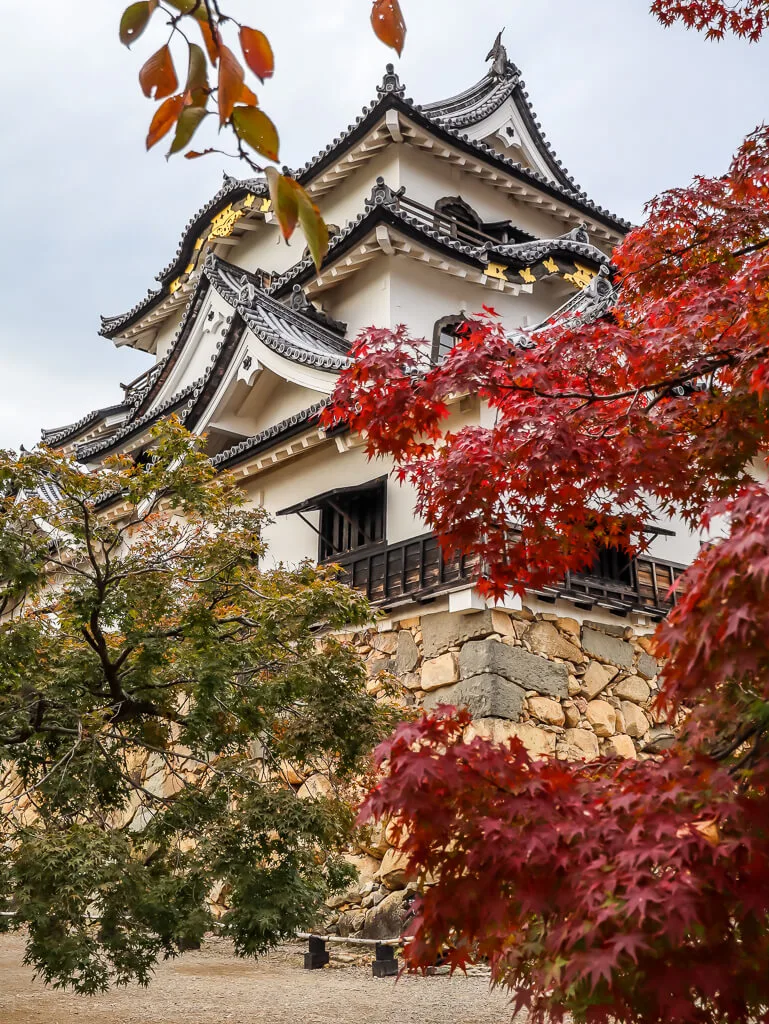 The lengths the architects went to in making this the impenetrable fortress it is, were fascinating.
Here are just a few…
– The path up was a winding road, meaning any unwanted guests would at some point have to face the castle, giving a clear target to the heart for any bow and arrows.
– The stairs were all uneven, so intruders would need to look down so as not to lose their footing. Again making them a target.
– Little windows are all around the castle, hidden from the outside, so you can fire out from a secret hiding place.
In the end Hikone Castle was never actually even invaded – a testament to the architecture and security measures.
We went inside the castle, and saw the spots for the samurais to hide, should an intruder of managed to get in. Trap doors and secret areas in the ceiling, meant they could hide and seek revenge, if they needed.
Depending on your interest: 2-3 hours would be about right for Hikone Castle.
Genkyuen Garden
The Genkyuen Garden is in the grounds of Hikone Castle, and is a wonderful example of a typical Japanese Garden. It was so lovely and serene, although, it was pretty busy with other tourists taking pics when we went.
It was built in the year 1677 by the fourth lord of Hikone, Ii Nao'oki.
You used to be able to stay in the house there, for a few thousand yen a night, but apparently new standards of health and safety mean you're no longer allowed. Instead, it's now the perfect spot to wonder around and think about the incredible history that's been made here.
About an hour would be right in here. Unless you want to sit back and soak up those peaced out Japanese vibes!
---
---
Dinner time: Hisago Sushi
We went to the fancy Hisago Sushi, a luxury Japanese restaurant where the chefs prepare the dinner in front of you. We were on a 10-course menu, where we had no idea what was coming next.
This restaurant was very fancy. I want to say now, here, that I didn't agree with some of the items on the menu. It wasn't until afterwards that I found out that the Suppon turtle's numbers are 'threatened', and we were served badger.
Badgers are not on any list, but obviously they're not the average meal time in England. I did try it. I did like it, kinda. But I doubt I'll be eating it again.
The restaurant was incredible, so I want you to know about it. But depending on your stance, you'll either want to tell them you don't want the Suppon turtle, or you might even want to avoid this place all together.
– My new friend Chiyo, from Shiga, loves the funa-zushi!
It was here we first tried funa-zushi – believed to be the start of sushi we know today. The fish used for this is found exclusively in Shiga's Lake Biwa. It's fermented for 1-2 years to give it that strong taste, and the people of Shiga are very proud of their funa-sushi, and its origins.
Just to warn you, before you try, the taste is strong.
I put the whole blummin thing in my mouth and then had to think happy thoughts while I tried to swallow it back. One of those things you might only try once.
When in Shiga…!
WHERE TO STAY IN OMIHACHIMAN
I stayed at the Green Hotel Yes Ohmi-hachiman.
By the time I got to bed that night I'd been awake about 28 hours so I was so exhausted, any bed would've looked like nirvana to me. My room felt lovely and warm, I had a hot shower and toilet seat and a comfy bed with these amazing pillows that were stuffed with buckwheat (tried to buy some I liked them that much).
This is a comfortable, practical and decent hotel in a great location in the middle of the city.
—
DAY TWO in SHIGA
Omi Hachiman Water Town Tour
Omi Hachiman is known as the merchants canal village. It was an important hub for distributing items around Shiga, thanks to the many waterways here. Visiting the area is one of the most popular things to do in Shiga.
We joined an Omi Hachiman Water Town Tour to float and steer where merchants used to for years. This was one of the absolute highlights of my 4 days in Shiga. It was so peaceful on the water and our sailor was lovely. He pointed out important wildlife and was perfectly happy to pose for pics with us too.
As soon as we got on board we were handed jackets to keep us warm on the bright November day, and we had blankets too. We sailed for 90 minutes in among the rushes, the bamboo and beautiful Omi Hachiman countryside.
Hachimanbori and Shinmachi Street
After your waterways tour go for a wander along the Hachimanbori (moat)·and Shinmachi Street. This is one of the most famous areas of Shiga, and apparently features in many Japanese dramas and shows about the old times in Japan.
It's just so picturesque.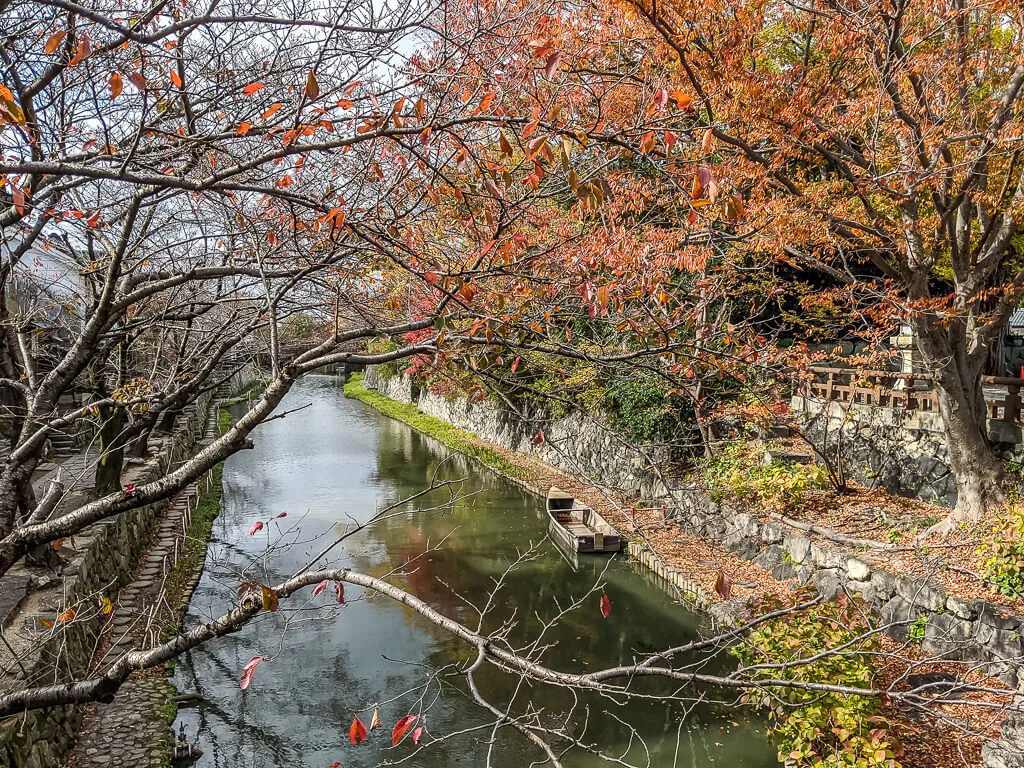 The Hachimanbori had been allowed to overgrow for years, until the local neighbourhood decided to spearhead a campaign to clear it out. It went from an overgrown mess to the stunning clearway it is today and totally raised the profile of the area, and the interest.
Tourism done right, right here!
Shinmachi Street is one of the oldest in Japan and dates back to the times of the merchant dwellers. We saw how they used to trade in the day and how their products would be distributed. Shinmachi Street is the important preservation district of historic buildings.
We wandered along the Hachimanbori, admiring the traditional boats as we went.
We ended at Cafe Club Harie – which is apparently, kind of a big deal among the Japanese female teenagers. It's the area's only Western style bakery – French to be precise. We could see them filling the eclairs and cakes in the back, and were happy to be offered an eclair for the journey to lunch.
Completely disregarding the fact it's rude to eat in public in Japan, I'd scoffed the lot before we turned the corner back to the car. Surely eclairs don't count in that?
Lunch: Morishima
If I'd have known just how much I was getting for lunch, I wouldn't have had that cake.
SO much beef.
Ohmi beef is a big deal in this part of Japan. In fact, it's widely regarded to be better than the more commonly known Kobe beef but apparently they like to keep it a secret, so there's all the more for them.
Smart move.
Ohmi beef cows are massaged to keep the beef as tender as possible. And the cows are treated like members of the family. Well, until they're sent off to their end of course.
I was treated to Ohmi beef in every way possible – raw as sushi, tartare, cooked myself on a hot plate, cooked to perfection by them…
It was SO good. Each dish had been so carefully put together and the presentation was amazing. This was a real Japanese foodie experience that I won't forget.
Koka style ninja house
Koka is the area in Shiga where the idea of the 'ninja' began. We went to look round a real life ninja house from back in the day.
We were shown the nooks and crannies and the tricks of the ninjas, used to confuse intruders. One way sliding doors, moving floors, tricks of the eye and hidden weapons were all utilised to trick them to get one over on them.
It was really interesting to look round and get a glimpse into such a fascinating history.
I was pretty jealous of the people outside having the true ninja experience of throwing the shuriken. I'd recommend you make sure you have time for the full ninja experience while you're at the Koka style ninja house.
WHERE TO STAY IN OTSU
The Sato-yu Mukashibanashi Yuzanso is an amazing hotel. Mainly thanks to the deep bath I had on my balcony. I loved it so much I managed to fit in a bath in the evening, and the next morning too. The bath was made of bamboo, and the fragrance when the water hit the bath just added to the experience.
Watching the sun come up over Lake Biwa from my lucky position was definitely one of my life highlights.
Sato-yu Mukashibanashi Yuzanso is a traditional ryokan hotel. It took me a while to realise I didn't actually have a bed when I went in, although, I did have two toilets. Instead, while I was at dinner, the staff came in and laid out my mattress bed on the floor.
As is the Japanese way.
FUN FACT
Why do Japanese people sleep on the floor?
Apparently it's because they already thought the floor was comfy enough, with the tatami mats. It was decided there was already enough cushioning.
Hmmm, I'm not sold.
DINNER: Sato-yu Mukashibanashi Yuzanso
We had dinner at Sato-yu Mukashibanashi Yuzanso. It's the traditional Japanese way to be given a yucatan in your room, to wear to dinner.
Everyone I saw had it on (well, apart from one of our guides, Maya). It's amazing that people wear these hotel issued clothes. Almost caused a cultural faux pas when I left the room without the jacket part on, but luckily saw a group of ladies in the hallway and managed to correct my ignorance.
Dinner was another epic venture. Unfortunately I was so full from the lunch time gorge that I couldn't take full advantage of it.
We had raw prawns, incredible sushi, hot pot, abalone and fish in every conceivable way.
Our group had our own room, with our own waitress we could call at any time. Things got pretty hysterical as our guide Mariya treated us to a sing song with her bamboo instrument. It was a lot of fun.
I went to bed, SO full that night.
—
DAY 3 in SHIGA
The Hieizan Enryakuji Temple
I had to skip breakfast, due to still being so full, but I'm told they put on a pretty epic Japanese spread at the Sato-yu Mukashibanashi Yuzanso so I totally missed out.
We departed for the Hieizan Enryakuji Temple complex. With over 300 temples on one hilltop, there's a LOT to see here. You can download an English guide to your phone to get more from the experience.
As it was a press trip, we had a guide who only spoke Japanese, but we had our guides to translate.
As we wandered around some of the temples I learned about the most important priests in Buddhism and how this was an important meeting point for leading priests of today. It's a beautiful place to explore and you can feel the peaceful spirituality in the air.
Zen meditation experience
Then we had a meditation experience with a Japanese buddhist monk. He told us how to sit and think to get the most from our meditation experience – apparently it's cross legged, right over left, right hand into left in an oval, slightly forward and on a mat.
The best way to concentrate, is to find a focus and have your eyes half closed, so you don't fall asleep but you're not too stimulated either.
TBH I'm rubbish at meditating, and have some sort of rebellion if ever I'm told to do it. I sat there going through my entire life in my head, or at least 15 minutes worth. Then my leg started going stiff and I had to move as quietly as possible, trying not to make a noise. He saw, I know he did.
I really enjoyed my zen meditation experience though, and genuinely enjoyed him thwacking me on the back at the end too, to reinvigorate the muscles. More of that in the video of my trip, that's on its way at some point.
Our Hieizan Enryakuji Temple experience ended with a vegetarian lunch at their restaurant overlooking the lake. It was delicious, and the perfect antidote to the meat fest the day before.
We topped off a wonderful morning with coffee with a character at the temple cafe. Here you can admire the view again from the huge windows, check out the gift shop, get on the Wi-Fi and use those awesome Japanese toilets too.
Visiting the Shirahige Shrine
We drove on via the Shirahige Shrine. I hadn't Googled it or anything beforehand and didn't know what to expect – I absolutely was not ready for this stunning Torii gate. First step out of the bus and I was genuinely taken aback by the beauty – and that doesn't happen often.
As the sun set further the colours intensified and it just looked absolutely, amazingly majestic out on the lake. Apparently you can do boat rides and all sorts out to it, but thankfully on this day, no one was around, and I enjoyed a perfectly clear view.
Torii gates mark the opening to a temple or shrine, and are meant to 'symbolically mark the transition from the mundane to the sacred'.
There's also a temple here, where monks live, but it's the shrine everyone was interested in. If you're looking for things to do in Shiga, then move this to the top of your list.
Dinner at the Tsuzurao
Another dinner in Shiga, and another epic meal time. Again, we had a room to ourselves, we sat down on the floor under the table. Absolutely not meant for someone as tall as me!
I got in, I managed it, and sat down to another feast.
Epic meal times like these in Japan are absolutely drenched in tradition. I'm going to write a separate post about the traditions of meals and how to approach this situation in another post as it's just so fascinating.
I pretty much rolled to bed after all that. I can barely remember it I was so full of food.
——
DAY FOUR in SHIGA
I made it down to breakfast this time – my stomach expanding with the wealth of Japanese treats. Managed to get through the fermented pickles and ginger, the raw egg and the steamed veggies – finally getting used to it!
Walking in Sugaura
After breakfast we went for a stroll in Sugaura. It's one of the oldest villages in Shiga, and filled with history.
The four columned gate to the village is the original one, and it was revolutionary for its time. Back in the day, once you'd passed through the gate, you were under Sugaura's own judicial and administrative system. It was completely autonomous.
There are only 100 residents in Sugaura, all pensioners – it was so quiet. Suguara was touted as a living paradise for older Japanese people, but as they die off, they're having trouble attracting young blood to the area. Apparently there are lots of countryside places like this across Japan, as the young want to live in the cities.
We were in Sugaura to see the Suga Shrine, and to take the ferry over to Chikubu Island, to see the Tsukubusuma Shrine.
Chikubu Island
The ride was wonderful, it really was the perfect day for it. It took about 20 minutes and we were dropped at the harbour, or port, of Chikubu Island. where the goddess Benzaiten is enshrined.
The main attraction here is the Tsukubusuma Shrine. Simply climb the steps and you'll be taken to a mountain top with shrines, temples and fun things to do.
I enjoyed the throwing of the pottery. Basically you write your name and wish, in Japanese, on the disc, and then throw it with the aim of getting under the Torii gate. If you make it, then your wish will come true.
I was nowhere near and totally embarrassed myself.
I spent about an hour wandering around the sites of Chikubu Island, enjoying the sun and the spirituality of this island in the middle of Lake Biwa.
Walking round Harie Shozu
My final afternoon in Shiga was spent wandering around the village of Harie Shozu. They have a unique water system here, and you can see the carp swimming around the village.
Harie Shozu is known in Japan to have some of the purest water in the country, and for that reason it's home to the famous Kawashima Sake Brewery. A tour round the brewery was the perfect way to end our 4-day tour of Shiga.
Kawashima Sake Brewery
The long time owner and founder, showed us around and encouraged us to try his famous 'Matsu no Hana' sake at the end. Their way of sake goes back 150 years, and I was definitely a fan!
If it wasn't for the fact I had another 3 days in Japan, and then a week in Korea, I would've bought a few bottles.
Getting around Shiga
I was on a press trip with the Japan tourist board and so had a driver. You could either hire a driver for the four days in Shiga, or, rent your own car. I've driven in a few countries, but never Japan but from the look of it would be perfectly happy driving around Shiga for 4 days.
The roads seemed pretty straight forward, there were never many options, and all the road signs had an English option too. I'd have no qualms about driving in Shiga.
Alternatively, you could travel by public transport. Japan is known for its healthy public transport system.
How to get to Shiga
– You can get the train easily from Kyoto Station to Otsu, the capital of Shiga. This takes just ten minutes. Go to Otsu if you want to be at the southern tip of Lake Biwa, or catch the train to Hikone if you want to be on the east side.
– You can visit Shiga direct from Kansai Airport. Catch a Haruka limited express train from Kansai International Airport to Otsu in around 80 minutes.
Where to stay in Shiga
Ōmihachiman
Green Hotel Yes Ohmi-hachiman
A business hotel
Otsu
Sato-yu Mukashibanashi Yuzanso
An incredible ryokan hotel with an epic spread for dinner, the chance to wear a yucata and an amazing room, but I did have to sleep on a mattress on the floor. As is the Japanese ryokan way.
Takashima
Tsuzurao
A great view out to the lake here from this traditional ryokan. Also, wonderful food and a great blend of Japanese and Western style so you can feel at home, with a Japanese flair.
---
This guide to 4 days in Shiga is in collaboration with JapanTravel.com.
Japan Travel is the leading resource for Japan travel information and the primary destination for visitors planning and traveling to Japan.
Of course, all thoughts my own. I'm grateful for such an amazing trip to show me a different part of Japan.
---
Pin for later
---
More advice for travelling in Japan
52 Awesome Things to Do in Kyoto