People go to New Orleans for the food, and the music of course, but food comes first here.
There's no way you'll make it out the same weight you went in.
In fact, as I was there for two weeks I took a day out to do a juice cleanse from Raw Republic to make some attempt at setting me back again. Totally ruined it the next day with a feast for every meal, obviously, but when in N'Awlins (that's how the locals say it, one word, ok?).
I've listed everywhere that I ate over the two weeks, just for your reference, but here my top 7 places of them all to eat in New Orleans.
1. Napoleon House
Napoleon House was my first restaurant and meal after the day's juice detox so it was always going to be high up on the list of my best places to eat in New Orleans. But oh my days, the Muffuletta was everything I'd ever wanted. All my favourite things layered upon each other and encased between two glorious slices of French Italian bread.
Provolone cheese, meats, an olive mix and, with my own addition, hot sauce.
Napoleon House is one of the oldest buildings in New Orleans at 200 years old and has a rich and incredible history. It's been home to some of the most important people of the city. I was lucky enough to go on a tour with head chef Chris Montero round the whole building, which is actually deceptively huge – and see the wedding rooms upstairs and enjoy the prime view down Chartres Street from the balcony.
Until just a few years ago some of the upstairs rooms had been locked up, and when opened they found them left in exactly the same way as the previous occupants, from the original Impastato family, had left them 30 years ago. Seems crazy for a space right in the centre of the French Quarter. I'd rent one!
$10
2. Dr Gumbo's Food and Cocktail Tour
Dr Gumbo's food and cocktail tour was interesting, educational, delicious and boozey – what more could you want? He took us to 8 different legendary New Orleans restaurants and we had 4 cocktails each, although my friend Cailin and I shared so I actually got to try 8.
This tour was well worth the money. Dr Gumbo, aka Duncan spends a full four hours with you and can answer any question you have about food, drink and New Orleans. He knows so much about cocktails and their fascinating history in the US, I felt like my head would explode with the information. But then I remembered I didn't need to retain it, I just needed to eat / drink it.
My favourite cocktail was the Grasshopper, but more on that in the upcoming 'best alcohol experiences' post.
As for food, the brisket at Tujagues and the beignets at Soubou (pictured) were delicious, and it was my first taste of gumbo (pictured) too. I'd already tried three different types of beignets over the 10 days before this particular beignet experience but these were super special made from sweet potato with a chicory coffee ganache.
$120
3. Hivolt Cafe
I became obsessed with this place, and went three times. I actually wanted to go more but thought I should spread my dollars out around town.
Hivolt was such a good café to work in and the food was amazing.
I had Cobb Salad, Salad Nicoise and then a quinoa, egg and avocado dish for breakfast one day. I also tried the Americano (twice) and the French Press coffee (which honestly made me feel more buzzed than I ever have before).
Try it and tell me you don't feel the same.
Hivolt has tables in and out and is your above average super trendy, cool coffee store. If you're not into the salad side they also had some pretty epic looking sandwiches and humongous muffins too.
If you go to New Orleans and you need a bit of vegetation in your otherwise fried, carby diet, this is the place.
$10ish each
4. Gospel Brunch at the House of Blues
I'm not normally one for buffets, but the Gospel Brunch buffet, and in particular the chicken waffles had me eating my words, along with everything else. Sausages, bacon, eggs, croissants, and even a whole lunch menu I didn't have time to work my way through.
The whole Gospel Brunch experience is kind of like dinner and a show. The performers are preaching the word of God and we had all the classics from When the Saints Go Marching In to Lean on Me, OTT gospel style of course.
The singes were great, the audience participation was hilarious and the mimosas were never ending.
$45
5. Antoine's
Antoine's is the USA's OLDEST family run restaurant. I mean, that's quite the accolade, right? Since 1840 they've been serving up some of the finest fare New Orleans has to offer and in 2016, 176 years after it started, I got to try it.
Antoine's invented the Rockefeller oyster in 1889, a unique recipe made especially for the famous Rockefeller family. So I had to try that, obviously. The oyster trio starter seemed like the perfect way to try as many as possible. Alongside the Rockefellers were the Bienville (cheesey dressing) and Thermidor (basically a Bloody Mary dressed oyster).
"Filet de Gulf Poisson aux Ecrevisses Cardinal – 36
Grilled or fried filet of Gulf fish du jour with Louisiana crawfish tails in a white wine sauce – our creation." – Antoine's Menu
For main I had the fish dish above, which was delicious but sadly not photogenic, and for dessert, the meringue glacee sauce chocolat – only lasted a second for the pic below before I scoffed it up.
There are 14 private dining rooms at Antoine's, which are first come, first served – they don't even charge! If you're in a big group this is the place to private dine.
If you do manage to get to Antoine's make sure to ask for a private tour and you'll get to see all the rooms, and learn a brief history to go with them. My favourite was the Mystery Bar, so called thanks to the fact that during Prohibition men would somehow reappear from the ladies room with a coffee cup full of liquor. When asked about it they'd reply 'it's a mystery' and no one ever let on about the passage way to the secret bar from one of the ladies stalls.
$70ish
6. Popeye's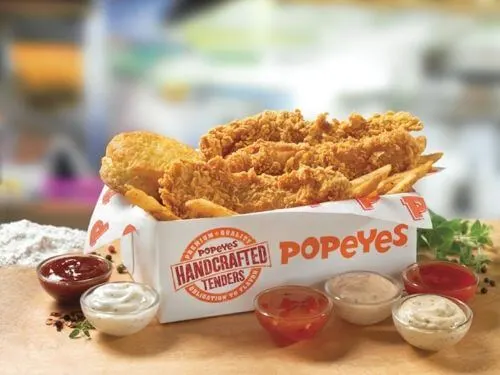 – Photo from their website, didn't realise how good the food would be
This is going to sound a weird choice, but you need to try it. Popeye's is actually a fast food drive thru place like In n Out Burger, which you might've seen / heard of. It's locale to Louisiana and I'd estimate seeing one about every ten miles during our road trip through Louisiana.
I had chicken tenders with Cajun fries which came with a 'biscuit'. Biscuits in the USA aren't like biscuits in England, they're more like scones. I haven't actually ever liked them, but this one, this one was real special. Huge portion of hot chicken with a Diet Dr Pepper on the side (ha!).
Popeye's might sound like a dirty treat, but they're often the best ones anyway.
$9
7. Oysters at the Blind Pelican
Spotted this deal at the Blind Pelican on day one and after two unsuccessful previous attempts to get a table, we managed to sneak in thanks to a new friend I'd made at a hostel I'd stayed at previously who worked there.
You could get 12 oysters for $3, TWELVE!
They were so good too. Served with Tabasco and lemon I swigged them down with a gin and tonic. Surely a dinner of champions?
$3
---
---
Over the two weeks I also went to…
– Seed: nice and healthy but well expensive.
– Sushi Brothers: strange place, weird environment and sushi was dry.
– Lily's Vietnamese Cafe Pho: pho was really good, just not a favourite. Still recommend it.
– Jazz Sushi: take out sushi on the Mississippi River, really good, would go back.
– Cafe du Monde: beignets, I think I'm just not mad on beignets.
– Cafe Beignet: had a spicy egg concoction, served on a plastic plate, strange experience. Also, a great place to pick up some New Orleans souvenirs too.
– Red Fish Grill: awesome waiter, nice food, just didn't quite make it on my top list.
– Court of Two Sisters: didn't tell us that drinks weren't included in the Sunday jazz buffet deal. Also left a mound of dirty plates in the eyeline of the jazz band so we had to look at it for the whole three hours. Food was ok.
– Dat Dog: good fast food and tasty beers, one of the most popular hot dog places in New Orleans.
– Vieux Carre Pizza: perfectly located pizza for after partying, delicious too.
– Araña Taqueria y Cantina: excellent cheapo tacos in the middle of the day.
Dr Gumbo's, Antoine's and Napoleon's were all courtesy of the tour and restaurants, as was the Red Fish Grill and Court of Two Sisters. I've kept it real with my true opinions though, as always.
Any suggestions for anywhere I've missed, gimme a shout.
---
Have you seen my video on Cheap Things to Do in New Orleans?
More great restaurants in New Orleans
Felix's Chargrilled Oysters
Katies'
Rum House down on Magazine St.