I'm just back from a great weekend in Bridport, Dorset. Honestly, once we were back it felt like we'd been away for a week – in a good way. It was so relaxing, and such an easy, chilled trip.
I'm going to take you through my trip, so you can recreate our brilliant Dorset weekend for yourself.
– Cogden Beach – one of the many highlights of our weekend in Dorset
We spent three nights at Outbuildings, just a mile from Bridport centre. If you followed along on my Instagram @VickyFlipFlop you'll have seen how wonderful our accommodation was (if you didn't, you can click 'Dorset' in the highlights section.
We were invited to stay in return for a review and these photos, but I have absolutely no hesitancy in recommending it for others.
In fact, I'd love to go back, as all these places we went on our weekend in Dorset are less than a 40-minute drive from Outbuildings.
– Let me tell you all about our amazing Orchard Picnic below!
I live in Portsmouth, so came in from the east. If you're coming in from the west or north, you might want to jiggle this Dorset weekend itinerary around, but I'd totally recommend doing everything I cover for a great weekend in Dorset.
---
Watch my weekend in Dorset here!

---
Itinerary for a Brilliant Weekend in Dorset
Day one: Weymouth, Durdle Door and Bridport
Weymouth
We actually spent the previous night in Weymouth, and had a great time walking the streets, chilling on the harbour, enjoying the beach, and listening to some live music at the bar near Nothe Fort.
Really, really enjoyed it.
To me, on a sunny day, Weymouth Harbour felt like Nyhavn Harbour in Copenhagen – a fabulous place to sit and people watch with a cider in the sun. It was colourful yet simple, and I loved it here.
You could definitely spend a fab weekend just in Weymouth, but if you want to see as much of Dorset as possible (but still relax) then you'll get the idea in just a morning.
Enjoy some fish and chips from Fish n Fritz for lunch, and get on your way.
Visiting Weymouth was definitely one of the highlights of my trip to Dorset.
Durdle Door
You could pop into Durdle Door on your way to your Dorset accommodation. Maybe just for a look from the car park. If you have longer then you can go down to the most famous beach in Dorset and have a dip, but if you just want to see one of the most famous archways in England, then you can enjoy from up high and crack on.
This summer has not been a good one for Durdle Door. Reports of overcrowding and anti-social behaviour have been all over the news and so, not wanting to add to the problem, we didn't visit this time round.
It is a great spot though!
Osmington Mills
Look out for the White Horse up in the fields when you pass Osmington Mills. The 280ft long and 323ft high hill figure of King George III It can be seen for miles around. It was created in 1808 as a compliment – but rumour has it that the king was offended as he was riding his horse away from the Weymouth area – but who knows who to believe.
It's a local legend though, and easy to see – so keep an eye out.
Right, I'm sure by now you'll want a cup of tea and to see where you're sleeping tonight.
Outbuildings, Bridport
Check in to Outbuildings anytime after 3pm. You'll find it just 2 miles out from Bridport, in the middle of the gorgeous Dorset countryside.
Make sure you take the scenic Jurassic Coast Road there, rather than the quickest route, for absolutely incredible views. You don't actually go along the coast, but that's just what this part of Dorset is called. Instead you'll see the rolling hills of Dorset's beautiful countryside.
Expect tractors and hope you don't get stuck behind one!
That's Outbuildings farm right there – stunning hey?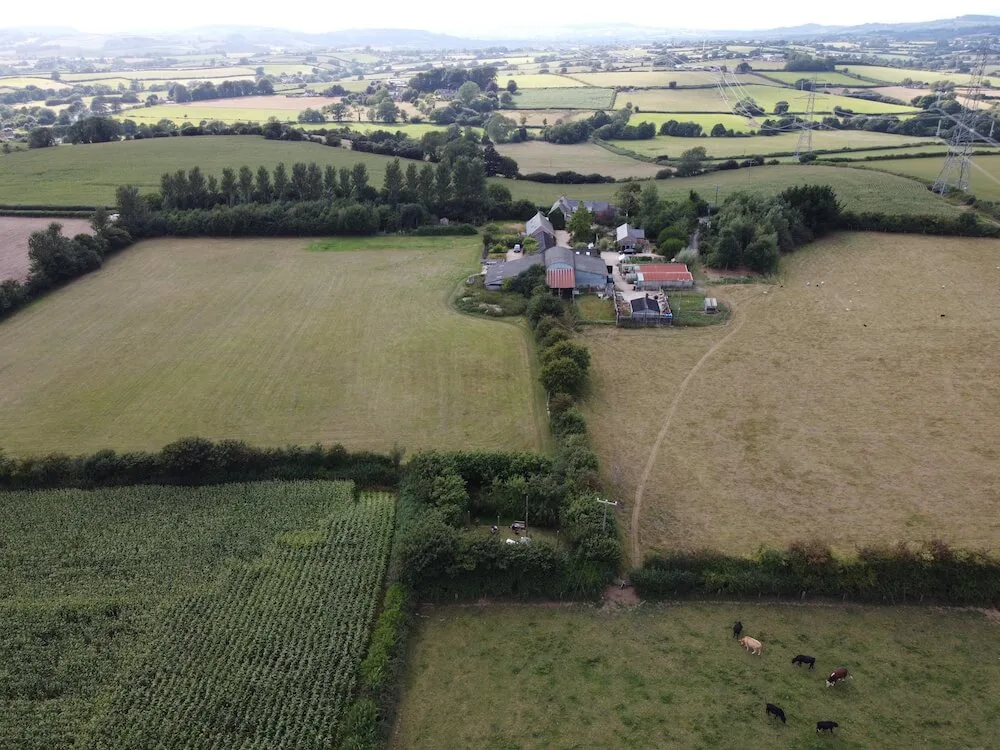 Check in at the farm is easy. You'll meet with either Karen, Billy or Ed who'll show you the way. This is a family-run business, with three generations all living together there, along with this lovely little doggy.
Take up the offer of the tour round the farm to see the orchard, the grass running track, the yard, the vegetable patch, and, to learn more about their ideas for the future.
Plans for an area for a shepherd's hut, and more cottages are in the process!
Walk to the Pymore Inn
After a look round your new luxury cottage home for the next few nights, it's time to take a walk in the vicinity and visit the lovely, local pub, The Pymore Inn.
Ed at Outbuildings has plotted local walks on the Ordnance Survey map for guests to do, and this is one of them.
Unfortunately we didn't listen to directions, or seem to be able to follow them, and ended up in a corn field wondering if we were going the right way. We stuck with it though and 15 minutes later – after debating England's trespassing laws, and crawling over fields hoping for the best, we made it.
Decided to get a taxi back though as it'd started to rain, which cost £3.
No dramas.
BBQ on The Sty's Terrace, Outbuildings
We wanted to get back for our special BBQ at Outbuildings – on the Sty's Terrace.
Lemme give you some background. There are four luxury self contained cottages at Outbuildings – The Sty, The Cider Room, the Pressing Room and The Farrows.
We stayed in The Pressing Room, which looked out over the fields, next to The Cider Room. The Sty and The Farrows look into the garden.
All are unique, but have the same high quality decoration inside, and homely feel.
Our BBQ was at The Sty, as they have the outside BBQ going on, whereas the others all have portable BBQs out the front.
You can book the Outbuildings BBQ at the time of booking, or up to 48 hours before you want to have it.
Included in our hamper we had:
– Homemade slaw with veg from the veg garden
– Salad from the veg garden
– Chicken kebab
– Burgers
– Sausages
– Chocolate brownies
– Homemade raspberry gin
We had a little trouble lighting the BBQ, as it'd started to rain, but got there in the end. And then had a lovely evening making our way through the delicacies, and sitting round the fire to eat our brownies.
Such a lovely way to spend the evening, and only about 20 steps to get home!
Day two: West Bay, Hive Beach, Lyme Regis
Breakfast at Outbuildings
Have a Champagne breakfast hamper delivered to your cottage. Featuring locally sourced bacon, sausages, eggs from the farm, sourdough bread and jam and butter – it was everything we needed for what turned out to be, two breakfasts.
Ground coffee, tea and green tea were also included in the cottage, and proper milk (not those horrible sachets!).
We cooked half up and enjoyed it looking out to the beautiful Dorset countryside.
Dream breakfast.
Drive to West Bay
First full day and we decided to drive to West Bay – 10 minutes drive and less than four miles away. You could easily walk, but we wanted to travel on afterwards so took the car.
Parking in West Bay was easy and we walked over to the beach. We hiked up the hill and continued to walk the South Coast Way path over to The Hive Beach. It took about an hour and we had some incredible views along the way.
We passed through Freshwater Beach, and up and down again the other side. It was a pretty easy hike, with just a few steps to get the heart rate up.
We went to The Hive for lunch, one of the most popular spots on the Dorset coast.
Lucky for us it was the first day of the Eat Out to Help Out scheme so we got £10 off too.
I had one of THE best meals I've ever had out – mackerel with chips. Unfortunately Ben wasn't too keen on his John Dory noodles. Lovely location though, and for me, The Hive lived up to the hype.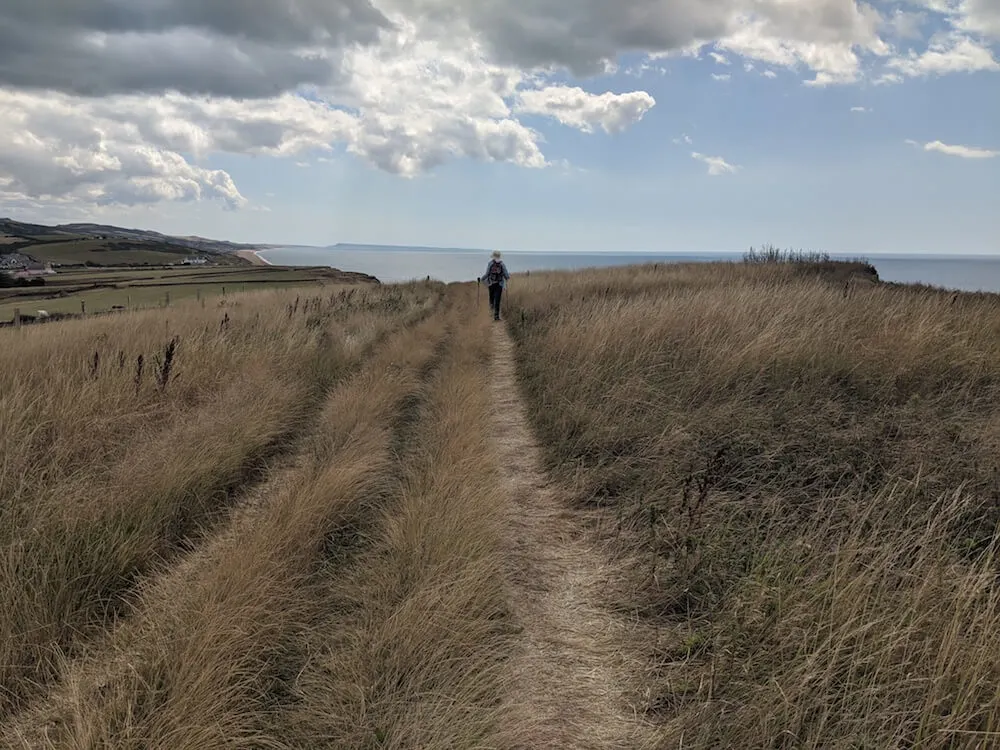 You can either walk back again an hour, or get a taxi. We went for the latter as we had stuff we wanted to do. It was £7 back to West Bay and was interesting to see our hour walk pass by out of the car window in about 5 minutes!
We had a little look round West Bay, the houses, the tourist shops and the harbour, and then got back in the car, Lyme Regis bound.
Go to Lyme Regis
Lyme Regis is stunning!
And I say that as a passenger. It definitely isn't the best place to drive around, with all the traffic and hills. But, once you're parked up, the town is yours to enjoy.
Fudge shops, harbours, the beach, the sunset restaurants – I loved it here. Check out the Lyme Regis shot on my video embedded here. Looks fab hey?
We spent our afternoon wandering the streets, ambling along the beach and enjoying a cider on a bench on the seafront – perfectly acceptable behaviour here!
---
READ MORE
If you enjoy a sunset, check out these sunset captions from Travel2Next.com
---
Dinner at Outbuildings
We weren't quite ready for dinner but wanted to get back to Outbuildings and so around 7ish headed off.
We ended up getting a Thai takeaway from Bridport as this day was a Monday for us and everywhere we wanted to go was closed. I would not recommend this. I've never actually thrown so much takeaway food away.
We should've eaten in Lyme Regis.
Or if you have the same problem with restaurants being closed, there's a Waitrose in Bridport, and you could pick up some nice bits to eat back at the house. Or if you have a cool box, pick some local delights up in Lyme Regis.
We did enjoy the simplicity of eating back at Outbuildings though. Just so lovely having all the convenience of a luxury cottage, but then being able to look out at the countryside too.
We spent the evening just relaxing there, kinda wishing it was chilly enough to start burning the log fire. Pros to going in Autumn or winter!
Day three: 5-mile walk, pizza, cider & the Orchard picnic
Breakfast at Outbuildings
We had leftover hamper delicacies for breakfast. Again, while admiring the Outbuildings countryside. Lazy and leisurely I think would describe our pace this morning!
Walk 5 miles to Bredy Farm
I decided to keep the balance by walking to Bredy Farm using the apps, through Shipton Gorge. I got very lost in Bridport and ended up walking allll the way the wrong way down the High Street, but found my path eventually.
The walk was a bit worrying at times though, along a path on a motorway.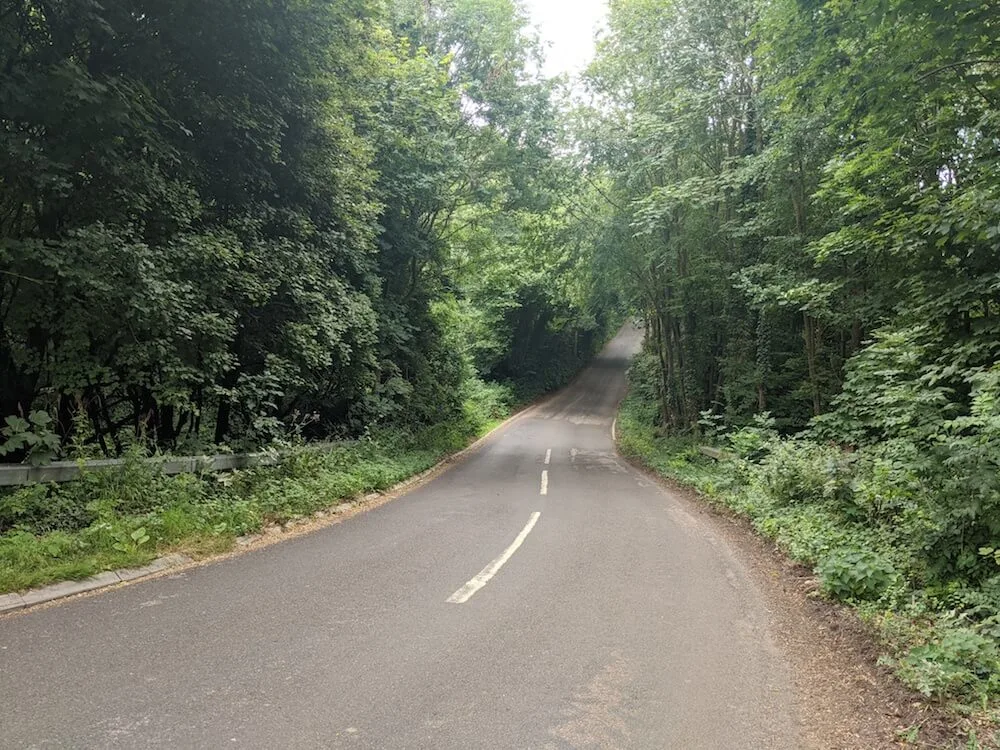 I'd recommend researching this beforehand so you feel confident taking the Shipton Gorge public footpaths signposted around, instead of blindly following Maps.
Anyway, made it to Bredy Farm in Burton Bradstock in the end and took about two hours.
Going through Shipton Gorge was beautiful. So many pretty houses offering up veggies outside for donations – even passed a nursing home doing the same to earn money for the residents. Such a good idea.
At Bredy Farm you'll find The Parlour and a cider farm. Pizza and cider – what more could you want?
I went for a Napolitana and Ben for a meaty delight. They change the pizzas monthly, so you can keep going back. Also tried the ciders brewed on site – pheweee they're strong. Maybe go with a half like I did, and see how you get on.
After lunch you can walk back again, or get a taxi.
Visit Cogden Beach
Ben had actually driven while I'd walked, and so we had the car to go and explore nearby Cogden Beach. After taking a few drone pics and video, we ended up sleeping off our huge lunch and cider with a nap in the lovely breeze to the sound of the waves.
We decided that in our experience of beaches in Dorset we liked the little stones of Cogden Beach best. Comfy to lie on, without the hassle of sand – top Dorset travel tip for you there.
Somehow, you need to make your way back for your Orchard Picnic at Outbuildings. It was a highlight of our whole Dorset trip.
Orchard Picnic at Outbuildings
Outbuildings have this secluded square, at the heart of their farm. Surrounded by trees it'll just be you, your travel partner, an amazing picnic, a Land Rover and a few cows looking on.
Check it out in my video above.
We were just sitting there, playing snakes and ladders, drinking our gin and feeling full from THE best coronation chicken sandwich I've ever experienced, when I looked up and it'd gone dark, and the pretty chains of lights had come out.
So magical.
We loved our Orchard Picnic.
Ben enjoyed his hammock, playing DJ with the Bluetooth speaker we'd been given to use, and we enjoyed the second round of the homemade raspberry gin, and the Furleigh Estate Classic Cuvée Brut 2014 we'd saved from our Champagne hamper breakfast.
The sandwiches were amazing, that blue cheese incredible, and the apples from the orchard. They also gave us a box of games, a firepit and some marshmallows to toast. Seriously, couldn't ask for anything more!
Definitely one of the most magical evenings we've had.
Day four: Bridport Market
Time to go home.
All great things must come to an end I suppose.
We had so much food at the Outbuildings Orchard Picnic that we had the scones left over and warmed them up for breakfast. Also took the huge pork pie home for lunch too.
Bridport Street Market
It depends on how your days of your visit to Dorset fall, but we went to Bridport for their Wednesday street market – an institution round these parts.
We picked up some crab sandwiches from Bella's in Bridport to enjoy for lunch on the way home. A popular little breakfast spot, they serve coffees, tea, and have some AMAZING looking cakes, which didn't photo well through the glass, but trust me – it's a great little place in Bridport.
And then, given that it'd started to rain, we decided to make the two-hour drive home, rather than stop off at any more of the Dorset delights along the coast.
Advice for staying at Outbuildings
Our stay at Outbuildings was comped in return for this video and review. Prices start at £90 per night (great price!) and you can then build on your trip as you please.
There are no restaurant facilities at Outbuildings, but there are ways to enjoy food on site without the hassle of shopping. The Orchard picnic starts from £120 for two, and the Champagne hamper breakfast from £15.
And you can just text in your orders while you're there too. Fancy a bottle of local Furleigh Estate wine? Just text in your order.
Weekend in Dorset at Outbuildings
My experience at Outbuildings was one of the best accommodation experiences I've ever had. Karen, Billy and Ed were fab hosts when we needed them, and there was plenty of space to enjoy the farm and our cottage when we didn't. If you're looking for somewhere special for a weekend in Dorset, that's still close to some of the best things to do in Dorset, then I'd absolutely recommend it!
Explore more of England
NEW SITE: I recently launched a brand new website dedicated entirely to days out in England.
It's called… DAY OUT IN ENGLAND. Ha!
It's packed full of local knowledge, awesome things to do, and more.
Few of my favourite posts for you: how about the best adventurous days out in England, or the most popular English beaches? I've also put together a guide on saving money on days out, and even an English food quiz too. Go and check it out – you're guaranteed to learn more about England!