I wanted to make a list of the best days out in the UK, given that we haven't got long of the summer left.
It's time to get out there and make the most of the best UK days out before those dark nights draw in. I've already pencilled in a few days out in Wales (camping) and I'd love to see Stonehenge before the summer's out too. What are your UK day out dreams for 2023?
I guess 'fun days out in the UK' depends on your definition of fun, but I wanted to put together some of my faves, along with some of my UK bucket list. Also, it totally depends on where you live in the UK as to whether these are 'doable' on a day out, but the handy map will help.
Hope this gets you feeling inspired!
Ideas for Fun Days Out in the UK
Here are over 20 of the best UK days out for you to enjoy. Treat this list like a UK fun day tick list.
1. Cycling in the New Forest
I really do love the New Forest. It's so chilled and lovely – unless you go on a busy summer weekend – and there's so many lovely places to see and be.
I've put together a list of the best things to see in the New Forest. And, if you want to spend the weekend in the New Forest – I have a guide for that too.
Also, if you fancy extending your trip and staying over, then take a look at some of the New Forest glamping spots on offer. Imagine going to sleep surrounded by so much nature – amazing!
One of the best things about a day out in the New Forest, is checking out the many cute New Forest pubs. I wrote about them for Day Out in England and loved driving around photographing them all.
2. Walking in Cheddar Gorge
I went to Cheddar Gorge as a kid – it's a great place for children to learn to appreciate the natural world. You can go down in the caves, wander the streets and enjoy the local produce (CHEESE!) and hike in the hills too.
Last year I went on a road trip to the Mendip Hills and despite the rain, had a lovely time exploring the area. Plan your hike before you go, and take your raincoat!
There are some great ideas for Cheddar Gorge walks over on Day Out in England. Click the link for a looksee.
3. Road trip in the villages of the Cotswolds
I can definitely recommend a day in the Cotswolds, but, even better, stay and enjoy a 3-day road trip in the Cotswolds instead. I got to go to the zoo, stay at a spa hotel, and another hotel on a hill with beautiful views. I also got to go to Cirencester, to Bibury and to the Cotswold Wildlife Park.
There's just something about discovering the Cotswolds for yourself, with your own wheels and under your own steam. Much better than any sort of public transport.
I was genuinely amazed at how wonderful the Cotswolds are. If you only have a day to explore the Cotswolds, there's still plenty to get up to.
4. Dine at The Pig Hotels
There are six different Pig Hotels around the UK, and yes, you can sleep over and make a weekend of it at Hampshire, Somerset, Dorset, Devon, Kent and Cornwall. Or, at some of them you can just hang out for the day.
I love the one in Hampshire – it was the first one I ever went to. You might need to save your pennies to visit here, but it's definitely a great location for a special occasion. Think of it as money you've saved on travelling abroad.
5. Visit the Lake District
Can't believe I still haven't been to the Lake District.
I know, shocker right?
Especially as I've lived in Manchester and Sheffield for almost four years of my life. There's so much to do and enjoy in the Lake District, I've actually got an article on my other site, Day Out in England, about the many Lake District activities you can enjoy while you're there, written by a local expert.
Take a look!
---
READ MORE on Yorkshire
I still need to write more about Yorkshire – crazy I haven't seeing as I'm actually 'half Yorkshire'! My grandparents lived there and I spent many happy summers with them, on their farm.
Free Things to Do in York on the 'Best in York Guide'
---
6. Watergate Hotel
The Watergate Hotel near Newquay in the south of England is my UK dream. It's a hotel, right on the coast of Cornwall, but you can also buy a day pass to enjoy the luxurious facilities.
Another one added to my UK wishlist.
7. Relax at Bath's spas
Bath is one of the best UK cities for a day out. It's that bit quieter than the big cities too, so good for that social distancing.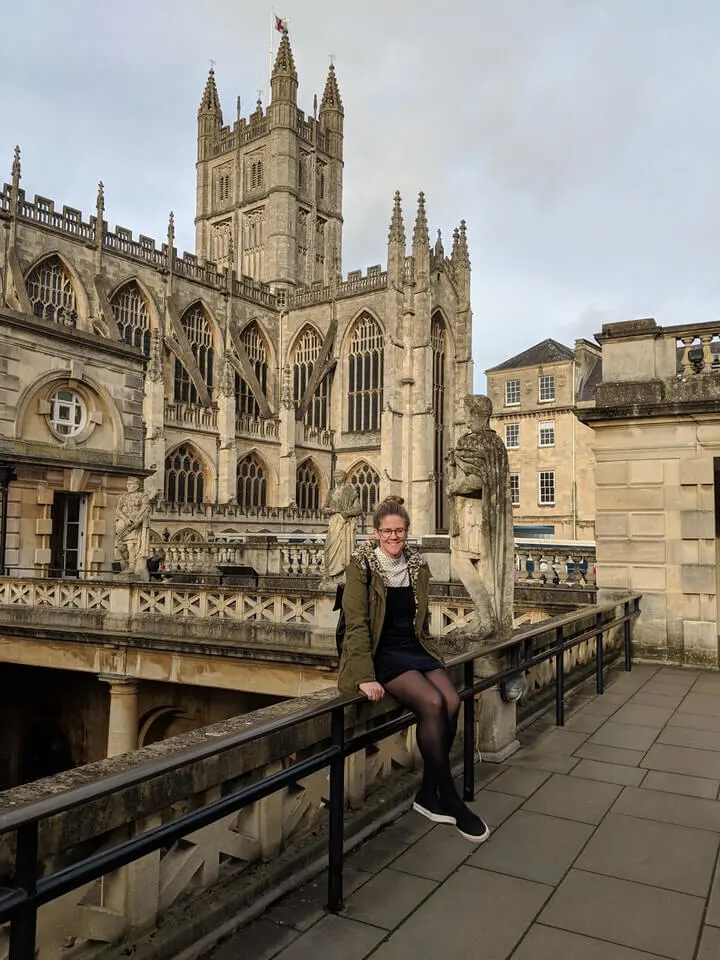 I've written a guide to a day in Bath, that really gets down to what you should do. Basically though, the spa, Sally Lunn's, some shopping, and a nice hotel to top it off – if you've got the time to extend your day.
8. Go sightseeing in Belfast
The hop on hop off Belfast City Tour is one of the best ways to see the city in a relatively short amount of time. You can hop off at the cities biggest attractions – there are 19 iconic locations to choose between, or, just go to them all.
The ticket let's you pass through the once no go areas and between the peacelines and walls of Belfast too. An easy way to explore the city!
9. Eat your way around Padstow
I have very fond memories of Padstow as a child. We visited on holiday and I can remember eating fish and chips while watching the boats and people go by.
It's such a pretty fisherman's village that's adapted to be one of the top places to visit on a day out in the UK. While you're in Padstow you can check out the National Lobster Hatchery, the Camel Trail Bike Path and the nearby Tintagel Castle is a popular spot too.
9. Sunbathe or kitesurf on West Wittering Beach
West Wittering Beach is about a 20-minute drive from me, and I swear it's one of the best beaches in the UK. I was genuinely amazed when I first visited. White sand beaches and little beach huts galore.
There's a great little cafe there called Drift – food is fantastic there!
But, it's the beach that's the star attraction. And my friend Jayne has just been in lockdown so if you need some up-to-date advice check out her post – A Social Distancing Day Out at West Wittering Beach.
If you live anywhere near the south of England, I'd definitely recommend West Wittering Beach for a UK day out.
10. Come to Southsea!
Southsea is totally underrated. I love living in Southsea and genuinely every week feel like I've discovered another reason to love it here.
Come on down and you can enjoying our huge pebble Southsea beach, you can pick up a great coffee, have a BBQ, check out the Common and explore the shops. We also have the D-Day Museum, the Portsmouth Historic Dockyard and Southsea Castle too.
If you're looking for a socially distanced day out by the sea – Southsea is a great shout, and way better than the busyness of Brighton. Here's a guide to 48 hours in Southsea to show you what you're missing.
There are some great paddle boarding spots in Southsea, and with the beach and all, we have great wild swimming in Southsea too!
11. Go on a Scotland road trip
A road trip round Scotland, in the north of the country, sounds about perfect to me right now. I've been to Scotland a few times – to Edinburgh mostly – but I did do a road trip from Edinburgh to Dumfries last year which was fun.
If you're planning a Scotland road trip I'd definitely recommend going to the Isle of Skye. It was wonderful up there, and I went in January!
I went to the Outer Hebrides for a week to see more of the country. We were wild camping in the Outer Hebrides which, sounds a bit crazy. It was. It was sooo windy, but still, we had a great time. Proper adventure!
Read More: All My England Travel Blogs
12. Visit Durdle Door
This isn't a secret day out in the UK, in fact, Durdle Door is one of the most popular places to visit on the South Coast. It's heaving down there on a summer's day. But, it's popular for a reason. Durdle Door is a magical part of England's coastline.
I'd totally recommend doing a Jurassic Coast road trip to Durdle Door. Or, if you have time try spending a weekend in Dorset and following my awesome itinerary to really make the most of it.
13. Go to the Big Smoke, London
I lived in London for 7 years, and have amazing memories of nights out, weekends wandering and meeting up with friends. I even threw a Harry Potter hen party for my friend once there.
It really was THE BEST.
I still get a thrill going back to London– to check out the unique fun of Shoreditch, wander the South Bank, or just explore my old haunts. It definitely feels like a different version of me who used to live there. Can't actually believe I did the London triathlon once, just the once.
Sometimes I need to look up my own advice when I go to London though. My articles on where to visit on a London day trip, my money saving tips, and advice for a special occasion in London too. Once, I had a London Pass for the weekend, and got to 'play tourist' while I lived there – it was great!
14. Outdoor sports in Wales
The Welsh coastline is absolutely stunning, if you can get it when it's not raining. The Pembrokeshire Coast has some amazing beaches, and I've just found out about the Llŷn Peninsula – also absolutely stunning.
There are plenty of companies and opportunities offering mountain biking, climbing, hiking and even trampolining in Wales. You could have a lot of fun days out there, or stay over to really get stuck in.
The Brecon Beacons are best if you want action and adventure.
And if you've ever thought you wanted to see an old Italian town in a Welsh village, then Portmeirion if your answer. And of course, Mount Snowdon is always there for the climb too.
15. Road trip to Lincolnshire
Watch my video on Lincolnshire here
Visiting the Lincolnshire Coast for the weekend really opened my eyes to the amazing coastline up there. Me and mum had a great time – make sure you visit the Petworth House and beaches too.
16. Visit Bristol for the day
This is a great itinerary for 24 hours in Bristol, written by me. From walking across the Clifton Bridge, to wandering round Clifton, and visiting the zoo – there's loads of fun things to do on a day out in Bristol.
17. Wander round Brighton
Brighton is one of the most popular places for a day out in the UK. I'm lucky enough to have been loads of times, from London, but I recently went for the weekend and had a great time.
Get inspiration for your day out in the UK from this weekend guide to Brighton.
Brighton is well connected to the south of England, making it the perfect choice for a UK day out.
18. Head over to the Isle of Wight
The Isle of Wight can make for one of the best day trips in the UK, if you live in the south. Otherwise you might want to stay a bit longer – I have a great weekend itinerary for the Isle of Wight here. There are some great restaurants on the Isle of Wight worth making your trip a little longer for.
Check out some of the best days out on the Isle of Wight in my video
If you do want to stay over you can check out the Isle of Wight glamping spots, and in particular, the Modulogs at Tom's Eco Lodge.
There are so many fun things to do on the Isle of Wight, but if you want it narrowed down, then check out my day on the Isle of Wight itinerary here. You can easily get the hovercraft over from Southsea to Ryde, and explore the Isle of Wight from there. And while you're in Ryde, it makes sense to enjoy aday out in Ryde too!
I've written a massive list of 68 of the top attractions on the Isle of Wight – check it out for more travel inspiration!
19. Relax at a spa
The spas opened a few weeks ago now, although I still haven't ventured out to one. How do you feel about them?
Could make for a wonderful day out in the UK, but I'd stick to the fancier ones to start. How about Ragdale Hall, or the Pennyhill Park Hotel Spa?
I'd phone ahead to make sure of their Covid strategies before you go.
20. Explore Stratford Upon Avon
I never see Stratford Upon Avon on best UK days out lists – why is that?
Stratford Upon Avon is a wonderful market town, known as the birth place of Shakespeare. I once organised a Stratford Upon Avon hen party there for my friend.
The Avon runs through, making for a beautiful backdrop, and there's lots to see in Stratford Upon Avon, beyond Shakespeare.
21. Explore more of Birmingham
Visit Birmingham with a twist this summer and go all Peaky Blinders themed. As well as the usual shopping, bars and restaurants you can visit some of the locations for the TV show.
I joined a tour for my Peaky Blinders weekend in Birmingham, but I doubt that's running right now. Instead, you can look up the hot spots and make your own Brummy gang tour.
22. Big day out in Guernsey
How about a day out in Guernsey for your next trip in the UK? Check out Highland2Hammocks' guide to a Guernsey day trip here. Not technically in the UK, it is a self-governing British Crown dependency with its own parliament and its own government, but it's only a short flight or ferry over the water so let's include it in this list of the top places to visit in the UK.
---
More days out in the UK
Belfast, Oxford, Cambridge, Peak District, Yorkshire Dales, Scilly Isles, South Downs, Norfolk, Margate AND SO MUCH MORE!
This has totally turned into a UK day out wishlist for me, I mean, I even want to go back to the places I've already been. It feels like the more I see of the UK, the more there is to see.
I still want to go to Lundy Island, to the Isle of Mann, to see more of Kent, and to dive deeper into Hampshire where I live.
With the current travel restrictions this is an amazing opportunity to see more of the UK, and to spend the money you would've spent on going abroad, in your own country instead.
---
PIN THESE DAYS OUT IN THE UK FOR LATER
---
Explore more of England
NEW SITE: I recently launched a brand new website dedicated entirely to days out in England.
It's called… DAY OUT IN ENGLAND. Ha!
It's packed full of local knowledge, awesome things to do, and more.
Few of my favourite posts for you: how about the best adventurous days out in England, or the most popular English beaches? I've also put together a guide on saving money on days out, and even an English food quiz too. Go and check it out – you're guaranteed to learn more about England!