After all the fun of the sun in the day, it's time to look at what to do at night time in Key West. What's the Key West nightlife really like? You're about to find out…
Besides the sun-warmed beaches and all-around relaxing vibes, the Key West nightlife is something of a rite of passage if you're any sort of partygoer. In particular, there's one place where everyone for late night revelry: Duval Street.
Start at one end of make it down as far as you can go!
Bars, nightclubs, and alternate less alcohol-heavy spots are lined up one by one so you can easily hop between venues. And as tomorrow comes over the horizon, you might find yourself at South Beach – the perfect place to lie down and forget about the world.
But before that, let's look at where to go in Key West at night!
---
Best bars in Key West
There's no Florida Keys nightlife without mentioning its bars. From live music to tropical cocktails to seafront views, here are some top picks.
1. Conch Republic Seafood
The on-the-water location of Conch Republic Seafood alone earns this seafood restaurant and bar a 10/10, but the live music sure adds to the ambiance.
Happy hour runs from 4 to 7PM every day; you'll want to grab seats earlier before the dinner crowd floods in. With three open sides, nightly band performances and a Caribbean flair – I highly recommend it for the atmosphere!
2. Smokin' Tuna
Just off Duval Street is the laidback bar-cum-courtyard of Smokin' Tuna. This Greene St Caffeine locale is extremely relaxed, featuring not one but two bars.
As you sip those cocktails and munch on fritters, dance to the best music in town. Blues legend Caffeine Carl is a regular performer so you know quality is spot on.
3. Island Dogs Bar
If you are to get one drink at Island Dogs Bar, it's the Key Lime Martini. It's so famous there's even a 15-second mixology video showing you how to make it!
Other crowd favourites include the Goombay Smash, Key West Mojito and other tropical concoctions. Throw in live music with outdoor seating and you get a lively hangout spot.
4. Hog's Breath
Not sure where to start the party in Key West?
Hog's Breath is another music-toting saloon with great drinks and an open-air setting. A tad more upbeat than Smokin' Tuna, it's not unusual for patrons to just stand up and dance!
Go by at 4:30pm when the live band starts to grab one of the coveted patio seats.
5. Green Parrot
Don't let the eerie green glow at the entrance put you off – Green Parrot has been serving locals since 1890!
The casual dive bar is a great place to unwind and part of Florida Keys nightlife since forever. From the tent ceiling to strung-up fairy lights and around-the-bar seating, it invites everyone in for a friendly chat. Don't miss out on the snooker table either.
6. Schooner Wharf Bar
Marked by fishing nets, sea-shack décor and wooden everything, Schooner Wharf Bar is everything that makes up 'a last little piece of Old Key West'. The waterfront bar is located within the historic seaport, combining harbour views with local seafood and all-day live music.
The only thing better than its specialty drinks though? Definitely the dogs that come along with their families!
7. Capt. Tony's Saloon
Spotting the blaring yellow and red scripted sign of Capt. Tony's Saloon is exactly the sign you need to step inside. One of the best bars around, this old school pub was once owned by Captain Tony, the mayor of Key West!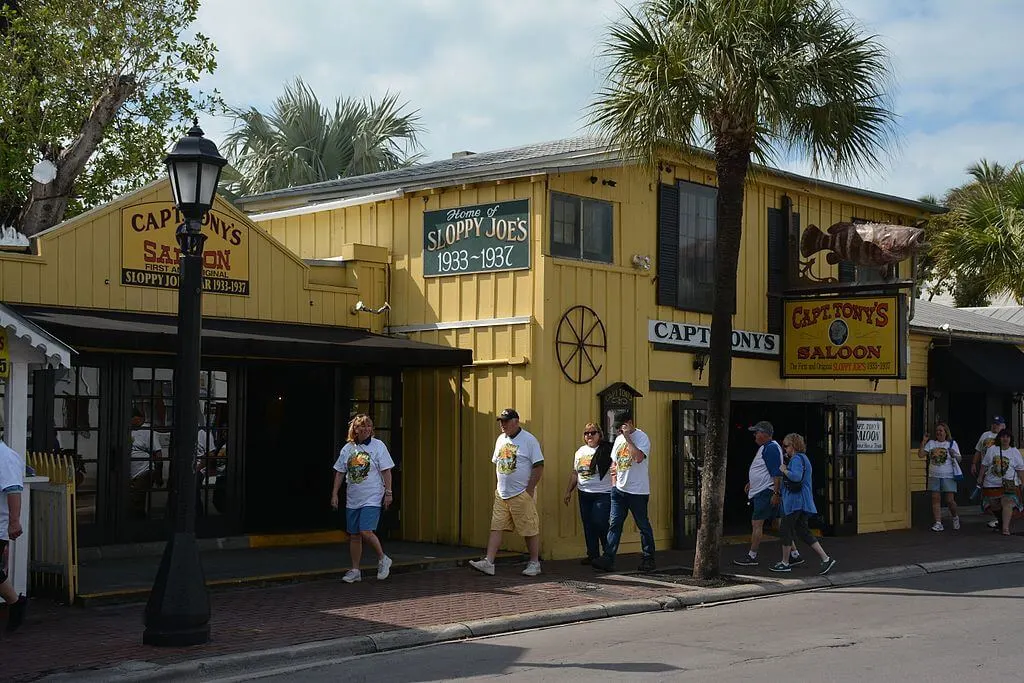 There are also many ghostly stories that haunt this place, but more famously – Hemingway was said to be a frequent customer. Chuck a quarter into the garoupa's mouth for luck, settle in for a greatly-priced drink and bask in the energy.
8. Sloppy Joe's
You can't ask where to go in Key West at night without hearing about Sloppy Joe's!
Running since 1933, the white-washed brick, huge lettering and awning is a cornerstone of Key West nightlife. Separated into live music and dance bar plus a tap room, the latter is probably what keeps people coming back. For one, the tap room offers up a variety of craft beer and a dedicated corner for sports-watching. For those who want a bit of rowdiness without having to move for it, this place is perfect.
9. Tattoos & Scars Saloon
Looking for an edgier bar in Key West?
Roadhouse décor, hanging motorbikes and possibly the longest bar table you'll ever see makes for a grungy atmosphere that embodies this bar's name of Tattoos & Scars. In contrast to the visuals though, the atmosphere is extremely friendly!
Many locals, tour guides and tourists end up here late-late in the night, drawn in by the classic-rock playlist and cold beer.
10. Hanks Hair of the Dog Saloon
Small, cozy and mostly open-air, Hanks Hair of Dog was an unexpected find. I stopped in after hearing the music – had a great experience!
The outdoor space is mostly covered, seating arranged to face a stage. Not only are the musical talents featured here amazing, the selection of drinks is no slouch either.
Grab tacos from Garbos' Food Truck at the back; just be careful not to drop your food onto the floor because the doggy visitors will definitely gobble it up.
11. Willie T's
You can't miss Willie T's – it's the one covered with dollar bills. Non-stop live music means non-stop moving to the beat; folks walking by often get roped into a song or two as well.
There's practically no separation between inside and outside; everything's connected by a throng of people boasting tropical cocktails. I highly recommend grabbing a bite hear and staying when festivities heat up!
12. Martin's
One last honorary mention for dining and drinks – Martin's on Duval. The dinner menu is fantastic, as are the drinks. The relatively upscale interior is distinctively European as are the menus; from schnitzels to lobster mains, and a separate tapas menu. The signature martinis on the other hand, have a tropical twist. Try their refreshing Key West Sunset or the Key Lime Martini!
---
Where to dance in Key West
Aka the best Key West nightclubs…
Ready to shimmy? There are three Florida Keys nightlife classics with fantastic body-moving music.
1. Garden of Eden
If you like to bare it all, Garden of Eden has a surprising dress code – or should I say, none?
This clothing-optional bar is iconic, known for both its nudity-friendly attitude and good music. Don't worry about privacy as security makes sure all phones stay tucked away. With three floors of party space, your night is as wild as you like it.
2. Irish Kevin's
Another Duval Street regular, Irish Kevin's have been featuring good music since 1998. Live entertainment is a daily act, with enough stage space for you to become the highlight!
The lively atmosphere makes it comfortable to transition between table and dance floor.
3. Aqua Nightclub
Classy Aqua Nightclub sets the scene with a nightly drag show. These ladies really know how to rev up a crowd!
When you're pumped up, slide over to the dance floor for some late evening fun; maybe replicate some moves you just watched.
How to save money on drinking in Key West
"The Key West Bar Card, Restaurant Card & Backstage Pass are without question the best Key West discounts in town. Get any drink buy one, get one free, discounts on food and entertainment. Whether you are in Key West, Florida just for a weekend or for the long haul these cards can easily pay for themselves in one day!"

– KEYWESTBARCARD.COM
---
Alternative things to do at night in Key West
Fun doesn't always mean boozing it up!
Low-key, relaxing evenings make Key West nightlife even more enticing.
1. Sunset at Mallory Square
As an orange haze descends onto the Gulf of Mexico, what seems like half of Florida Keys gather at Mallory Square. Sunset Celebration – a nightly arts festival – is hands-down one of the most amazing things you'll see. Food carts, craft vendors, tight-rope artists and other performers bring this square to life.
My favourite to-do in Mallory Square though?
Just sit by the water and watch the sunset.
2. Better than Sex dessert bar
As advertised, the Better than Sex dessert bar is intimate, seductive and perfect for friends and couples alike. Red walls and curtained tables give you privacy, leaning into the speakeasy vibe. The menu is accommodating; you'll find chocolate-rimmed wines and beers if you aren't into the caramel pies or sweet treats.
3. 801 Bourbon Bar Cabaret
Now, this was a fun night! Rather than where you can party in Key West, think about who to party with. With your customized cocktail in hand, settle in for a fabulous drag show! The 801 girls strut down the stage for hundreds of visitors while brightly-dressed patrons play bingo in another corner. There are even karaoke nights to keep things fresh.
4. Karaoke at the Jam Pony
You don't need liquid courage to belt those notes at Jam Pony because everyone else is jamming with you. While I was a little shy at first, it was great fun to push my comfort zone with support all around.
5. Sunset Pier
Sunset Pier extends out over water with a colorful collection of tables, chairs and umbrellas. The views are absolutely amazing – there's nothing blocking it. The tropical cuisine and live music also add to the chill ambiance!
Don't just order cocktails when you get there, the conch fritters and stone crab is worth a try too.
---
FAQs about Key West Nightlife
1. What's Key West nightlife like?
Key west nightlife should be about bar-hopping, especially on Duval street. Depending on your alcohol tolerance or wild level, you'll enjoy strolling down the street to find the best spot for you! This part of Key West is also full of stores to shop at and restaurants to dine in.
2. What are the best bars in Key West?
Green Parrot Bar, Smallest Bar, Rick's Bar, Sloppy Joe's, and Capt Tony's Saloon are just some worth mentioning as the best bars in Key West. Whatever type of alcohol, these spots will quench your thirst for a strong beverage.
3. What are things to do in Key West at night?
Activities in Key West at night include ghost tours, bar crawls, sunset cruises, and theaters.
While these are contrasting to the usual daytime activities, these will surely bring life to your Key West holiday night out!
4. What's the nightlife in Duval Street Key West?
While some parts of Key West are asleep during the night, that's not the case in Duval Street. This is the liveliest at night in the whole of Key West, filled with people walking around while the night lights beam.
5. Where are the best nightclubs in Key West?
If you are looking for some blinding lights and blasting music, Aqua Bar and Nightclub, Sidebar Key, Irish Kevin's, and The Bull are just some that you can release your party animal on.
6. Which streets to have fun in at night in Key West?
Lined with shops, pubs, bars, cafes, and restaurants, the only street that claims the throne of fun at night in Key West is Duval Street. You should never miss this!
7. What are the best bars in Duval Street Key West?
Lies in Duval Street, Key West are bars such as The Rum, Fat Tuesday, Rick's, Willie T's, and Little Room Jazz Club that are considered the best.
---
Key West at night
Hopefully this will help you narrow down where to go in Key West at night – as you can see, there's a lot of choice for you to have some great nights on in the Florida Keys!
FOR MORE TIPS ON THE FLORIDA KEYS, CLICK ME!
And don't miss these fascinating Florida Keys facts to know before you go, too.
---