The best beaches in Vietnam are generally on Phu Quoc, a beautiful little island that looks like it belongs to Cambodia on a map, but is easily accessible from either country. I was in Phu Quoc for a week in February so I know it well.
I spent the days lazing on the various beaches – zipping between them on a moped – and the evenings eating round the markets. I'd definitely recommend the island if you're a bit of a beach bum.
The rest of Vietnam's beaches span over 2000 miles of coastline, and range from spectacular secluded coves with carpets of white sand and crystal clear waters for snorkelling, to fun 'party' resorts where there's watersports, beach bars and party boats.
With so many amazing beaches in Vietnam to visit, it's difficult to know which one to head to when you've only got a week or so's holiday to play with. From personal experience and on the ground recommendations – here are the nine best beaches in Vietnam to make sure you include in your trip.
9 Most Beautiful & Best Beaches in Vietnam for Sunbathing
1. Star Beach, Phu Quoc
Bai Sao, otherwise known as Star Beach, would be up there with some of the best beaches in Vietnam, and most definitely one of the best Phu Quoc beaches.
A quieter and largely undeveloped beachfront located to the east of Phu Quoc, Star Beach still dazzles with its beautiful shores and pristine waters. Much quieter than the West of Phu Quoc, you'll be able to get away from the hustle and bustle and enjoy the famous Vietnamese beach at your own pace. Spend your days snorkeling or diving in the pale blue waters and relax afterwards with an obligatory cocktail at one of the few more chilled beach restaurants dotted along the water's edge.
Just don't go during Vietnamese New Year like I did – the place was PACKED, and kinda dirty, but I'm assured that's only because there were so many people there at that time of year.
2. Ganh Dau, Phu Quoc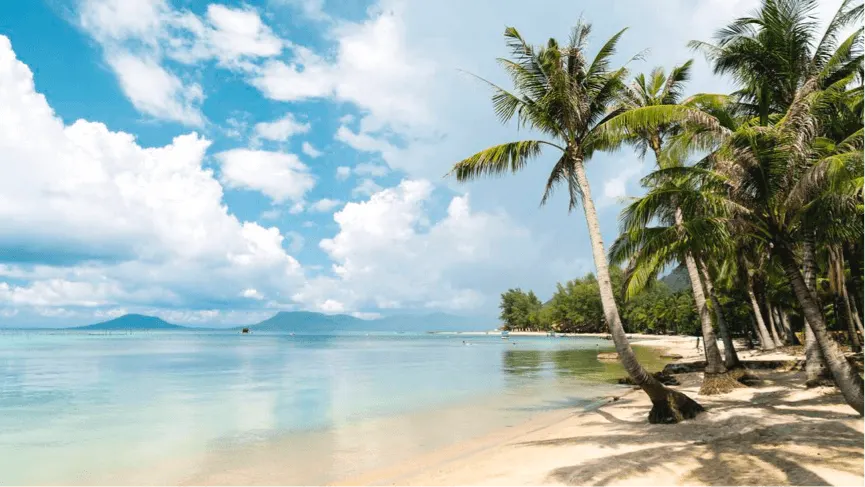 A heavenly scene, Ganh Dau Beach is another Phu Quoc beach gem. With white as white sands and towering lofty palms fringing the shoreline, this idyllic Phu Quoc beach can be easily accessed via a newly paved path from the nearby traditional Vietnamese fishing village. Both sheltered and shaded with calm shallow waters, you'll enjoy Peppercorn Beach Resort that boasts discreet and minimalistic yet elegant bungalows if you're looking for something a little more laidback. The restaurant is first-class and is an excellent lunch stop if you're just visiting for the day.
---
More on travel in Vietnam
---
3. Doc Let Beach, Nha Trang
With 11 miles of pure white sandy shores, Doc Let Beach has long been ranked one of the best beaches in Vietnam.
Known for its shallow turquoise blue crystal waters, this impressive bay can be divided into distinct areas. To the north, you'll find a cluster of guesthouses and beachfront hotels, bars, cafes and restaurants where all the tourist action can be found. To the south, you'll find a quaint wooded outcrop that is a peaceful sanctuary, making it the ideal place to escape.
4. Ong Lang Beach, Phu Quoc
Made up of calm bays and stretches of golden sand peppered with black rock and swaying palms, Ong Lang Beach is in the north of Phu Quoc's principal town, Duong Dong. Dotted with an array of mid to exclusive beach resorts, this is the perfect place to enjoy a few cocktails in the sun.
---
Pin me!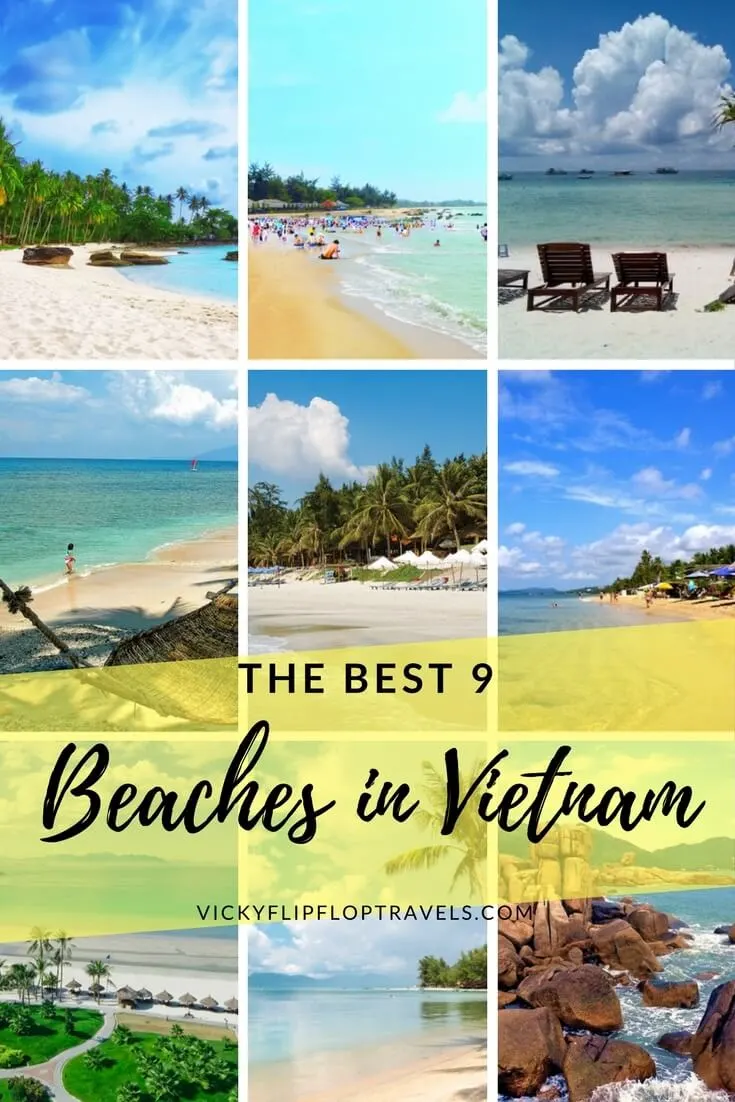 ---
5. City Beach, Nha Trang
City Beach is one of Vietnam's number one beaches, although when I went in February 2017 I was shocked at how much development there'd been since August 2012. So you probably need to get there ASAP to see anything like the sight above.
Over 14 miles of sand stretch along Nha Trang's coastline. It's home to impressive rolling waves and a host of cool cafes, restaurants and bars. The long beach promenade has something going on day and night with hoverboards, cyclists, skaters and people just hanging out and enjoying the sea air.
6. Mui Ne, Phan Thiet
Located on a beautiful stretch of sand with swaying palms and lofty dunes, Mui Ne in Phan Thiet is both charming and exciting. The beach's great surf is perfect for a host of daring water sports, which includes kitesurfing, sailing and surfing. Not too far from Ho Chi Minh City, Mui Ne Beach is the perfect weekend getaway destination with loads of hotels, restaurants, bars, shops and boutiques.
Cycling through here (y'know, that time I cycled 700km through Vietnam) I knew that I'd want to come back to Mui Ne some time for longer. Definitely seems like the kind of place you could chill for a few weeks in.
---
READ MORE: Where to Stay in Mui Ne and Phan Thiet, on Move2Vietnam
---
7. Hon Chong, Nha Trang
Travel a little further north in Nha Trang from City Beach and you'll find its more secluded sister – Hon Chong Beach.
Despite its isolation, Hon Chong Beach is one of the most popular beach destinations in Vietnam.
The mountainous rugged coastline makes for a stunning view, and the unrefined surrounding villages add to the charm. Hon Chong Beach is an ideal Vietnam beach destination if you're looking for a place to explore the country's natural beauty in a predominantly undeveloped area. There are still loads of watersports to try though!
8. Ho Coc Beach, Ho Coc
Golden sands, the rolling inland sand dunes, together with the clear blue waters make Ho Coc beach one of the best beaches in Vietnam to stop off at. Weekends are busy and full of life, but come the week, you'll soon discover you'll own the beach. Stretching 3 miles, this chilled out Vietnam beach has impressive dunes, boulders, clear blue waters and tranquility.
9. Long Beach, Phu Quoc
The aptly named Long Beach in Phu Quoc is a 12-mile stretch of golden sand spanning along the coast. With numerous deserted spots, complete with swaying coconut palms, you can relax in a tropical heaven on one of Vietnam's most beautiful beaches.
Gorgeous sunsets, private sunbathing spots and water sports galore, not to mention a load of cheap and cheerful seafood restaurants, this is the perfect place to head if you're looking for a good mix of fun and privacy.
Any other beaches in Vietnam you'd recommend?
---
Check out my video on Ho Chi Minh City!

---