You don't have to go far to enjoy some epic scenery and fun attractions. The Phoenix to Sedona drive proves that a 2 hour journey can stretch over a weekend – there are plenty of amazing stops to make!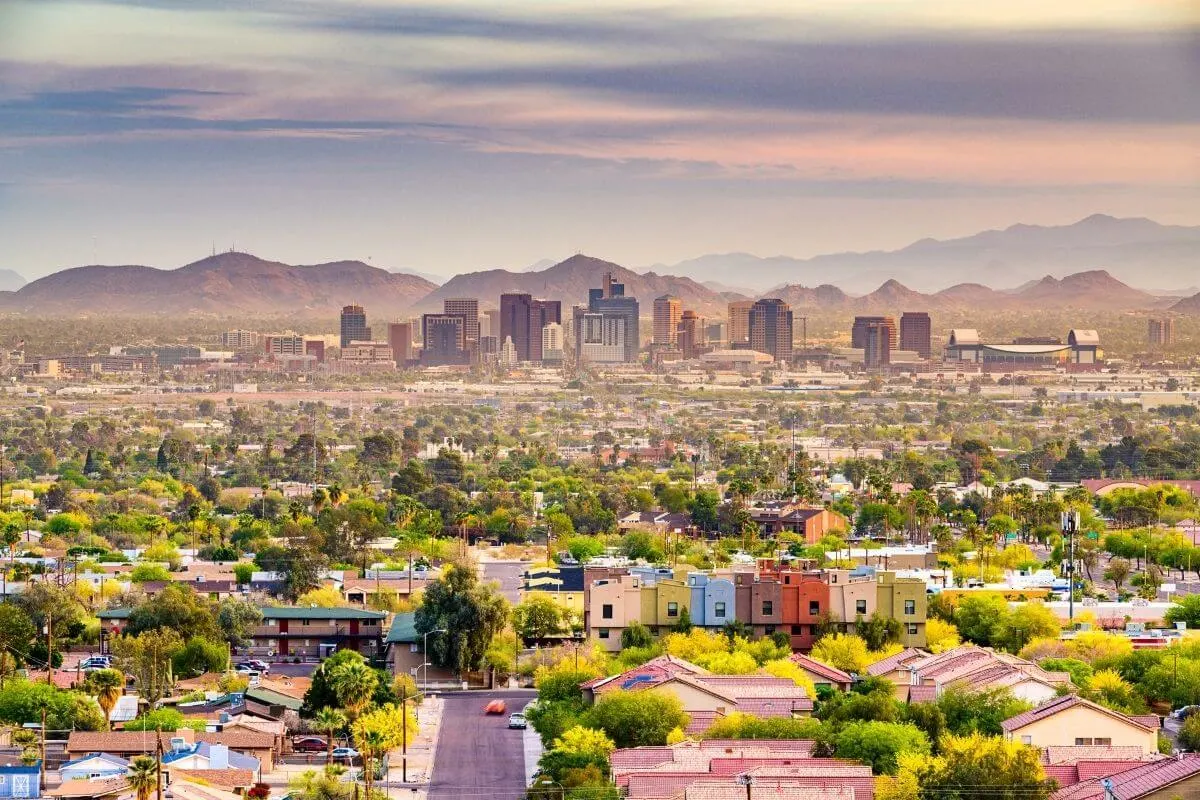 Phoenix, aptly nicknamed the Valley of the Sun, is such a fun starting point. Because it's a bustling city, you wouldn't expect the first 90 miles of your drive to be mostly scenic. I bet you'll be pulling over every now and then to take photos of Arizona's famous red rock mountains and desert landscape.
The direct route down the I-17 on the Phoenix to Sedona drive gets extremely crowded on weekends and holidays. I suggest taking an alternate route through Cottonwood and onto Highway 89A. You get to experience more attractions variety, especially if you do an overnight stay between Phoenix and Sedona.
Camp Verde has great places to stay or stop for a break, as you'll see.
These are 11 stops from Phoenix to Sedona that you should make!
Best Stops on the Phoenix to Sedona Drive
Here are the best things to see between Phoenix and Sedona if you're driving between the two.
How far to Sedona from Phoenix?
If you go direct, the distance from Phoenix to Sedona is only about two hours and 115 miles. But, with all these great things to see on the Phoenix to Sedona drive, there's no rush!
1. Phoenix
Before you hit the road and drive from Phoenix to Sedona, you definitely have to spend some time in Phoenix. The capital city of Arizona, it's a sprawling metropolitan with plenty to see and do.
Of course, outdoorsy activities are expected. Camelback Mountain, South Mountain Park and Preserve, and the Desert Botanical Garden top the list. To see more than the typical desert cacti and native plants, the Japanese Friendship Garden makes for a pretty stroll.
Other entertainment includes high-end spa resorts and Jack Nicklaus-designed golf courses, as well as posh shops at Scottsdale Fashion Square.
For a taste of history and culture, visit Phoenix Art Museum, Heard Museum, and Musical Instrument Museum. Families will enjoy OdySea Aquarium, Phoenix Zoo, and Papago Park as well.
How about the ultimate Phoenix experience while you're there, a flight in a hot air balloon…
This is where you'll start your drive so for your best bet for car rentals Phoenix Airport is a good shout. Pick up here and you'll normally find there are more options, and it's cheaper than downtown Phoenix.
2. Lake Pleasant
Ok, let's get going. First stop on the Phoenix to Sedona Drive, Lake Pleasant.
Just 45 minutes into your Phoenix to Sedona road trip is a beautiful park to get some exercise in. It's mostly sandy flatlands with gentle rises, leading down to the lake with many curves. Enjoy cooling off by flying down the floating Waterslide!
You can also take The Incline up for views over the regional park. See how many water activities are happening at once. If you're feeling ambitious, you can spare hours for boating, fishing, kayaking and even scuba diving. Check out this Lake Pleasant Sunset Kayak Tour for starters. You'll experience a breathtaking sunset while paddling around Lake Pleasant on a guided kayak tour, surrounded by views of nature and wildlife.
3. Agua Fria National Monument
As you cruise down the I-17 from Phoenix to Sedona in the car, towards Agua Fria, stop by Sunset Point. This rest area is perfect for stretching out your legs and taking panoramic shots across the vast plains.
Agua Fria National Monument, some 70,000 acres of preserved land, sits on the Agua Fria Canyon and River. Hundreds of petroglyphs and ancient stone pueblos are found within, coexisting with numerous wildlife.
I highly recommend hiking the Badger Springs Trail as it winds through rock formations. The Pueblo La Plata site is another highlight, the ancient settlement having hosted almost 100 rooms before falling into ruin.
You can take either exit 256 or 259 to reach this attraction on the drive from Phoenix to Sedona. This is definitely one of the most impressive things to see between Phoenix and Sedona!
4. Arcosanti
Arcosanti is such an unexpected thing to see between Phoenix and Sedona in the car. Designed by Paola Soleri, an Italian architect, this planned utopian community looks something out of a science fiction film.
The unusually shaped buildings currently play home to apprentices who are learning Soleri's building methods. Check out their hand-cast bronze and ceramic wind bells; these make great unique souvenirs.
Tours are $19 per adult. You can even stay overnight on the property if you want a break from the Phoenix to Sedona Drive too.
Oh, and don't forget your road trip essentials when you're going on a trip like this – a good playlist and some snacks make it all the more fun!
5. Montezuma Castle National Monument
What makes Montezuma Castle National Monument so fascinating is that it's built into the cliffs. Look up when you walk the trail – the limestone cliffs carry a stunning stacked pattern.
This dwelling was built by the Sinagua people in pre-Colombian times, dating as far back as 1100AD. The five stories house up to 60 rooms and was worked on over three centuries. Visit the bookstore and museum to learn more about Montezuma Castle. There's another part of this archeological network further up the I-17, called Montezuma's Well.
It's definitely one of the most impressive things to see between Phoenix and Sedona.
6. Out of Africa Wildlife Park
Instead of continuing down the interstate, take a slight detour on your drive to Sedona. Backtrack just that little bit and turn onto the 260 for an unexpected stop: the Out of Africa Wildlife Park. Animal lovers will love this place.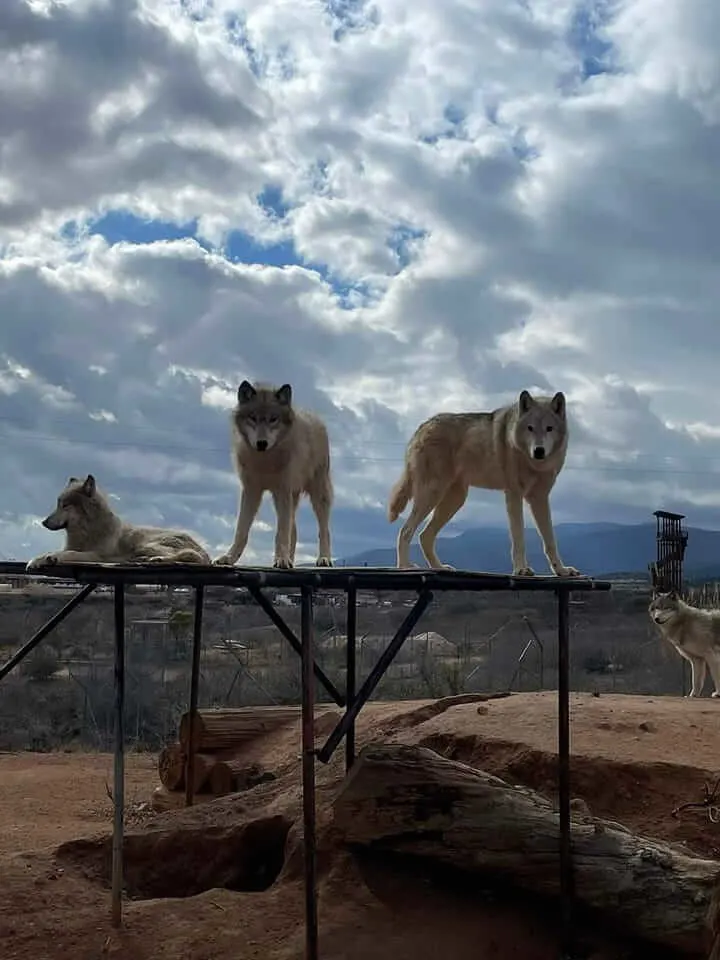 It's pretty surprising to find an African safari during an Arizona trip but the $39 tour package clears any doubts. Hundreds of African and Asian wildlife live here, from mammals to birds and snakes. Their safari tours are the highlight but you can do other activities too. This includes ziplining, watching tiger splash or taking a wildlife photography class.
Each habitat is spacious and allows the animals to free roam. The beautiful Mingus Mountains in the background add to the feeling of being in the wild. I highly recommend this stop on the drive from Phoenix to Sedona, especially for families.
---
LOVE ROAD TRIPS? Have a go at our road trip quiz!
---
7. Verde Canyon Railroad & Tuzigoot National Monument
One of my favorite stops on the drive to Sedona from Phoenix is further down the 260 route.
It's two-in-one as you drive through the Verde Valley. Just 30 minutes later, pull up at Verde Canyon Railroad for a magical 4-hour experience. Opt between indoor and open-air seating as the train loops past the red rocks that characterise this region. Buildings from the 1800s, old mine entrances, caves and creeks are just part of the landscape.
The railroad depot also hosts an animal rescue group. Make some new friends – the eagles and owls are so beautiful.
Then, visit the neighbouring Tuzigoot National Monument. This archaeological site and museum was once a 110-room pueblo. Learn about the Sinagua people via a guided tour. Tools, pots and textiles excavated from the site are also on display at the museum.
8. Cottonwood
If you didn't make a stop at Cottonwood on your way in, stop on your way out. This delightful stop is affectionately known as Arizona's biggest little town – a perfect place to spend a few hours browsing and relaxing!
Old Town Cottonwood features a quaint main street and shopping district peppered with historic cafés, charming shops and art galleries. Then there's the Dead Horse Ranch State Park. Its name is gruesome but the estate is gorgeous. Situated over three lagoons, it houses over a hundred campsites and plenty of Sedona hiking trails and horse riding trails. Those who like to drink will love the Verde Valley Wine Trail, comprised of six wineries for variety.
If you're looking to stay the night on the road trip between Phoenix and Sedona, Cottonwood is a wonderful location.
9. Wine Tours of Sedona & Sedona Red Rock Adventures
Instead of heading back onto the I-17, take State Route 89A on your Phoenix to Sedona drive. Not only can you avoid traffic (which I always try to do), but you get to appreciate the beautiful scenery along the backroad.
Pull up at the Sedona Red Rock Adventures for some of those famous red rock formations – their experienced guides will take you on a fun hike around. Feeling lazy? You could also ask for a wine tour instead, as there are quite a few vineyards around. Page Springs Cellars is a highly rated one. Be sure to request a tasting session too!
If you don't feel like following a guide, feel free to tour around on your own.
If you're on the search for the best things to see between Phoenix and Sedona, this is a MUST.
10. Red Rock State Park
Your last stop before Sedona brings you right to its borders.
Hop onto Red Rock Loop Road to reach this stunning state park. The drive up is stunning as you see how the sun lights up the jutting red rocks, but go hiking to take in its beauty close up.
Trails wind through the 286 acre nature preserve, with plenty of rangers to point you in the right direction. Famous sights include Cathedral Rock, Lover's Knoll, and Crescent Moon. Don't forget to take your camera along because the views are fantastic. You can see all the way to Sedona at the top of various trails.
11. Sedona
Finally, you've reached Sedona!
Your Phoenix to Sedona road trip is over.
Surrounded by red-rock buttes and steep canyon walls, Sedona is teeming with photo ops and outdoor attractions. On the outskirts are numerous trailheads such as Bell Rock, a popular early morning hiking destination and stargazing spot. You can spend days exploring the expansive Munds Mountain Wilderness; Oak Creek Canyon, like a mini Grand Canyon, is yet another place to visit.
If you want to know the best things to do in Sedona, click this link. Or, you can join this Sedona Full Day Tour to see all the highlights here.
Do stop by the Chapel of the Holy Cross which is set beautifully into the landscape. If you're not sure where to start adventuring, I recommend going with a pink jeep tour!
Sedona is also home to a vibrant arts community, especially in Uptown Sedona. Spend some time at Tlaquepaque Arts & Shopping Village if possible. This outdoor market with cobblestone paths and decorative arches is the perfect place to go souvenir shopping. It is craft shops and art galleries aplenty!
READ MORE: How about driving from Phoenix to Vegas next time?!
---
FAQs about Phoenix to Sedona Drive
1. Is there Phoenix to Sedona shuttle ride?
Yes. A shuttle ride from Phoenix to Sedona is a transportation option. In fact, the shuttle bus is the cheapest way to travel between the two cities. The trip starts from Phoenix Sky Harbor International Airport seven times a day starting at 7:45 am (each lasting for about 45 minutes). There's also a private shuttle where your itinerary can be customized as you wish.
2. How should a Phoenix to Sedona day trip look like?
A day trip from Phoenix to Sedona is considered the best when you enjoy nature's beauty in the form of rock formations, particularly for this one, the Grand Canyon. On your trip to the desert town, you will be awed by the unbelievable red rock mountains and desert landscape.
3. How much drive time from Phoenix to Sedona?
Driving time from Phoenix to Sedona would take 2 hours if you go with State Route 179.
4. What drive stops on a Phoenix to Sedona road trip?
The ones mentioned above are the best drive stops in your Phoenix to Sedona road trip. The common ones along with the hidden gems will make you appreciate more the county.
5. What's the best scenic drive from Phoenix to Sedona?
Red Rock Scenic Byway or Highway 179 is considered to give riders the best scenic drive from Phoenix to Sedona.
The breathtaking view of the landscape while riding on the long stretch of highway will keep you relaxed and enjoying the entire duration of the trip.
6. Can I enjoy a scenic route on a Phoenix to Sedona trip?
Absolutely! Sedona is one unique and beautiful place in Arizona. Going there lets you witness the stretch of earth-colored sights. There is 100% no doubt that you'd enjoy a scenic route from Phoenix to Sedona.
7. What's driving from Phoenix to Sedona at night look like?
Even though there's a bargain of not seeing the rock views from Phoenix to Sedona when you travel at night, you might just be one of those who enjoys the calm of silence and darkness.
But just for you to be aware, be careful at night because remember, it's a desert. The road can stretch long and get twisty too with unexpected lighting. Some locals say that if you broke down your car, some areas won't have phone reception and you have to wait for state troopers to help you.
8. Where to eat on a drive from Phoenix to Sedona?
Rock Springs Cafe located between Phoenix and Sedona at exit 242 off I-17 is the best restaurant option if you want to eat during the trip. They have pies and are worth bringing one more for the rest of your trip.
Though most people advise riders to just wait until they arrive in Sedona to eat or call for a reservation ahead or eat lots before your trip.
9. Is the drive from Phoenix to Sedona scary?
Not at all! The highway is well-maintained and properly constructed. Just that traveling at night, as much as possible, is not encouraged.
---
Phoenix to Sedona Drive
The drive from Phoenix to Sedona can be short and sweet, but if you have the time you might as well stop in these unique places and have a look around. It's all part of the adventure!
Have a great time driving from Phoenix to Sedona and let me know how you get on in the comments below…
---