Looking for cool things to do in Lake Charles, Louisiana? Here's a list of the best of the Lake Charles attractions to help you plan your trip.
If you're looking for Lake Charles events, the best restaurants in Lake Charles, or even the best crawfish in Lake Charles, then read on…
Do y'all know anywhere in the world where you can go from drive-thru daiquiris to a crawfish boil to spotting 27 crocodiles in 30 minutes, and then onto gambling away $15 of your life savings at a huge casino?
Things to do in Lake Charles, Louisiana
Well, that's Lake Charles.
This industrial city in between Houston and New Orleans is the perfect stop off on a Deep South road trip. And I haven't even mentioned the Bayou Rum Distillery yet. It only started up in 2011 and it's already won too many awards to mention since, worldwide, just to emphasise how great their blends are.
I know, I tasted them all on my tour.
'Satsuma' is a particular favourite – a tangy powerful flavour that would be a good digestif, or delicious served over ice cream.
So that can come in as number one on our list of the best things to do in Lake Charles…
---
Disclaimer – I had travelled to the USA independently but was visiting Lake Charles on a press trip.
---
1. Visit the Bayou Rum Distillery
The Bayou Rum Distillery has won the Louey Award for the tourism attraction of the year from the Louisiana Travel Promotion Association. So yeah, it's good!
I went along to see some of the rum in production, from Louisiana sugar cane and molasses into the tasty rum that's now very popular around all of Louisiana. You can even join a bottling party here, and get a certificate too. If you want to know more about visiting one of the top attractions in Lake Charles, the Bayou Rum Distillery, then I have a whole blog post on it.
Or you can just read this…
"The 24-foot high, 36,000-square foot distillery smelt incredible – thanks to all that Louisiana sugar cane boiling away. The huge picture decorating the wall reminds workers and visitors of how the sugar cane used to be collected, by boat and waterway. Now there are a few more machines involved in the process, but the story here is all in the local Louisiana method, process and ingredients. Their rum is still made in a traditional copper pot and the ingredients all come from inside the state – the sugar cane as close as New Iberia, just up the I-49 Highway." – Touring the Bayou Rum Distillery.
2. Eat a Crawfish Boil
For me Lake Charles will always be the place where I learned to peel a crawfish. My new friend Will, from Visit Lake Charles, passed on the technique that's been bequeathed to many an American southerner as soon as they were old enough to pick a crawfish up.
1. Pinch the tail. Crack it and squeeze.

2. Pull of the head. Suck the juice.

3. Pick off the remnants of the shell.

4. Dip crawfish in sauce and a little extra seasoning.

5. And eat.
I'll admit it took me an embarrassingly long time to realise that crawfish is what we call crayfish in England, but these beasts were nothing like the tasteless offering you get in your average M&S sandwich.
I had crawfish twice while I was in Lake Charles, in 48 hours – once at the all-you-can-eat crawfish buffet at L'Auberge Hotel's Le Beaucoup Buffet and then again at the number one restaurant in Lake Charles, Steamboat Bill's. I have it on good authority that Steamboat Bill's is one of the best restaurants in Lake Charles.
And now I'm dreaming of eating them again…
There was so much other stuff on the buffet at L'Auberge, but after the first one I was hooked. Apart from those six cakes I tasted at the end, I couldn't eat another thing.
No one comes to Lake Charles to be healthy!
3. See the houses of the Charpentier Historic District
Lake Charles is home to some incredible houses. The Charpentier Historic District is the plush part of town with wrap-around porches, fans on the porches even though no one's sitting there and grand facades with witches hat turrets.
One of the most fun things to do in Lake Charles is to drive around admiring them all.
I went on a historical tour round the houses with local historian Adley Cormier. He explained how blue ceilings are the traditional way in this part of Lake Charles (confuses the bugs so they don't build nests) and brought me up to speed on the local gossip concerning who'd lived where over the years and how much they were worth, which, for a huge house like the one above you'd pay about the same as a two-bed in London, so that's a thought.
If I lived here I could get me some crawfish boil every day.
The Charpentier area came to be in the late 1800s and the Victorian architecture was borne from the carpenters at the time who built their own houses. Now, understandably, it's one of the most sought after places to live in Lake Charles.
---
Where is Lake Charles?
If you're wondering where exactly Lake Charles is, geographically, then here's a map of Lake Charles. As you can see, it's located on Lake Charles, Prien Lake, and the Calcasieu River – in Louisiana, in the Deep South. As you might expect, it's a moist place.
It's about an hour's drive to the south coast of the US, and is 2 hours from the state capital Baton Rouge. It's about 3 hours from Louisiana's most famous city, New Orleans.
---
4. See some nature and wildlife
Lake Charles is known, among nature lovers, as a bit of a wildlife mecca. I went on the Grosse Savanne Eco tour, which took us around just a few of the 50,000 acres of their land through marshes and rice paddies.
If you're looking for nature things to do, Lake Charles has plenty of options for the great outdoors.
Keen birdwatchers flock here to see the rookeries, I was taught a few birdie's names by Will, and the owner Bobby, which I've since forgotten, as standard. I also learnt about the pretty white flowers that had just popped up in the last 24 hours. Apparently if you come at the right time the marsh is covered in them, like a beautiful white land as far as the eye can see.
Most excitingly I got to hear a bullfrog's mating call, he was really going for it.
Lucky future Mrs Bullfrog.
Boating around the marshlands was so peaceful and calming, and we saw quite a few alligators too, not quite the 27 of later in the day but one did come over to us on the boat.
Don't tell Florida but I'd definitely say the experience here was better than the Everglades.
If you're into any sort of boating, fishing, crabbing, nature, then you'll blummin love Lake Charles, all that good stuff was everywhere. I used to spend my summers on my grandparent's farm and still have strong memories of them, and my mum, trying to introduce me to the amazing nature there and the names of everything. But then good old grandma and pa got a Sky TV box and running around in the meadows chasing geese and collecting eggs from the hens was no more.
Being in the nature of Lake Charles really reminded me of those happy times playing out in the fields.
The Pintail Wildlife Drive in nearby Cameron was cool too. Drive three miles round the marshes and you'll be treated to an array of wildlife and nature from the comfort of your car seat. Will started off by proudly telling me they'd seen 22 alligators there on Monday, well, on that Thursday we saw 27 – five in a row all sunning themselves like they were ballin' on Miami Beach at one point.
Pintail Wildlife Drive was definitely one of the best things I did in Lake Charles.
5. Enjoy the beach life
Speaking of beaches, we went to see Rutherford Beach – just one point on the 26 miles of coastline here – and only a 45-minute drive from actual Lake Charles. It was a dreary, blustery day when I visited but when the sun's out so are the locals, sunbathing, fishing and collecting shells.
It was refreshing to be on a beach where if you turned around you weren't greeted by a row of high rise hotels looking down on you, as is the way in the USA, and much of the world actually.
As far as the eye could see there were just two wooden houses on stilts, with their perfect views out to the ocean. I'd love to know if any of these were on airbnb. This would be a great place to stay in Lake Charles.
6. Visit Downtown Lake Charles (to eat)
– Mural by local artist Candice Alexander outside her gallery
If you're in town for two days you'll find there are come cool places to go in Downtown Lake Charles. We mostly ate and wandered around, but there were some cool shops and galleries too.
My favourite restaurants in Lake Charles
Luna Bar and Grill
We went for dinner at the Luna Bar and Grill where the portions were so big I was full after my starter. Could only manage a mint julep for dessert. The cocktail menu was music themed, love it, and the walls were covered with band posters. Mainly the greats of the 70s and then a random Mumford and Sons one too.
– Avocado arancini, how to do avocado the American way (ADD CHEESE)
If you want to carry on the craft beers and cocktails party, Luna Live over the road looked fun, but it was home time for me.
Stellar Beans
For breakfast I can recommend Stellar Beans' scrambled egg bowl and yes, those aforementioned drive-thru daiquiris are a must. As soon as I heard about them I knew that sugary, boozey elixir would be the perfect way to top off an awesome two days in Lake Charles.
As long as the tape is over the straw hole apparently it's ok to have in the car.
Okayyyy.
T'Boy's Cajun Grill
If y'all (picking up the local lingo) want a real good insight into local Lake Charles life T'Boy's Cajun Grill would be my number one recommendation here. The people watching was awesome, and I tried my first Po Boy, which are an absolute institution here in the south. Stuffed full of crab it was a hot, buttery sandwich on soft crusty bread alongside some alligator bites (interesting texture, but my life is ok without them) and crab dippers, with a huge Coca-Cola.
7. Check out the Lake Charles museums
I explored a few museums in Lake Charles, the Mardi Gras Museum of Imperial Calcasieu (featuring the biggest collection of costumes in the state) and the 1911 Historic City Hall Arts & Cultural Center. It was showing the Frank Lloyd Wright exhibition, an architect who developed the Usonian way of designing homes. Apparently he'd get so into the design of his client's homes that he'd even design them clothes and say how they should wear them. Things got awkward.
Both were really interesting and would make for great rainy day activities in Lake Charles. I loved looking at all the costumes in the Mardi Gras Museum – so fabulous.
8. L'Auberge Casino Resort
If you've got some money to spend, the L'Auberge Casino Resort is where to do it. Check out my room!
I had a bath and then a shower, just to test both – and the water came from the ceiling to fill the bath.
Mind.
Blown.
I also got more pillows than I imagine I'll ever own.
L'Auberge Casino Resort has it's own outdoor pool area, spa, three restaurants, awesome Ember Bar (I had maple bacon rashers to dip in sauce on happy hour!) and a huge casino, the biggest in Lake Charles. I mean I'm no gambler, but I was willing to flash 15 of my finest dollars in order to experience Lake Charles casino life as others do.
I sat next to a woman who'd put $20 in and was currently hitting $300 on the gambler, she told me she'd leave when it went to $200. But she also told me she'd just lost $300 on another machine, so I'm not entirely sure I believed her.
Anyway, after getting my free Margarita in return for gambling, I left to bask in the opulence of my super fancy room before I had the chance to find out.
9. Casinos in Lake Charles
Casinos and Lake Charles go together like fish and chips – casinos are the most popular things to do in the city. Personally, I'm not a gambling woman, and I don't really enjoy being around people who gamble either. So, I didn't spend much time in the Lake Charles casinos. If that's your vibe though, you will LOVE it here.
Some of the best casinos in Lake Charles include the Golden Nugget Lake Charles, the Isle of Capri Lake Charles and the casino I stayed in for two nights, the L'Auberge Casino Resort. You can gamble in the casinos as much as you like, and drinks will be brought over to you for free as long as you keep playing.
Lake Charles casinos are fun, so long as you know when to stop. Set yourself a budget and stick with that. I had a great time on $15!
10. Drive from Lake Charles to New Orleans
One of the best things to do in Lake Charles, once you've had your fun, is to take a road trip to New Orleans. The journey from Lake Charles to New Orleans is only 3 hours 7 minutes through Lafayette and Baton Rouge.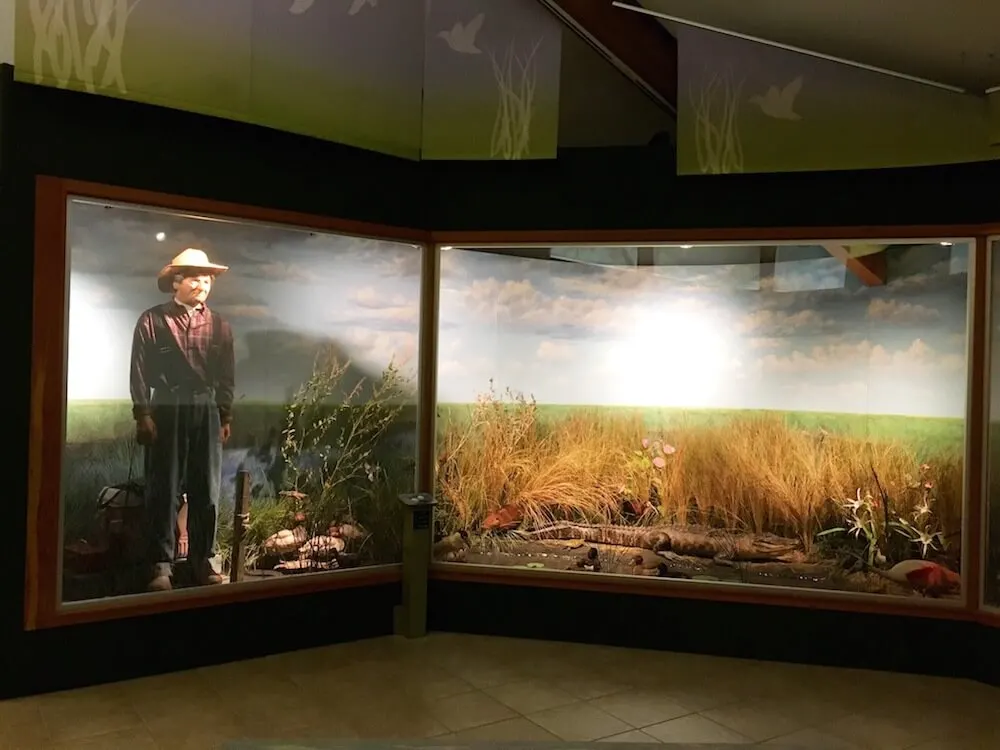 – Love the animatronics at Lake Charles Visitor Centre
If you want to know more about the road trip, and how to do it, check out my post on driving from Austin to New Orleans, and skip to the part that covers Lake Charles to New Orleans.
11. Go to a Lake Charles event
There are quite a few events and festivals in Lake Charles you can time your trip to coincide with. Here's a list of the best of Lake Charles events for you to take a look at.
Louisiana Pirate Festival
Cajun French Music & Food Festival
---
I was a guest of Visit Lake Charles – they put together a great 48-hour itinerary for me to explore the area to show you how you could do the same. As you can see, there are loads of fun things to do in Lake Charles, LA.
---