Looking for an itinerary for 3 days in Porto? Here are all the best things to do in Porto for a long weekend.
Porto has a long history which has given the city a beautiful palette of influences to draw from. The fact the city is the home to one of the most prestigious architecture schools in Europe doesn't surprise me – it's a great place to study the mistakes, achievements and methods of the years.
At the same time you can see the modern influences seeping in – the new Museum of Modern Art will be perfectly juxtaposed against the Old Clock Tower. From the top floor of the tower you could see the garden on the new roof, the cool statue outside (see below) and (unfortunately) the Costa Coffee shop that's sure to rip trade from the surrounding cute Portuguese casas.
I'm not usually one for art and have been around enough museums to know that 10 minutes is all it takes for me, but I could've happily wondered around Porto admiring the art work for a week. So if you're an arty type I can guarantee you won't feel let down by beautiful Porto City.
1. Sao Bento Train Station
This usually tops anyone's list of things to do in Porto. Work started on the station in 1900 and the station has kept up with the droves of people using the station as their main interchange, both locals and tourists alike. There are more than 20,000 tiles dating from 1905–1916 depicting landscapes and ethnographic scenes. They're the work of Jorge Colaco, the most important azulejo painter of the time.
2. The architecture
From old churches to what looks like squat houses to churches and towers every building was full of character. Even the potential in the derelict ones was plain to see. On a side note; I checked the house prices and if you're looking to move you can get a great 2-bed flat for around £50,000.
---
Map of the best things to do in Porto
---
3. Old-style trams
I love these old school trams, they're like the ones in Budapest and just bring a great flash of colour as they cruise past. If you were a bit quicker off the mark you could get some great Instagram images from these beauties, or even a beautiful painting. Next time I'm in Porto I'm definitely going to have a go on one of these – they take you to the port caves, so I've heard.
4. The palace
I visited the Freixo Palace while I was in Porto. Enjoying a Champagne reception while the sun set was magical. The dying sun rays bounced off the swimming pool at the front and the bushes and flowers had been manicured to perfection.
5. Beautifully crafted pastries
You can't leave Porto without succumbing to one of the many pastry shops that line the garcias. There's no need to track one down, they'll find you. They'll be sat in their windows glistening with glaze and beckoning you to sink your teeth between the creamy fillings. Of course, the Pastel de Nata is one of the national pastries of Portugal and at just 80 cents a pop you can definitely afford a few, although if you're counting calories you might want to stick to staring.
READ MORE: Why Visit Lisbon?
6. Beach sculptures
Even a trip to the beach was wrapped up in art. These statues on the Matosinhos Beach mark a memorial for the 152 sailors who lost their lives in the shipwreck of 1947 – it's called the "Tragedy of the Sea" or the locally, the "Tragédia do Mar".

7. The people
I love old European women. I love their passion for Roberto Cavelli clothes, their drawn on eyebrows and their jet black hair. I love the disgusted look they give me as I scuzz around in flip flops while they totter on heels to the local café to enjoy coffee with their friends. I love their vibrant fashion and as a mono-language kinda girl I love their fluid chat and the obvious passion in whatever they're talking about in their OTT gesticulations.
8. Modern thinking
This new sculpture near Palais de Paris and the new Museum of Modern Art is a great example of the new art hitting the city. On further examination I realised he's actually wearing glasses, not sunnies, but he's still a cool model for a sculpture keeping an eye on the city.
9. Cool graffiti
Around the Jardin de Caragal the graffiti covered every wall. It welcomed you to a more colourful part of the city where anything goes and artists are free to express themselves.
#10 The hostels
I saw two hostels in Porto; I stayed at the beautiful Tattva Design Hostel and visited the Gallery Hostel for a party. With super modern eating areas, pods for beds and a beautiful roof terrace at Tattva it was definitely one of the most impressive hostels I've ever stayed in. I stayed in an 8-bed dorm with two private bathrooms, but you could also choose between a 'sexy double room,' or a 'romantic double room'. I never did find out the difference.
#11 The shopping street
The main shopping area of Rua Santa Catarina is not only home to the famous Majestic Café, but also a beautifully crafted street complete with cobbles and planted trees.
#12 Aladdin's cave shops
Walking around I saw a quite a few of these cool shops, but as I was sadly tight on time I never did manage to get back to see them. Thankfully I was drawn into this one by the complete shambles of organisation and the cool radios lining the walls. There were old dolls, tin cars, antique books, aged jewellery, collector's lanterns, anything and everything you never knew you wanted. The owner was a really sweetie and seemed proud we were taking pictures of the carnage.
#13 The unpredictability
And if you needed any more persuading on why arty types should go to Porto, just look at this cow popping his head out from a shop window, or the beautiful river and its banks brimming with port caves, or even the unique and delicate street signs marking every 'rue'.
Oh, and beer is £1 a bottle and Caipirinhas are £2.50…
Breakfast at Cafe Majestic
If you find yourself wandering the streets of Porto looking to satisfy your growling belly, get yourself to Cafe Majestic on Rua Santa Caterina quick fast. I wanted to go for coffee after missing out last time I visited Porto for a travel conference, and so me and my three friends entered and sat down for a quick shifty at the menu.
All we wanted was a coffee and a croissant in the legendary Porto pastry haven that is Cafe Majestic. Ten minutes later and we'd ordered ourselves the epic Cafe Majestic breakfast at €20 a pop. After being moved to a bigger table to fit all the food in by our uniformed waitress we sat down salivating in anticipation.
Little bit of history…
The Cafe Majestic interior is famed in Porto. Since 1921 the cafe has hosted the European elite; known for attracting intellectuals, bohemians and ladies of high society – seeing as I count myself as all of the above I was right at home within the beautifully ornate walls. The look was part art nouveau, mixed with a sense of La Belle Epoque and mirrors, marble and metal combine to create a look and feel I'd never seen before. It was grand and all types of fancy, yet I still felt comfortable and able to relax in my red velvet chair.
As we sat pride of place on our huge table tourists poked their heads in to get snaps on the inside – it disturbs me how many photos will be going round with the four of us wearing our specially bought bow ties and stuffing our faces with all kinds of breakfast.
Onto the Majestic event…
I'm possibly the worst food blogger ever so what you are about to see is half finished food, not the beautifully laid out offerings you'll see on other blogs, or what we were actually presented with. It just looked too blummin delicious to delay the first bite taking pictures.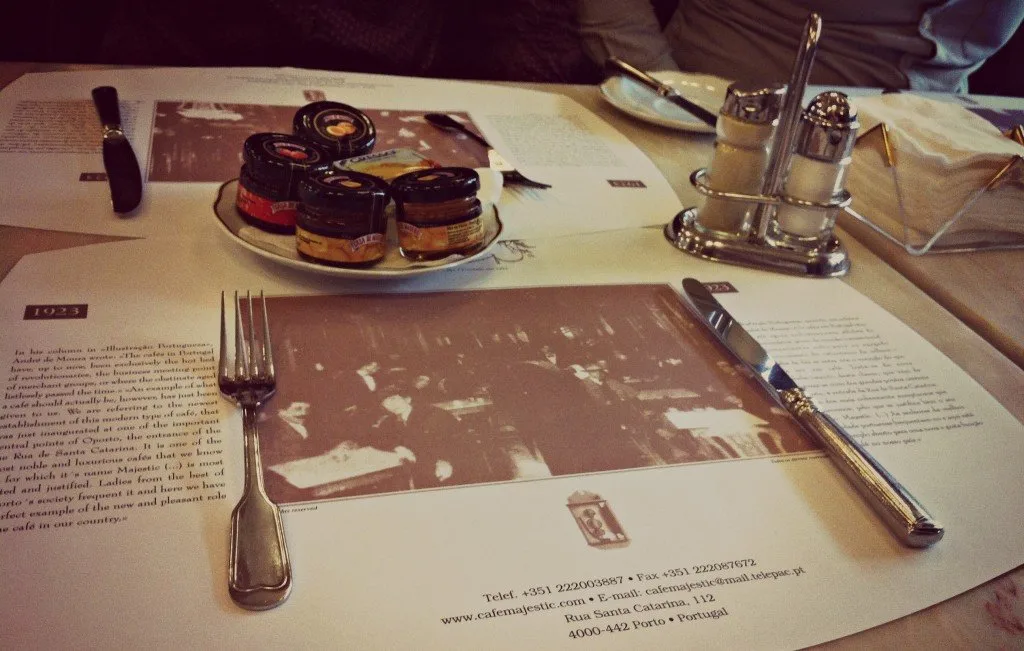 Breakfast at Cafe Majestic includes…
Your choice of eggs any style, cheese and ham, smoked ham from Chaves or breakfast steak
There was a slight misunderstanding here in that I didn't read the menu properly and when she came to take our order I panic-purchases and ordered poached eggs. In hindsight and looking at the breakfast steak option I'm slightly devastated. The eggs were good though (although not quite as good as mine) and a perfect starter for the deliciousness to come…
A choice of coffee, tea or hot chocolate
I went for a cappuccino – without a doubt one of the best coffees I've had and that's saying a lot.
Freshly squeezed and tantalisingly refreshing for my alcohol-induced dehydrated body.
Basket of bread and croissant, butter, jam and honey
We had a warm croissant, a bread roll and two slices of toast each, cut into quarters. There was peach jam, strawberry jam and honey on the side. The croissant was of a more doughy texture than the ones you associate with France for example, I soon came to realise this was customary in Porto, and they sure are tasty. I'd like to let some Marmite loose on those doughy insides.
Zingy to refresh the taste buds after all those bready carbs – perfect.
Wow, I literally didn't know yoghurt could be so tasty. When it came over in its cute little jam jar even the guys were cooing over it. Waiel had a huge strawberry in his compote and the blue berries were fresh as you like.
One last l'il tip…
There was a beautiful terrace outside – a real suntrap – if the sun is out bag yourself a table out there asap!