One thing's for sure about the Irish – they know how to party. The Irish festival calendar is a hectic one, full of music, food, dancing and more often than not Guinness. With so many festivals happening throughout the year, you'll need to know which are the best festivals in Ireland not to be missed.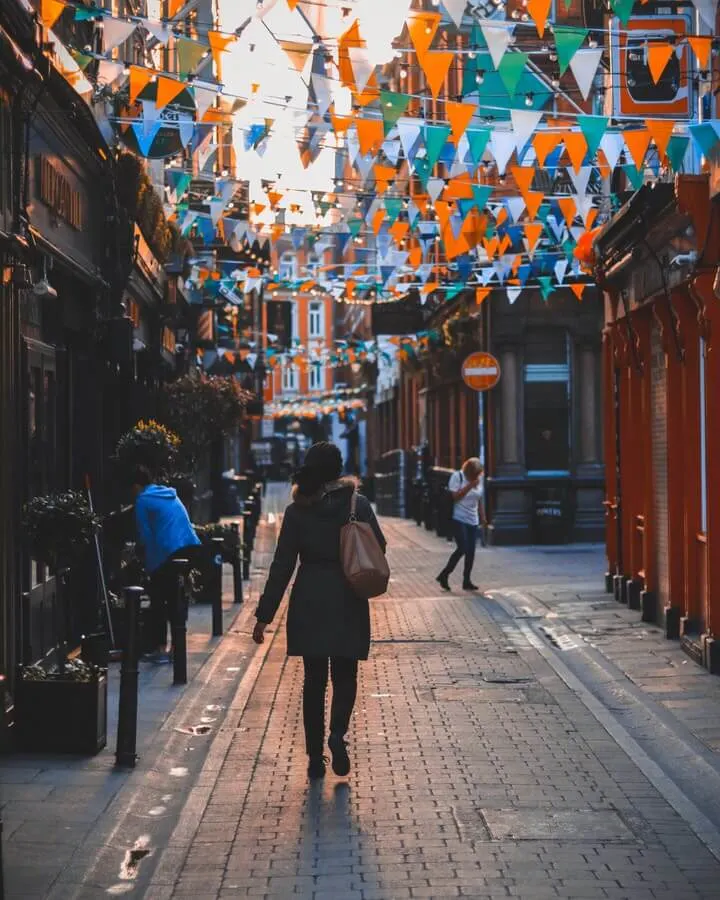 There's always some craic going on in Ireland. In fact, there's so much craic you have to have a pint of Guinness every so often just to calm down. This is even more true when you're at an Irish festival. They last anywhere from one day to a week, and they're full of just pure laughter, fun and merriment.
Each festivals in Ireland is very different, with their own reason for existing. Whether that's to celebrate traditional Irish music and dance, international films, the Irish language, literature, special dates, saints or historic events. However, they all guarantee a good time.
The question is, which of the best festivals in Ireland should you go to?
Top festivals in Ireland to choose from
Throughout the year, some of the best festivals happen in Ireland. So read ahead to make sure you don't miss out on what's on offer.
1. Belfast International Arts Festival
11 October – 5 November 2023
The Belfast International Arts Festival started life as a university project for founder Michael Emerson, who set up the then small event on the campus of Queen's University, Belfast.
Now, over 60 years later, it's one of the biggest and best music festivals in Ireland. It's a huge music and theatre event attracting thousands of people every year. Past guests have included Jimi Hendrix, Dizzy Gillespie and Laurence Olivier, which shows how significant this festival is!
Every Autumn, the festival spreads out all over Belfast with events at the Botanic Gardens, Empire Music Hall, Ulster Museum and Mandela Hall among others. It holds over 320 artistic events, incorporating concerts, dance performances, discussions, film premieres and more. You can pay for events, as opposed to day tickets, meaning you pick and choose to see the acts you want to. Take a look at some of the best cheap things to do in Belfast to make the most of your trip, too.
2. Guinness Cork Jazz Festival
26-30 October 2023
Since 1979 the annual Cork Jazz Festival has attracted hundreds of jazz fans to the city. It's one of the longest-running jazz festivals in the world, starting back in 1978. It just seems to be getting bigger as well, with 40,000 heading to Cork, Ireland for one of the best festivals in the country.
Over the years, lots of notable musicians have played, such as Ella Fitzgerald, Turk Murphy, Cleo Laine, Dave Brubeck and Gerry Mulligan.
You can catch the Jazz Train from Dublin or the Jazz Boat from the UK to make travelling to the festival all the more fun.
The Cork Jazz Festival also has a monster food market in Patrick Street with live music and a circus show called Circus Squared where you can enjoy watching juggling, acrobatics and general circus style mayhem on the plaza. However, the most popular event is usually the Jazz Festival Club at The Metropole Hotel. If you're planning to go to this, book your tickets early!
However, if you're on a budget, you can still enjoy the Cork Jazz Festival, as many of the events are free.
3. Galway International Arts Festival
17-23 July 2023
The Galway International Arts Festival is a prominent feature of Ireland's cultural festival calendar, and a one of the top Irish festivals. It has a riverside location, which provides a nice backdrop to attend talks, exhibitions and a wide range of performances.
The city is home to 20,000 students, so the festival definitely has a youthful vibe to it. But it's far from a student-centred festival, with plenty on offer across the arts. It's a combination of local acts from Galway, as well as national Irish acts and international talent.
Lots of famous faces have also been part of Galway International Arts Festival, further proving why it's one of the best festivals in Ireland. These include Kaiser Chiefs, KT Tunstsall, Bon Iver, Blondie, Joni Mitchell, Colm Meaney and more.
4. Puck Fair, Kerry
10-12 August 2023
The Puck Fair in Kerry is Ireland's oldest festival. It's been going for over four centuries, held on the same day every year. It's considered more in the group of fairs than festivals, but still one of the best events in Ireland. It's known for being family-friendly and free, ensuring everyone can join in without fail.
There's a lot of fun to be had over the three days, I'll list a few but with a deep breath: horse fairs, pipe and drum workshops, street entertainment, puppets, dancers, circus workshops, pipe bands, music, queen coronation ceremonies, fireworks, stalls, storytelling workshops, bonny baby competitions, fire shows, fancy dress competitions…
There are always a few headline music acts performing on the open air stage each evening – previous acts have included The Joshua Tree, The Driftars and Reverse. And of course, there's always plenty of drinking – the specially erected bars are open till 3am – there are also plenty of stalls to buy some genuine Irish souvenirs to take back home or even to wear at the festival.
5. INDIE-PENDANCE FESTIVAL, Cork
4-6 August 2023
Held annually in Mitchelstown in County Cork, The INDIE-PENDANCE FESTIVAL is an absolute treat for indie music lovers. It showcases a powerhouse of Irish and international indie talent, and has previously seen performances from top indie artists like Bastille, Manic Street Preachers, Tom Odell, and the Irish indie-rock band The Coronas.
Unlike a lot of the other top Irish festivals in this list, INDIE-PENDANCE is more of a camping festival. I've got some great tips on festival camping for beginners if it's your first one and you're not too sure about it.
6. Patrún Festival, Inis Mor Island
29 June-2 July 2023
Taking places across three days each June on Inis Mor Island, Patrún Festival is all about the activities. As opposed to others, which are generally more about watching performers, Patrún Festival is about getting involved in sports, hobbies, competitions and other fun things to do.
You can expect things like currach racing, which is a wooden boat to those of you unfamiliar with Irish, tug-of-war, sandcastle-building competitions, Guinness drinking and more.
Arguably the most special things about this festival are the community and scenic location. Inis Mor is in the Aran Islands, and a really beautiful place to visit even if you aren't going for a festival. It's got beaches, medieval churches, natural pools and ancient sites, as well as lots of cliffs to take in the views (weather permitting of course).
7. The Playing Fields Festival
25-26 August 2023
This is one of the best festivals in Ireland for families. The Playing Fields Festival is described as a boutique festival, mainly because it's all about showing off local talent from Clane GAA Grounds in County Kildare. But it does welcome well-known acts too, like Basement Jaxx, Raging Sons and more, as well as tributes.
8. Electric Picnic, County Laois
1-3 September 2023
Electric Picnic is the biggest music festival in Ireland, and a lot of people think Electric Picnic is the best festival in Ireland overall. It describes itself as 'the ultimate rock n' roll circus', which it kind of is, although it's not strictly music. There are also other performances from the arts, such as theatre, comedy, art and things related to health and wellbeing.
Big names have played or are due to play here. These include Billie Eilish, Lewis Capaldi, The Killers, just to name a few. The festival has three stages so it can be worth planning out who you want to see and when and where they're playing so you're not running in between.
Electric Picnic has big festival vibes, with a fairground wheel, lots of striped tents, and various campsites. It's more on the same level of Glastonbury than most other Irish festivals. So if you need to know what to take, you can use my handy 'what do I need to take to Glastonbury' list to help you out, or, there's always my festival packing list.
9. TradFest Temple Bar, Dublin
25-29 January 2023
TradFest Temple Bar is Dublin's annual showcase of Irish and international folk and traditional music. Many famous people have had their big break at this festival, while other well-known acts have performed. The Irish festival has been graced by acts like the Dubliners' legend John Sheahan, Grammy Award winner Rhiannon Giddens, and multi-talented folk musician Seth Lakeman.
Known for its distinctive ambience, the festival takes over Dublin's iconic Temple Bar district to celebrate Irish music. This district is also known as the cultural quarter, which is perfectly fitting to hold the famous festival.
Beyond music, TradFest features storytelling sessions and children's events, promoting a love for tradition in younger generations. The performances take place across a range of intimate venues, including historical churches, the festival presents a great way to experience Dublin and its rich musical culture.
10. Dublin International Film Festival
23 Feb-4 March 2023
Although lots of the top festivals in Ireland happen to be multidisciplinary ones that include films, if you do love film then The Dublin International Film Festival is a must. It offers a great selection of international and Irish films, many of which are shown for the first time. In addition to film premieres, there are in-depth panel discussions, Q&As with creators, and even opportunities to network with industry professionals.
Celebrating the art of filmmaking in its purest form, the festival encourages exploration of different cultures, perspectives and ideas, inviting audiences on a fascinating journey around the world from the comfort of their cinema seats.
Although you won't exactly be on the red carpet – make sure you dress up. The likes of Julie Andrews and Ethan Hawke, and directors like Martin Scorsese have been there in the past so you never know who you might bump into.
11. Classics Now, Roscommon
27-29 January 2023
Classics Now is a three-day festival held in January, which takes place in Roscommon. It's a great one to go to if you love or are even curious about philosophy and classical Greek and Roman civilisation. Trust me, you don't have to have studied philosophy, classics, Latin or anything along those lines to enjoy this festival. Although lots of scholars and students will be there.
It's one of the best intellectual festivals in Ireland, focusing on insightful talks and discussions. If you enjoy talking about existentialism and the meaning of life, or how ancient cultures impact today's society, then you really should give this one a go.
12. Mother Tongues Festival, Dublin
16-18 February 2023
The Mother Tongues Festival is a celebration of Ireland's linguistic diversity. There are 72 different languages in Ireland, and this festival aims to create a sense of understanding, appreciation and unity among them all. It's the largest of its kind in Ireland, and one well worth going to.
It uses music, theatre, literature and workshops to explore different languages, and the customs that go with them. There's also events and workshops for kids in the weeks leading up to the festival, where they can get involved in Language Explorers Art.
The festival is one of the most distinctive, with a key purpose and aim of nurturing multilingualism. That's why lots of notable participants have been part of the Mother Tongues Festival, such as award-winning multilingual storyteller Philippa Räder and the acclaimed Laoiseach Mac An Iomaire, an expert in bilingual theatre.
Quicklist of the best festivals in Ireland
Belfast International Arts Festival
Cork Jazz Festival
Galway International Arts Festival
Puck Fair, Kerry
INDIE-PENDANCE, Cork
Patrún Festival, Inis Mor Island
Electric Picnic, County Laois
TradFest Temple Bar, Dublin
Dublin International Film Festival
Classics Now, Roscommon
Mother Tongues Festival, Dublin
What is the most famous Irish festival?
The most renowned Irish festival is undoubtedly St. Patrick's Day, celebrated every year on the 17th of March. It honours Ireland's patron saint, St. Patrick, and is marked by parades, wearing of green attire, public festivities and the traditional "drowning of the shamrock".
What is the biggest music event in Ireland?
Electric Picnic is generally considered the largest and most prestigious music event in Ireland. It takes place annually in Stradbally, County Laois, and attracts top international music acts across various genres, complemented by arts, comedy, theatre, and wellness activities.
Which is the best traditional Irish festival?
There are lots of great ones, but arguably the best is Puck Fair in Kerry. Held annually in Killorglin, this unusual festival involves the crowning of a wild mountain goat as king for three days of merriment, traditional music, and dance.
Which of the best festivals in Ireland are family-friendly?
Many of the best festivals in Ireland offer family-friendly activities. The St. Patrick's Festival in Dublin hosts funfairs, workshops, and a spectacular parade that are all ideal for families. Electric Picnic also has a dedicated family camping area and offers a variety of children's activities. Additionally, the Galway International Arts Festival provides family-oriented programming, including theatre, puppet shows, and street performances.
---