Whether you want to travel in an environmentally-friendly way, hate the idea of queueing at the airport, or are just plain scared of planes, there's plenty of ways to get to and around Europe without flying — here's how.
There are lots of reasons why knowing how to get to Europe without flying can be beneficial. Opting for alternative ways of travelling can help to reduce our carbon footprint, as well as avoiding the chaos of airports. But one of the best things for me about travelling abroad without flying is that you can usually enjoy the journey more. By embracing slow travel, you can have scenic road trips and train journeys, stopping along the way to see things you'd have otherwise missed.
Fortunately, travelling to Europe without flying is pretty easy from the UK. There are lots of different routes, as well as lots of different entry points, making it easy to arrive by ferry, train, car or bus. The list below highlights all the different ways you can get to Europe without having to fly.
How to travel from the UK to Europe without flying
Here's how to go abroad using alternative transportation, arriving at different cities in Europe.
How to get to Europe by train
One of the easiest (and one of my favourite ways) is to reach Europe by train. This is usually the Eurostar, which connects the UK to different cities via the Channel Tunnel. It's a fast and efficient way to get there and in just a few hours, you'll find yourself in the heart of Paris, Brussels, or Amsterdam.
You can also start off with the Eurostar and then get another connecting train to other major cities, such as Bruges (Brussels), Cologne (Germany) and Nice (France).
How to get to Europe by boat
Another popular way of travelling to Europe is by ferry. Several ferry services operate between the UK and various European countries and cities. You can take a ferry from ports like Dover, Portsmouth, or Hull to reach destinations such as Calais (France), Zeebrugge (Belgium), Rotterdam (Netherlands), or Dublin (Ireland).
Alternatively, you could also opt for a cruise holiday, which typically lets you see different cities and countries on one holiday. Lots of cruises depart from UK ports like Southampton or Liverpool, heading to numerous European destinations such as Scandinavia, the Baltic States, the Mediterranean, and beyond.
How to get to Europe by bus or coach
Often the most budget-friendly options, travelling to Europe by bus or coach can save you quite a bit of money. It usually takes longer than other modes of transportation though, so this is something to bear in mind.
Nevertheless, it's a great way of getting to Europe without flying and still being able to sit back and relax on the journey. Several coach companies operate services to various European cities, while Flixbus and National Express are some of the most popular and cheap bus options. If you choose Flixbus, you can also map out onward journeys using their services too as they connect to over 2500+ European destinations.
How to get to Europe without flying, by car
The majority of car crossing from the UK to Europe are done by crossing via the Eurotunnel Le Shuttle. It runs beneath the English Channel and can transfer you from Folkestone (UK) to Calais (France) in just 35 minutes. It's not always cheap though, so worth booking in advance or searching for any deals. I've also got some great tips on road trips abroad to help make the journey smoother.
Easy-to-reach European destinations you can get to without flying
From visiting famous landmarks to wandering around historic towns or lazing on beaches, here are some of the best cities in Europe that are accessible without getting on a plane.
1. Paris, France
Travel time (one way) from London – 2 hours 16 minutes
Lowest cost return ticket – £120
The original Eurostar route; you can find yourself in the French capital in little more than two hours from London. It's one of the easiest routes to get into the heart of Europe, where you'll find iconic landmarks, art museums, parks and beautiful quaint streets.
Despite the proximity to London, Paris couldn't feel further away. Maybe it's because it's so famous, but when you're in Paris you'll really know you're somewhere different.
READ MORE: What to Buy in Paris
2. Antwerp, Belgium
Travel time (one way) from London – 3 hours 24 minutes
Lowest cost return ticket – £252
As one of the biggest port cities in Europe, Antwerp is historically known for diamond trading. It's a large city, with lots of things to do from shopping to eating out, and visiting museums and galleries. Even just wandering around Antwerp, you'll see lots of impressive architecture – particularly in Grote Market, which is said to be the prettiest town square in Europe!
The city is easily accessible from London by Eurostar, with just one change in Brussels. Once you get there, I'd recommend renting a bike to get around the city. Antwerp is quite a green city and cycling routes are part of that.
3. Bruges, Belgium
Travel time (one way) from London – 3 hours 29minutes
Lowest cost return ticket – £211
Bruges is a truly beautiful medieval city, with cobbled streets, canals and more castles than any other city in the world. It's like stepping into a fairytale, so just grabbing a beer in one of the squares or wandering around will feel enough of a holiday. But if you want things to see and do, you could head to Groeninge Museum, Belfry of Bruges or Minnewaterpark.
You could travel to Bruges via a number of different ways when travelling from the UK. One of the most straightforward is through getting the Eurostar from London to Brussels, and then a local train to Bruges. Alternatively, you could drive to Folkestone and use the Eurotunnel to cross to Calais. Bruges is about a 90-minute drive from Calais, so not too far once you've crossed. Another option is to get the ferry and then a train or drive if you've travelled with your car.
4. Amsterdam, Netherlands
Travel time (one way) from London – 4 hours 10 minutes
Lowest cost return ticket – £115
Amsterdam is one of the most popular destinations for Brits – so much so they had to issue a warning to 'messy' Brits holidaying there. However, it's still a great city with so many historical and cultural attractions. It's another great city for cycling around, where it's one of the most iconic cities to grab a bike and ride around the colourful streets with flowers in your bike's basket. In fact, it's commonly known as the cycling capital of Europe, with over 800,000 bikes in Amsterdam alone!
The city is really easy to get to, and there are a number of different ways to reach Amsterdam without flying. You could go from London via the Eurostar, which takes just over four hours. Or, you could take a ferry from Newcastle, which is cheaper (under £50) but slightly longer at 16 hours 45 minutes.
If you don't fancy the bright lights of Amsterdam, then nearby Haarlem is a great way to see a city in the Netherlands in a more calming and relaxing way. Check out my guide to the top things to do in Haarlem here.
5. Cologne, Germany
Travel time (one way) from London – 4 hours 15 minutes
Lowest return ticket -£233
Located in Western Germany, you can reach Cologne by train from London in just over four hours. Easily reached from London by train with a journey time of a little over four hours, Cologne, in western Germany is famous for its beautiful artworks, architecture, cathedrals and – of course – beer halls serving Cologne's famous Kölsch beer. It has over 30 museums to visit and 12 Romanesque churches, as well as Altstadt, The Old Town, which has lots of old streets and shops to browse.
There is a direct train from London to Cologne, which is most likely the simplest choice of how to get to Europe without flying. However, you could also go via France if you're looking at alternative modes.
6. Lyon, France
Travel time (one way) from London – 4 hours 56 minutes
Lowest cost return ticket – £145
Lyon was founded by the Romans in the 1st century B.C. and has a history dating back over 2,000 years. The city's Roman heritage is still visible today in the ancient ruins on the hill of Fourvière and the preserved Roman theatre, which hosts the Nuits de Fourvière, a summer performing arts festival.
It's also a great city for food. Lyon is home to many high-quality restaurants and bistros, known as "bouchons," serving local specialities such as quenelles, salade lyonnaise, and a variety of sausages. The city is also known for its local wines, including the famous Beaujolais.
A train from London with one change in Paris means you can be in the French city in just under five hours, making the south of France more accessible than ever.
7. Dublin, Ireland
Travel time (one way) from London – 6 hours 30 minutes (Train to Holyhead, Wales and then ferry to Dublin)
Lowest cost return ticket – £143
Flights to Dublin from the UK are pretty cheap, especially thanks to a particular low-cost airline that has its headquarters there. However, it's also simple enough to get to Dublin without flying. You can get a train from London to Holyhead, Wales and then a short ferry from there.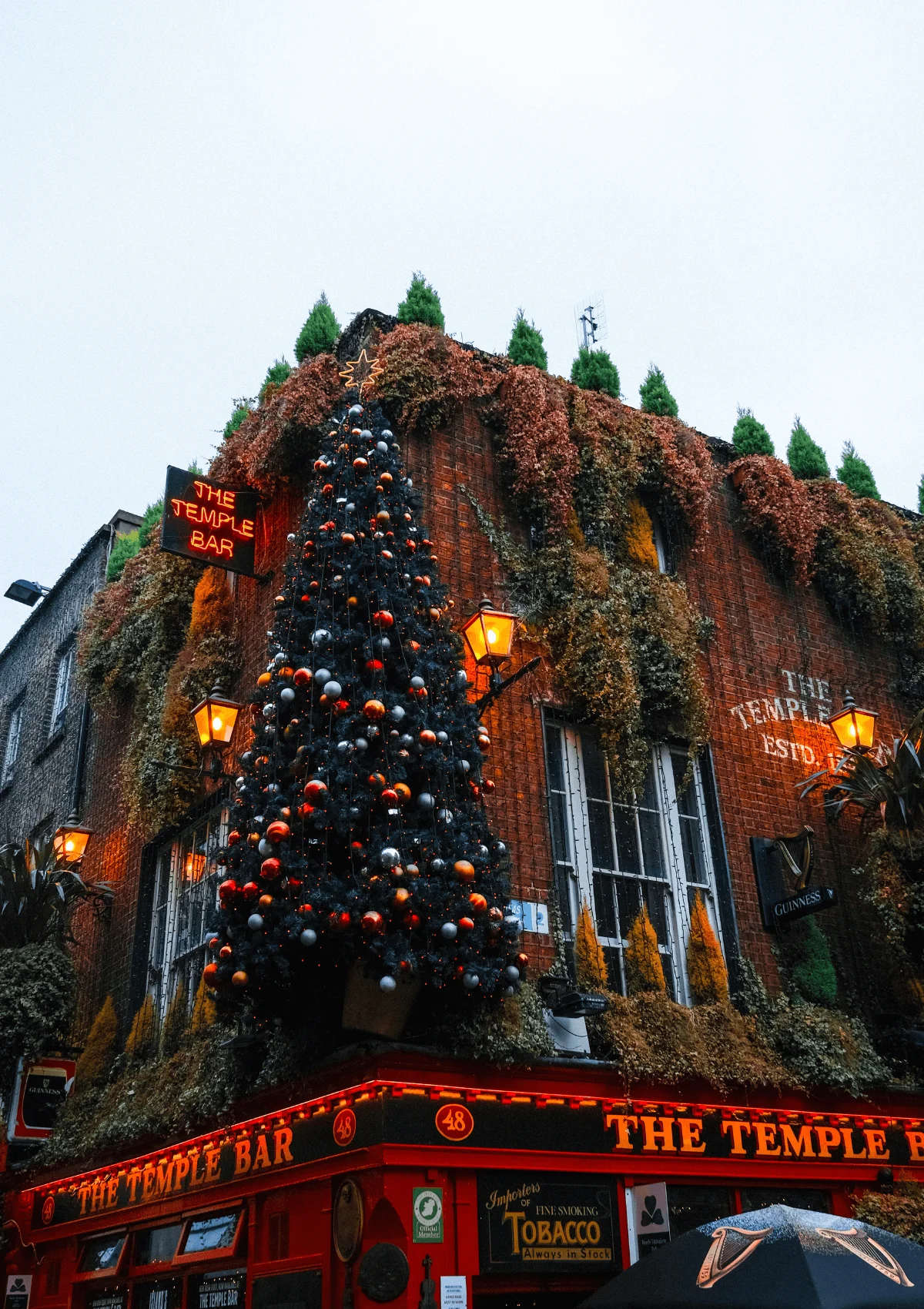 Dublin is a great option for live music fans, with Temple Bar (see above) hosting live folk music and DJs throughout the year. The city is also famous for its pubs and breweries and Guinness in particular. The Guinness Storehouse is one of Dublin's most popular tourist attractions, where you learn about the drink and of course try some. But beyond music and drinking, there's lots to see in the Irish capital including Dublin Castle, the Book of Kells housed at Trinity College Dublin and Dublin Writers Museum.
8. Santander, Spain
Travel time (one way) from Plymouth – 21 hours 15 minutes
Lowest cost return ticket – £130
There are various ferry companies that offer direct travel to Spain from the UK. Brittany Ferries offer their service from both Plymouth and Portsmouth, which takes just under a day total travel time for one way. The price various a lot as it depends whether you're taking a car or your pets and what time of year you're planning to sail.
Once you reach Santander, you'll be met with beaches, tapas and impressive architecture. Some of the best things to do there include visiting the Magdalena Palace, relaxing on the Playa del Sardinero, and feasting in the city's seafood cuisine. Like most of Spain, Santander has a lot of fish dishes, as well as great desserts to try.
9. Lille, France
Travel time (one way) from London – 1 hours 22 minutes, OR via Eurotunnel from Dover – Calais route
Lowest cost one-way train ticket – £53
A lot of people automatically head to Paris if they're thinking about how to get to Europe without flying. However, Lille is actually nearer and offers a lot of great things to see. It has a charming old town, which has pedestrianised streets and great restaurants, bars, museums and galleries. It's also a good city to walk around, so if you've chosen the train over car option, you can still get around quite easily.
By far the quickest and easiest way to get to Lille if you're travelling from London is by the Eurostar. However, it's also pretty easy to get there if you're driving too. Lille is located just over an hour's drive from Calais which is the arrival city.
10. Bilbao, Spain
Travel time (one way) from Portsmouth – 33 hours 30 minutes
Lowest cost return ticket – £199
This is probably one of the longer journeys, but it's also well worth it. Departing from Portsmouth, ferry companies can take you to Bilbao in the Basque Country. Renowned for the iconic Guggenheim Museum Bilbao, the city has lots of places to visit. It's more industrial than it is laid-back beach vibes, but it is surrounded by lots of natural beauty. Bilbao's lively atmosphere, delicious pintxos (Basque tapas), and the scenic Nervión River cutting through the heart of the city make it one of the popular destinations in Spain.
Travelling to Europe without flying
Once you know how to get to Europe without flying, you'll probably do it more often. It doesn't always work out cheaper, but you get to see interesting points along the way. It also means you don't have to worry about keeping your liquids under 100ml, making sure your electrical items are strategically placed to show at security, and getting up at crazy hours to wait around at the airport. Plus, you'll be doing the earth a favour by minimising air travel.
What countries can I go to without flying?
The countries you can visit without flying largely depend on your starting location. From the UK, you can reach France, Belgium, the Netherlands, and Ireland without flying. Once you're in Europe, for instance, you can travel to a number of countries by train, bus, or car.
Where can you travel from the UK without flying?
You can travel to several countries from the UK without flying. You can take a train through the Channel Tunnel to reach France, Belgium, and the Netherlands. You can also take a ferry to France, the Netherlands, Ireland, Spain and several other countries. Additionally, you can drive or take a bus to these locations.
Can you get from the UK to France without flying?
It's pretty easy to get from the UK to France without flying. The Eurostar train service connects London with several cities in France, including Paris, Lille, and Lyon, via the Channel Tunnel. Alternatively, you can take a ferry from several UK ports to France. You can also drive through the Channel Tunnel using the Eurotunnel Le Shuttle service
What is the cheapest way to travel without flying?
The cheapest way to travel without flying often depends on your destination and the distance you're travelling. Generally, bus travel tends to be the most economical option for shorter distances. For longer distances, train travel can be cost-effective, especially if you book in advance or travel overnight. Car travel can also be economical, especially if you're travelling in a group, but you'll need to consider fuel costs and tolls.
What is the fastest way to travel without flying?
The fastest way to travel without flying is typically by train, especially for longer distances. High-speed trains can travel at speeds comparable to or even faster than driving, without the need to navigate traffic or stop for fuel. For shorter distances, driving might be faster, depending on traffic conditions.