If you're wondering whether to go to Victorious this year, read through my Victorious Festival Review to learn more about this awesome festival.
In 2019 I went to Victorious Festival for the third year running. I just can't get enough of it.
And so, like in 2017, and 2018, I thought I'd keep up with my Victorious Festival reviews. You can read them below.
I'll keep this one short, as reading back through my previous Victorious Festival reviews I still loved the same things. The location of Victorious, and the price given the bands you get to see, are just unbeatable. Taking place on the coast of Portsmouth means there's plenty of infrastructure in and around should the weather change.
In 2019 though, the weather for Victorious was absolutely perfect.
Victorious Festival review 2019
– Me trying to be the 5th member of All Saints at Victorious 2019. They're on stage.
The 2019 Victorious Festival was the best yet. The weather, the vibe, the ease, the set up – it's hard to beat.
This year I just went with my boyfriend, on VIP gifted tickets, the same as the years before. We had such a chilled, relaxed weekend. Victorious takes place on Southsea Common, near Southsea Beach, in Portsmouth. My adopted home city.
We saw Professor Green, All Saints, Lewis Capaldi, Dub Pistols, Rudimental, James Bay, Fun Lovin Criminals and the Catgut Hooligans. All, absolutely fantastic.
– Official pic of Lewis Capaldi by Becca Egerstrom. I was in there somewhere towards the back.
The thing I love most about Victorious over other festivals – and have been three times with no doubt I'll go again – is the size. There's enough people for a great festival atmosphere, and not too many that you can't get close to your favourite bands, or a drink, or the food you want. The crowd is free to party at the front, to chill towards the back, or dance like a loon on the sides.
There are also loads of things to do at Victorious apart from the music, so that's always fun too.
The negative at Victorious 2019
I don't really have much negative to say about Victorious 2019 at all. But seeing as you asked…
The Castle Stage was crazy for Lewis Capaldi and Professor Green, and we were in a bad spot for being pushed around. They should've been on the main stage but I guess it's hard to predict these things. I read up on social media afterwards and lots of people said this was the best gig of Victorious, but we couldn't really hear it was so busy, or see. We gave up towards the end and went to the main stage to watch James Bay instead.
I've just read that apparently they booked Capaldi before he'd even released Somebody You Loved, so that explains that one.
This also meant the queues at the bar at the Castle Stage just weren't worth it either. Honestly, I think it was the longest queue I've ever seen in your life. They need to sort that out.
And that's it! For a three-day festival that's a pretty good list of complaints!
Oh, also, gutted Bloc Party and Rudimental clashed.
– Official Victorious festival sign pic by James White
The positive at Victorious 2019
Ok, I've covered the weather and the capacity, let's talk food and drink.
At Victorious 2019 they served Cloudy Strongbow which is mine and my boyfriend's favourite cider, so we were thrilled about that. £5.80 a pint seemed a bit much, but, festivals.
Over the weekend I had a fish and chips (exceptional), a seafood paella (also exceptional), and some cheesy chips, which is my current favourite festival food. The food choices looked great but now that I look at the options I'm not entirely sure why I didn't have more.
The line up for Victorious 2019 was also great: Rudimental were just amazing to close the main stage on the Saturday. Absolutely loved it.
And All Saints killed it too. Bless em, it was absolutely boiling for their set. The sun was beating down on their leather trousers – felt for them. As I waved my arms in joy at Pure Shores I remember the album, getting it for my birthday, and playing it to death. Kinda freaks me out that I can remember all the words to these songs I haven't heard for years, yet can barely remember yesterday.
All Saints were everything I wanted them to be.
Also, loved Dub Pistols in the Beats and Swing Tent on the Friday. For some reason the festival is only half open on Friday, which gives an excited energy for what's to come. Loved all the dancing at the Dub Pistols, felt like we were part of something, y'know? And the security guard up on stage before they came on was brilliant – he was absolutely loving his life up there.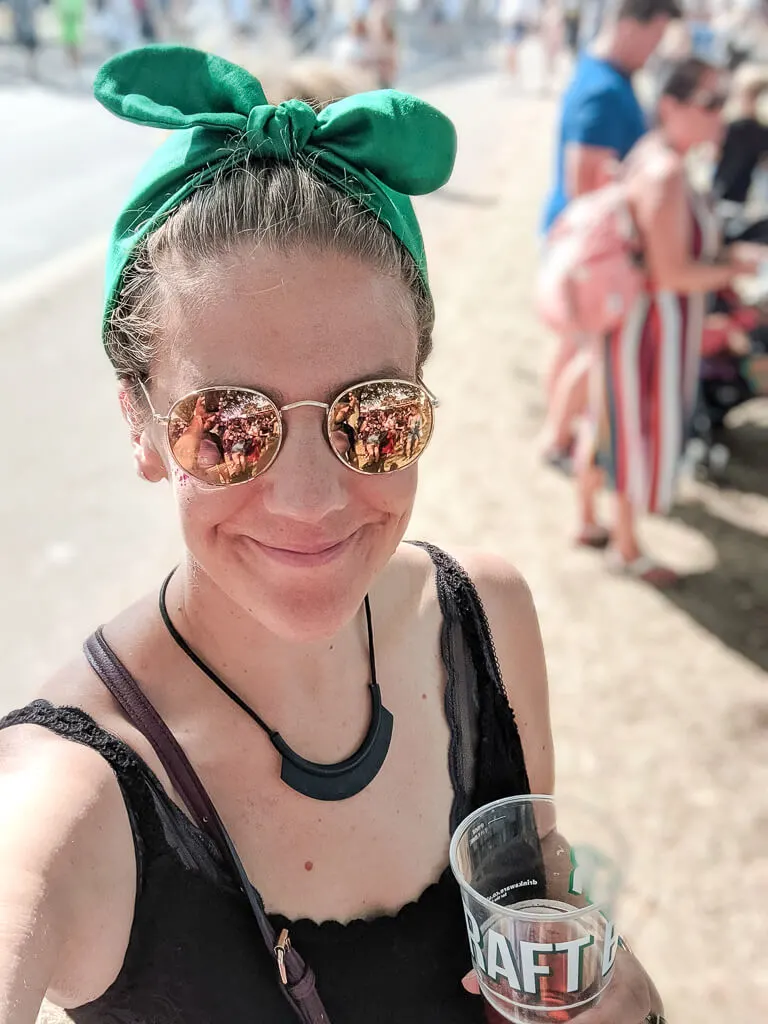 Victorious 2019 had more market stalls than before, I'm sure of it. I bought this delightful headband to jazz up my black outfit. There was everything you could need for a festival including glitter, sunnies, fancy dress and sweets too.
Show me a festival that does a sunset like Victorious…
Bit sad I didn't even get to the Champagne bar this year. Love it up there. Also, didn't go to the Seaside Stage either – there was just so much going on on the main stage, and when we wanted to chill out, we sat in VIP.
Victorious Festival 2019
– Tom Langford's pic of Two Door Cinema Club
2019 was a great year for Victorious Festival. It's a busy weekend for British festivals, thanks to the August Bank Holiday, and there are other festivals I want to experience, but I have a feeling I'll be at Victorious for many years to come.
---
My 2018 Victorious Festival review
Just had a very eventful weekend at Victorious Festival. I went last year and it was glorious sunshine from start to finish. This year: not quite so.
Friday at Victorious Festival
We (me, Ben and Emily) went down on the Friday, to see The Libertines and the Kaiser Chiefs. Before that though we wanted to get a look at the festival grounds, to know what to expect. On a Friday Victorious is only half open, just the main stage, the Beats and Swing tent and a few surrounding food stalls. There was a fun atmosphere though, with everyone ready to party.
We got a few ciders (£6 a pint!) and then headed to the Beats and Swing tent, seeing as it was indoors, and the rains were starting. Everyone else had the same idea though. Think, lots of glittered up people, bit wet but determined to have fun, throwing shapes in a tent in the middle of a field, and you'd have it.
The tent soon chilled with a change in music and we wanted to dance. We wandered over to the Strongbow stage, as the DJ was bashing out some right tunes. We went all in and climbed up to the middle podium to dance – think it's actually the first time I've done that in years.
It meant we got away from the wet grass, but it also meant we were taking on the full force of the coastal wind, which, combined with the rain, meant it was coming in from every angle. We were drenched.
And so, we did what any self respecting Brit at a festival would do, and bought a bottle of wine. At £24 it seemed like the best purchase, but after the first sip of the Bulgarian white, we knew it was a bad idea.
Drunk it anyway.
Ben happened to look over at the Main Stage and realised, from the flashing letters on the back screen, that the Kaiser Chiefs had started already. The band we'd come to see. We'd been too busy dancing to Chelsea Dagger and Mr Brightside et al, we hadn't noticed. We ran over.
– Kaiser Chiefs, photo by Tom Langford
They were great, but the crowd was better. I think everyone chose to ignore the rain and just lost themselves in the music. Loved it till the end.
Saturday at Victorious Festival
The Saturday at Victorious was an absolute delight in comparison. Sunny, in fact, hot in my black jeans and top, and more friends had joined the group.
We saw Southsea Alternative Choir, Gaz Coombes (from Supergrass), Pigeon Detectives, Billy Bragg, the Kingz of Leon tribute band, Jacks, Paloma Faith, a ska band, and finished with Paul Weller. Watching him sing You Do Something to Me, was a definite festival highlight for me, it was awesome.
Totes emoshe.
There was so much food to try at Victorious – I shared a fish and chips with Ben, then later had a pulled pork brioche roll. Can't believe I didn't have anything else actually, I love how many different foods there are to try at festivals now.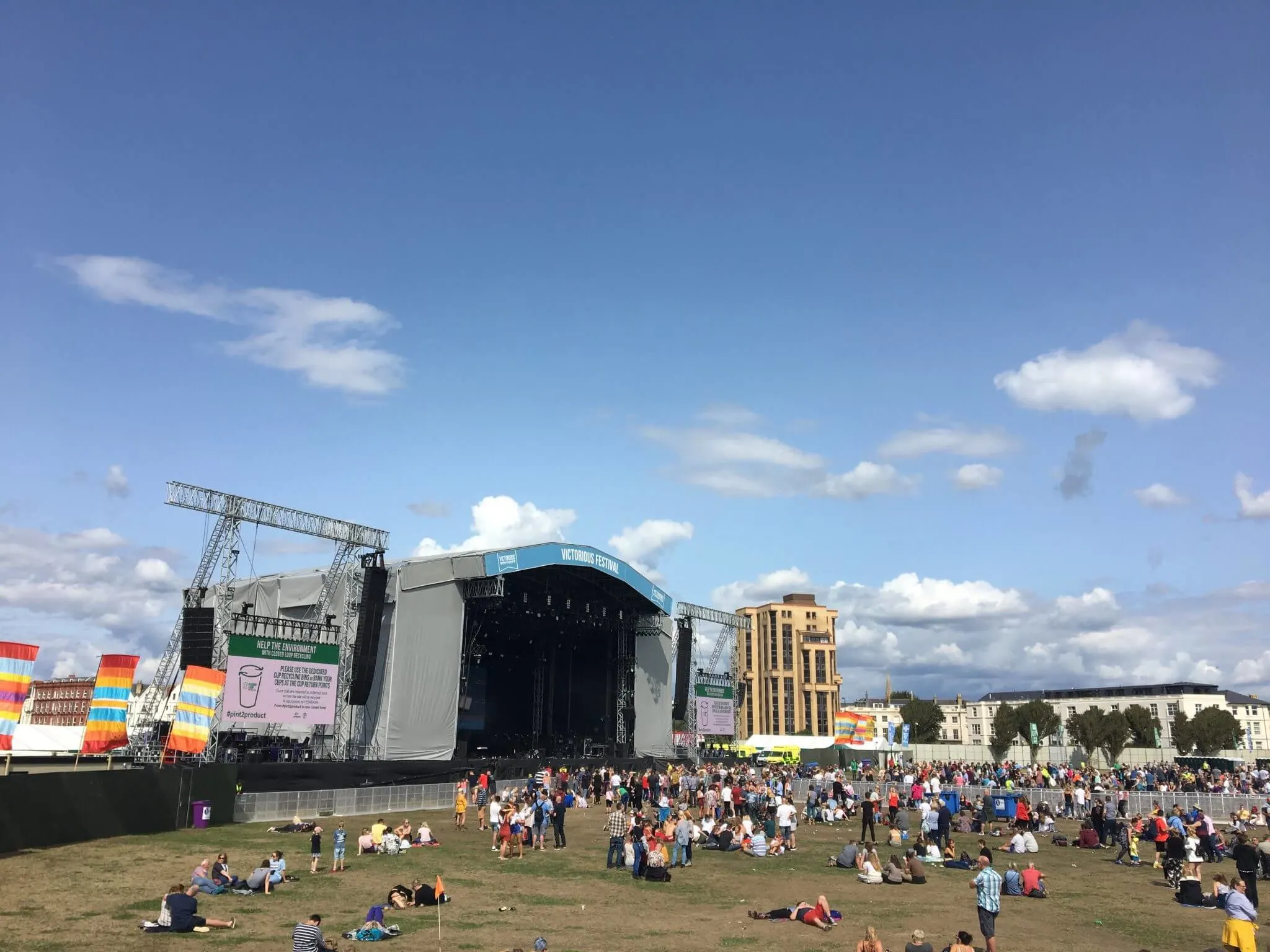 Of course there's more to Victorious than the music and food though (check out my tips on 9 things to do at Victorious for more advice). We played Obama Llama in the Big Potato board games tent, we watched some upcoming bands on the Wedgwood Rooms stage, we drank Prosecco on top of Southsea Castle, and went and sat up on the hill by the Hollywood Victorious sign – looking out over the festival one way, and the Isle of Wight the other.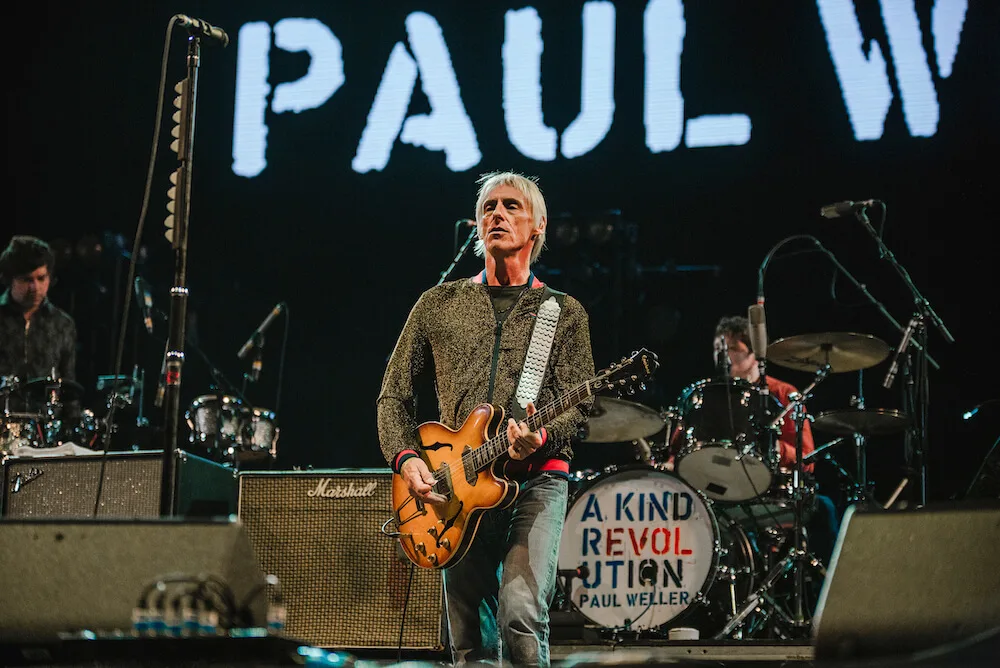 – Paul Weller, by Tom Langford
Saturday at Victorious Festival was a brilliant mix of fun times with good friends, music and chat. The perfect festival day in my eyes.
We had to walk home (45 mins) thanks to leaving at peak time, and when we got there we were so shattered from the day it was a chamomile tea and bed. Rock n roll.
Sunday at Victorious Festival
And so that meant we woke up fresh as a daisy and ready to party on Sunday. But unfortunately, it was absolutely chucking it down with rain, and the weather wasn't really going to get any better according to Google.
We decided to forsake going to the festival early and enjoy a long bottomless brunch at mine instead. We all bought a bottle of Prosecco and cooked up avocado, bacon, toast, bagels, eggs, sausages and randomly, mango sticky rice.
It was great, we were warm, and we could hear the rain pelting on the conservatory roof.
It was kinda tempting to just stay at mine all day, but NO. We had a 90s party to get to. So with one bottle of Prosecco down, each, we got the taxis down. Unfortunately on the way there I checked the Victorious Facebook page and they'd announced, 8 mins ago, that the Seaside Stage was closed, because of the weather.
One of the greatest and most unique things about Victorious Festival is that it's on the coast. Amazing in the sun, not so much on a rainy Bank Holiday Sunday.
– Ben hadn't drank as much Prosecco as us
One of the other great things about Victorious though, is that it's just on Southsea Common, which means there are tens of restaurants and bars within really easy walking distance. We decided to take cover in Meat and Barrel and work out what to do next. They had gin and a roof, which is pretty much all we needed.
Not long later the Victorious Festival Facebook announced a new stage for the 90s party and so, two hours later, off we went – ready to party to Da Rude, Basement Jaxx, Ultra Nate, et al. It was the best.
No one cared about the rain, everyone was just jumping up and down dancing and the tunes were awesome. Definite high point of the festival. And then, it finished… and it all went a bit wrong for us.
After one of my friends declaring a new love and us all celebrating, the amount of Prosecco we'd had, and the rain, and the cold, and the emotion of it all, beat us. As much as we wanted to carry on, at least half the group were wet through, including feet, and some of us were a bit 'worse for wear'.
We decided to go home.
We missed Dermot O Leary, we missed the Prodigy, Years and Years and Friendly Fires, but when the whole team's not happy, and wet, it just seems like a better idea to go home, get warm and get a takeaway. So we did.
Victorious Festival 2018
Victorious 2018 was eventful (and these are the ones I can tell you about!).
It didn't have the sun of my 2017 Victorious experience, but it was still one of my funniest weekends of the year. There's such a great chilled out vibe at Victorious and I still stand by the obvious fact that Victorious has the best site for a festival.
– Which other festival gives you the opportunity to sip Prosecco on top of a Tudor castle while watching the second stage?
– Where else do you get to sit on a hill watching acts with the Solent behind you, and the view of the Isle of Wight?
– Which other festival has a genuine skate park in the middle of it?
– And restaurants and bars all around?
– Which other festival can you buy £30 early bird tickets to see mega stars like Prodigy and Paul Weller?
Exactly.
I love Victorious, rain or shine.
See you all there next year? Here's why I think you need to go to Victorious in 2021.