Fancy a birthday in Las Vegas to really celebrate in style? Here are all the best things to do for your Vegas birthday to make it one to remember!
Las Vegas is the ideal place to go for an extravagant birthday celebration – whether you're celebrating a milestone birthday or you just fancy honouring your birthday in style. Known as the adult playground, Vegas has over 40 million visitors every year. It's the ultimate destination to party the night away at some of the world's most elite bars, clubs, and casinos – all located under the sun of the Mojave desert.
However, there is so much more to see and do in Las Vegas beyond the pool parties, casinos, and glittering neon lights. If you're planning a Vegas birthday and you're looking for something different to commemorate the occasion then check out these 10 unique places, attractions, and experiences to create some epic memories.
10 Unique Ways to Spend Your Birthday in Las Vegas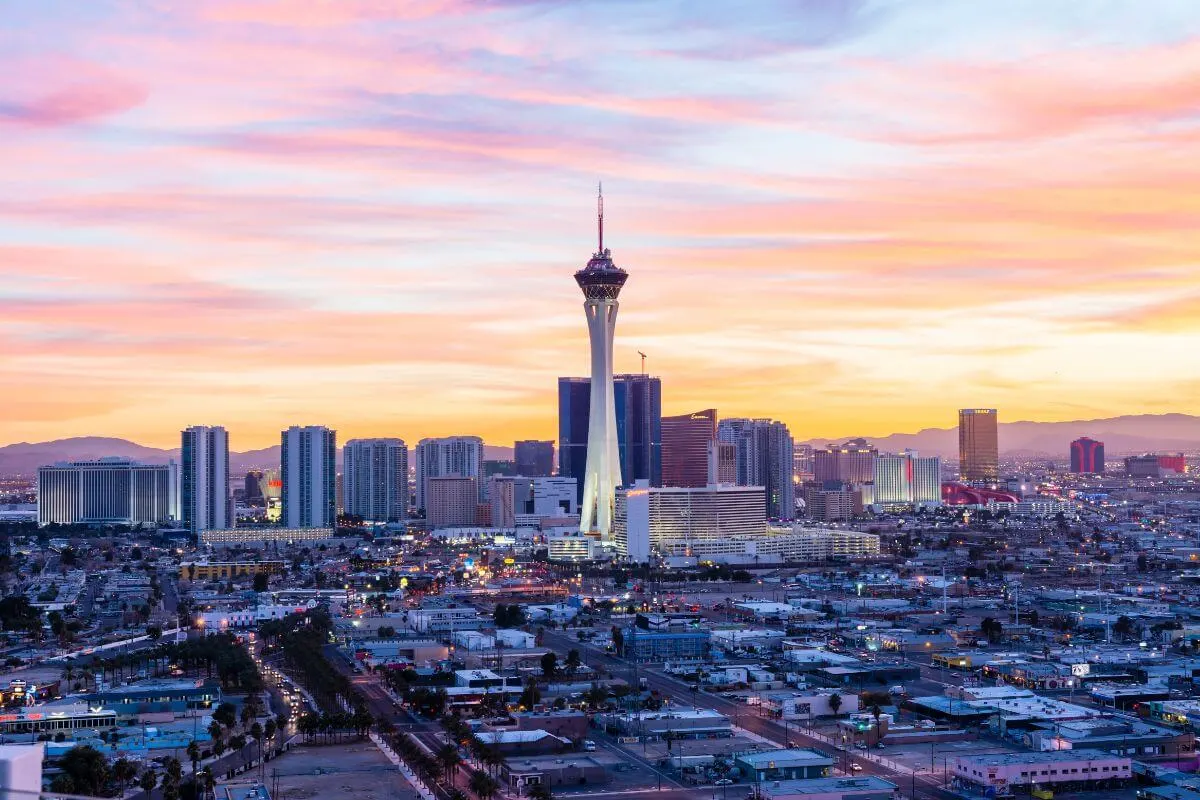 1. Pink Jeep Tour
The Pink Jeep Tour is a brilliant experience for groups. It whisks you away from the hustle and bustle of the strip through the Red Rock Canyon National Conservation area, where you'll see various stunning locations and natural landscapes.
You're picked up from your hotel by – as you may guess from the name – a pink open-air jeep and are taken on a tour past the beautiful Calico Hills and through the Red Spring Mountain Range. The tour is open all year round including during the winter months and up to seven people can travel together in one jeep. This would make for a wonderful start to a Vegas birthday trip.
Check out The Pink Jeep Tour on GetYourGuide for prices.
2. Fremont Street Experience
Downtown Vegas is not to be missed and you can have a great night out at Fremont Street, a 30-minute walk away from the main Vegas area. Fremont Street is a covered mall area including many attractions such as the Slotzilla rooftop zipline and many iconic casinos such as the Golden Nugget and The Fremont Casino which have stood lighting up the night for over 60 years.
You can wander around some impressive wonders on display such as the biggest golden nugget to be discovered (located at the Golden Nugget hotel) and say hello to the famous Vegas Vic, the largest mechanical neon sign built in 1947. It's a great place for drinks and there are nightly free live music events and light shows to enjoy.
Make sure to get yourself an exceptional Las Vegas breakfast to soak it all up the next day.
There are a few Fremont Street Tours on GetYourGuide to make the most of your time there. Choose one of these so you're not wandering around Fremont Street wondering what to do.
Experience the sights and neon lights of a 24-hour entertainment complex on a 2-hour walking tour of Las Vegas' Fremont Street. Hear stories and see photos from the past and present as you discover casinos, restaurants and the revitalised Fremont East!
Las Vegas Fremont Street Bar Crawl
Stumble along downtown Las Vegas with this epic guided bar crawl on Fremont Street. Hit up 3-4 venues with exclusive drink specials, free entry, and great vibes for you to party the night away!
Guided Fremont Street Segway Tour
Hop on a Segway for a tour of Las Vegas' Fremont Street. Cruise through the city with an expert guide, and learn all about the places you pass.
3. Grand Canyon tour
While you are staying in Las Vegas, why not squeeze in a trip to one of the Seven Natural Wonders of the World, the Grand Canyon? It's easy to drive from Las Vegas to the Grand Canyon, but a tour might suit you better if you've had a few drinks.
The Grand Canyon is a spectacular place to visit, and is worth a trip to see the beautiful red rock formations and marvel at its immense size. If you want to see the Grand Canyon in style book a Deluxe Helicopter Tour that will glide you through the skies over the impressive Grand Canyon while you sip on champagne.
Or perhaps book a VIP Coach Tour from Vegas to the Grand Canyon for you and your party to see the Grand Canyon, as well as the Hoover dam, Seven Magic Mountains Art Installation, and the Las Vegas Neon sign to make some brilliant Vegas birthday memories? This coach trip will pick you up bright and early and take you to the most unforgettable sights in Nevada, including a walking tour over the Hoover Dam and giving you ample opportunities to take some brilliant photos.
4. SkyDive over the Las Vegas Strip
For an alternative view of the Hoover Dam and for a truly thrill-seeking adventure, you can sky-dive over the Mojave desert with professional skydivers. SkyDiveVegas will take you high above the Las Vegas strip where you can jump out of the plane in a tandem skydive with a professional, allowing you to freefall before opening your chute to enjoy the breathtaking views over Vegas. You can include a media pack to record your jump so you can replay this amazing experience.
Complementary transport is offered from the Las Vegas strip and family and friends who are not jumping can watch your epic freefall to earth and help capture the adrenaline-fuelled moment you land.
If you'd rather do it on the strip, you can skyjump off the Strat Tower – standing 829 feet above the Las Vegas Strip.
"Experience SkyJump Las Vegas, a controlled free-fall descent on a vertical zip line diving from the 108th floor of the tower. Take a heart-pounding leap at speeds topping 40 mph from the SkyPod, 829 feet high above the Las Vegas Strip." – GetYourGuide.
5. Haunted Vegas Tour and Ghost Hunt
If you're interested in the paranormal and would like to do something a little bit spooky then a ghost hunt through Vegas could be right up your street. Join this Haunted Vegas Tour and Ghost Hunt to explore the ghoulish history of Las Vegas using thermal temperature guns, EMF metres, and dowsing rods to seek out the ghosts of celebrities and anything that may lurk in the shadows.
The guided tour includes pick up from the Vegas Strip in an air-conditioned minibus and will take you around some popular spooky spots. It's a great activity to do as a group and would be particularly great for a Halloween-timed birthday in Vegas.
Check out Haunted Vegas Tour and Ghost Hunt on GetYourGuide for prices.
6. Emerald Cove Kayak Tour
When you think of Las Vegas you will be forgiven for not automatically thinking of kayaking excursions, however, if you are looking to get away from the 24/7 party scene of the strip and get back to nature then a relaxing kayak tour could be the perfect Las Vegas birthday experience.
The Colorado River flows through the state of Nevada, is very close to the city of Las Vegas, and has some beautiful river landscapes to enjoy. Take The Emerald Cove Kayaking tour with your birthday party group to enjoy a serene Colorado River cruise to the crystal clear waters of Emerald Cove, where you will be able to paddle around exploring the wondrous cave systems.
7. Las Vegas ATV Tour
ATV adventures are very popular in Las Vegas, with an immense desert landscape right at your fingertips. For the ultimate thrill-seeking adventure join a guided ATV tour such as the Las Vegas Dunes Tour and be whisked away from the strip to zoom over the dunes of Vegas on an ATV quad bike, or book a similar off-roading tour in a two-seater dirt buggy, which looks like a cross between a go-kart and an ATV.
The Vegas Mini Baja Chase Buggy Tour allows you to really go for it over rough terrain or race your friends over open flats. Both are an incredible experience for anyone looking for an alternative Las Vegas birthday package.
8. Spa day
For a luxurious birthday in Vegas head to one of the many relaxing spa and wellness centres based in and around the strip. Red Rock Spa located off the strip, is a sanctuary where you can relax and be pampered in sumptuous surroundings. Treatments include Desert Oasis Aromatherapy massages, and Sparkle and Glow Body Treatments. Booking a treatment at the spa includes access to the open-air pool and with fitness classes such as yoga and pilates on offer, you could easily spend the day here.
For a spa experience on the strip head to The Spa at Encore, for a glamorous spa experience from the moment you arrive. The decor at Encore is exceptionally glitzy and the treatments are extensive and centre on an Asian theme. The signature treatment The Good Luck Ritual is based on Chinese elements and is a full-body treatment including the feet, body, hands, and scalp leaving you feeling rejuvenated and refreshed.
9. Foodie experience
If you consider yourself a bit of a foodie or just enjoy eating delicious food then Las Vegas really has it all for you. With many famous fine dining restaurants, Vegas is a brilliant place to try new cuisines, and what better way to try some than on a foodie tour?
A foodie tour is a fabulous alternative Las Vegas birthday experience and there are some great tours on the strip. Secret Food Tours takes you on a walking tour around the strip, where you will try dishes from celebrity chefs including stopping for a bite at one of Gordon Ramsey's gastro pubs, eating gourmet pizza from Andrew Weil and trying cookies from Giada De Laurentiis. The tour includes wine and prosecco and you will hear stories about the history of Las Vegas from your tour guide as you wander around the strip tasting various gastronomic delights.
Make sure to check out the best breakfasts in Las Vegas too!
10. Ice Skating at The Cosmopolitan
Many people flock to Las Vegas during the summer months however the city is also alive throughout the winter months and there are some brilliant seasonal activities. Las Vegas is also cheaper and quieter during the winter months, so if your birthday falls during the festive months there are still lots of amazing things to do, and many of the experiences mentioned above run throughout November, December, and January.
The Cosmopolitan Hotel is a stunning sophisticated hotel and every year they transform their Boulevard Pool into an ice rink within a spectacular winter wonderland. Open from late November, skaters can enjoy 4200 square feet of solid ice, and seasonal cosy drinks. You can even roast your own smores for the ultimate Christmas birthday experience. The Ice Rink opens in late November and allows skaters to skate over 4200 square feet of real ice under a dazzling Christmas tree.
Spending your birthday in Las Vegas
I hope you found this article useful and I have been able to show you that there is more to Las Vegas than casinos and clubbing. A trip to Vegas will create some spectacular memories no matter what you choose to do.
Tips for visiting Las Vegas
During the months of June, July, and August the temperatures soar with the sun at its hottest after midday. If you are travelling during these months, plan any outside excursions early in the morning to avoid the heat and always bring a bottle of water.
Las Vegas gets very busy around American National holidays such as Thanksgiving, Christmas, and New Year. It can also get very busy during large sporting events and popular conventions which take place on or near the strip. Unless you plan to attend these events yourself, check what is planned before you travel.
Pools stay open in Las Vegas until late September or early October and re-open again in April. If you are travelling during the beginning or the end of the summer season and you wish to use the pools, check the opening times with your resort. For more Las Vegas tips, click here.
---