Looking for the best places to stay in Springfield, Illinois? After my trip there I've rounded up the top hotels in Springfield, Illinois, for your dollars, so you can choose the optimum one for you.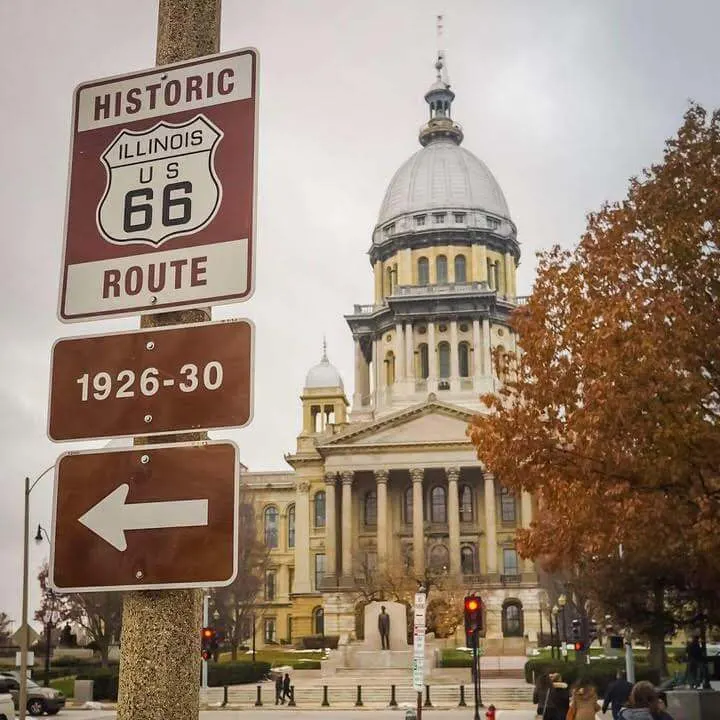 Springfield is the largest city in central Illinois and is considered a historical area of politics. Most foreign visitors go to Chicago when they visit Illinois, but there are some great things to do in Springfield too. And if you're sticking around, you're going to want some Springfield accommodation for a respite from all the fun of the city.
Did you know… President Abraham Lincoln called Springfield home and President Barack Obama studied and worked in the city during the early days of his career. Visit and you will be walking in the VERY steps they did during their time there!
Illinois has more to it than historical political endeavours though. Ignoring the Abraham libraries and museums, millions of people visit the area every year for the multitude of large festival gatherings.
From the Route 66 Mother Road Festival to the Downhome Music Festival, there's much to celebrate. No matter your reason for visiting though, you need to secure a great hotel in Springfield!
Take a look at these and make your choice…
Best Hotels in Springfield, Illinois
All the best places to stay in Springfield, Illinois
The Country Inn & Suites is a beautiful hotel made of tiled bricks in the 00s fashion. Their rooms are large, with additional space for lounging and working, along with a king-sized bed – perfect if your reason for needing a place to stay in Illinois is because you're working.
Each room has free Wi-Fi and an HDTV ready and waiting. During your stay, you'll have access to their fitness centre and free hot breakfast as part of your experience.
They also have a swimming pool, and complimentary coffees for your enjoyment too.
Their rooms are massive, the staff is wonderful and their free entertainment is perfect. However, this isn' the only reason why I've put the Country Inn in the top spot.
The hotel might be a few miles from the main attractions in Springfield but the hotel can offer transportation to help you get to your next activity in a flash.
The Abraham Lincoln Presidential Library and Museum is 3.72 miles away, the Washing Park is 4.35 miles away and the Bank of Springfield which hosts concerts, basketball events, and rodeos is 3.58 miles away.
The Hampton Inn & Suites is more formal that the Country Inn, but it isn't aimed at business folk alone.
While at the Hampton, you can stay in a smaller guest room which still has a desk and space for lounging, working, and sleeping, or you can apply for the suite.
The suite feels like a studio apartment, with space to relax after exploring the city. As part of your stay, you'll be given a free hot breakfast, free parking, free Wi-Fi, and access to the indoor pool and the fitness centre.
All the rooms are pet friendly, so if you need a hotel in Springfield, Il, with a furry friend, this is the Springfield hotel for you.
Ramada creates school vibes with its large white buildings and patches of greenery. Of my top three places to stay in Springfield, they are the most child-friendly and family-ready.
Every room has free Wi-Fi, free breakfast, free parking, and access to the indoor pool and fitness centre.
Ramada considers the service aspect of their hotel the most important, so you're sure to get the special treatment here.
Anything you need, they will get for you.
It doesn't matter if you're staying for one night for a whole month, which apparently some people do. The pool is small, but if you're staying during off-peak hours, you can have the water all to yourself.
Ramada is a couple of miles away from the main attractions of Springfield.
They often have discounts for the Rail Golf Course which is just 2 miles away. Make sure to ask about tourism information during your stay, at any of these hotels in Springfield actually.
Northfield Inn isn't known for its beautiful exterior. However, they do have massive rooms, which often play host to wedding venues.
Wedding receptions are their biggest income – this Springfield hotel is the best option for large groups who want to stay in the same area.
The rooms are affordable, have a lot of space, and work best for big numbers.
As part of the experience, you'll also have access to a small pool, free continental breakfast, free Wi-Fi, and a 24-hour fitness centre.
If you book their special packages, you can have access to more. For example, their romantic getaway package offers a luxurious jacuzzi, roses, and champagne.
5. Drury Inn, Springfield, Illinois
Drury Inn is a cheap and cheerful hotel, which makes you feel luxurious while saving money. The building itself looks like a business centre, but inside you'll see a modern design of glass walls and line lights.
You'll have access to free Wi-Fi, a pool, fitness, free breakfast, bicycle rentals, and free parking.
Kids stay free in this hotel – Pets are also welcome – the whole family can come along!
Each room has a fireplace, desk, microwave, TV, and coffee maker.
Just 5 miles away from the hotel are the Knights Action Park and the Caribbean Water Adventure, while 4 miles away is the Henson Robinson Zoo.
The Residence Inn is a budget price hotel, perfect for quick stays or vacations where the activity matters more than the rest. Still, for such a quiet and affordable price, the Residence Inn offers a large number of amenities.
You can expect a free hot breakfast, free coffee, access to the indoor pool and fitness centre along with a dry cleaning service and service request from the hotel staff.
Pets are welcome but they come with a non-refundable cleaning charge, and there is a maximum weight limit of 75lb to keep those big doggos away.
7. Comfort Inn, Springfield, Illinois
The Comfort Inn is going for a contemporary look, with light and airy rooms. If you're looking for somewhere straight forward and unfussy for your hotel in Springfield, this could be a great option.
As part of your stay, you'll have access to free Wi-Fi, a fitness centre, an indoor heated pool, free breakfast, and a hot tub.
The hotel also grants Government Travelers FEMA, but they are strictly a no-pet space.
Just 2 miles away from the inn is the Knights Action Park and Route 66 Drive Inn Theatre, and 3 miles away is Lincoln home and the Illinois State Museum.
Comfort Suites, not the same as Comfort Inn, is also run by the Choice Hotels chain. This building has a fun pop of colour and a more recent design aesthetic.
It's the perfect choice for vacationers who plan on visiting the Bank of Springfield Center or the Lake Springfield Marina.
As part of your stay, you can expect a free hot breakfast, access to the health club and park, the exercise room, and the indoor heated swimming pool. There are also sun decks, as well as Government Travelers FEMA
Best places to stay in Springfield, Illinois
Depending on what you're doing in the city, some of these hotels will be closer to your itinerary than others. Keep in mind the distance you're willing to travel, as well as the perks you hope to experience in your Springfield hotel. You could also check out Pasfield House Historic Mansion, and State House Inn, too. Or, the DoubleTree by Hilton.
Each of these hotels will suggest fantastic dining experiences, attractions, and secret experiences that only locals would know about. Make sure to ask at reception when you arrive!
---