Here's everything you need to know about your Chicago to New Orleans road trip!
The drive from Chicago to New Orleans has some great places to stop off. Going from north to south will take you through some interesting places in the USA. I did the route a few years ago, when I was in America for three months.
You can't beat a road trip in the USA – they're a dream. Taking in the country's never-ending landscape, long freeways, and roadside motels is a great way to experience the USA.
The Chicago to New Orleans road trip is a long one, at 925 miles if you were to go straight. But, going straight isn't the point of a road trip now, is it? It's in all the twists and turns that you find the interesting places and people, the experiences that really make your road trip unique to you.
Here are my top recommendations for where to stop off on the Chicago to New Orleans drive, enjoy!
Road Trip from Chicago to New Orleans

Map of the road trip from Chicago to New Orleans
This Chicago to New Orleans road trip will take you through Illinois, Tennessee, Mississippi and Louisiana.
---
---
1. Chicago – your road trip begins!
I presume you'll have had a few days to enjoy in Chicago before the road trip to New Orleans. Seriously, Chicago is the best city in the USA, and I don't say that lightly. I love it there. So much to see, do and eat – it's awesome. Been twice and I hope to go again ASAP!
---
Wintry things to do in Chicago – the video
Here are just some of the things to do in Chicago, and make sure to check out my YouTube video whatever the season. Lots of ideas for Chicago activities in there too.
So yes, make sure to book in plenty of time to enjoy Chicago, before you embark on the Chicago to New Orleans drive. I'd definitely recommend doing a food tour in Chicago so that you can enjoy some of the local flavours, and have a tour guide to ask questions to, too. Just a warning to arrive very hungry for this!
---
2. 1950s Park Forest House Museum
Address: 227 Monee Road, Park Forest, Illinois 60466 USA
This is where you'll find the hidden treasure of Illinois. The 1950s Park Forest House Museum is called a Museum because it houses a lot of antiques. In layman terms, it's just a well-preserved house from the 1950s.
If you're fond of the simpler times of those cupboards like television boxes, gramophones & analog telephone sets, this will take you to a trip down the memory lane.
This is one of the best road trips from Chicago.
---
3. Kankakee County Historical Museum
Address: 801 S 8th Ave, Kankakee, Illinois 60901 USA
Every US County has its history and cultural heritage, and Kankakee is no different. This well-maintained museum elaborately takes you through Kankakee's history and its people. The building might look small from the outside, but the collection this museum has might baffle you once you get in. It's got a beautiful park to go for a walk and also houses an old one-room school building.
If you want unique attractions on your Chicago to New Orleans Road Trip then this is a great choice.
---
4. Krannert Art Museum
Address: 500 E Peabody Dr, Champaign, Illinois 61820 USA
Krannert Art Museum, named after its benefactors, is the second-largest fine arts museum in Illinois. It has a wide range of artwork on display ranging from ancient Egypt to modern-day photography. The museum gets close to 132000 visitors every year and is a must-see spot for anyone on an art trail.
---
READ MORE on USA road trips
Ultimate Guide to Planning a Road Trip in the USA
9 Cool Steps on a Miami to Key West Road Trip
---
5. Springfield
I've written about the best things to do in Springfield, as I spent a few days there last year. It's a cool little city – the main attraction is City Hall.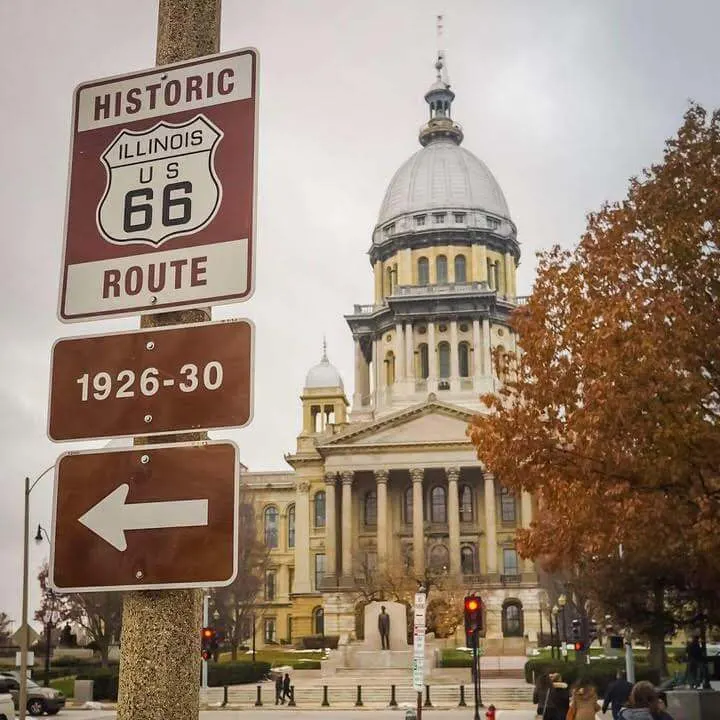 You can drive some of the genuine Route 66 here – a must for all American road trip lovers, surely? This is a unique stop on the road trip from Chicago to New Orleans I think you'll really enjoy.
6. Heartland Classics
Address: 1901 W Evergreen Ave, Effingham, Illinois 62401 USA
Spoiler Alert! This one might seem like a museum, but it isn't.
It's a 30000 sq ft showroom that houses more than 200 vintage cars for sale & display. If you're a car enthusiast who likes collecting trivia about vintage cars, you'll love it. Even if you're not looking to buy, this is a place worth visiting on your Chicago to New Orleans drive.
7. Shawnee National Forest
Take some time out from your Chicago to New Orleans road trip to explore nature at its finest in the Shawnee National Forest. Here you can see bears and bald eagles, you're allowed to wild camp, and there are some incredible views to enjoy from up on the rocks.
8. Visit Nashville!
This one is a little off-route, and it's not a pitstop. If you're stopping at Nashville, you might as well spend a couple of days.
It will add three hours to the journey – but totally worth it.
If it's your first time, you have to explore the city's rich history and culture. As someone who's a country music enthusiast, I cannot get enough of this city. So many must-see places. Ryman Auditorium, the mother church of Country Music. Grand Ole Opry House, which has been hosting its namesake event since 1974.
The Country Music Hall Of Fame & Museum, that's home to 200,000 sound recordings, including an estimated 98% of all pre-World War II country recordings released commercially.
Then there's the Johnny Cash Museum. It's home to various artefacts that chronicle the legend's life like Stage Costumes, including his infamous prison jumpsuit costume, vintage guitar amps, highwaymen memorabilia, gold and platinum records, and much more. The final room here is pure emotion. They had him up on the big screens singing Nine Inch Nails' Hurt, and to see him doing that, as an old man, after everything you've learned before is just emotional!
Ended up buying a tshirt here – loved the whole experience. And from dabbling in his music, a visit here has set me on the path to be a lifelong fan.
If you're planning on doing a few different Nashville attractions, then I'd recommend you look into buying the Nashville City Pass – it can save you a lot of money and time if you use it right.
– Me posing in Chicago in my Cash tshirt. I road tripped the other way!
At night you can visit broadway and visit one honky-tonk bar after another and listen to some upcoming country musicians. Some of my recommendations are:
– Nashville Underground: This one is not your typical local bar. It has got four floors with live music and food. Therefore, plenty of choices available at one single place.
– Jack's Bar-B-Que: It's known for its signature smoked Tennessee pork shoulder sandwiches. Jack's Bar-B-Que Texas Sweet Hot Sauce was named "The Best Sauce on the Planet" by American Royal in 2014.
---
9. Chattanooga
I had a great time in Chattanooga on my Chicago to New Orleans road trip. It was a random choice, and somewhere I'd never even heard of, but all the signs were there, telling me to go, so I did.
I explored the beautiful Ruby Falls – America's deepest commercial cave and largest underground waterfall. And then went to Rock City on Lookout Mountain to see the incredible natural rock formations and views over Chattanooga. There are some pretty gardens up here, with over 400 native plant species. And you can also stand at a marked point where you can look out on the panoramic views over 7 different states. Pretty impressive!
– Follow this Chicago to New Orleans road trip itinerary and you'll see some impressive views!
I also went up the Incline Railway – less impressive, but fun all the same!
I was randomly in Chattanooga for the celebration of the famous Chattanooga Choo Choo song by Glenn Miller, and even got a train whistle to prove it.
---
Do you know the Chattanooga Choo Choo?
---
9. Blue Sky Vineyard
Address: 3150 S Rocky Comfort Rd, Makanda, Illinois 62958 USA
Even if you're not a wine enthusiast, you should visit this place for its scenic beauty and Tuscan inspired architecture. It's a family-owned Vineyard that produces 17 different kinds of Illinois wines and 5 Americans wines ranging from dry to sweet.
---
10. Johnny Cash's Boyhood Home
Address: 4791 W County Road 924, Dyess, Arkansas 72330 USA
Who doesn't want to see the house where Man In Black grew up? It's the same house where the 2006 classic 'Walk The Line' starring Joaquin Phoenix & Reese Witherspoon shooting happened. Not much to see here, but visit this one for the bragging rights. After all, you can say you've been to Johnny Cash's house. It will also be the perfect prelude for your next stop.
---
11. Memphis
Head to Beale Street for the main attractions. I'd also recommend visiting the National Civil Rights Museum to learn more about Martin Luther King – how he got started and the impact he made on the world.
Book early to get into Sun Studio – known as the 'Birthplace of Rock n Roll', here you can see a real life studio and learn more about the careers of Elvis Presley, Johnny Cash, Jerry Lee Lewis. You can book a Memphis: Big Mojo Sun Studio + Music History 3-Hour Bus Tour if you want to really delve deep into the music history here. You'll enjoy a guided tour of world-famous Sun Studio as well as a crash-course in Memphis music history with a professional musician as your guide. Sing along as you visit music-related landmarks and all the places that make Memphis so special.
I loved the Sun Studio and would definitely have done this tour as I was travelling solo and I think it'd be a great place to experience in a group.
Just watch out here. I actually got picked up by a cop for walking in a sketchy area, totally oblivious to the danger I was putting myself in. Still loved my weekend in Memphis though.
---
12. Graceland
Address: 3734 Elvis Presley Blvd, Memphis, Tennessee 38116 USA
The home of the king! What could be better than visiting Elvis Presley's fabled mansion right after visiting Johnny Cash's boyhood home? Chicago to New Orleans is the only road trip that gives you the chance to revisit the lives of two icons.
Graceland is the first property owned by a rock icon to be declared a National Historic Landmark. It is also the most visited house in the USA after the White House, with over 650000 visitors every year.
Spanned across 13.8 acres, the elaborate tour of the property will take you through the house, the famous jungle room, you'll get to see Presley's Gold Record for Jailhouse Rock, and tour ends with the spine-chilling visit to his grave in the meditation garden.
I loved it here. Spent the day there and couldn't stop just imaginging him walking there – and what an incredible life he led. If those walls could talk!
Graceland is an absolute highlight of the Chicago to New Orleans road trip. Don't miss it!
---
13. Holmes County State Park
Address: State Park Road, Durant, Mississippi 39063 USA.
This state park built around two lakes covering a land span of 88 acres has around 28 campsites fro travelers to bunk. The lakes are popular spots for fishing. The architecture is rustic and aligns well with the natural landscape of the property. It's also home to a wide variety of wildlife. This will make for a great stop on your Chicago to New Orleans road trip, before you hit the bright lights of NOLA.
---
14. Oak Alley Plantation
I visited the Oak Alley Plantation for the night and got a fascinating insight into the dark history there. It was home to the rich and wealthy, and slaves.
---
15. New Orleans
You've made it! You've completed somewhere around 1300 miles on the scenic drive from Chicago to New Orleans – congratulations.
Check out all the cheap things to do in New Orleans here…
I loved New Orleans – so much so I ended up staying there for two weeks. I went to the New Orleans Jazz Festival, to Hogs for the Cause Festival and the French Quarter Festival too. I ate as much as I could of the many New Orleans specialities there are, and filled my time with the amazing wealth of cheap things to do in NOLA.
You can book good value, reliable car hire with Rental Cars – use this link for the best deals.
FAQs about Chicago to New Orleans Road Trip
1. What does Chicago to New Orleans road trip look like?
Road trip from Chicago leading to New Orleans is hinted with historical traces, sights of wildlife, and nature landscapes that will surely give you a nostalgic feels.
2. What is the distance between Chicago to New Orleans?
Chicago to New Orleans is separated by a driving distance of approximately 925 miles or 1489 km.
3. How long is the drive time from Chicago to New Orleans?
The drive on a road trip from Chicago to New Orleans would take about 13 and a half hours non-stop.
4. Which is the most visited stop from Chicago to New orleans road trip?
Among the many stops between Chicago to New Orleans road trips, the most visited is Jackson Square. It's where the prominent statue of General Andrew Jackson is erected at the intersection of the French Quarter and the river bank.
5. What are things to do in Chicago before going to New Orleans?
Before you embark on your journey going to New Orleans, make sure you have fun in Chicago first. The activities you must try are seeing art at the Art Institute of Chicago, exploring Grant Park, eating Chicago-style pizza, witnessing theater shows at Goodman Theatre, and taking a river cruise to see the Chicago skyline.
6. What are things to do in New Orleans?
The things you could do once you arrive in New Orleans are stroll the Bourbon Street or French Quarter, indulge yourself in music and dancing just from the streets, try the city's beer, and explore the zoos.
7. Is there a scenic route from Chicago to New Orleans?
When you take a road trip from Chicago to New Orleans, you are expected to pass a total of six states. And if you take the Great River Road, you will be rewarding yourself with different views of the landscape. One of which is the Mississippi River, The Gateway Arch, the Abraham Lincoln Presidential Library and Museum, and Saint Louis Zoo. Given this, it is without the best scenic route between the two places.
Keen to carry on the American road trip dream?
How about driving from New Orleans to Austin?
Apartments in New Orleans
Want to stay somewhere comfy and chill? How about booking an apartment in New Orleans – lots of cool options to choose from on that link. This way you get to relax in your own space, have space to walk around, and get to stay in a cool NOLA home too. Winner!
---
More on road trips in the USA
How to Save Money on a Road Trip in the USA
12 Awesome Stops on a San Francisco to LA Road Trip
Guide to Your Florida Road Trip
11 Unique Stops on a Chicago to Atlanta Road Trip
---
PIN THIS Chicago to New Orleans drive FOR LATER