Need help choosing unique souvenirs from South Korea? From modern beauty products to traditional folk crafts, these South Korean souvenirs make amazing gifts and mementos.
When visiting a new country like South Korea, knowing what souvenirs to buy can be difficult. Do you go for traditional items or something that is more unique to the area?
If you're feeling overwhelmed, don't worry – this list of souvenirs from South Korea will give you a bit of inspiration. From beauty products to handmade ceramics, there's something for everyone on this list.
So, whether you're looking for a South Korea gift for a friend or a little something for yourself, here are some of my top picks of the best souvenirs from Korea.
The Best Souvenirs from South Korea
Korea is known for its delicious food, cultural exports such as K-pop, futuristic technologies and heritage of diverse traditions. You can only imagine how many amazing souvenirs from South Korea there are to choose from. Here are some of my faves.
1. Korean beauty products
South Korea is renowned for its innovative and effective beauty products, so it's no surprise such products double up as popular souvenirs. From skincare to makeup, there are endless options to choose from.
If you're a skincare enthusiast, pick up a set of sheet masks or a bottle of snail mucin essence. Makeup junkies might prefer to stock up on cushion foundation or BB cream. Or, try an eyeshadow stick in a fun colour for something unique.
Whatever you choose, your friends and family will be thanking you for these Korean beauty gems!
Where to buy: South Korean beauty products can be found in most pharmacies and department stores. You can also find them online at websites such as Olive Young and Beauty Box Korea.
2. Traditional hanbok
A hanbok is a traditional Korean garment that is still worn on special occasions today. Hanboks are usually made of brightly coloured silk or satin and feature intricate embroidery details.
If you're looking for a special souvenir from South Korea, consider purchasing a hanbok for yourself or a loved one. Hanboks make lovely gifts and can be worn on many different occasions. They can also be treasured as keepsakes or hung on the wall as works of art. Either way, you'll love this unique and beautiful piece of Korean culture!
These make for a great gift from Korea.
Where to buy: Hanboks can be found in many souvenir shops throughout South Korea. You can also find them online at Korean Craft Shop or Petal Aimee.
3. Handmade ceramics
Korean ceramics are both beautiful and functional, making them ideal South Korea souvenirs.
If you're looking for something traditional, opt for a hand-painted jeju-do plate or a set of handmade bowls. For something modern, check out the colourful stoneware from Icheon Ceramica. There are also plenty of options for tea lovers, including delicate porcelain tea sets and hand-painted mugs.
With so many choices available, finding the perfect Korean ceramic souvenir for anyone on your gift list is easy.
Where to buy: Bukchon Hanok Village and Insadong are great places to find handmade ceramics in Seoul. You can also find many Korean souvenirs online, such as Icheon Ceramica and Seoul Pottery.
4. Traditional Korean fan
Korean fans, called Hapjukseon, have been used for centuries as both a practical and decorative item. This traditional fan is typically made of bamboo or paper and features intricate designs hand-painted with natural dyes.
A Korean fan makes a great souvenir and will be admired by your friends and family back home. You can even use it to fan yourself on a hot day or as part of a traditional Korean dance performance.
Where to buy: Shinsegae Department Store Main Store, Emart Cheonggyecheon Store and Doota Shopping Mall are all great places to find Korean fans in Seoul. You can also find them online at Korean Crafts.
READ MORE: The Best Places to Stay in Seoul
5. Korean tea
Wondering what to buy in Korea?
Tea is an integral part of Korean culture, and what better way to bring some of that culture home with you than with a box or two of Korean tea?
Whether you're looking for green tea, black tea or herbal tea, there are plenty of options available. From the light and delicate oolong teas to the more earthy and robust flavors of Pu-erh, there's something for every taste.
Where to buy: Korean teas can be found in most grocery stores and department stores throughout South Korea. You can also find them in many specialty tea shops around the country.
6. Customised souvenirs
If you want to buy something unique from South Korea, why not consider having a souvenir customised with your name or initials? Your name can be printed on t-shirts, hats, mugs and more.
With a customised souvenir, you can take home a truly personalised and memorable souvenir from South Korea. To surprise someone special, consider having a one custom-made as a gift.
Where to buy: Customised souvenirs can be bought at many street markets and shopping malls in South Korea. You can also find them online, such as Korean National Souvenir Center and Machu Picchu MyeongDong.
7. Korean folk crafts
For a souvenir from South Korea that reflects the nation's heritage, you might want to take a look at the nation's diverse array of folk crafts.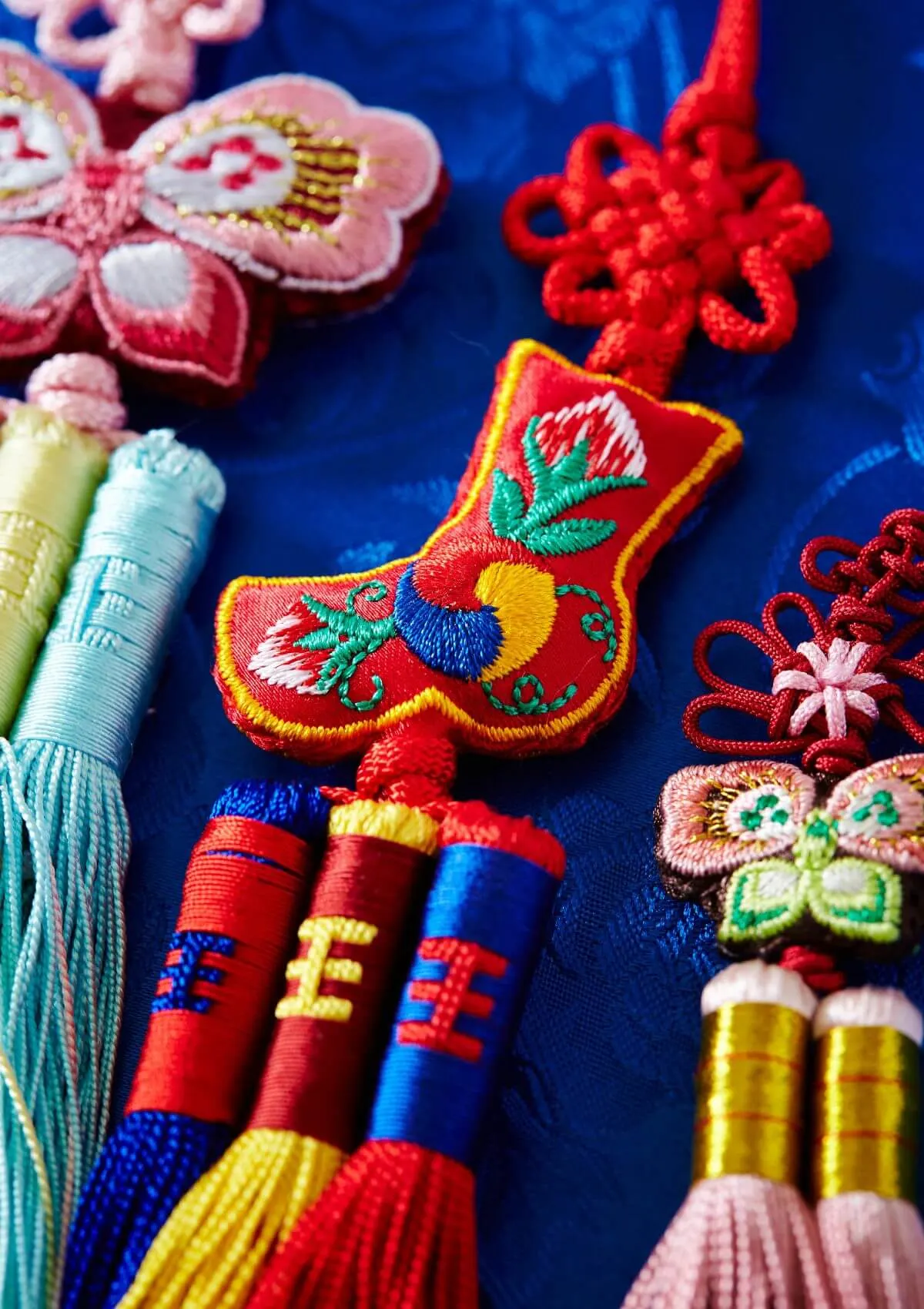 From hand-crafted masks and figurines to elaborate embroidery and handmade jewellery, there's an endless variety of unique souvenirs to choose from in South Korea. And with so many types of folk crafts available, you can find something truly special for anyone on your gift list.
Korean folk crafts are both beautiful and functional, making them the perfect souvenir for anyone who wants to take a piece of Korea home with them.
Where to buy: There are many places to buy Korean folk crafts, but the Seomun Market and the Namdaemun Market are two of the most popular.
8. Traditional dress
Korea is well-known for its traditional clothing that combines timeless style with comfort and practicality. The most famous type of traditional Korean dress is the hanbok, which is worn on special occasions such as weddings and festivals.
Hanboks are available in many beautiful styles, ranging from the more formal hanbok to the casual jeogori and chima. If you're looking for a more casual traditional garment, the jeogori (a short jacket worn by both men and women) is a fashionable option.
Clothes make for a great gift from Korea, and if you're in Korea in autumn, they can keep you warm too!
Where to buy: Traditional clothing can be bought at markets and shops all over Korea, but some of the best places to shop for it are Dongdaemun Market and Myeongdong.
9. Kimchi
No trip to Korea would be complete without bringing home some kimchi!
Kimchi is a traditional Korean side dish made with fermented vegetables and spices. It can be eaten on its own, served as a side dish, or used as an ingredient in other dishes.
Kimchi has a strong flavour that takes some getting used to, but once you acquire a taste for it, you'll be hooked!
Whether you're looking for classic cabbage kimchi or something more adventurous like radish kimchi, there are plenty of varieties to choose from. It's also a great South Korea souvenir because it lasts for a long time (if stored properly).
If you're wondering what to buy in Korea – kimchi is a great idea.
Where to buy: You can find kimchi for sale at most supermarkets in Korea, or you can buy it at one of the many kimchi specialty shops scattered throughout the country.
10. Starbucks goods
The Starbucks craze is never more evident than in South Korea. With over 800 stores throughout the country including on Jeju Island, you can bet that there are plenty of souvenirs to choose from at Starbucks.
From mugs and tumblers to limited-edition items, there's something for everyone at many Starbucks throughout South Korea. Especially in Seoul, Starbucks has many limited-edition items you won't find anywhere else.
Where to buy: Starbucks stores in South Korea.
11. Intricate metalwork
Intricate metalwork is among the best South Korea souvenirs you can bring home. The country has a long history of metalwork, home to many skilled artisans that create beautiful and unique pieces.
From traditional tea sets to modern sculptures, there's a wide range of metalwork souvenirs to choose from. And since these items are so durable, they're souvenirs that'll last for years.
Whether you're looking for a piece of history or a contemporary work of art, you'll be able to find metalwork to suit your taste and budget. It's a great idea for a Korean traditional gift.
Where to buy: You can find metalwork in most of the major cities in South Korea.
12. Korean jewellery boxes (artisan woodcraft)
Korean jewellery boxes are usually handmade using traditional Korean craft techniques, making them both stylish and functional souvenirs that capture the country's culture.
These jewellery boxes come in various designs, including those with intricate carvings or painted details. Not only can these boxes be used to store jewellery, but they can also be used as decorative pieces. They'll serve as a wonderful reminder of your trip to South Korea.
Where to buy: Traditional markets and artisan shops are the best places to find Korean jewellery boxes, but they can also be found in some department stores. The Namdaemun Market in Seoul is a good place to find authentic Korean jewellery boxes.
13. Hanji paper art
Hanji is a type of traditional Korean paper made using the bark of mulberry trees. It has been used for centuries to make various items, from clothing to furniture.
Nowadays, artisans use hanji to make beautiful pieces of art such as wall hangings, fans and sculptures. These pieces are perfect for decorating your home or office, and they make fantastic gifts!
Where to buy: Artisan shops and markets throughout Korea sell hanji paper art.
14. Korean name necklace
If you're looking for a personalised souvenir with a touch of luxury, a Korean name necklace is the perfect choice.
These necklaces are handcrafted using traditional Korean engraving techniques that have been passed down through generations. They come in various styles, from simple to ornate designs, and can be customised with your own name or the name of someone special.
Whether you're looking for a piece to keep for yourself or give as a gift, these necklaces make an excellent souvenir from South Korea.
Where to buy: Korean jewellery stores and online shops are the best places to find these necklaces. You can also find them in some tourist shops in larger cities.
15. Korean stationery
When it comes to Korean stationery, there's something for everyone, from notepads and journals to postcards and gift tags.
Korean stationary comes in various designs, from traditional motifs to modern illustrations. It's perfect for jotting down your thoughts or sending a special note to a friend. It's also a great way to add a touch of Korean style to your home or office.
Where to buy: You can find Korean stationery in stores throughout South Korea, including department stores and souvenir shops. You can also find it online, with many websites offering international shipping.
Any thoughts on South Korean souvenirs?
South Korea is a great place to shop for unique and meaningful souvenirs, whether they're traditional tea sets, modern sculptures, jewellery boxes, hanji paper art or name necklaces. With these Korean souvenirs, you'll be able to bring a little bit of South Korea home with you and create lasting memories of your trip. Purchase handmade crafts, and you can support local artisans and small businesses when shopping for souvenirs.
Are there any unique souvenirs from South Korea that should be on this list? Let me know in the comments below.
Quick list of the best South Korean souvenirs
Korean beauty products
Traditional hanbok
Handmade ceramics
Traditional Korean fan
Korean tea
Customised souvenirs
Korean folk crafts
Traditional dress
Kimchi
Starbucks goods
Intricate metalwork
Korean jewellery boxes (artisan woodcraft)
Hanji paper art
Korean name necklace
Korean stationery
---