Looking for travel souvenir ideas? These 10 classic keepsakes will ensure your holiday lives long in the memory…
Everyone loves a holiday. But if there's one thing that's not particularly enjoyable about jetting off on a trip abroad, it's coming back to face the post-holiday blues. You know, that feeling when you return to the day-to-day grind and all you can think about is how much you miss the mountains, the beach, or sipping coffee in that sophisticated city square.
Well, fear not. I have the perfect solution to help you hold onto those vacation vibes for just a little longer: souvenirs. From locally-made crafts to amusingly tacky trinkets, bringing home a piece of your travels will give you something you can cherish forever.
But what type of souvenir should you go for?
Helpfully, I've scoured the globe to bring you 10 of the best souvenir ideas. Next time you're in a gift shop, pop any of these in your shopping basket and you'll have something to commemorate your travels for years to come. Just don't go too crazy — that portrait of the Eiffel Tower won't do much to keep your luggage weight in check.
Enjoy these examples of souvenirs, and let me know which one you go for!
10 Best Souvenir Gifts to Collect Worldwide
From the kitsch to the classy, these useful souvenir ideas almost certainly won't end up in the garbage (we hope)…
1. Fridge magnets souvenir
It's an as-yet unproven scientific fact that the only time we ever feel compelled to buy a fridge magnet is when we're in a gift shop in a foreign country hundreds of miles away from home. But that's ok because the humble fridge magnet is a souvenir that's both fun and functional.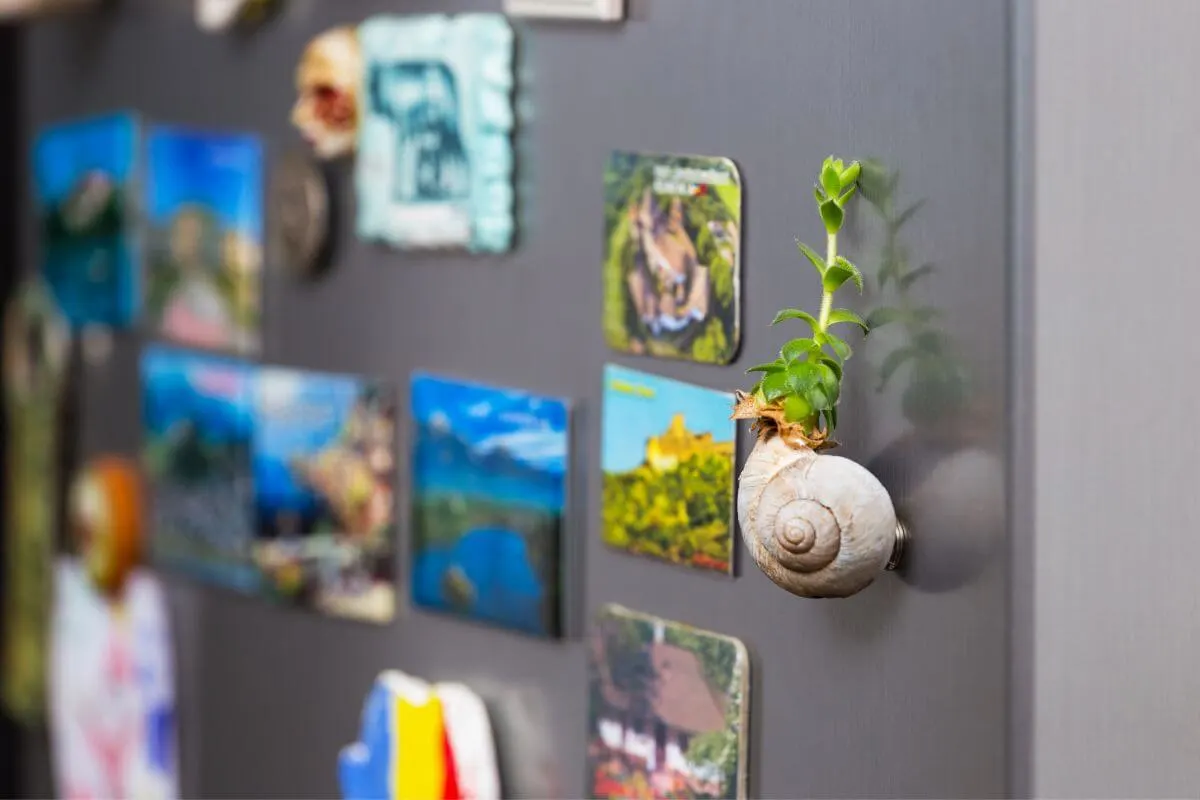 They come in all types of whacky shapes and sizes and help to stick important documents such as bills, letters and children's finger paintings to our fridges.
In fact, they make such good souvenirs gifts any time someone reaches for the milk, they're reminded of how incredibly worldly we are. That's if you don't keep them all to yourself that is.
2. Snow globes souvenirs
Snow globes may be the ultimate travel souvenir. Like a miniature world in a glass bubble, they're especially great to buy in tropical destinations where there's absolutely no snow, because nothing says 'I just spent a week sunbathing in the Caribbean' quite like a snow globe.
3. T-shirts as tourist souvenirs
T-shirts are another classic souvenir choice. Who doesn't love a good tourist tee?
Sure, some of the slogans may feel a little tired and overused; 'I went to X and all I got was this lousy T-Shirt', for instance.
Oh, and while I'm on the topic of slogans, just make sure you check it before you buy — you don't want to end up with a shirt that says who knows what in Chinese.
These are the types of souvenirs your friends will want to pay you back for, and I mean with more terrible souvenirs ideas!
4. Sunglasses as souvenirs
Sunglasses are almost certainly every beach vendor's top-selling product. The ultimate travel accessory, they're stylish, practical, and make you look like a celebrity trying to avoid the paparazzi. And the best part? You can never have too many pairs.
Which is just as well because by the end of your trip, you'll have accumulated enough to open your own store.
READ MORE: The Best Souvenirs from Budapest
5. Local snacks as souvenir gifts
Head to any supermarket on holiday and the chances are you'll make a beeline for their snacks aisle, in particular their wide array of exotic crisps. They might look like regular potato chips, but the flavours are a whole different story. Wasabi and ginger, Serrano ham and pimentón, kebab and onion… it's like a culinary adventure in a bag.
The only downside is that they don't travel particularly well. So while it might seem like a good idea to bring a few bags home as a flavoursome memento, it's probably best to enjoy them while you're there — unless you want to spend the next six months snacking on dried potato dust.
These could make for a great unique souvenir idea and make for the perfect gift as they're so easily shared.
6. Hats as a travel souvenir idea
There are two occasions when hat-wearing is mandatory. The first is on Christmas Day when you pull a paper crown out of your cracker. The second is any time you visit the seaside on a summer holiday abroad.
Didn't pack one?
Fear not — the hawkers on the beach will have a plentiful supply. The question is, what style do you go for — floppy bucket hat, tasteful fedora or full-blown sombrero?
I mean, who doesn't love a wearable souvenir?
7. Traditional instruments for a souvenir item
Inspired by the local music scene on your overseas trip?
Why not form a deeper appreciation for your new favourite country's culture by bringing home a traditional instrument and learning to play it yourself?
It can be a fun and rewarding experience and a tangible reminder of your travels. Do, however, resist the urge to serenade your fellow passengers on the plane journey home — no one needs that on their flight.
These are the cool souvenirs gifts no one really wants you to bring home from your hols.
8. Local drinks as souvenirs gifts
There's something about being on holiday that makes the local tipple taste delicious. So delicious, in fact, that you may feel compelled to take a bottle or two home with you. Before you do, just remember that the incredibly strong, aniseed-flavour liqueur may not tingle the tastebuds in quite the same way when you get back home as it did on the sunny terrace of your Greek island villa.
Suddenly, that strong liquorice taste goes from 'exotic' to 'I think I just drank a bottle of mouthwash'. And you may later find yourself using it as a last resort for cleaning the bathroom tiles. But, if you're looking for unique souvenirs ideas, local drinks could be the one for you.
Also a great idea if you're looking for an inexpensive souvenir to really remind you of a place.
9. Decorative glasses as tourist souvenirs
Many of us have a shelf dedicated to the random glasses we've collected from our travels over the years. Whether it's a shot glass from Cancun, a beer stein from Munich, or a wine glass from Bordeaux, these mismatched receptacles add a touch of international flair to our kitchen cupboards (and remind us of our questionable taste in travel souvenir ideas).
These make great souvenir gifts for your friends!
10. Traditional clothing as souvenirs gifts
While it might seem like a good idea to buy that traditional folk costume when you're on holiday, there are two things to consider.
First, do you really want to be that person who wears lederhosen to the grocery store?
Secondly, is that full-sized poncho likely to fit in your carry-on luggage? And let's be honest, you'll probably only wear that intricately embroidered tunic once before it ends up at the bottom of your wardrobe. So unless you're planning on starting your own Renaissance fair, it might be best to stick with something a little more practical (like a magnet or a snow globe).
11. Local jewellery for souvenirs
Buying local jewellery as a souvenir idea is like capturing the essence of a place in a wearable art form. Whether it's a handcrafted silver bangle from Bali, a turquoise Navajo ring from the American Southwest, or intricate Indian filigree earrings, each piece tells a story of local artistry, tradition, and materials.
Buy jewellery as souvenir gifts and not only do you get a beautiful accessory to flaunt back home, but you're also supporting local artisans, like this necklace as a souvenir from Aruba.
It's a win-win situation where culture meets fashion, transforming your travel memories into something both tangible and stylish. I've bought some lovely jewellery around the world, and plan to keep doing so!
12. Patches as a souvenir idea
Patches as souvenirs are the unsung heroes of travel memorabilia. Compact and lightweight, they're the perfect collectibles for globe-trotters on the go. Each patch is like a colourful emblem of an adventure, be it a city's skyline, a national park's wildlife, or a festival's vibrant design.
The best part?
You can sew or iron them onto backpacks, jackets, or quilts, creating a personalised tapestry of your travels. As budget-friendly keepsakes that pack a punch of nostalgia, patches turn ordinary items into storytelling canvases.
What are your favourite holiday souvenir ideas?
There you have it — 10 examples of souvenirs items to help keep those vacation vibes alive. Whether it's a fridge magnet, a snow globe, a traditional instrument, or t-shirt with a questionable slogan, these keepsakes will serve as a reminder of the incredible moments you experienced on your trip.
When you're buying souvenirs just be careful not to go overboard — your luggage allowance can be a real buzzkill. And remember, when it comes to traditional clothing, sometimes it's best to leave the lederhosen behind.
Have I missed any of your favourite souvenir ideas? Let me know in the comments below.
---
Check out all these great souvenirs ideas from around the world
Souvenirs from Korea | Souvenirs from Greece | Souvenirs from Nepal | Souvenirs from Philippines | Souvenirs from Scotland | Souvenirs from Morocco | Souvenirs from Florida | Souvenirs from Cuba | Souvenirs from Italy | Souvenirs from Australia | Souvenirs from Japan | Souvenirs from New Orleans | Souvenirs from England | Souvenirs from Mexico | Souvenirs from Canada | Souvenirs from Vietnam | Souvenirs from Egypt | Souvenirs from Rome | Souvenirs from Bali
---
What is a travel souvenir anyway?
A travel souvenir is like a magic token that says, 'Hey, remember that time you bravely ventured out of your comfort zone – or just left your couch – to explore new lands?'.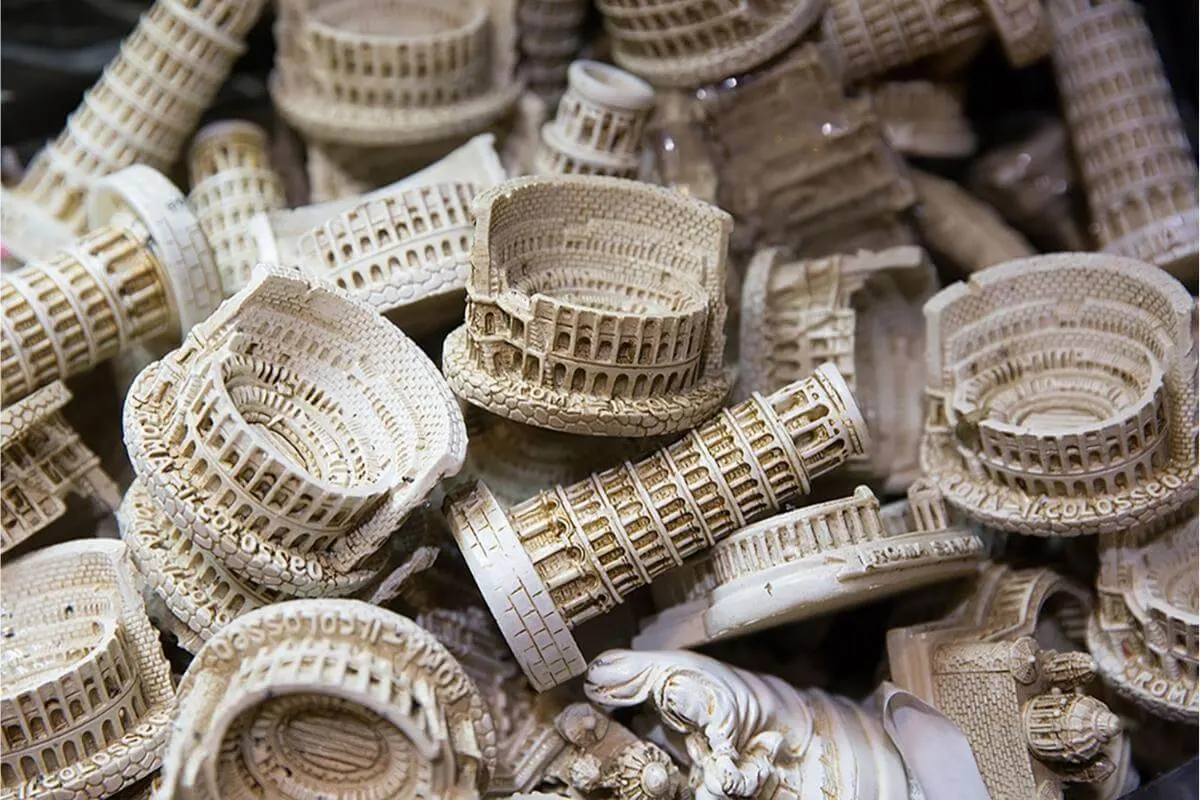 Whether it's an artsy Eiffel Tower keychain souvenir from Paris, a mysterious vial of Icelandic volcanic ash, or an overpriced 'I Love NY' T-shirt souvenir from NYC, each keepsake serves as a tactile memory.
These trinkets might gather dust or even induce eye-rolls, but their real charm lies in storytelling. Just a glance and you're teleported back to that bustling bazaar, tranquil beach, or awkward family photo in front of a world wonder. Oh, the memories!
Quick list of the best souvenirs ideas
Fridge magnets
Snow globes
T-shirts
Sunglasses
Local snacks
Hats
Traditional instruments
Local drinks
Decorative glasses
Traditional clothing
What are some fun travel souvenir collection ideas?
If you're looking for unique souvenir ideas to collect while travelling, how about these:
– Beer mats
– Fridge magnets
– Figurines
– Postcards
– Currency
– Maps
– Stamps
– Tickets
What is the most bought souvenir?
Fridge magnets are apparently the most bought travel souvenir idea worldwide. They're the quintessential impulse buy at any tourist shop – small, affordable, and easy to pack. A fridge magnet offers a bite-sized piece of a larger experience, whether it's an iconic landmark, a scenic vista, or even just the name of the place you visited spelled out in flashy letters. These magnetic mementos serve as tiny billboards on the domestic stage of your refrigerator, each one vying for attention as you reach for a snack. They form a patchwork narrative of your journeys, silently boasting, 'I've been places, you know!'
---