Thinking of going to Menorca in December?
Last year I went to Mahon for 48 hours in December, to see what the Balearics island's capital city had to offer.
Really liked Mahon. It's a colourful city, with beautiful churches, stunning views over the island from the many mirador viewpoints and the largest port in all of the Mediterranean.
Going to Mahon in December for a weekend break is a great way to escape the winds and rain of England. The weekend I went, which was the 15th to the 18th, it was howling winds in England, and apparently, from the updates from my family and boyfriend, non stop rain.
While a December in Mahon was around 17C, too hot for a coat in the day, and had to ditch my scarf too. In the evenings I wore my coat, but it was still warm enough to sit and eat outside, as I did.
Mahon, and Menorca, definitely shuts down for the season – with no boat trips, many restaurants closed, and the open car hire places hard to locate. I really don't see this as a problem though, for the right kind of traveller…
If you want a peaceful trip to the Balearics, with some sun, a few shops, a cute city centre and cut price accommodation, then Mahon in December is definitely a good place for a break from England's winter.
You just need to be prepared!
Top tips for Mahon in December

Book your car hire before you go
As one of the UK's most popular holiday islands, I just presumed I could stroll right up and book a car or scooter, or bike there and then. Apparently not the case in December. Especially difficult as I arrived on a Saturday evening and left on Tuesday morning, so there wasn't even any time to book a little bit in advance.
If you want to explore outside of Mahon then you need to get in touch with a car hire place and book one before you go. Get it from the airport and then you won't need to taxi into the city. It looked pretty easy to drive around with nice, new and clear roads connecting the airport with the city.
Just to note though, you only need a car if you're planning on exploring outside of Mahon, to Menorca's beaches for example. Mahon is actually a very walkable city, or there's a bus to take you uphill from the port to the town.
If I went to Mahon in December again I would hire a car.
Buses are pretty much non existent
I'd planned to get the bus from the airport into the city for €2.65, unfortunately I got to the bus stop and realised they were every two hours in the off season. Not every half an hour as the internet had suggested.
Instead, I got a taxi for €11, and it was €13 on the way back. I couldn't find a bus from Mahon centre to anywhere else on the island in December, only up and down the city from the port to the historical centre.
Expect attractions and activities to be closed
There are no boat tours, museums close early, the fish market doesn't open at all, the gin factory was 'cerrado' (closed) and all watersports are off. Mahon in December is all about enjoying the warmer weather compared to England, relaxing in the peacefulness of the island and just making the most of this Spanish city in the low season.
On Sunday everything is closed
Almost. There are a few restaurants still open but don't expect any shops or activities to welcome you in with open arms. Instead, make the most of the spas and have a nice relaxing day doing nothing instead. Check out my 48-hour guide to Mahon for more on those spas.
Sunday would be a good day to earmark for the beach – Cala Porter is one of the most popular ones near Mahon. Don't expect to be lying out in your bikini though, there was definitely still a chill in the air!
A good opportunity for a warming drink in a coffee shop admiring the view instead.
The shops are open though
Hannover Street has your classics like Mango and Stradivarius, all of which were open. Also, check out the boutique shops of Cami des Castell. I saw quite a few supermarkets open, even on the Sunday, too.
Hotels are cheap, so live it up!
Out of season you can enjoy the lushest and plushest hotels at a fraction of the cost. Choose one with a pool and a spa to really get the most for your money. I'd stay at the ARTIEM Capri personally, just for their rooftop pool.
– The rooftop pool at ARTIEM Capri, in Mahon
If you want a waterside location right in the centre of town, stay at the Mirador Catalonia, which is where I actually ended up. It was around £60 a night for a port view twin room with bathroom and basic spa on site. It was in a great location just over the road from the Museum of Menorca.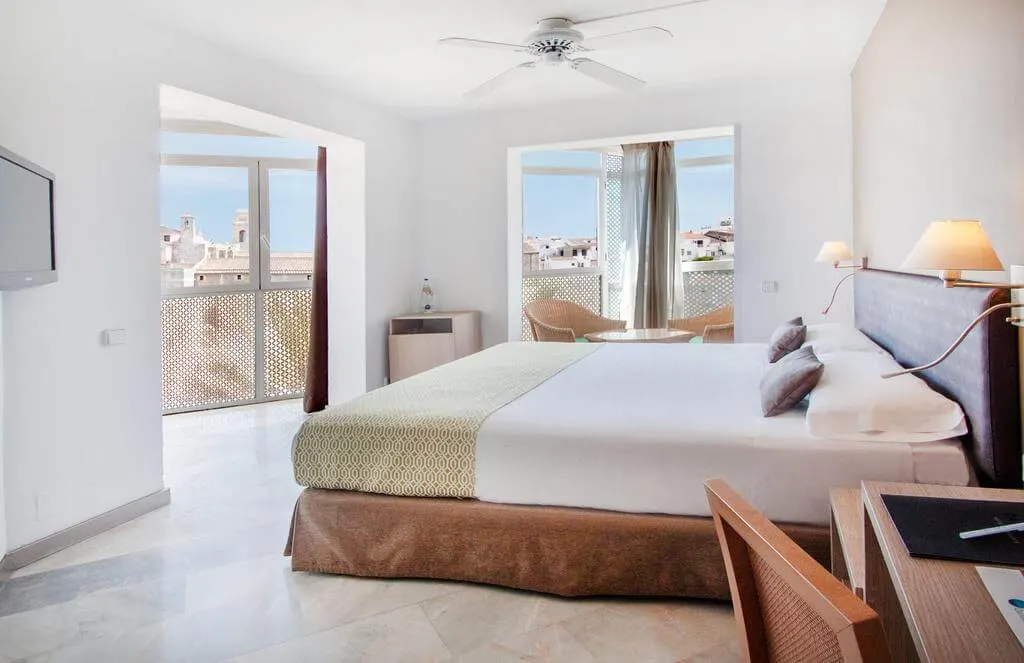 The food is EXCELLENT
I was genuinely impressed by every meal I had in Mahon (well, maybe not that yakisoba (see post). I ate a lot of Asian food, for my post on the best Asian food in Mahon, and then on the last night had Huevos Rotos – Menorca's traditional food – and really felt like I'd been missing out. But then I remembered how good the Japanese, Indian and Korean I'd had was and all was good again.
For this reason I absolutely 100% recommend Mo's by the Carme Church. I had Huevos Rotos with a glass of the local Benifidet wine while sat outside on my last night and every mouthful had me wanting more. Absolutely ruddy delicious.
If you have your heart set on visiting any restaurant in particular then make sure to check the opening times online, and maybe when you're wandering around on the first day too. I found that you definitely couldn't trust Google when it came to Mahon opening times in winter.
Just please, make sure you try a bao bun at Street Food. I salivate at the memory.
---
READ MORE: Best Asian Restaurants in Mahon
---
While away the afternoon at the port
Mahon Port is considered the second largest natural harbour in the world, after Pearl Harbor. Take a walk around, pick the boat you'd buy when you win the lottery and check out a few of the bars and cafes lining the beautiful view.
Make sure to check out the real estate windows – it's not houses here, it's boats, ships and yachts. For some big money, money, mooolah.
When the sun beams down here, it is hawt, even in December. You'll find some of the bars and restaurants have lifted their weather protection so you can sit and drink Menorca's gin and tonics in the sun while you plan what you want from Santa for Christmas.
Look for special events
The weekend I was in Mahon, there was a Jungle Brunch on at the Museum of Menorca. A great event for all the family with face painting, music and art for everyone to enjoy. It was only €3 to get in and as well as the event, you got to look round the museum as well.
Keep an eye on local listings to see if there's anything on when you plan to visit.
Walk through Mahon at night to see the decorations
From my experience I can tell you that Mahon doesn't go crazy for Christmas decorations, unfortunately. They do have a few offerings though, mainly by the Carme Church and if you look up on Hannover Street.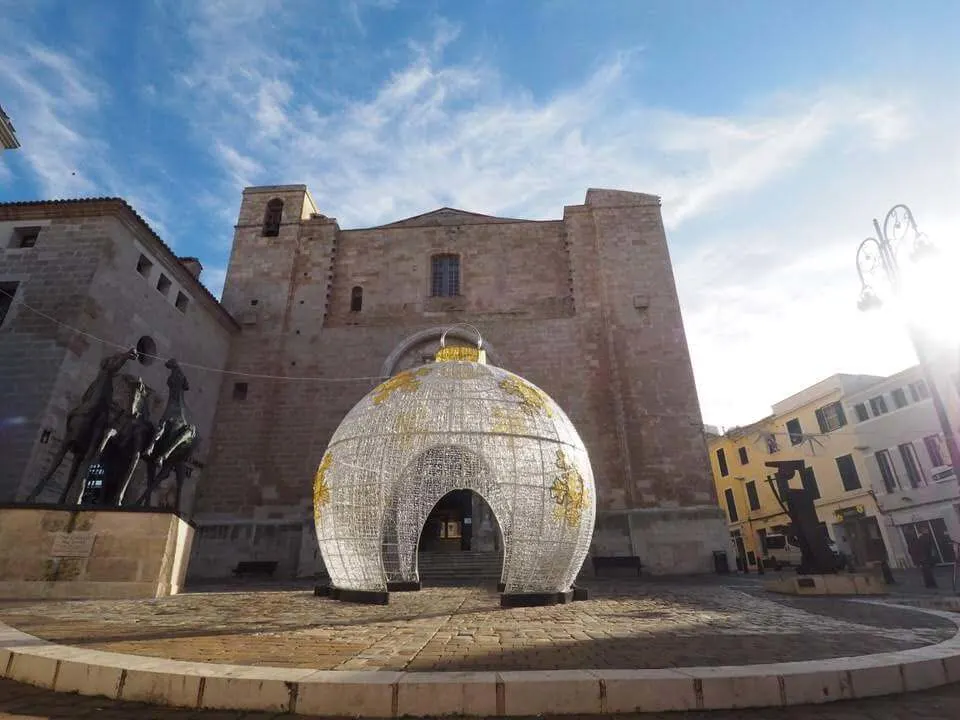 With sunset at around 5:30pm you'll definitely be out and about come nightfall so make it a fun mission to go and find more than I did. They did have a cool bauble up by the main Iglesia, which makes for some pretty photos.
Go on a self-guided walking tour
There are so many beautiful shots to take in Mahon. The fact that the city is on different levels means with the changing light, the photos you can snap just get better and better.
Check out the route on day one of my 48-hour guide to Mahon and you'll take in the best of Mahon's free attractions and stunning architecture.
Be outside for sunset
I don't think I've ever seen a more purple sunset than the ones I saw in Mahon, well, maybe in Bali. But still, the sky just changed to the colour of teenage me's bedroom. It was incredible. Unfortunately my limited photography skills just do not do it justice.
Make sure you're at a port view bar for 5pm so you can get your drinks in, for the best way to admire any sunset anywhere. Try the Mirador Bar, or any of the bars in the port. The sunset really is one of the most important things to experience in Mahon.
The winery is open!
Yay. Binafidet is made on the island and you can take a tasting tour around the Binafidet Bodegas vineyard. Unfortunately I couldn't get there thanks to the aforementioned car issue, but even if there's not a tour on the day you want to go, you can always go and have a look around and a glass at the bar.
I tried the Binafidet wine at Mo's and it definitely gets my approval. A nice bottle makes for the perfect souvenir to bring home too!
---
Pin me for later
---
As always, I retain all editorial control of what is published.
---
More on Mahon
My Ultimate 48-Hour Guide to Mahon