Visit Mahon in winter and you'll find a quiet and chilled city, where the sun's out but there's a definite nip in the air. Winter Mahon is a peaceful place with, as a guesstimate, less than half of the restaurants, attractions and shops you'd open you'd find in the summer.
Shutters are down and the 'cerrado' signs are up (closed).
Of course I'm not necessarily saying this is a bad thing. There's plenty to see and do, without the crowds of the summer. And you can enjoy 9-15C weather.
Having 48 hours in Mahon, in Menorca, is a great choice for a winter holiday if you want to get away from the OTT festivities and wintry weather at home, in England.
Weekend in Mahon
Mahon Airport is just an hour and a half's flight time from the UK and you can pick up some wintry bargains with the few airlines still running flights out here. The fact it's so close means it's totally achievable as a weekend destination. When you arrive Mahon is just 10 minutes in the taxi from the airport.
The prices of the hotels in Mahon in winter are slashed with the diminishing demands so you can stay at a lush hotel, complete with spas and views of the port for a fraction of the summer price. Just like I did.
When it comes to finding things to do in Mahon in winter, you do need to take what the internet says is open with a pinch of salt. There were a few times where I turned up to gin factories, fish markets, theatres and museums, to those 'cerrado' signs, with no sign of them opening that day (or season).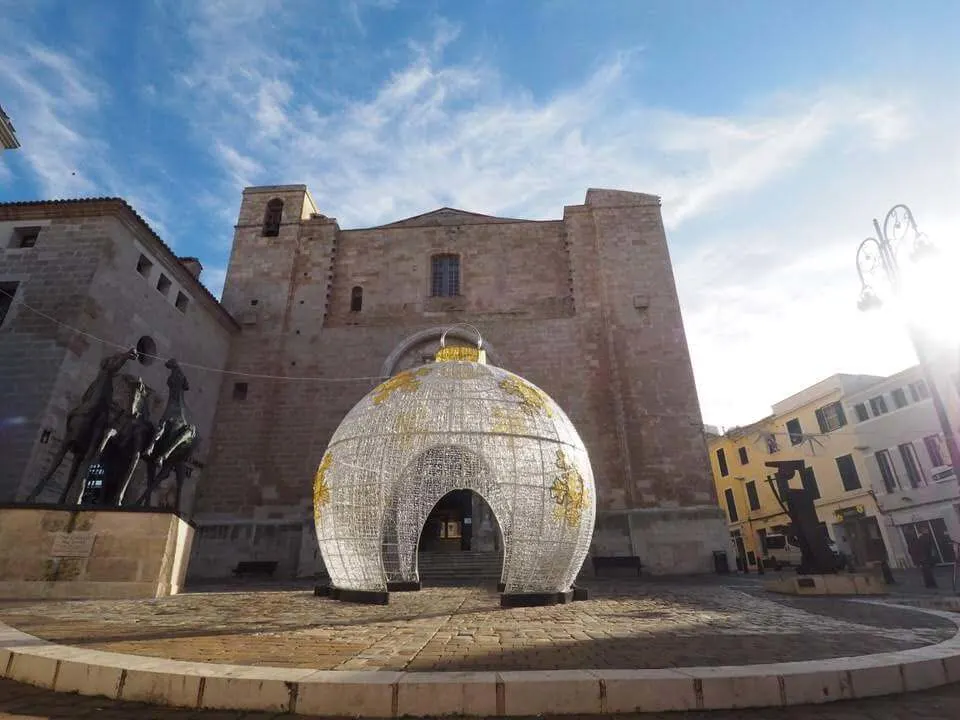 A 48-hour break in Mahon in winter is the perfect amount of time to get to know one of the Brits' favourite destinations in Spain out of season though. I went to Mahon for a weekend in December last year, and here's what I'd recommend you get up to.
What to do in Mahon for 48 hours
DAY ONE – Mahon city centre
10AM
Breakfast: Pipet & Co
When I Googled the best place for breakfast in Mahon, Pipet & Co came up. It's a cute little cafe opening out on a square and kids park.
The menu was what you'd expect from a hipster-place like this: avocado, poached egg and smoked salmon. That kind of vibe. I went for the first two on a muffin, which came in a meal deal with a cafe con leche and, their trademark, pink lemonade.
This was probably the busiest place I visited in the city – definitely recommend!
Breakfast with coffee: €8.50
11AM
Wander the city
Take a wander around the city. I actually ended up walking for hours, aimlessly. But if you'd like a route, stick these points in your Google Maps. You can't really get lost in Mahon, not massively, it's a relatively small place and all roads seemed to lead back to the centre.
Click for the map of the key points in Mahon, Menorca
– Teatro Principal de Mao
– Carrer de Ses Moreres
– Placa de la Constitucio
– Carme Church
– Mercat de Pescados
– Iglesia del Santa Maria
– Claustro Market
– Menorca Museum
All free to explore, €€ to buy anything, of course…
Noonish
Snack time
Check out one of the traditional Spanish coffee shops around town. If the weather is right, do like the Spanish do and sit outside al fresco. If not, time to warm up and take a load off your feet. The patisserie counters here are pretty spectacular. I went for an ensaimada, the famous pastry coils of the Balearics, for €1.20, with a cafe solo on the side.
Snack price: €2.50
Early arvo
How about a museum?
I went to the Museu Hernández Sanz Hernández Mora – featuring a collection of prints and decorative items from the past 300 centuries. Might seem a random choice for me, but it was just round the corner, it was Sunday, about to close, and I liked the look of the staircase.
The 30 minutes I had in there were pretty enlightening and I did enjoy this cartography table, and the nudey drawings.
Or, you could go to the Menorca Museum. Make sure to check their listings as they have events throughout the year.
Entry: free
2pm
Lunch – Spanish style
I actually went to MakiTake, a Japanese restaurant in the centre, but to be honest, it wasn't the best. First day lunch is probably a good time to try some tapas, seeing as you're in Spain. How about xxxx? I went for dinner one night and had the Menorcan favourite Huevos rotos – ham, egg and chips.
It was absolutely delicious.
Glass of local red wine and Huevos Rotos – €10
3pm
Time to relax at a spa, right?
If you're visiting Mahon in Winter it's a good idea to have a Plan B in mind, if it rains or it's too cold for you out. And that Plan B is ARTIEM Spa. It's lush. I mean it can totally be a Plan A too, all I'm saying is, is to just keep it in mind if the day is a little chillier than planned.
ARTIEM's spa is on the rooftop, and has stunning views out to the terracotta roofs of Mahon. I went on a Sunday in December and there was no one there. There's a jacuzzi, a pool, a sauna, steam room and showers. There are also sun loungers in and outside for you to recline on.
It's €18 to visit and open from 8am to 10pm. If you stay at the hotel, it's free!
You could also take a look at the Boutique Hotel Sant Roc & Spa, or the Jardi de Ses Bruixes. Both look lush. All of them offer massages too, from around €40, if you want to splash out. SPLASH.
There was a small spa at my hotel – the Catalonia Mirador des Port Hotel – which I had entirely to myself too.
I combined my spa visit with a siesta, totally falling asleep on the sun lounger by the pool without actually meaning too. Or go back to your hotel and relax in your room. Remember, when in Spain, SIESTA!
5pm
Sundowners
Head down to the bars of Mahon Port for your first night's sundowner. There will be plenty to choose from so just pick the one with the best view and most inviting fire and go for it. Down here you'll get super impressive views over the water.
I've honestly never seen a sky as purple as my first night in Mahon. The colours were just amazing – even more impressive than the above to the naked eye.
Pick your place and have a little gin to enjoy with the view.
Glass of beer or wine – €2
8pm
Dinner at Rainbow
In Spain the usual time for dinner is around 9ish, so don't be surprised if the restaurants seem pretty empty before that, especially in winter.
I was surprised at how many Asian restaurants there were in Mahon, and decided to make trying them all out my raison d'être for being there. Look out for my top 5 places for Asian food in Mahon post, coming soon.
If you like Indian food, you are going to love Rainbow down at the port. If Indian food while you're in Spain isn't quite what you were expecting, then carry on round the port a little to Jegaro. This is where you'll find the best lobster soup on the island, so says my research (didn't have enough space / time left to try it).
But back to Rainbow. I had one of the best curries I've ever had there, and I've had a lot of curries. The service was great, the chicken Jalfrezi delicious and the poppadoms a definite yes.
Poppadoms, litre of water, curry and rice – €20
10pm
Drinks
Rainbow is right at the start of the run of restaurants and bars on Mahon waterfront. If I was you I'd go on a cheeky bar crawl along the front to sample the wares.
Or, you could see if there are any shows on at the theatre you saw earlier. Or, take a walk through the centre of the city – everything looks different at night.
Or, you could just go to bed so you're up and fresh for the next day.
Where to stay in Mahon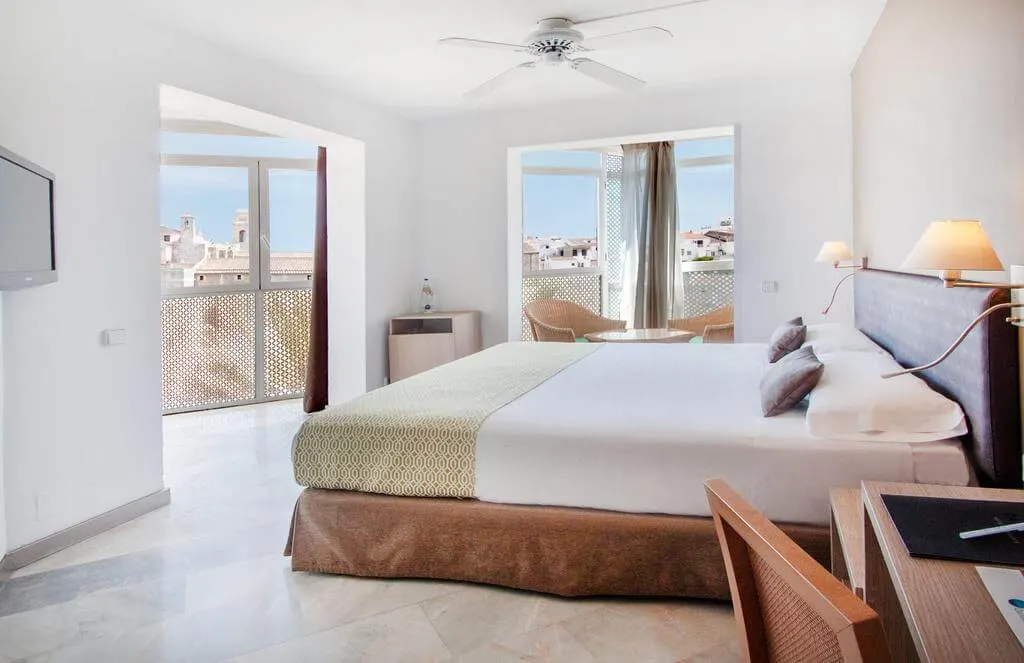 I stayed at the Catalonia Mirador des Port Hotel. It ended up being around £60 per night for a double room, with a balcony and bathroom. There was a jacuzzi and steam room area on site, which I joyfully used, and a cafe and restaurant, which I didn't.
Pics from Booking.com
Check out the latest prices for the Mirador Hotel on Booking.com.
---
DAY TWO – Mahon beach day!
10am
Breakfast at Es Llonguet
Head to Es Llonguet for breakfast. This is more of a cake and croissant place rather than eggs and bacon. The cakes looked amazing though. I went for my favourite – a cheese and ham croissant with an Americano.
11am
Rent some wheels
Time to rent a moped / scooter / bicycle type and go and explore around Mahon.
Unfortunately, I couldn't actually find anywhere open for me. I made the mistake of expecting to be able to book when I turned up but the fact that I arrived at my hotel at around 5pm on Saturday and left at 11am on Tuesday was possibly the worst timing there was. Of the businesses that are open in winter, most of them will be closed on a Sunday and Monday. This meant, no bike for me.
I'd strongly recommend you book your wheels before you arrive in Mahon.
Even if you're just on a city break you have to go and see the sea when you're on an island as beautiful as Menorca though. After much research I decided that the Cala'n Porter Beach sounded the best one, closest to Mahon, and easy to get to.
Noon
On the beach and at the cliff restaurant
– Pic from WikiMedia
Beach looks beautiful hey? It might be a bit chilly this time of year but you can take a walk, maybe sit for a bit, and there are some highly recommended restaurants down there for you to relax and enjoy. Keep an eye out for anywhere offering the Menorcan speciality of Caldereta de Langosta – lobster in soup.
3pm
Fortaleza de la Mola
Again, just to confirm I didn't actually do this because of the lack of wheels, but the plan was to visit the Fortaleza de la Mola on the other side of Mahon Port. The landscape looks incredible from the pictures, and you'll get to look back over Mahon and see it from another perspective.
5pm
Gin for the win
Darkness is falling so drop your wheels back and go and check out the Xoriguer Gin Factory for a tasting. The website said it was open, but it was closed when I arrived, so maybe it was just an off day? Anyway, try it out if you can.
If it's not open, don't worry. Just head up the ramp towards the Museum of Menorca and find your way to the lookout bars and restaurants lining the top layer of Mahon's Port. A good way to see the sun set on Mahon from a different viewpoint.
7pm
Siesta vs another G+T
Do you want to relax before dinner? You missed out on your siesta today, and remember that dinner time in Spain is a lot later than you're used to.
If not, carry on the mirador (Spanish for lookout) drinking session around Mahon.
8pm
Dinner time
Find some steps to get you back down to the port from whichever drinking hole you've managed to find. It's dinner time! Restaurant Way is one of the top rated Asian restaurants in Mahon, according to me, and the general public.
I went for one of their set menus and enjoyed sushi, yaki soba, beef ribs and a beer for just €20. The restaurant is lovely too. Get your Instagram on in there.
And then when you're ready, it's back to the Catalonia Mirador des Port Hotel. The good thing about this hotel is that you can have a drink in the bar, on the lookout terrace and know that your bed is only a ride in the lift away.
How to get to Mahon
If you want a 48-hour trip to Mahon in winter you are kind of limited when it comes to flights. There was no way I wanted to do an indirect flight to Mahon, so I travelled with easyJet on the Saturday afternoon flight from Gatwick, and back on the Tuesday.
Sat: London Gatwick > Menorca (13:00 > 16:20)
Tues: Menorca > London Gatwick (13:40 > 15:10)
The flight was fine, although remember easyJet have reduced their allowed baggage, which I totally forgot. Had to wear my two coats and two cardigans and hide my laptop under one coat to avoid the £50(!) charge. If you haven't booked speedy boarding, you are only allowed to take one bag with easyJet.
Mahon airport was straightforward and I got a taxi out the front straight away. It was €11 into Mahon, and to the Mirador Hotel.
How to book 48 hours in Mahon
Check out the flight prices on Skyscanner.
And the room prices at the Mirador on Booking.com.
And check out car and scooter rental here.
There weren't many activities open in December, but if you're visiting Mahon in a different month, check out the costs of them here.
---
As always, I retain all editorial control of what is published."
---
Pin this guide to winter in Mahon for later