When I think back to my travels in the Philippines, it's Palawan that really stands out to me. The stunning coastline, the magical beaches and the chilled out laid back vibe just worked for me.
There are some great Palawan tourist spots for you to explore when you're on the island, so let me help you plan your Palawan itinerary and take you through the highlights.
Top Tourist Spots in Palawan
Where is Palawan exactly?
Palawan is a beautiful island in the Philippines, located far in the south west.
Why visit Palawan?
People come to Palawan to see the incredible landscapes, as the island has won all kinds of accolades thanks to its vistas. The Palawan beaches, the limestone cliffs and the incredible azure waters just draw you in.
It's also home to two UNESCO World Heritage Sites – Puerto-Princesa Subterranean River National Park and Tubbataha Reef Marine Park. Both are absolute must dos while you're on the island.
One of the main reasons us Brits also like Palawan, as well as the amazing views, is the price. You can get a lot for your money in Palawan, compared to what we're used to. So, let's get onto why I think you should visit this hedonistic oasis, ASAP!
What to do in Palawan
1. Visit Puerto Princesa
Flights from Manila to Palawan arrive into Puerto Princesa City. This is the island's capital and a great base to start your Palawan trip.
Puerto Princesa City on the east coast and El Nido in the far north make up Palawan's two main tourist hubs, and the two Palawan tourist hot spots where most people end up. They're about six hours apart by bus, and totally doable.
Most travellers to Palawan will spend a few days in Puerto Princesa before heading out to El Nido – a vibrant young city with almost 200,000 people, and some amazing beaches.
2. Take a boat trip on Puerto's Princesa's Underground River
But first, Puerto's underground river. This 5-mile long subterranean watercourse was designated a UNESCO World Heritage Site in 1999 and is one of the wonders of the natural world. Tours to the river are a fill day out and you'll need to shop around for the best prices. Make sure the one you go with includes return transport, lunch and the 45 minute boat trip.
This is the number one tourist hotspot on Palawan, so be prepared for a bit of waiting during peak season.
---
RELATED POSTS
Where to Find the Best Breakfast in Boracay
The Philippines Travel Tips You Need to Know Before You Go
This page contains affiliate links meaning I may receive a small commission on any purchases at no extra cost to you.
---
3. Snorkel in Honda Bay
Honda Bay is just a short drive east of the city of Puerto Princesa, and is the epitome of a tropical paradise. The small fishing village at the centre of the bay is your jumping off point into the turquoise waters of the South China Sea. There are several other tiny islands peppering the bay and tourists hop between them on boats chartered from the shore.
Many of the islands, some no more than a sandbar, charge a small fee for refreshments and others sell freshly cooked seafood. The snorkelling here is fun and the surroundings are truly idyllic.
Seriously, it's absolute dreams here. You definitely need to take a day or two to really make the most of the relaxation opportunities here.
4. Get in the water in El Nido
Nightlife, restaurants and stunning scenery are what El Nido is all about. And if you're a watersports enthusiast, you'll be totally spoilt for choice. Crystalline waters lap shimmering white beaches as looming limestone cliffs rear up from the deep to meet the jungle. This is one of the most popular tourist spots in Palawan.
Get your flippers on and get out there!
The waters of El Nido are home to over 850 species of marine life and there are 30 dive sites suitable for all abilities in Bacuit Bay alone. El Nido town has several dive-shops, most of them PADI certified, so if you've never tried it before you can give it a go in safety.
El Nido is the place for scuba diving in the Philippines and snorkelling but also – and not a lot of people know this – El Nido is a great place for surfing too. The scene is still young but surfers should head to Mike's Point on El Nido Beach to get kitted out or take lessons. The best breaks are to be found north of El Nido.
If you're into your surfing and you have longer in the Philippines then I'd totally recommend going to Siargao island too. Although I didn't actually surf when I was there, there was a great scene and it seemed to be the thing to do there.
5. Relax on Twin Beach
Back to El Nido though and with over 100 beaches around, beach bums can throw down a towel and not see a soul. You definitely need to visit Twin Beach, although the 10 miles to get there will take you ages as the roads are so rubbish. There are a few shops, a restaurant or two, and views for days.
6. Hike up Taraw Peak
This is the jagged limestone rock towering above El Nido, you cant miss it. The ascent is tough in places, with some brief climbs, but your efforts will be rewarded with the most amazing view of Bacuit Bay. Allow three hours for a round trip, and make sure you charge your phone / camera – the view from the top is one you'll never forget!
---
READ MORE: Philippines Travel Hacks You Need to Know
---
Eating in Palawan
Puerto Princesa
Most of Puerto Princesa's restaurants are located on Rizal Avenue and Manalo Street. All kinds of food are available here but I'd recommend you pick the restaurant with the most locals sat outside.
Wherever you go, try the Kamayan speciality, boodle fight. It's a buffet of freshly-cooked seafood and fish, with several delicious local dishes, and served on banana leaves. No plates or cutlery needed, just tuck in! It's also a great option for anyone watching their budget.
For a meal with a view, take one of the many island-hopping boat tours of Bacuit Bay. Most include a delicious buffet lunch cooked on board by the crew. It's a great way for new arrivals to get their bearings in Palawan while sampling the local cuisine.
El Nido
Up in El Nido, the Habibi Restaurant and Shisha Café (Hama Street) is always a good laugh with good food. Don't let first appearances fool you – from the outside it looks a bit worse for wear, but it's actually a really cool little hangout. The owners, Ronnie and Charo, cook top-notch food, beautifully presented. Don't miss the crȇpes, the milkshakes or the king prawn curry – and afterwards, you can relax with a shisha pipe on the beach.
Hidden away at the end of a dirt track, Happiness Beach Bar is a little gem and a real find. A few minutes walk from El Nido beach in Sitio Lugadia, it serves an eclectic selection of homemade Middle Eastern, European and local dishes. This was my favourite 'sunset' bar – the elevation gives visitors amazing views across Bacuit Bay when the sun goes down.
Good tunes, great food, cheap drinks and that sunset – it's a meal to remember.
Best places to stay in Palawan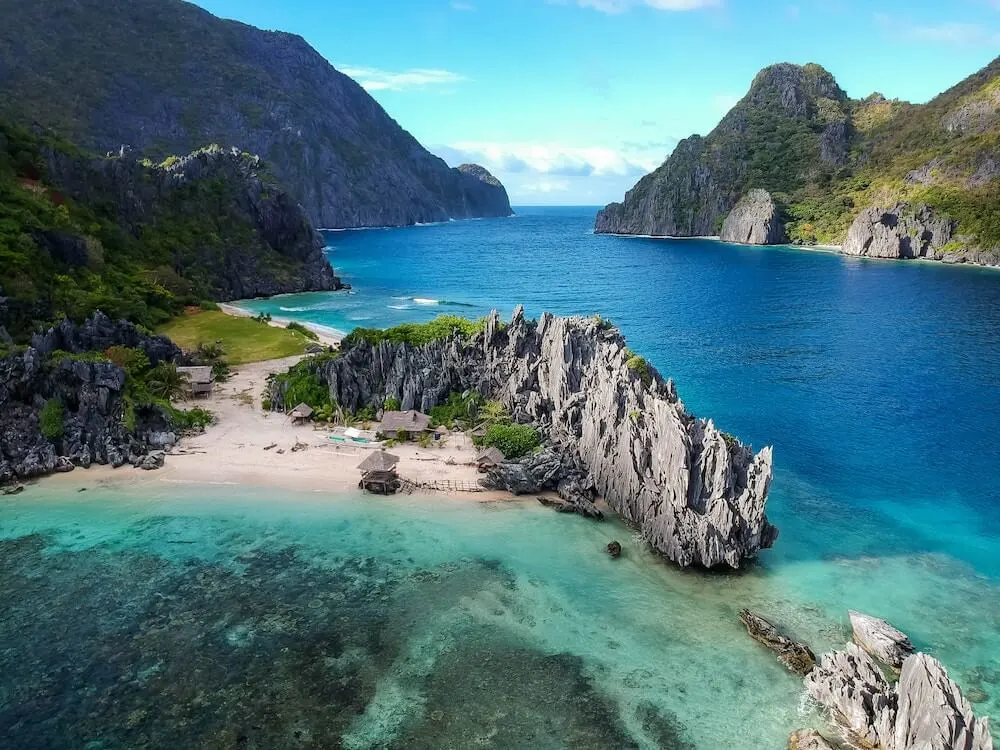 Not the most memorable name ever, but Kambakambak Doss Haus (Dacanay Street Road 1) in Puerto Princesa is a quaint little hostel run by super-friendly staff. Located in a quiet street off the main drag, all rooms are en-suite, have Wifi and are air-conditioned. If you're travelling with someone else, it's definitely a good shout.
Otherwise try the Uyang B&B on Socrates Road for great value for money. Set in a residential area and surrounded by tropical gardens, the whole experience is charming and rustic. With brekkie thrown in, you get bed and board at a bargain tenner a night.
If you're thinking even cheaper than that there are a lot of hostels about, book your first few nights and then ask around. You can often get a cheaper deal once you're there on the spot, and if you're a champ at the bartering, something you definitely need to learn in the Philippines.
One of the best things I did in Palawan was to get the Tao Experience boat from El Nido to Coron. A 5-night rustic adventure on some of the Philippines' uninhabited islands, sleeping under the stars. It was brilliant and still to date remains one of the best things I've ever done on my travels.
Tourist spots in Palawan
Seriously, Palawan is amazing. I hope that gives you a few ideas for where you want to base yourself for Palawan's tourist spots, and how long you need to plan for.
There's more to do on Palawan, but you don't want to plan in too much when you're on a paradise island. I'd suggest heading for Puerto Princesa and El Nido and then seeing where the sun and sea take you in between.
More on travel in the Philippines
Your Two-Week Philippines Itinerary
21 Things to Do in Boracay on a Budget
Pin for later