I spent 2 weeks in the Philippines, back in February. Loved it. It was my second time there and I hope one day I'll get a third. I flew direct from London to Manila on the new Philippine Airlines flight, and then went to Boracay Island, to Bohol and finally to Siargao. The first time I went to the Philippines, again for two weeks, I went to Palawan and Cebu.
This Philippines itinerary is for two weeks in Boracay, Bohol and Siargao, but I'll give some helpful tips on how you can visit Palawan and Cebu too.
If you're planning on going to the Philippines for two weeks, and you need some help on how to put the trip together, and how it'll fit, then read on my friend.
– Me having a great time at the Chocolate Hills in Bohol on my Philippines vacation, before the rain set in
2 Weeks in the Philippines
Here's my exact itinerary for 2 weeks in the Philippines, complete with costs, reasoning, hotel recommendations (or ones to avoid) and links to my experiences in more depth.
Quick summary of where this 2-week Philippines itinerary will take you
Manila – capital of the Philippines
Boracay – party capital of the Philippines
Bohol – tarsiers and Chocolate Hills
Siargao – surfing capital of the Philippines
** All my flights for this trip and post were sponsored by Philippine Airlines.
---
Last time I went, I visited
El Nido, Palawan – white sand beaches and looming cliffs
Coron, Palawan – picturesque islands with jungle treks
Cebu and Malapascua Island – an island with amazing diving
So if you have any questions about visiting there, let me know.
♥
Check out my guide to the top tourist spots in Palawan
♥
13 Reasons Why The Tao Experience Was So Good
Exploring the Incredible Kawasan Falls in Cebu
– If you're feeling confident enough I'd totally recommend hiring a moped during your 2 weeks in Philippines
I'd strongly recommend you choose a maximum of three places to go if you only have 2 weeks in the Philippines. The Philippines are made up of 7,107 islands and getting between them, with the unpredictable island weather, can take some time. There are often delays with flights and ferries and you don't want to ruin your two weeks in the Philippines itinerary by missing a connection.
Don't try and fit too much into your Philippines travel itinerary or you'll end up rushing around too much.
– I accidentally took this pic with the touch screen on my camera. I really like it!
This is a super detailed breakdown of how I spent two weeks in the Philippines, to help you plan your trip.
Day 1: the flight and arrival into Manila
Day 2: Manila to Boracay
Day 3: yoga and ATV in Boracay
Day 4: yoga, and beach time in Boracay
Day 5: island hopping and massage in Boracay
Day 6: Boracay to Cebu
Day 7: Chocolate Hills and Tarsiers in Bohol
Day 8: Motorbikes of Panglao
Day 9: Ferry to Cebu
Day 10: Cebu to Siargao
Day 11: Motorbike around Siargao Island
Day 12: Chilling on the beach / island hopping tour
Day 13: Motorbiking around Northern Siargao
Day 14: Mangapunko Beach and back to Manila, via Cebu
Day 15: Flight from Manila to London
It's going to be an amazing Philippines vacation, trust me!
---
My Philippines 2 week itinerary
– views like this on your Philippines itinerary? Of course!
Day 1: the flight and arrival into Manila
I travelled with Philippines Airlines on the new direct flight from Heathrow to Manila.
It took 13 hours 55 minutes from 21:50 to 19:45, overnight.
The excellent flying hours meant I could just go to bed when I arrived and it didn't really matter if I slept or not on the flight. Great start to the trip when you're going that far. It felt like a new plane, with a great entertainment system, and even Wi-Fi on board too. I didn't actually indulge but it's $20 for the whole journey, or $5 for an hour and you got 30 mins free. There weren't any plugs on board but there was a USB charger, so get your Netflix series' downloaded to your phone before you fly.
Philippine Airlines definitely kept us well fed.
Meal one: Chicken and rice with a choc dessert
Meal two: Mushroom panini
Meal three: Egg and sausage concoction
Just to note though, at Heathrow they'd told me my luggage was going all the way through to Caticlan, Boracay, which I'd thought was strange. So I checked when I got to Manila. And it wasn't. There was then some confusion about whether I needed to pick it up and check it in again, which unfortunately cost me an hour's time at the airport that I could've been sleeping.
If you're travelling on from Manila, like you will do with this 2 week Philippines itinerary, then check when you're at Heathrow.
Basically, if you're travelling on the Philippine Airlines flight to Boracay, stopping in Manila, you need to just pick up your luggage, take it with you, and bring it back the next morning when it's time to check in for your flight. Triple check if they tell you different.
I'd recommend you compare your flight prices for the Philippines on netflights.com.
---
More tips for your arrival into Manila
– Get your hotel to sort a pick up, so nice to have your driver actually know where your hotel is.
– None of the ATMs at the airport worked, so don't rely on them. Take some currency with you, like any sensible person would. I had to get the taxi to stop at an ATM along the way.
– Have your flip flops at the ready, arriving into Manila was HAWT.
Where I stayed in Manila
I stayed at the NoMadsMNL Backpackers Homestay for 995 php (£13) for one night. It was a decent hotel room, for the price, but did have shared facilities. Definitely more for the backpacker end of the market, although I did have a balcony and the owners were really nice. The taxi from the airport cost 200php (£2.80).
---
Day 2: Manila to Boracay
I was up at 4am from the early night and ravenous from the jetlag. I had a noodle cup from downstairs for 50 (70p). I lay in bed and watched the sun rise over my little Manila street above my balcony. Breakfast was included in the price and I went downstairs for one of the free coffees and saw the tuna sandwich breakfast laid out for me.
With the night and morning in Manila, you could go out and explore with this Philippines itinerary. I was too tired though, and didn't really have the desire. Cities weren't my intention for my two weeks in the Philippines.
My flight to Caticlan (Boracay) was at 12 noon to 12:50 with Philippine Airlines. I paid the hotel price of 200php (£2.80) back to Manila Airport. No dramas.
The flight was 50 quick minutes and the beautiful beaches of Boracay appeared in front of me. Boracay airport is actually on Caticlan, the island next door, and a boat journey away.
– 2 weeks in the Philippines and you'll definitely need a few planes
I arrived into the airport and tried to do the crafty thing of getting to my hotel by paying the vendors separately to save money. Didn't work though and I think at these rates it's just easier to pay a rep for a package to get to get a taxi to the port, boat across, and transfer to my hotel (600php / £9).
The journey to the port ended up being totally walkable and on the other side she seemed to prioritise everyone else, getting them into a van, which I was annoyed about as she left me hanging there. And then, for some reason, she got me my own private tricycle and I was taken straight to my hostel.
Sweet. I did not question this.
Got to the W Hostel. Looked ok, excited to see they had yoga, dropped my stuff and went off to explore.
Gawd I was overwhelmed. It was sooo busy and crazy on White Beach at Station 2. I'd pictured private sands but no, nuh uh.
– seriously, this is the best Philippines 2 week itinerary you'll find
I got a mango shake and went to watch the sunset with a few thousand other people. I spotted a place advertising Tuna Poke bowls, and so got involved. Yum. I was so tired but it was only about 8pm so went for a massage at Shy for (400 php / £6). So relaxing, and needed. And then came home and went to sleep for hours.
Didn't even wake up when the other people came in my dorm.
Where I stayed in Boracay
W Hostel Boracay – 4-bed dorm for 5,300 php for 4 nights (£74)
W Hostel was ok. I really liked my bed, and my room, and the fact that there was a rooftop garden with a pool to dip in and cool off. Big points there. It was the staff and the toilets that let it down. I feel like everywhere else I went people were lovely, not here. Also, they kept telling me yoga was on, which it clearly wasn't, and I'd arrive ready. The toilets and showers were disgusting. As in, it was always wet in there and stunk of piss. Good WiFi though. And great location.
---
Day 3: yoga and ATV in Boracay
Woke up early to do yoga at the hostel, yet no yoga despite asking three people and being assured it was on. Meant to be at 8. Realised at 8.10 there was a yoga class up the road at Vessel. Walked fast there and paid my 40ophp / £6 in. The class was in a really, really beautiful setting, had a lovely teacher, and was at a beginner / intermediate level, which just felt amazing for my travel-tight limbs.
– Two weeks in the Philippines, and you can definitely fit in some yoga practice
Afterwards I walked down to the beach to ask about the diving. It was 1200 php / £17 for a dive out. I was tempted but with the island being so busy I was feeling intimidated by the thought of being underwater with so many other people. I was in Boracay for Chinese New Year, accidentally, and it was way, way busier than normal. I didn't want to go by myself.
I walked up from Station 2 and found Sunny Side Café so had Shakshuka, a mimosa and a coffee to start the post I wanted to write on the best breakfasts in Boracay.
Spent the afternoon reading a book on the beach, it was amazing. I read Elle Croft's, The Guilty Wife, if you were interested.
Decided I should do something so walked up to one of the many, many hawkers lining the beach and booked onto ATV driving. First guy quoted me 1500 / £21, and then I walked up a bit and someone else said 1000 / £14.
Done.
– Definitely include some ATV driving in your Philippines itinerary, just research the companies beforehand
The trip was pretty average. We didn't go far on the bike and it wasn't rough terrain but I had gone for the sightseeing option. Go for the adventure option instead. We ATV'd up to Mount Luho and looked out over the view. When you get back you get to look round the Dream Land Trick Art Museum for free, and at all the Cocks tied up ready to fight, and the old Happy Land Amusement Park, which has been annihilated by past typhoons.
Spent the rest of the day reading on the beach at Station 2, and then went for a pizza at the busiest place I could find. Popular for a reason, right?
---
Day 4: yoga and beach time
I was up super early again thanks to jet lag so went for a walk on the beach. I found a morning yoga class at True Food, an Indian restaurant. It was an incredible location right on the beach but on the second storey, so we had amazing views out to the water. Thought I was gonna be the only one for a while and was cringing inside, thankfully one other turned up.
The class cost 600 pesos (£9).
I basically spent the day chilling out on the beach, wandering round The D Mall, eating a burger at the wonderfully air conditioned Pig Out and getting too much sun. Also, vowing to do something touristy tomorrow.
I think if you're planning a trip to the Philippines, it'd be rude not to fit in an excessive amount of beach time here and there.
---
Day 5: island hopping and massage in Boracay
Went for breakfast at Little Wave, then went island hopping.
READ MORE: Where to Find the Best Breakfasts in Boracay
– Getting out on the water is one of the best things to do in the Philippines
We met at 9am, although didn't actually leave until 10. People and boats were everywhere. The trip was 800php / £11.50 and included three beaches on Boracay, and at Crystal Cove.
I came back and went for an ice cream at Halowich. I'd seen epic queues outside this shop since I arrived, so decided to join it for TWENTY minutes, to see what the fuss was about.
It was totally worth it.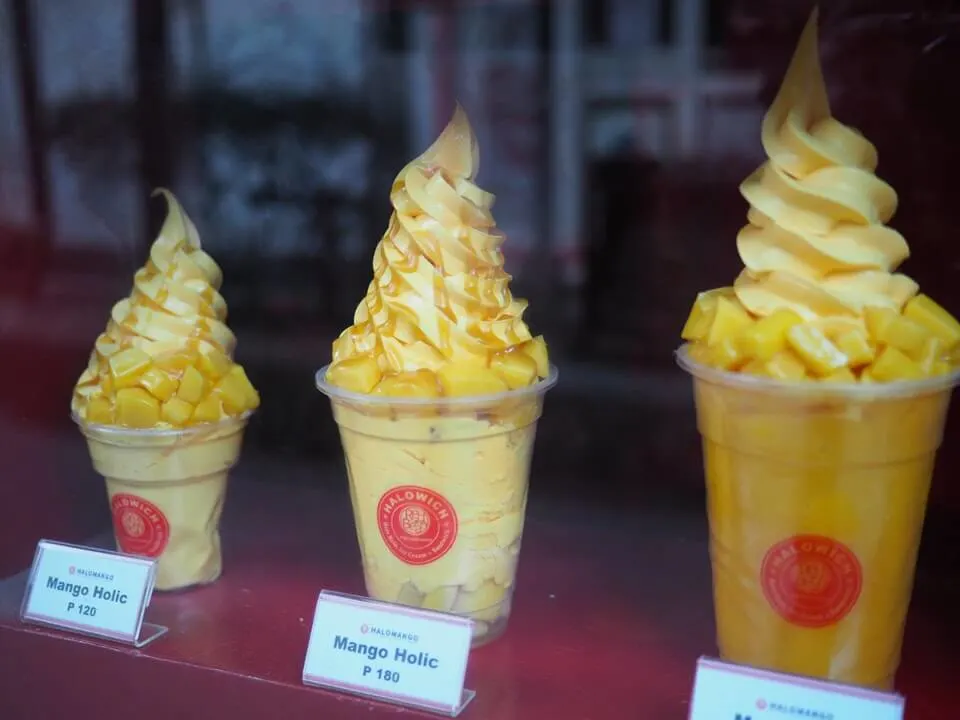 – 2 weeks in the Philippines? Plenty of time for some mango ice cream!
Then went for a really good massage at a parlour nearby – the D'Spa – the massages on Boracay have just been amazing. Definitely recommend. You may have noticed I had one every day, yay.
I decided I wanted to go more local for my dinner and ate at the little place next to the W Hostel called Munchies. For 190php (£3) I got Porksilog – two piece of pork in a tasty sauce with rice and a tomato, and had a mango smoothie too.
Think I actually had a mango smoothie every day on Boracay, so cheap and tasty but always get them to hold off on the bowl of sugar they add. No need.
---
More things you could do in Boracay
Ziplining
Dress up like a mermaid to go swimming
Helmet diving
Cliff dining from Ariel's Point
Go out – Boracay is well known as the party island in the Philippines!
READ MORE: 21 Things to Do in Boracay on a Budget
---
If you like this 14-day itinerary for the Philippines, let me know in the comments box below. It'd be great to hear your thoughts.
---
Make sure you get your travel insurance sorted before you go on a solo road trip. HeyMondo offer 24/7 worldwide assistance with travel cancellation and interruption cover. They also have tailor made policies and cover medical expenses up to $10 million. Click here and you'll get 5% off your travel insurance with HeyMondo.com too. Check out their App for more details.
---
Day 6: Boracay to Cebu
I woke up early and went out to fly the drone, ideally in peace, but thanks to the three little kids and some curious dogs, that just didn't happen. I walked all the way down White Beach to try and get away from the people, which I'd actually also recommend, drone or not. Seemed a lot more local down there, away from the hotels.

– Boracay is one of the most stunning places to see in the Philippines
I had breakfast at Nonnie's – the final stop on my tour of Boracay by breakfast. Gawd they had a good menu in there. I was ravenous so went for beef brisket eggs benedict with an aero press coffee. Really cute place.
There was a stall just up the road selling mango juice for 50, so I had one of those too.
I went to check out Bugalog Beach, which is known as the Kitesurfing Beach, and right next to my hotel. It was a lot emptier than White Beach, but also very windy, which you'd expect.
And then it was time to leave. I'd seen my hostel reception advertise to go to the ferry for 400 (£3). I thought that was a bit steep so went outside with my suitcase and a motorbike rocked up.
"How much do you want to pay?" he asked.

"Errr, 100?" he nodded.
And so off I went on the back of a motorbike, him with my bag on his front, me with the big bag on my lap and then my drone bag on my back. All the hard work from the three massages in four days was probably eradicated as we drove the 15 minutes to the port.
We discussed English politics vs Phillippines. What he thought of Brits abroad. The overtourism of Boracay. It was great.
Apart from the fact it was highly dangerous and pretty stupid considering I was carrying about £3k of equipment, and my life, it was actually one of the most interesting conversations I had in the whole two weeks in the Philippines.
Wouldn't do it again, but you've got to try these things.
– please let me know if this Philippines itinerary helps you!
At the port I paid 25php (40p) for the boat crossing and 100 php (£1.60) for the port fee. I got on the little boat – apparently they go every 5 mins – and 10 minutes later I was in Caticlan, where Boracay Airport is.
I ignored the hawkers and walked out to find Shenzi's Café. A little number I'd found while looking for breakfast places on Boracay. Nice coffee, great air con, but they didn't have anything I asked for on the menu. It was fine. I could sit and edit my photos before making my way to the airport.
The airport was actually only a 15 min walk but a guy was sat outside on his bike and said he'd do it for 40php (60p), so seeing as it was so hot I thought, why not?
I jumped in.
– I loved travelling around in these things during my time in the Philippines
I had a chori burger at the airport, the burgers were apparently invented on Boracay and I had kept meaning to go to the actual place, Mendeleys, but with all the other food I had to fit in I hadn't had time.
It was, ok. Wouldn't bother with another one but it filled a hole ready for the flight. Also, it was only 110php (£1.60) with cheese, and they delivered to your seat at the airport gate, so it passed some time too.
My flight from Caticlan to Cebu
I got the 15:20 to 16:10 Philippines Airlines flight from Caticlan to Cebu, no bother. They gave out carrot cake and water on the flight and I had the row to myself.
Ferry from Cebu to Bohol
I arrived in Cebu and got a taxi from the airport to the ferry terminal. This cost 190 (£3) and I gave him a 30php (40p) tip, because he was nice, told me what I needed to do to get a ticket and I felt like I should. He dropped me at Terminal 1 with the instructions repeated to me.
I went with OceanJet and the next one was at 5:40pm, in 40 minutes time. Just enough to give my phone a quick charge at the charging booth inside.
The journey from Cebu to Bohol took two hours.
Bohol ferry to my hostel
And then it was around 35 minutes to HM&B Backpackers near Alona Beach, the main place for people to hang out. I'd already booked my transfer through the hostel, thankfully. Unfortunately it was absolute torrential rain when I arrived and so I had no desire or means to go anywhere. I had a kettle in my room, and a Korean pot noodle thing the guys in my hostel room in Boracay had given me, so I stayed by myself in that little room until morning
Where I stayed in Bohol
I stayed at the HM&B Backpackers, £36, PHP 2,565, for 3 nights.
It was a shack, so definitely one for the backpackers. I liked that I had my own room and bathroom, but it was at least a mile from the town which was annoying with the bad weather. If you're definitely going to rent a bike, like I did, then you'll be ok.
---

---
Day 7: Chocolate Hills and Tarsiers in Bohol
The rains had cleared so I walked down to Alona Beach from my hotel, which took about 20 mins. It was still really early and so there weren't many people about. It was beautiful.
I flew the drone, checked out where I could get my washing done and had a look at a few of the activities you can do in Bohol. Most importantly though, I ate at Shaka Restaurant. It's a hipstery / vegetarian type place serving these amazing fruit smoothie bowls for breakfast, as well as vegan burgers and salads.
– This was one of the best restaurants in the Philippines, in Bohol
I couldn't be bothered to walk back in the hot heat of the rain so paid a local 40php (60p) to take me back to my hostel. I had a bike delivered there so I had the freedom to go out and explore for myself for the day. The bike cost 450 (£6.50) a day.
And in case you were interested, a carrier bag of washing, and a towel was 270 (£4) on a 24 hour service.
If you've got 14 days in the Philippines, that could be very useful knowledge.
So with the bike I had the freedom to explore the island as I wished. I drove to the Chocolate Hills, went to the Tarsier Sanctuary and the manmade forest. Loved the journey there, including the amazing sushi at Tokyo Road House, but thanks to the torrential rain and genuine typhoon that hit on the way back, that last hour's drive was NOT the best.
You can rent a bike and explore for yourself, or you can join one of the tours in Bohol pretty inexpensively. More details in my blog post on the 11 Top Tourist Spots in Bohol. Also, how to get there.
– if you're backpacking the Philippines, you definitely need to see a tarsier!
---
Day 8: Beaches of Panglao
I had another day with the moped and did a self-guided tour round the coast of Panglao to check out the beaches and and the forests. It really is a beautiful place. I had no purpose to the day, and loved the freedom of exploring. I did eat a huge and delicious pizza at Giuseppe Pizzeria & Sicilian Roast. I seem to remember it was comparatively expensive but I decided I'd earned it.
– You can expect lovely views like these when you're travelling in the Philippines
---
More things to do in Bohol
---
Day 9: Ferry to Cebu
Oh gawd, today didn't go very well for me (thanks typhoon 'Busyang'), but let me tell you what should've happened.
I went for an early morning motorbike ride round Panglao Island and went to Shaka again for a breakfast bowl and a coffee. Love that place. Then I drove back to my hotel and the man came to pick up the bike, all good. Thirty minutes later and the dude came to take me to the airport on his tricycle. I was there at 10am and planned to get the 11:40am ferry over to Cebu.
NO SUCH LUCK.
The boats for the last few days had been cancelled thanks to the weather, so it was absolute carnage. I queued for an hour in the scorching sun and managed to get a ticket for the 4pm crossing (500 / £7.19 inside, 450 / £6.47 out).
This is what I mean about not relying on the transport in the Philippines – don't let it put you off, but it's something you need to be prepared for when you plan your Philippines 2 week itinerary.
– Your holiday in the Philippines will include a lot of boat rides, guaranteed
Also, just to note, they have some weird system there where you have to queue for your ticket, then queue for your seat number, then queue for the port ticket (25 pesos), and then queue to drop your luggage off, which you pay 50 pesos for too.
As it was blisteringly hot and I was sweating in my leggings I decided to go inside the port for the air con rather than enjoy the sun. Went to the toilet and found a great seat in the corner, and then sat there for four hours too scared to move in case I lost my place. No food, no drink, no toilet – just a few things I'd thankfully downloaded on Netflix to keep me busy.
And then a two hour crossing and I arrived safe and sound. Technically you can then get a taxi to your accommodation – I had a few issues – but let's save them for another time.
Where I stayed in Cebu
I stayed at the wonderful Little Norway Guesthouse for 1095 php for one night (£14)
I loved it and it was right by the airport and around a 300 peso ride from Cebu Ferry Port. I had a little single room with bathroom, really comfy bed and just an all round comfortable room. I'd strongly recommend you stay here if you're looking for somewhere cheap to stay near Cebu Airport. There was also a great little food market nearby the guesthouse, if you have the energy to go out.
---
Day 10: Cebu to Siargao
I had a good breakfast of eggs and rice at the hotel, and the delicious mango (120php), and then the owner Johannsen, ordered an Uber for me to Cebu Mactan Airport (90php).
Cebu Airport was a good one, with lots of facilities. I got a good, big, strong coffee, from Bo's, and noted that there were a lot of good food options for my return when I got through security.
Unfortunately I found out that I was going to have to pay for 5kgs of my luggage, or get rid of it. She said it was because it was a small plane I was only allowed 10kg – I was picturing one of the tiny ones I'd taken in Florida or Papua New Guinea – but it was still a four-seater with an aisle. Anyway, another 1000 pesos down, annoyingly and unexpectedly.
I flew with Philippines Airlines from Cebu to Siargao direct on the 11:30 to 12:30, and it was pretty much on time. The flight was beautiful – one of those scenic flights you'd pay for just to see out of the window, never mind get from A to B.
As is the Philippine Airlines way, they gave us a little snack on board, this time it was the best of the lot – a cinnamon roll. Eating that while looking down on this, and listening to the new Alabama Shakes album, was all kinds of brilliant.
Landing, security and getting out of the airport were all pretty straight forward. When I got out taxi drivers were saying 1500 (£21) to my hotel in Siargao, but I knew I could get it cheaper. I walked out the airport grounds and there were lots of men with motorbikes waiting. Not scary motorbikes with no space, but specially adapted ones for luggage.
Cheapest I could get was 500php (£7.19), not too bad, the hotel had told me 400, so I went with it.
Such a nice ride. And 25 minutes later we were there.
I arrived at about 1:30pm, hungry. I'd noticed a beach shack down the road and ambled on down in the sweaty heat for a tuna burger.
---
Check out the video I made in Siargao
---
Siargao is the capital of surfing in the Philippines – easy to see from the amount of motorbikes going past with surfboards attached.
I decided to rent a motorbike from the shop down the road (400php / £7), and get out and explore. Gawd, it was amazing. Palm trees for days and barely anyone on the roads.
I drove to Mangpunko, the famous look out point… and looked out. On the way back I spotted some candles down by the beach and went to explore. I found a beautiful restaurant, The Pacifico Beach Resort, with a great menu, that saved me from what I thought was going to be a night of more burgers, or crisps, or noodles.
I had a tuna steak and rice and a nice cooling San Miguel light beer to celebrate a brilliant day.
And then I went home and slept, with the sound of the waves filling my ears.
Where I stayed in Siargao
Bamboo Garden Bar and Lodging, I paid 500 pesos per night on HostelWorld for my own room, with shared facilities. They have a bar and a restaurant, although the first time I ate there it took TWO HOURS for my dinner to arrive, and the second time was absolutely disgusting. I stayed for four nights. You could stay here for cheap, or there's the Pacifico Beach Resort down the road, or, if I was to go to Siargao again, I'd stay in General Luna where there's a bit more going on. TBH, this is genuinely one of the worst hotels I've ever stayed in.
---
Day 11: Motorbike around Siargao Island
I had the motorbike for the day, until 3:30pm, and it was marrrrvelous. I just drove round the island, down to General Luna, explored Cloud Nine (awesome) and took a slow journey back stopping to take pictures anywhere that took my fancy. All in all I spent 275 on petrol – 5 litres – and £4, just in case you were wondering.
While I was there I had breakfast at Café Luka, perfectly located on the tip of Cloud 9. I went for the beans on toast, with cheese. It was amazing. Bit like home but with palm trees and knocked down with a coffee.
I also walked out to the famous Cloud 9 Surfing Tower.
Driving back I passed rolling hills and the Philippines national animal, buffalos, in the fields – many of them covered in mud to protect from the heat. Kids and adults would wave at me, and many would stop and stare. Some of those roads had speed limits of 100km/h – I had fun, trust me.
– Make sure to include Siargao in your Philippines itinerary – beautiful there!
That evening I watched the surfers on the beach, before going to chill in my hammock and read my book. I ate at the restaurant at my hotel, and although the mango and chicken curry was delicious when it arrived, it did take TWO HOURS. Apparently the chef had 'been in the shed'.
Yeah, I don't know either.
---
Day 12: Chilling on the beach / island hopping tour
I decided to take today as a chill day. I went to the Pacifico Beach Resort and just set up with my laptop for a while. That's the thing with being a travel blogger, there's always some work to do. I'd definitely recommend you come and check this place out though – the food is so good, and the setting just perfect.
Also, the playlist is just the best.
I ate here a few times – tuna and rice on the first night, tuna salad for my second lunch and then muesli and yogurt for breakfast today. Their shakes are delicious too. It was just the most convenient place from my hotel.
This was the view from my spot on the sofas.
I'd recommend you take an island hopping tour out to the islands in Siargao though. It was advertised in my hotel at 1500pho (£22). Some people I was speaking to last night had come back from the trip and had a great time. You will have to drive down to General Luna though, to get the boat.
I walked up and down the beach and lay in a hammock for the rest of the afternoon reading – absolute dream.
That night I decided to give my hotel Bamboo another try and ordered a tuna panini. God it was disgusting. I managed about half before I gave up. The panini bread wasn't even cooked making it all stodgy so I had to fork the tuna out. Gross.
---
Day 13: Motorbiking around Northern Siargao
I woke up early to go out and explore with the drone before the inquisitive locals and tourists got up. I felt like an adventurer going up the little paths to see what I could find. Basically, I learnt, all roads lead to the sea. Cool views and palm tree forests – what more could I want?
I wanted somewhere different for breakfast and so walked down in the village, determined not to give in to my old favourite at the Pacifico Resort. I went to Esther's Kitchen and ended up with a tuna burger, yeah there's not much choice round here. But they were lovely in there, gave me a coffee, and told me about the jeepney that comes by at 7am and 8am to take people to the airport for 50 pesos. Interesting.
They also got me a motorbike for hire for 500 pesos. And so I was off again, and as soon as I did, it started raining. FFS. I got as far as Magpupungko and decided not to go to General Luna, as the clouds were looming and there was no way I wanted to be stuck down there in a rain storm, having to drive back an hour.
– Definitely need a waterfall or two in your Philippines itinerary!
Instead, I decided to go north. I drove up to Tak Tak Falls, where the weather was way better and there was actual sun. The Falls were great. Lots of kids swimming around, others blasting out Despacito and everyone basically having a brilliant time.
It was so dicey on the way up though, with the rains and the mud. At one point my right leg was covered ankle deep in mud from balancing at an unfortunate point on the bike.
If I didn't have a bag full of cameras with me, I definitely would've gone in.
---
Day 14: Magpupungko Beach and back to Manila, via Cebu
Up at 6:30am and out on the bike. I planned to go down to General Luna but then decided it was too far and too much pressure with my flight. Instead I went back to Magpupungko to get a few sunny spots after the rains of yesterday.
There was no one on the gate at the time so essentially parking and entrance were free. The beach was empty, and none of the food stalls had started up yet either. I flew my drone for a bit and went to explore the Magpupungko Lagoon.
One of the restaurants opened at around 8am, so, seeing as I hadn't tried that much of the Filipino cuisine yet I decided to see what the Porksilog here was all about, seeing as I'd enjoyed it in Boracay. I ordered a plate at 150 pesos.
I passed the next 20 minutes admiring the waves crashing in, while sipping my 3 in 1 coffee they like so much here – basically just a sachet with creamer, sugar and coffee in. As they put the plate of 'porksilog' down in front of me my stomach lurched. It was like fried pig skin – with hair – and an egg cracked on top. Eugh. Ewwwww.
Ew. Ew. Ew.
I tried a bit, wanted to spit it out as soon as it went in, and then picked at the egg. They were so cute and lovely when they'd put it down and in taking my order, I felt terrible.
I'd already paid on order so I just got up and walked off, fast, there was no way I could stomach that little offering, not even the polite Brit in me could do that.
And I motorbiked back, stopping at a few more beauty spots along the way.
I was ravenous.
Decided to pop into the Bollox Bar I'd kept seeing advertised. I was welcomed in with a big English "hello'. And had a lovely chat with the owner there about the developments on the island – there's going to be big renovations there.
I ordered the Filipino breakfast – garlic rice, eggs, and local sausage, with a coffee. Yes, just what I wanted.
Literally, the second I left it absolutely pissed it down. It was less than a five-minute ride to Bamboo and I was drenched through. It seemed like a fitting end to my trip, as filled with weather challenges as it had been.
Bamboo Lodge was as useless as ever and told me to ask in the town for a transfer to the airport, even though it was pissing it down and a 10 minute walk away. I reiterate: do not stay at Bamboo Lodge.
Instead my friends at Tapshan Shop down the road helped me out. They got me there in good time on one of the covered motorbikes that I'd arrived on.
Siargao airport is small, so basic, no Wi-Fi, but the flight left on time – the first one of the trip – and I was Cebu bound. It was scheduled for 13:00 to 14:00.
We got the usual snack on board, a chocolate brownie, which I declined but wanted to eat, obvs.
Cebu Airport has fast food chains and plenty of space to sit. I got two pittas from the pita shack place for 80 pesos each. Deelish. Definitely looked like the best food in there. And then I got comfy for the four hour wait till my flight. There were water bottle refill facilities at Cebu Airport, and, even better, a pik n mix. And even better than that: decent Wi-Fi.
My 18:25 to 19:40 flight from Cebu to Manila ended up being 30 minutes late.
I arrived into Manila, grabbed my bag, and went to get a taxi. The Airport Taxi company just outside the door will charge you a fortune – they quoted 1,200php / £17, then a security guard said she would help me and said 1000, even though Uber was showing up as 200 pesos so I knew it must be wrong.
There were no Ubers around, but I saw a sign saying 'Metered Taxi' and walked to that. My taxi to the Frank Lloyd Apartelle ended up being 180 pesos – just shows you need to ignore the hawkers. It took 30 minutes because of traffic.
I was so relieved to see the Frank Lloyd Apartelle and pretty much ended up going to sleep right away. It was almost 10pm by the time I got there and got settled – I don't know where the time went.
Where I stayed in Manila
Frank Lloyd Apartelle £13 / 927 php a night – 1 mile from airport
This place was great and so close to the airport. I'd somehow managed to book a three-person room, imagine at that price! Really liked it here and the owners were lovely. Definitely recommend.
---
Day 15: Flight from Manila to London
I woke up early and went down to chat to the front office. The guy who runs the place is so nice. He told me how hard it was to make money in the Philippines, that the best jobs were in a call centre but he couldn't cope with the day to day abuse, from Americans mostly. So now with the hotel he could spend more time with his children.
I love hearing about people's lives as I travel, and the challenges and pleasures in their life.
I went to the shop next door to pick up some rum and gin, only 100 pesos a litre. That's £1.50. Going to be fun. There was a cashpoint nearby so I got my final 1000 out.
Got back to the hotel at around 7:30am to find they do breakfast, so it was my big chance to try Adobo chicken, another Filipino favourite.
They called a taxi for me, as we were reasonably remote, and it took around 10 minutes and 180 pesos (+20 tip) to get to terminal 2 at the airport for around 10:30am, for my 1pm flight.
And that's it, my two week itinerary for the Philippines is done. Just a 14-hour and 25 minutes flight home, direct to Heathrow.
My Manila to Heathrow flight
We left on time. It was so cold the whole way though so make sure you pack a hoody or two, I had two. We got three meals, so at least if there's something you don't like from the aeroplane food then you know there's another meal coming. I finally got to try the infamous Halo-Halo dessert so popular in the Philippines, and now I don't need to try it again. Ate the lot but not for me.
How to Book This Two-Week Philippines Trip
Flights
You'll need to fly into Manila, and then you can get any connecting flight from there. It might be cheaper to book your flight to Manila and then your connecting flights separately, just an idea for you to check.
Check out netflights.com to compare flight prices to the Philippines.
I flew with Philippines Airlines and enjoyed the service, although I didn't enjoy the food on board. I'd still fly with them again though, depending on the prices.
Accommodation in the Philippines
I booked all my accommodation through Booking.com which is my favourite hotel booking site. Mainly because they have good pictures, the site is set out in an easy to read way, and the bookings are all free to cancel. This is great when you're on the move and not 100% sure.
I also use HostelWorld and very occasionally if I can't find what I want on those, I'll use Hotels.com.
I was going for cheap and private for my trip to the Philippines, as you'll have seen in the links in the text above. This would usually be ok but unfortunately I was travelling at a peak time (Chinese New Year) and I only got round to booking my accommodation about a week beforehand so I didn't have too much choice.
Here's where I stayed during my two weeks in the Philippines though…
Manila
NoMadsMNL Backpackers Homestay – perfectly adequate for backpackers, but if you're looking for stylish accommodation then you might want to try elsewhere.
Boracay
W Hostel – great location and I liked the room, and the roof garden was awesome, bathrooms were GRIM though. It might've cleaned up a bit after the closing of Boracay so still worth a try
Bohol
HM&B Backpackers – cool place but not for too long as they don't clean it, and it's a little too far out of the town, stay nearer to Alona Beach if you can.
Cebu
Little Norway Guesthouse – brilliant, definitely stay here if you can, note their check in conditions though if you have a late or early flight, right by the airport.
Siargao
Bamboo Lodging – don't stay here. Look for places in General Luna, which is about an hour away from San Isidro where I was. If you do want to stay in San Isidro, look at the Pacifico Beach Resort.
Manila
Frank Lloyd Apartelle – the guys here were so nice and the room was great. I'd somehow managed to book a three-person room but still it was only £13 per night.
---
Spending money for 2 weeks in the Philippines
Two weeks in the Philippines: how much money?
I spent a total of £600 on my two weeks in the Philippines, not including flights, obviously.
I found the price of the Philippines to be very reasonable, considering I ate out every day. Obviously it did add up though. I'm sure you could spend less if you were a bit more savvy, but you could also spend a lot more too.
Make sure you save some cash for some Philippines souvenirs to remember your trip, too.
Flights to and around the Philippines
My flights were sponsored by Philippine Airlines, but if you were to book the same flights as I did, for in two months time let's say, you're looking at upwards of £850 depending on the time of year.
---
FAQs on the Philippine Itinerary
1. Are Philippine borders open now?
The Philippines has long opened its borders to visitors since early in the year 2022. So if the country's on your bucket list to visit, hesitate no more to go! Somehow, it managed to maintain or beautify some of its tourist spots so it's more better than ever now.
2. Is the Philippines allowing tourists?
Absolutely. The Philippines welcomes tourists all over so you can now go wherever you are thinking of visiting. Simply follow the country's travel requirements for smooth travel.
3. What are the travel requirements in the Philippines?
The U.S. Embassy in the Philippines, as a legitimate sources, accounts the following as traveling requirements to the Philippines:
Being fully vaccinated, except for minor children below age 12 traveling with fully vaccinated parents who can present acceptable proof of vaccination.
Passport valid for at least six (6) months at the time of entry
4. How many days is enough to explore the Philippines?
More or less 2 weeks would be enough to explore the Philippines. I, myself, spent two weeks in the country and have already visited some places from the major islands: Manila in Luzon, Boracay and Cebu in the Visayas, and Siargao in Mindanao. I honestly couldn't enough from these trips. If you are considering a long trip, you are free to adapt my itinerary and tweak it a bit to your liking.
5. Where to go in the Philippines?
Fun fact: There are 7,640 islands in the Philippines and each has unique beauty embodied. Now, you can't possibly visit every island right… So when wondering where to go in the Philippines, narrow it down to (popular) places such as Boracay, Cebu, and Tagaytay. Siargao, Palawan, Bohol, Mindor, Davao, Camiguin, and Zamboanga City. You will never go wrong visiting any of these.
6. What island hopping should I try in the Philippines?
Now that you are aware of more than 7,000 islands in the Philippines, you must also know the three major island groups: Luzon, Visayas, and Mindanao. Now, you can island hop among these three by picking up a specific place from each (ex: Palawan from Luzon, Cebu from Visayas, and Siargao from Mindanao).
Or, you could pick a specific island that has clusters of islands as well. Cebu, for example, many travel agencies will offer you trips to the major islands in the province such as Bantayan, Moalboal, Oslob, Camotes, etc. Siargao also has the Tri-Island tours that you can avail.
7. How can I visit the Philippines?
Wherever you are outside the Philippines, the most convenient way to visit is by plane. Always learn the information you need so that you can prepare yourself from the payments needed and be aware of hidden charges and even scams.
Top tips for
the Philippines in two weeks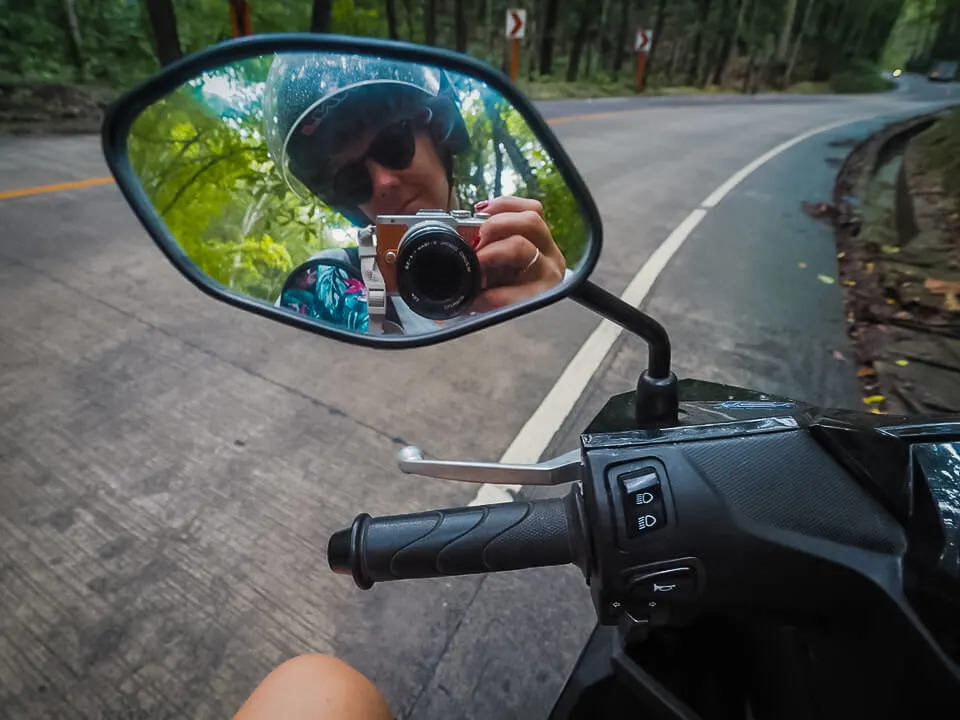 – I loved my two weeks travelling the Philippines – hope you do too!
– Don't try and do more than three places in 2 weeks in the Philippines, it'll be too much.
– The weather can be crazy and unpredictable, check out the forecasts before you go, and then don't trust them, but be prepared. There's not much to do when there's no sun.
– Rent a motorbike wherever you go, they're so much fun.
– You can't flush your toilet paper in the Philippines
– Be prepared for transport delays
– Just chill and relax
If you have any questions about putting together your Philippines travel itinerary, just let me know in the comments box below and if I can help, I will!
---
More on the Philippines
CLICK HERE to read all my blog posts about the Philippines
---