In 1896, when George Washington Carmack found gold up at Bonanza Creek, Dawson City's fate was sealed. It became the centre of the Klondike Gold Rush, and prospectors from all over the world arrived with gold fever in their hearts and minds.
It was the biggest thing to ever happen to the city, and within months the city had grown twofold, fivefold, tenfold… as more people arrived wanting to seek their fortune. The excitement and buzz only lasted a few years, and the claims to be staked, even less, but if you're travelling to Dawson City, in the Yukon, it's important to know about the turning point in the city's fortunes and history.
Tourists to Dawson City can discover everything they could ever want to know about the gold rush, by following in the prospectors' footsteps on the paddle steamers, sifting for gold up at Claim 33, reading some of the literature by Dawson City writers, and buying and selling gold in the shops.
The Gold Rush made Dawson City, and gave it its rich and colourful history, which will never be forgotten – but it's the colourful, artistic town that's left that makes Dawson City in the Yukon so memorable and unique.
---
Listen to this song as you read this post
It's by The Lucky Ones, who I saw at the Dawson City Music Festival while I was there. Basically explains the history of the Dawson City Gold Rush, and what the prospectors hoped for, and what they actually got.
---
– Things to Do in Dawson City –
Watch my YouTube video to find out exactly what to do in Dawson City. It's a wonderful place!
Oh, and subscribe to my channel too…
---
Modern day Dawson City
To me, who's lived in English cities for the past two years, and London before that, what struck me first about Dawson City was just how small it was. With the downtown area at just 11 streets by 8, I felt I'd walked them all at the end of the first day.
With a theatre (made from paddle wheeler wood), a huge city museum, hospital, two shops and six pubs, Dawson City is a fraction of the size it used to be. At its height, Dawson City was home to over 40,000 people, some living in tents in pursuit of gold. Today it's only around 2000 who brave the city year round, and its '40 below' temperatures.
In the summer, the number doubles with national and international holidaymakers making their way up to Dawson City.
Thanks to the wealth and importance at the turn of the century Dawson City was one of the first places to get electricity and telephones – it became a sophisticated town with the latest fashions. All that gold floating about meant it developed at a fast rate, and filled with people used to a certain style of life.
Today Dawson City is known as more of an arty city, rather than a highly sophisticated one. They have artist in residence programmes, there's a visual arts college and many an artist has come here to practice their craft.
It's also known as being a sort of retreat for writers, with wordsmiths like Jack London and Robert Service enjoying the remoteness and quiet to allow the creative juices to flow.
It really is a unique and fascinating place to be – the colours, the buildings, the fact there aren't paved roads and the challenges from extreme summers and winters mean that I've never seen anywhere else like it.
Some want Dawson City to be protected – and there's a controversial UNESCO application in the process. But this would mean a change in the mining, so there's plenty of opposition too.
Arriving into Dawson City
I arrived into Dawson City after many hours of flying from the UK feeling VERY low on energy, yet here I was at the place I'd travelled all those miles for, so I decided to do as any sane person would at 4pm, and go and indulge in some cake and coffee.
The Red Mammoth Bistro seemed the obvious choice. The ladies in there were lovely, so was the look of the cinnamon bun I chose. I plucked up the courage to ask about tipping as whenever I'd been handed the card machine so far – in Whitehorse in the Yukon – I'd always clicked the middle option '15%', congratulating myself on my generosity.
I quickly learned that 15% is just 'ok service', 10% is for if it's bad, and 20% is what they're really looking for. If not 25.
I apologised for the 15% I'd just given for the cinnamon bun and the flat white, and assured them they poured it very well. No offence. I'm British – it's 10% for excellent service and nothing more. I obviously needed to become a kind Canadian for my time here.
With that cleared up, I sat on their verandah sipping my perfect flat white and admiring the architecture of Front Street and enjoying the impressive mountains in the background. Made it.
And then, my eyes landed on an intriguing sign. "Parlour dress up".
Errr, look like a bandit from the 1900s?
YES.
Peabody's Dressing Up Parlour
I marched right into 'Peabody's Parlour', coffee in hand, demanding a price list. Or at least, enquiring in a polite British fashion. And I booked in, for 45 minutes time. Giving me the chance to walk the two minutes to my hotel and do a hair and make up refresh.
Gawd it was SO good. They had tens of costumes, and hundreds of accessories. A whole room of a dressing up box. Fabulous.
I dressed as a bandit, as a can can dancer, as a Mountie and, I think, eventually, it was a Klondike prostitute with a penchant for Champagne?
Obviously my favourite, I had that one photographed by the professionals.
What do you think?
---
Pin me for later?
---
More things to do in Dawson City
1. Hike up to the Midnight Dome
Hiking up to the Midnight Dome was a definite highlight of Dawson City, although, I didn't actually 'hike' like I planned. I was raring to go but then was warned against it, thanks to the bears in the area.
Instead I joined the Klondike Experience Midnight Dome tour and got driven up there. Good, because then I also got a bit of commentary and background too. The views were just amazing.
2. Visit the Tombstone Territorial Park
The Tombstone Territorial Park is one of the most iconic and impressive things to do in Dawson City. The sub Arctic tundra environment is just an hour or so from Dawson City. Unfortunately, my trip there was cancelled as there weren't enough people on the tour – very sad.
I was booked with the Klondike Experience. Make sure to give them all of your availability when you book, and check your phone regularly to see if the trip is running. Or just pop in, it's next to the Bonanza Market.
You can head over there by yourself, of course.
3. Join an interpretive tour of Dawson City
For just $6.30 you can join an interpretive tour around the city. I did two. One up at the Robert Service Cabin – where I learned as much about the poet and writer as you can in an hour – and then one around some of the old buildings in Dawson City.
I loved being able to see inside the closed buildings – felt kinda sneaky.
As well as an old bar, that'd been restored exactly as it was, and an old post office that'd been made too high and grand to afford to heat, we went inside Ruby's Brothel. With that many single men around back in the day, brothels were big business. But Ruby was a friend to the men, as well as a madam. She was known locally as a philanthropist and gave much to the city both when she was alive, and dead. People liked her.
We were also taken to Lowe's Mortuary. In the winter they used to stack the bodies till the ground had thawed enough to bury them. Things you never think about, hey?
Both tour were insightful and really helped me to bond with the city – bargain price too.
4. Drink the Sour Toe Cocktail
The most popular question for me on my Instagram Stories during my time in the Yukon was if I'd drank the Sour Toe Cocktail yet.
Now, the Sour Toe Cocktail is a DEAD person's toe that is dropped in a Yukon whisky, and you're meant to drink it.
"Drink it fast, drink it slow, as long as your lips touch the toe"
It's gross. I didn't do it. But, it is one of the most popular things to do in Dawson City, if not THE. Over 80,000 people have been signed in the ledger book and received their certificates.
The legend started with local man Louie Liken's frostbitten toe found in a jar while Dick Stephenson was cleaning out his cabin 53 years later. He took it down to the Sourdough Saloon at the Downtown Hotel and dared people to drink it in a cocktail, as you do.
And so, the famous Dawson City Sour Toe Cocktail was born.
They're actually on their 7th toe now, as people drink it. Cannibals. They've even had to up the fine to $2500 if you eat it, as it wasn't stopping people at $500.
And where do they get the toe supply?
Locals leave them to the Downtown Hotel in their wills.
NOPE.
---
5. Explore Jack London's cabin
Jack London wrote Call of the Wild and White Fang here, both set in Gold Rush times. You can take a look around his cabin and learn more about his life in the actual home he lived in.
6. Go on a Gold Panning Tour
To start the Gold Rush, the gold was mined by hand. This was particularly hard work thanks to the permafrost in this area. They'd work through winter to dig shafts, then light a fire, melt the permafrost, dig that out and start again. It was super labour intensive and really hard work.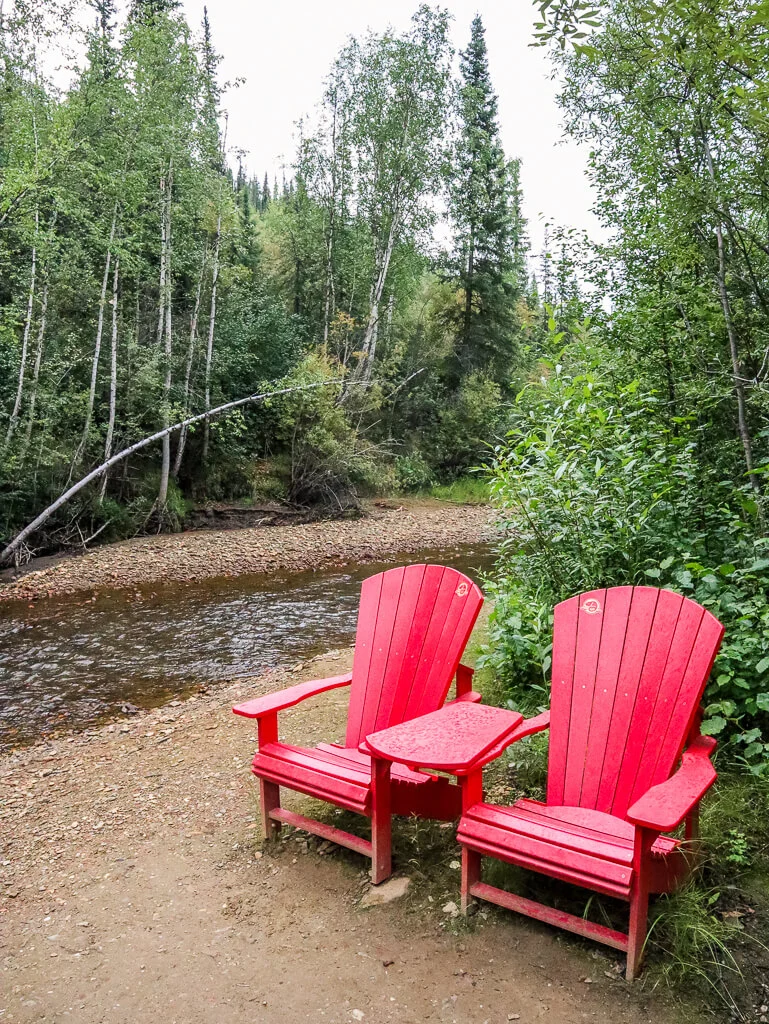 Hand mining didn't last long because the big money arrived and they mechanised it. Big family names like Guggenheim bought out the small miners and then they'd bring in the dredges, to bring up as much as possible, in a short amount of time.
It's estimated that $76 million dollars of gold was extracted from the Yukon every year during the Gold Rush. There was some serious money to be made. And thanks to the ways the claims worked there, there was a limited time to mine it.
The huge dredge you see above would've been run by just four people. The many others involved would be responsible for going on a ahead and clearing the way for it to come through – rough work in the winter.
There are no mechanised gold mining experiences to enjoy around Dawson City, but you can have a go at hand panning for yourself.
I went to Claim 33 with the Klondike Experience to learn how to sieve through the water for juicy nuggets of gold. Managed to find about $7 worth – well happy!
After you've been taught how to do it you can take a spade and a bowl and go down to Claim 33 and see what you can find. Whatever you manage to mine you get to keep…
7. Visit West Dawson
Over in West Dawson, across the river, you'll find a whole community living off grid. During the summer they get the ferry across for supplies, and in the winter they skate or slide across, but in the shoulder seasons, they're stuck. They have to be totally self sufficient.
Every year the ice breaking is a huge deal and there's an annual betting competition on when it'll be. So many people place a bet that you have to get it dead on. Then someone will place a tripod in the middle of the lake, attached to a bell, and when the ice breaks, the bell rings.
Bill the Caveman lives in West Dawson. Bill took on a bet that he couldn't live in a cave for a year – he's now done it for over 20 and still counting. By all accounts, he's a great guy, who saw an opportunity for a dwelling with a riverside location, and took it. There's an interesting documentary about him here if you want to know more.
Caveman Bill
8. Hang out in the Dawson City Tourist Information
The Dawson City Tourist Information centre has to be the most interesting and well equipped tourist centres I've ever been in. For starters, it's the only place you'll find public Wi-Fi in the city, so you'll find the Wi-Fi junkies having a lovely time in there. There are also toilets, and a cinema room at the back.
This is where you can book all your tours, and find out more about the surrounding area. Many of the interpretive tours also start from here.
9. Join a tour of the SS Keno
The SS Keno was once one of the paddle steamers that would bring the many, many men into Dawson City to search for gold. Once upon a time the Yukon River would be full of these going up and down – up to 50 at a time.
As you stand at the river imagine back in the day, watching them all paddling for gold.
The popularity of the paddle steamers meant that firewood along the Yukon River was big business. It took a lot to keep them going.
Anyone boarding the paddle steamer had to think carefully of their timing. If the river froze while you were paddling along, you'd be stuck for the whole of winter.
Now you can take one of the interpretive tours around the SS Keno to learn more about their importance in Dawson City history.
10. Go for a trip on the Klondike Spirit
Or, you could book a ticket on the Klondike Spirit and experience a glimpse into what it was like for the prospectors coming in from afar. The Klondike Spirit actually goes out on the river, with a tour to give you that all important context.
What to do at night time in Dawson City
Diamond Tooth Gerties
It's kind of annoying when people tell you you can't go somewhere, or do something, 'without doing this'. But you really can't go to Dawson City without going to Diamond Tooth Gerties – it's the absolute icon of Dawson City. It's also where men used to go to spend the money they'd earned in the gold mines, on gambling, drink and women.
Diamond Tooth Gerties was better than I expected – is that a terrible thing to say?
I walked in, got IDd and found more people than I'd seen so far in Dawson put together. This was the place to be!
Nowadays it's still a gambling hall, in 1920s style, with cocktails and beers, and still has beautiful women on stage dancing in wonderful outfits. There was some loose storyline about being confident and learning to love yourself, but the dancing is what everyone was here for.
I went to watch the 10pm showing.
I sipped on my bourbon old fashioned and watched the gambling crowd from the balcony for the next 45 minutes, while I waited for the next show.
Check out my video above to get more of an idea of the vibe, it was great!
The Pit
The Pit has been open every day since the Gold Rush. Every. Single. Day.
This is the place to party in Dawson City, so I was told. I was too busy at the Dawson City Music Festival, but totally enjoyed my whisky I popped in for. Go check it out and let me know.
---
Follow me on Instagram for the latest adventure!
[instagram-feed]
---

Best restaurants in Dawson City
Drunken Goat Tavern
For such a small city, there are some great places to eat in Dawson. I had some wonderful meals, but a special shout out must go to the Drunken Goat.
My Gambinas in there were an absolute taste sensation. So succulent, and perfectly cooked – you could taste the freshness. It's a Greek restaurant (yep, up in the Yukon) so the tzatziki was pretty special too, and the bread, and just all of it, even the rice tasted that bit extra.
So yeah, go there when you're travelling to Dawson City. I sat with by Gambinas, a Yukon Gold pint and a perfect view over the city of Dawson watching everyone as they passed on the way to the Dawson City Music Festival.
Dreamy!
Alchemy Cafe
This seemed like the healthiest place to eat in town, so I went twice. I had scrambled egg with rice and beans, and the next time, yogurt with granola.
Definitely a popular place for the student crowd, and anyone who likes oat milk.
El Dorado Hotel
Gotta have pancakes when you're in North America right?
I was staying at the El Dorado Hotel and so went to their hotel for my last breakfast. I remember having an argument once, years ago, with a Canadian friend about whether English bacon is better, or Canadian, and I have to say that I've come to her side. Mmmm Maple bacon.
Yes.
Aurora Inn
Had some delicious chicken wings at the Aurora Inn. They had a really 'Yukon' menu, which was exactly what I wanted. Dawson City isn't very far from Alaska, so Alaska salmon is a popular choice here – ordered that. And then a Canadian white too.
Delightful dining experience at Aurora, and nice big juicy portions too.
Riverside Cafe
On Front Street you'll find the Riverside Cafe, in a great spot for people watching. This was my first meal in Dawson City. They'd managed to make a pretty average order blummin delicious. Go!
More restaurants in Dawson City
Sadly I didn't have time for Bombay Peggy's, Klondike Kate's and Sourdough Joe's, but let me know how they go!
Dawson City's subsidence problem
The permafrost in Dawson City is causing the city to subside. As the buildings warm the ground, the layers of frost melt, and they start to fall in on each other. This is best seen at the famous Kissing Houses – the most photographed buildings in Dawson City. They've started to lean in to support each other.
To combat this, home owners will now prop their houses up on a series of wenches which can be moved as the weather changes. That's why you'll see the gated section at the bottom of the houses.
Our guide, Jack, said that the sliding mirror on his wardrobe was forever open or closed, depending on the season.
Festivals in Dawson City
What started off as a BBQ in 1979, has now become a country wide known celebration of music at the Dawson City Music Festival. This was the main reason I was in Dawson City, and there's a whole post about it, coming soon!
Printing and Publishing Festival – printing and publishing have long been a big deal in Dawson. The Dawson Daily News was the biggest paper and apparently was known to just make the news up if there wasn't any. One of the first examples of Fake News around I think!
Other festivals in Dawson City include the Dawson City International Film Festival, the Yukon Riverside Arts Festival, and the Discovery Days Festival, celebrating the area's history.
Interesting story about Dawson City
I mean, you'll hear loads when you're there, but when you arrive from the airport look up to the mountains. See that place that kinda looks like they're mining? It's called Moose Hide Slide.
Years and years ago, a First Nations Tribe lived at the top and people kept going missing. There was another tribe at the bottom who they assumed were cannibals. They decided to roll a tree on them to teach them a lesson. Cutting the tree caused a huge landslide which killed the lot. Now people are too fearful to touch the ground in case they disturb the ancient spirits.
Geologists estimate it happened 1700 years ago.
For years it's been the icon of the city as people paddle in. As soon as you see Moose Hide Slide, you know you're close to Dawson City, and to all the gold, art and adventure you'll find within.
---
I was in Dawson City thanks to Destination Canada and Travel Yukon.
They organised and planned my trip in return for my thoughts on my blog. In short: it was brilliant!
---
More on travel in the Yukon
Guide to the Dawson City Music Festival
What to Do in Whitehorse, Yukon