Want to know which Vietnamese souvenirs to look out for? Here are the best souvenirs in Vietnam to bring home for yourself and your loved ones.
Steeped in tradition and rolling out stunning landscapes, Vietnam is a deep cultural pool. Everything catches the eye, whether it's the aromatic coffee delivered in lacquered mugs or the lazy wind of a bamboo boat. While I love taking photos of every country I visit, I will admit that sometimes – photos aren't enough.
To keep pieces of your journey with you, buy some meaningful Vietnam souvenirs!
Wondering what to buy in Vietnam? I've put together a list of the best souvenirs from Vietnam and where you can find them. They're not frivolous purchases either; many of these items combine aesthetics and functionality, worth every single cent!
Best souvenirs from Vietnam
Here are the best Vietnamese souvenirs to look out for from Hanoi to Ho Chi Minh City – best save up your pennies now!
1. Buy some silk products
Crafted from traditional handlooms, silk items have long been a staple souvenir from Vietnam. Apart from daily wearables like silk scarves for both women and men, Vietnamese silk has also been employed in various art forms.
Silk paintings for instance, often depict mystical and poetic themes. The art originated from painting on homemade rice paper and transitioned to this valuable material; French influence in 19th and 20th century later encouraged liberal use of colour. Forget artificial colouring – the vibrant landscapes are made with natural silk colours!
This art can be featured on traditional long dresses too.
Where to pick up these top Vietnam souvenirs: I highly recommend visiting Hanoi's silk village, Van Phuc. An Silk Village is another amazing source.
---
2. Áo dài – traditional Vietnamese dress
One of the most meaningful Vietnamese souvenirs to buy is no doubt the national dress – ào dài. Stretching from stand collar to ankle, the fitted dress is worn by both men and women on special occasions. Side seams split to the waist to reveal pants underneath – it looks good and is easy to move in!
Believed to be inspired by the royal Chinese Qing Dynasty costume, the top and bottom parts usually come in contrasting colour.
If you go to any festivals in Vietnam you'll see some beautiful ào dài around.
Where to pick up these top Vietnam souvenirs: Hang Da Market has plenty of premade pieces for you to try, but I suggest purchasing materials and getting one tailor-made. Cho Hom Market, Hang Gai Street (Hanoi), An Dong Market and Tan Dinh Market (HCM) sells beautiful fabrics. A tailored dress would cost between 700,000 and 1,400,000 VND.
---
3. Nón lá hats – the famous Vietnam hat
You've most likely seen these iconic hats via travel blogs, postcards and maybe even your mate's Instagram.
Also known as the leaf hat, these conical hats are an undisputed traditional symbol of Vietnam. Legend says that a goddess first crafted a giant hat large enough to guard against torrential rains that had flooded the lands; having learnt how to farm from this deity, they honour her by crafting these indispensable items. Now, they're a daily essential for rice paddy farmers, paddle-boat rowers, and those who travel far and wide.
One of the most popular (and practical) souvenirs from Vietnam, they're great props for photos and a welcome spot of shade. Made from simple materials such as bamboo, palm leaves and Moc tree bark, Chuong Village and Hue feature a special variation with poetic verses under the leafy layers.
If you don't want to buy a hat for your Vietnamese souvenir, then how about one of these symbolic mobile decorations pictured above. Vietnam is known for these hats!
Where to pick up these top Vietnam souvenirs: You'll find them at Binh Thanh Market, Hanoi's Old Quarter and Dong Xuan Market.
---
4. Strap on some Guoc Mocs
Imbued in these wooden clogs are the clopping steps of history; the guoc moc have been around for thousands of years. Traditionally, the upper class made their clogs out of agar or pine wood while the working class used cheaper sapele and bamboo roots. Sling a thick strap on the front and you have the last accessory needed to complete the traditional outfit for your Vietnamese souvenir.
While the traditional wooden sandals have graduated from simple, solemn wear to more fashionable designs with gloss paint and decorations, this footwear remains an intrinsic part of Vietnamese history.
These Vietnamese souvenirs are a great choice to add to your sandals collection!
Where to pick up these top Vietnam souvenirs: You can buy them at market places for 40,000 VND – maybe even find them at old craft villages in the provinces of Ha Tay, Thanh Xuan and Bac Ninh.
---
READ MORE: The Best Souvenirs from the Philippines
---
5. Pick up some lacquerware
Emerging in the 1930s, lacquerware was a Hanoi College of Fine Art endeavour that soon spread across the country. I love browsing stores for unique pieces of handicrafts – Vietnamese lacquerware really demands attention whether bowls, vases, paintings or jewellery boxes.
Lacquerware furniture might be hard to buy and ship, but definitely purchase smaller pieces as one of your Vietnamese souvenirs. The intensive, intricate 20-step process seals layers and layers of engravings, gold leaf embossing, pearl inlays and more.
If you're looking at shopping Vietnam, then you can pick up some really beautiful pieces to bring home.
Where to pick up these top Vietnam souvenirs: This Vietnam souvenir is found everywhere but for high-quality pieces, why not browse a gallery-and-shop combo? Some famous stops include Hanoi's Hang Bac Street, An Dong Craft Market, Thu Huong Lacquer Art, Vietnam Fine Arts Museum and Lacquer Art Tay Ho.
6. Buy some Vietnamese lanterns
Bring colour into your house with Vietnam's colourful lanterns. A symbol of happiness and good luck, these pretty souvenirs come in paper and silk patterns. Hand-painted designs mean each one is unique.
Buy ones that can fold for easy transport as your Vietnamese souvenir. Wherever you go on on your trip to Vietnam you'll see these everywhere!
Where to pick up these top Vietnam souvenirs: Definitely drop by Hoi An's Old Quarter! The street stalls are brimming with great buys. Depending on size and quality, lanterns are priced from 50,000 VND to 400,000 VND.
7. Buy a few bamboo products
Bamboo is a significant material in Vietnam's daily living – from their conical hats to paddle-boats and other work essentials. It only makes sense that bamboo products make wonderful souvenirs from Vietnam.
Better still, they're eco-friendly and sustainable.
There are plenty of handwoven items such as hats, bowls, baskets and décor.
Where to pick up these top Vietnam souvenirs: Check out Mekong Creations and Cua Hang Bamboo Village for the full range.
8. Pick out some ceramics
Ceramics are some of the best things to buy in Vietnam.
It's not easy tracing back the history of traditional handcrafted ceramics (it's been around for so long), but you will catch Chinese, Indian and Cambodian influences in the works. Coming in all shapes, sizes and colours, they make wonderful and long-lasting gifts.
Watch in awe as masters craft new pieces in front of you.
Where to pick up these top Vietnam souvenirs: Visit Bat Trang Pottery Village and Phu Land Pottery Village for some unique wares.
9. Pick up a fruit outfit
Speaking of eye-catching and kitsch souvenirs and Vietnam shopping, why not buy a Vietnamese fruit outfit?
Bold colours, funky fruit motifs and free-for-all sizing are the pinnacle of Vietnamese market fashion. They're like a backpacker's collector's item, keeping you perfectly cool and comfortable under sweltering days while reminding you of those fun days on the road.
Where to pick up these top Vietnam souvenirs: Hanoi Night Market and Ben Thanh Market in Ho Chi Minh have great selections, but you'll see these in every local market. Grab a shirt for 50,000 to 80,000 VND.
10. Coffee beans for your Vietnamese souvenir
Did you know that our sense of smell is closely tied to memory?
Local coffee beans are among the best things to buy in Vietnam – brew a cup every morning to recall the meandering heat and laid-back vibe of the country. Vietnamese coffee is renowned for their tin coffee filter brews, often flavoured with condensed milk or served with egg.
Make sure to give the goods a try before buying the pack!
Vietnamese coffee beans are a great travel souvenir to take home for the perfect gifts.
Where to pick up these top Vietnamese souvenirs: You'll find coffee beans sold everywhere, from local markets to coffee shops to specialty stores. I highly recommend the Robusta or Arabica blends; beans from the Central Highlands guarantee quality. Popular brands include Vinacafe, Highland coffee and Trung Nguyen Coffee.
11. Chew on some Vietnamese candy
While you're on your foodie tour, make sure to taste local culture by crunching sweet treats under your teeth. Easy to pack away, cheap and dubiously healthy, confectionery are tasty things to buy in Vietnam. Coconut candy is a must, but grab some rice cakes and nut-studded chocolates too. The handmade banana candies from Mekong delta is another classic!
The food in Vietnam is just incredible, and the candy is just another part of it you need to try.
Where to pick up these top Vietnam souvenirs: Ben Thanh Market and Cholon Old Chinatown hold plenty of these traditional treats, although you'll find them in local stores and markets in every city.
12. Buy your tire flip flops
A war-time invention, Vietnamese soldiers had fashioned flip flops out of car-tire materials with an ingenious design! In order to hide the direction of their footprints, the footwear was made in a symmetrical shape – you can sneak through mud and wet terrain safe from enemy trackers.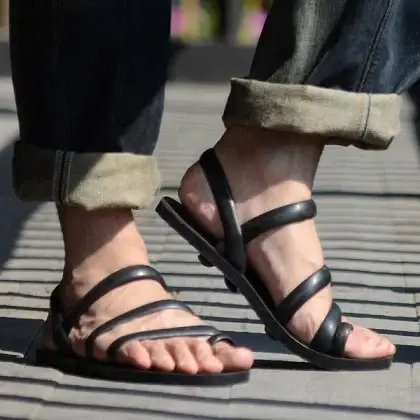 This budget buy has quite the smarts behind its simple look. A standard pair costs around 150,000 VND when you're Vietnam shopping.
Where to pick up these top Vietnam souvenirs: Easily found in street markets and random kiosks.
13. Propaganda posters
An unusual Vietnam souvenir is propaganda posters. Used during wartime to gain civilian support, these war memorabilia are quite fascinating for history buffs. You'll learn about the ideology of the time and the kind of patriotic slogans being slung around – the drawings are pretty striking to look at too.
Original pieces were drawn on rice paper but you'll find some on canvas too.
Where to pick up these top Vietnam souvenirs: I found a great source in Hanoi; the Hanoi Gallery Old Propaganda Posters and Old Propaganda Posters Shop. You can also find a variety at Le Duan Street in Ho Chi Minh.
14. Chopsticks from Vietnam
In Vietnamese culture they use chopsticks to eat, just like a third of the world. If you're wondering what to buy from Vietnam, then some souvenir chopsticks could be a great idea. You'll find them in most souvenir shops.
I'd recommend paying a bit extra for luxury ones. I love to bring mine out when friends are over!
15. Hand fans from Vietnam
Hand fans are traditional Vietnamese souvenirs, and are pretty useful too. I visited in August once and it was SO HOT! A traditional hand fan was the only way we could cool down at the sticky hot wedding I was at.
Hand fans also work as great Vietnam souvenirs to remember your trip by, as whenever you bring them out you'll be reminded of the joy of the sun on your skin. Hand fans can be a fun thing to buy in Vietnam for kids too – all round winner!
Best souvenirs in Vietnam
In the rich tapestry of Vietnamese culture, each souvenir – from delicate lacquerware and intricate embroidery to aromatic spices and traditional ao dai dresses – serves as a tangible memento of an unforgettable journey.
These keepsakes not only encapsulate the country's diverse artistry and heritage but also provide invaluable support to local artisans. So, as you navigate through bustling markets or tranquil artisan villages, remember that each purchase is more than just an item; it's a slice of Vietnam you can take home. In the end, souvenirs are more than just keepsakes; they are forever memories, captured in material form.
Other popular Vietnamese souvenirs include hand fans, embroidery and even musical instruments. I highly recommend walking through local street markets and letting your eyes do the exploring for your Vietnamese gifts!
---
18 of the Best Souvenirs from New Orleans
---
What is popular to buy in Vietnam?
First stop, silk! Whether it's a swanky scarf or a full-on traditional Ao Dai, you'll look like runway-ready royalty. Next, get your caffeine fix with Vietnam's robusta coffee—so strong it'll make your espresso back home blush. For home décor divas, lacquerware is the word. These colorful pieces scream, "Look at me, I'm cultured and stylish!" Don't forget the iconic conical hat, or 'Non La,' perfect for sun protection and Instagram selfies. Lastly, spice up your life (literally) with Vietnamese star anise and cinnamon. Happy shopping!
Best things to buy in Vietnam
1. Buy some silk products
2. Áo dài – traditional Vietnamese dress
3. Nón lá hats – the famous Vietnam hat
4. Strap on some Guoc Mocs
5. Pick up some lacquerware
6. Buy some Vietnamese lanterns
7. Buy a few bamboo products
8. Pick out some ceramics
9. Pick up a fruit outfit
10. Coffee beans for your Vietnamese souvenir
11. Chew on some Vietnamese candy
12. Buy your tire flip flops
13. Propaganda posters
14. Chopsticks from Vietnam
---