So, you've decided to travel to Vietnam have you? Excellent choice. Now comes the most fun bit: planning your perfect Vietnam trip.
I've spent over six weeks in Vietnam – it's one of my most favourite countries in Asia. The food, the hospitality, the amount of things to do and the great prices mean it's one of those countries you HAVE to experience.
Of course, the perfect Vietnam trip ranges from person to person, but we can work it out together. I want to hold your hand and step by step show you how you can travel to Vietnam without having to get the travel agents involved.
Think of me as your personal Vietnam travel planner.
How long do you have for your trip to Vietnam?
I'd strongly recommend spending as long as possible in Vietnam – I went to Vietnam for a month once and I still feel like there was more to do and see.
The first time I went, I went for two weeks and managed to cover a lot. Vietnam is great in that it's quite a long country, with plenty of coastline, and has an obvious travel route. If you only have two weeks in Vietnam, as most people do, you can feel like you've managed to see a lot of the country.
I've helped thousands of people have the best two weeks in Vietnam ever with my 2-week itinerary for Vietnam. And taking on the highlights of this, my new one-week Vietnam itinerary is perfect for anyone in a hurry.
If you only have a few days in Vietnam, then I'd recommend you pick either Ho Chi Minh City or Hanoi, and make the most of your time there rather than worrying about covering too much ground. You can always take day trips out from either, as you'll see below.
Remember, it's better to travel deep, than far.
Do you want to spend your travels in Vietnam worrying about Vietnam buses, trains and planes, or actually soaking up the culture?
---
Pin for later
Where do you want to go in Vietnam
---
The next question for your Vietnam trip planning is where you want to go?
What is it that's made you want to visit Vietnam over everywhere else you could've gone?
If you want to know a little more about what Vietnam is really like, then take a look at my blog post. This was written rawly and honestly after my first visit, to what was back then, my first Asian country. This shows you what you can expect from a trip to Vietnam. The fact I went back after this probably says quite a lot too.
As for where to go in Vietnam, here's a short breakdown of the most popular places to see.
Hanoi
Hanoi is well known for two big day trips – the beautiful Halong Bay with all it's limestone cliffs and junk boats, and Sapa.
It's also a great city in itself. All ancient architecture and shops, restaurants, street stalls and beauty parlours in a labyrinth of an Old Quarter. Top things to do in Hanoi include Ho Chi Minh's mausoleum – yes you can actually see the old president's body – the Hoan Kiem Lake and Hoa Lo Prison.
Don't leave without exploring the Thang Long Water Puppet Theatre: it's bonkers.
Halong Bay
You can get to Halong Bay from Hanoi. It's here that you'll spend the night on one of the iconic junk boats, or two.
In Halong Bay you can expect stunning big cliffs overlooking emerald waters, with junk boats bobbing around to complete the scene. Definitely a must recommend, and you can check out the cool Junk Boats in Halong Bay here.
MUST READ: Is Halong Bay the Most Beautiful Place in the World?
Sapa
Sapa is the best place to go hiking in Vietnam thanks to all the rice paddies and beautiful scenery. Unfortunately I've never been able to make it thanks to the rain, even after booking a then cancelled trip a few years ago. I have it on good authority that the homestays and rice paddies are well worth the physical exertion though.
If you have the time a hike in Sapa is well worth it.
Hue
Hue is surrounded by impressive citadel walls. It was once the main royal residence of the most important families in Vietnam. The rooms were once at the centre of all the decision making in Vietnam, and are now home to a museum.
History buffs will love it here, and for everyone else it's still interesting. Hue is the most royal city in all of Vietnam and thanks to all the monuments, tombs and pagodas it's now recognised as a UNESCO World Heritage Site.
Call over one of the tuk tuk drivers to take you round and enjoy watching it unfold from the comfort of your seat. Totally worth including in your Vietnam itinerary if you have time.
Hoi An
Hoi An is my favourite place in all of Vietnam. The quaint town is built around the pretty waterfront. You'll need to stay at least 2-3 days to enjoy as many of the fun things to do in Hoi An as possible, to drink Vietnamese coffee – and you can try the famous weasel poo coffee here too.
Make sure to visit the waterfront at night to try one of the boat restaurants, and to set off your own candle on the canal. By day in Hoi An you can rent mopeds or cycles and go down to An Bang Beach, or pay one of the boat peddlers to take you out on a trip.
Hoi An is where everyone gets their suits tailored, and bespoke shoes made for next to nothing. It's also where you can check out one of the country's best markets.
If you have time, see if you can get out to the Hai Van Pass. It's a high mountain road famously featured on Top Gear and even more famously cycled by me. Thought I was having an asthma attack on the way up, but the many km of downhill on the way back made it totally worth it.
Or go for the easy option and just get a taxi out there.
Qui Nhon
Quy Nhon, or Qui Nhon, isn't quite as popular as most of the other places on this list with tourists, but it's still interesting. I went along to check it out and joined a tour to a local village. We went out in one of the little circular boats and saw how they managed to keep up with demand using the traditional means they have.
Quy Nhon felt really rural compared to much of the rest of Vietnam that I saw. Visit here and you're really out in the sticks – all the more reason!
Don't leave without having a delicious lunch at one of the waterside restaurants. You can pick your live seafood, and they'll cook it up for you.
Nha Trang
Nha Trang is one of Vietnam's most popular beach destinations – tourists travel to Vietnam especially. There's plenty of history around but also lots to entertain the modern traveller too.
Book on the Funky Monkey Snorkelling Tour and it'll take you out to see the coastline from the water, and to have a look under it. I did a little write up in my two-week Vietnam itinerary.
Nha Trang is also known for its egg baths. Basically, you sit in an egg shaped bath and they pour mud on you. Seriously. Check out my review of the Nha Trang egg baths I visited back in 2013.
Mui Ne
Mui Ne is Vietnam's surfer town. If you're travelling Asia for a while it's easy to get stuck in the laid back vibes here, and the ease of being right by a beautiful beach. Expect a typical surf town, but with Vietnamese food.
Yep, I can totally understand why the backpackers love it here so much.
Unfortunately I've only ever passed through and haven't quite had the chance to stay for anything more than a few hours, but I totally would.
Surf by morning, Bahn Mi for lunch and chill on the beach all afternoon?
Yep, yep and yep.
Ho Chi Minh City
Ho Chi Minh City is the business capital of Vietnam. Here you'll find a cosmopolitan vibe where old buildings stand next to the super modern skyscrapers.
There are definitely a few must dos in Ho Chi Minh City. Haggle some bargains at the Ben Thanh Market, check out the king's digs at Reunification Palace, go and see the old post office and take a look round Notre Dame Cathedral too.
Make sure to book on a Mekong Delta tour while you're in Ho Chi Minh City. Go and chat to one of the many tourist information offices to get a good deal. Remember, never accept the first price. Nothing should be more than a few quid in Vietnam – one of the may reasons to love the country so much!
I wrote a post on the costs of travelling in Ho Chi Minh City, especially for you.
Watch my video for more things to do in Ho Chi Minh City
Like it? Subscribe on YouTube!

Phu Quoc
Phu Quoc is actually my favourite place in Vietnam, and needs to be on any perfect Vietnam trip plan. It totally trumped Hoi An as the best spot thanks to the lush beaches, great prices and chilled vibe. I absolutely loved it here, and there's also LOADS to do in Phu Quoc considering it's just a relatively small island.
MUST READ
Travel Advice for Phu Quoc: Everything You Need to Know
How Much Will a Trip to Phu Quoc Cost?
So, does that make things clearer for you, or are you more confused than ever? I know it's hard to decide where to go in Vietnam, which is why I've put together a whole other blog post right there.
When do you plan to go to Vietnam?
It could be worth thinking about this before you start thinking about where you want to travel to Vietnam.
Being such a long country, with an interesting and varied topography, Vietnam covers a few different weather zones on the way down. The weather you get in Hanoi will be totally different to Ho Chi Minh City, so it's quite hard to say a particular BEST time to go to the whole country.
Overall though, autumn (Sept-Dec) and spring (March and April) are the best time to visit Vietnam. Of course, with global warming and everything else, the best times to do anything can vary greatly.
And of course, if you go out of season, you get to go cheaper.
If it were me, I'd go on the edge of the traditional best times to visit Vietnam, and keep my fingers crossed.
Does your budget change when you go? Set up some price alerts on Skyscanner and you could get flights to Vietnam for less than £400, promise. But you need to be flexible and act quickly.
Back to Top
What's your budget for Vietnam?
I feel like it would be weird to visit Vietnam and not go to the cities, but if you want to save money on visiting Vietnam then your best bet is to stay in the countryside in between.
Vietnam is great value, however in the four years between my visits I saw prices rise quite steadily. If you want to get an idea of how much Vietnam is I've written price guides to Hanoi and Ho Chi Minh City.
And if you're on a backpacking budget in Vietnam, then check out my Vietnam backpacking guide for more information.
If you have some money to spend you should check out my post on the most unique places to stay in Vietnam. One of the many great things about Vietnam is the price, meaning you can stay in hotels and AirBnbs you wouldn't normally be able to afford, in luxury.
Make the most of it!
Who are you travelling with?
I've travelled Vietnam in a couple, in a tour group and solo – how many people are in your perfect Vietnam plan?
I never felt in danger at any point during any of my Vietnam visits. It's a very safe country and I'd have absolutely no qualms in recommending you travel Vietnam solo, like I did.
This is just your friendly reminder to consider your friend / partner / lover / mum / self at some point though.
Right, so by now we should have:
– When you're going to Vietnam
– Where you're going in Vietnam
– How long you're there for
– Who with
– Your budget for Vietnam
Now we need to sort out the REALLY important stuff: passports, visas, vaccinations and travel insurance.
Important prep for travel to Vietnam
Passport validity for Vietnam
Your passport needs to have at least six months left on it to be allowed into Vietnam. You should also have at least two clean pages so they can fix your visa in to travel to Vietnam.
Visa for Vietnam
The first time I went to Vietnam I had to go to the London visa office to get approved.
Then, a few years later, they'd made things easier and I could get one by applying here before.
By the time you read this and planned your perfect Vietnam trip, things could've changed again. Please check your local foreign office homepage to stay on top of the latest rules, and to make sure you don't have a problem getting into Vietnam.
Here's the latest from the official British Government page (July 2019).
"Until 30 June 2021, 'British Citizen' passport holders travelling for tourism or business can enter Vietnam for up to a maximum of 15 days (inclusive of dates of entry and exit) without a visa. If you have a different type of British nationality – for example 'British national (overseas)' you'll need to get a visa before entering Vietnam.

For visits of up to 30 days, you can get an e-visa online before you travel. Use of the e-visa is limited to certain entry/exit points which you must select at the time of application. E-visa is only applicable to 'British Citizen' passport holders. If you don't have fixed travel plans, consider applying for a regular single entry visa from the nearest Vietnamese Embassy, which allows more flexibility.

For visits of longer than 30 days you must get a visa from the nearest Vietnamese embassy before travelling to Vietnam."

Travel insurance for Vietnam
Get really good travel insurance to cover you in case anything goes wrong. HeyMondo offer 24/7 worldwide assistance with travel cancellation and interruption cover. They also have tailor made policies and cover medical expenses up to $10 million. Click here and you'll get 5% off your travel insurance with HeyMondo.com too. Check out their App for more details.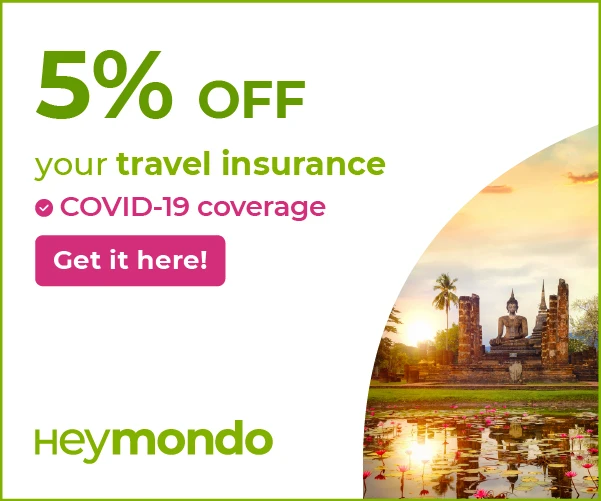 Vaccines for Vietnam
If it's your first time to Vietnam then chances are there are a few vaccines you'll need. If you're going to the jungle or mountains then you'll definitely need protection against dengue fever and malaria – that's for sure.
You may need others depending on what else you're doing in Vietnam, and where you plan on going. Check with your doctor or a qualified medical professional who knows what they're talking about.
You may need Hepatitis A, Hepatitis B, Yellow Fever, and / or Typhoid to travel to Vietnam.
Back to Top
Right, sorted the important stuff?
Let's get onto booking your perfect trip to Vietnam then…
Travel to Vietnam: The Best Booking Resources
These are my favourite companies to use when I travel anywhere, including travel to Vietnam. They always give the best deals, the strongest customer service and after 8 years of travel as my job, they're the ones I've found to be the absolute market leaders. These are the companies I turn to when I want to book my travel.
– Skyscanner – I always use Skyscanner. They're my favourites thanks to the interface and wealth of results. Not all airlines are on there, so sometimes I just use them as a starting point. But it's extremely rare that I'd ever book a flight without consulting Skyscanner first.
– Netflights – After Skyscanner I go and check Netflights to see what they come up with. They're another comparison engine, and they promise the best deals. You can also book cheap holidays and your car hire with them too.
– Airbnb – Airbnb is great for groups looking for accommodation together, or for solo travellers just looking for a room. There are always plenty of options to get excited about on Airbnb. (If you're new to Airbnb, get £25 off your first stay!)
– Hostelworld – I used to work for HostelBookers so it feels weird to recommend HostelWorld, but since they bought HB out, I feel it's ok. They're the best hostel booking site on the internet with the largest inventory and best search interface.
– Booking.com – I love Booking.com. Is it weird to love a hotel booking website? Yep. Well, the way they display their property pics and info just makes the decisions easy to come to. You can easily look for parking options, internet, reviews, location – and I love that most of the properties can be cancelled with no charge. Absolutely, definitely my favourite hotel booking site.
– Viator – if you want to book your activities and adventures before to travel to Vietnam then I'd recommend Viator. They have all the main things to do in Vietnam listed, and you can compare and contrast tours, activities and adventures.
– Post Office Travel Money – the Post Office is the best stop for your travel money. They have over 70 currencies and you can get free delivery to your home, or to collect in over 11,500 branches with 0% commission.
– World Nomads – As I mention above, somewhere, I have travel insurance with Nationwide FlexPlus. It's fantastic. If I didn't though, I'd get my travel insurance from World Nomads. They're well known in the industry for their customer service, competitive prices and in-depth coverage. Never, ever travel without travel insurance – it's absolutely not worth it.
Booking your flight for Vietnam
If you're coming from abroad you'll land into either Ho Chi Minh City, or Hanoi. You can get flights into Da Nang if you really want to.
I'd definitely recommend going for a cheaper flight with a stop off somewhere. The first time I went to Vietnam I stopped in Doha, Qatar, somewhere I'd never go on holiday, but I got to see it for the evening and morning.
READ MORE: What to Do in Doha, Qatar
And then the second time I stopped in Abu Dhabi, which was just fascinating. I got to see the Grand Mosque, which is still one of the most impressive places I've ever seen.
Or, you can pay a little more and go direct.
Check the latest prices for flights to Vietnam on Netflights.
Within Vietnam, for domestic flights, there are four different airlines: Vietnam Airline, Bamboo Airline, Vietjet, and Jet Star.
Make sure to search around to get the best deal, and play around with dates too – just a few days either side could save you a lot.
Booking your accommodation for Vietnam
Accommodation in Vietnam is great value. You can use your millionaire Dong status to get some niiiice places to sleep here.
Hostels start at around £5 a night (although I wouldn't) and then you can get a decent hotel room with a private bathroom for £20. There are loads of accommodation options available for Vietnam, just click the links to check out hotels in Ho Chi Minh City, accommodation in Hanoi, or places to stay in Nha Trang.
Check out the latest hotel, hostel and B&B prices on Booking.com.
Booking activities in Vietnam
Booking tours in advance for Vietnam means you'll definitely get on the ones you want. Just want to say that I get a kickback of 5% when you book tours through my blog but it's up to you whether you want to or not.
These are the 7 best tours in Vietnam, according to me.
1. – Cu Chi Tunnels: as you can see me demonstrating above, you can visit the Cu Chi Tunnels used in the Vietnam war. It's unreal how small they are. If you dare you can walk along underground in one of them. I didn't, mainly because I didn't even fit.
Cu Chi Tunnels half day from £14.47
2. – Halong Bay Junk Tours: Viator have all kinds of tours, from just a day to a few nights sleepover on a junk boat. I went for one night and loved it – we even got to go canoeing the next day in among the limestone mounds, it was awesome.
3. – Mekong Delta Tour: you absolutely can't go to Vietnam without seeing the Mekong Delta. Watching the life go by on the riverbanks is fascinating, and it's beautiful too. You can get tours with lunch included too, so shop around.
Mekong Delta day tour from HCMC from £13
4. – Overnight Sapa Tour from Hanoi: by the time you've organised your transport, you might as well just pay someone to lay it all on for you to visit Sapa. This Sapa tour comes highly recommended, and at least you'll have someone to explain what's going on.
5. – Hoi An food tour: please, promise me you'll do a food tour while you're in Vietnam? They're THE BEST. There's so much to Vietnamese food, yet, it can be so overwhelming you just end up with pho for every meal. Expand your mind and take a food tour to see what else is on the menu. All the big cities have them, but this one in Hoi An looks extra special.
---
If you book your Vietnam activities through Viator you can get a full refund up to 24 hours in advance on most experiences.
This is a great option to secure the time and date you want, but also have the security of being able to change or cancel if your plans change.
---
Check out Vietnam's Golden Bridge!
6. Golden Bridge and Ba Na Hill day tour: The Golden Bridge is Vietnam's newest creation. The incredible bridge is a sight. Unfortunately it wasn't built last time I was in Vietnam, but if I were to go again I'd make a beeline for it for sure.
Golden Bridge tour from £11.42
7. Cycling in Hoa Lu and Tam Coc: cycling in Vietnam is awesome. I know, I did 300km in a week last time I was there. You don't have to go that far though. Book onto this tour and you'll cycle through the beautiful rice paddies not many tourists to Vietnam get to explore.
Booking transport for Vietnam
If you're going to Vietnam on a week trip, or even two weeks, I'd recommend booking your transport beforehand. That way you know you're on the buses / trains / flights that you want. If you're going for a bit longer, then yeah, chill.
It'd be really annoying to plan your dream trip to Vietnam and then realise that the flight you want to get on is full, and you have to spend extra days in one place and take them off the other – that'd be rubbish.
The overnight trains in Vietnam are kinda legendary, so make sure you book onto at least one of them during your travels in Vietnam.
I'd recommend using Baolau for your transport in Vietnam. They've got a full inventory of the bus and train options available, and also flights and ferries too.
Motorbikes and scooters are a really popular way of getting around Vietnam. I've only actually ever hired one in Phu Quoc, and loved it, but never on the mainland.
The cities seem pretty hectic but I know a few bloggers who've hired them to get around the country. I think if you're skilled and confident enough, hiring a motorbike in Vietnam would be fab.
Back to Top
Right, now all that's out the way, time to get even more excited!
---
---
Essential information for Vietnam
Food in Vietnam, and drink
And trust me, the number one thing to get excited about when you're planning a trip to Vietnam, is the fooooooood.
Vietnamese food is THE BEST. It was my first foray into getting seriously excited about Asian food, a feeling that has never left me.
Wi-Fi and internet in Vietnam
When I did my 300km bike ride down the coast of Vietnam I really thought I'd have two weeks off the internet – assuming that in the more remote places we were going there would be none. I was wrong.
Honestly, I'd be in the tiniest village outside the tiniest town and still manage to connect to some Wi-Fi. Wi-Fi strong enough to upload my Stories – don't even get that on the train from Portsmouth to London!
Wi-Fi is great in Vietnam, you'll have a problem getting away from it, not getting on it.
Personally I wouldn't bother buying a SIM card, but if you really want to you can check out the sim card packages from Klook for 4G sim card in Ho Chi Minh city or 3G wifi device in Hanoi.
Basic Vietnamese phrases to help you get by
Hello: Xin chào
Goodbye: Tạm biệt
Thank you: Cám ơn
How much? Bao nhieu?
More Vietnam travel tips?
Of course… just watch my video
Money in Vietnam
Money in Vietnam can be hard for us outsiders to understand. Last time I went I was a millionaire with £40 – that got me one million Dong. Getting used to all the 0s at the end of bills can take some time.
It might be more helpful to understand the colours of the Dong notes, rather than the 0s. You really don't want to end up handing over too much for what you've bought.
The week before you leave for your Vietnam trip
Packing for Vietnam
I love packing. I'm going off to Canada in a week's time and I really just want to get started on the packing now, but then I forget what I've packed when it comes to the actual day, so I won't.
Packing for Vietnam can be quite complex, especially if you're following my two-week itinerary and traversing the length of the country. As I've said, it means you'll hit quite a few different weather zones. It could be boiling hot in Ho Chi Minh City, and then chucking it down with rain in Hanoi – in fact, that's quite likely.
I'd strongly advise you to check out my Vietnam packing list here, so you know you have everything you could possibly need to travel to Vietnam.
Safety in Vietnam
As I've said, Vietnam is a super safe country. I've always felt fine – I have worried about other people though.
There was the Westerner who thought he could take on the strength of Vietnam's drugs and found himself KO'd on the floor.
And there's the many beautiful young Vietnamese women you'll see, with older white men. The first time I went to Vietnam it was actually for a wedding, between my white friend and his Vietnamese girlfriend who were very much in love. We told our taxi driver we were on our way to a wedding, and this is what he said.
Back to Top
Final prep for Vietnam
– Double check your Vietnam travel insurance and make sure you have the important numbers written down somewhere.
– Triple check your flights and that you know where you're coming into.
– Your phone will work just fine in Vietnam so make sure you have a spare battery pack so you're not left stranded when your selfies drain the battery.
– HAVE FUN!
If you have any questions at all about booking a trip to Vietnam, just let me know in the comments below.
And make sure to check out my Vietnam travel tips, and my Vietnam advice before you go too.
I hope you have the perfect trip to Vietnam and I'd love to hear how it goes!
---
More on how to travel to Vietnam