Way back in 2016, about a month ago, I went on my first cruise. I boarded the Norwegian Getaway for a week cruising between Miami, Belize, Honduras and Mexico.
I'd been interested in the idea of a cruise for a while, but there were a few reasons why I didn't want to go on a cruise that had been holding me back. Now that I've come through the other side and actually enjoyed the experience, I'm here to put past VickyFlipFlop's mind at rest, to put to sleep, or in some cases, unfortunately confirm, my cruise holiday apprehensions.
Here goes…

Why I Didn't Want to Go On a Cruise
1. Feeling stuck on the ship
I didn't want to go on a cruise because once you're on, you're on. There's no escape.
I like to feel free. The best feeling in the world is that you can do what you want, where you want and explore as you please. That's one of the reasons I like solo travel so much.
At no point during the week did I feel stuck, or claustrophobic, or like I was desperate to get off. In fact, I would've happily stayed on for longer. There were so many restaurants, things to do, outdoor and indoor activities and I had such a nice room, that this apprehension was totally unnecessary.
Perhaps it could be the case on some ships, but the Norwegian Getaway was the world's ninth largest cruise ship when it first set sail, and has a passenger capacity of 3,969 and a crew of 1,640. It's 325 metres long with 18 decks, and even by the last day I had to go on a self guided tour to make sure I'd seen anything.
It's a big 'un.
2. Getting seasick
I didn't want to go on a cruise in case I just felt seasick all week.
All that water, and just a 145,665 tonne ship to keep it still – surely the vessel would be a rockin?
If anything, the gentle movement of the boat gave me some of the best sleeps I'd had for ages. I didn't feel seasick at all during my week on board. One night, when there had been some kind of storm in Roatan, one member of my group of around 10 felt a bit rough and went to lie down, but that could've had everything to do with the alcohol consumed.
But in short, from my personal experience, there's no need to worry about feeling seasick, if you're not normally a sufferer.
3. Getting sick of the sight of the other passengers
I didn't want to go on a cruise in case I got sick of seeing the same faces every day.
– Not these guys, I loved these guys.
My fellow travel bloggers and journalists who made the week as brilliant as it was.
I know it sounds mean, but it's true. When I went on a river cruise from Moscow to St Petersburg there was one particular man – a vile individual who complained about everything and was maddeningly horrible to his wife – and unfortunately our movements around the boat always seemed to be in sync. Wherever I wanted to be, he was there. One of the best things about that cruise ending was not having to see his face again.
Didn't have that problem on the Norwegian Getaway.
Sure, there were people I came to recognise, especially the few who were in the club every night (like me), but that was cool, that was ok, I liked saying hello to them. With 3,969 guests on board it'd be rare to see the same person enough times to be annoying.
4. Too many buffets
I didn't want to go on a cruise because I don't really like buffets.
I'm terrible around 'free' stuff. It's been 10 years but I still have that student mentality. I can't be trusted around without going overboard. Not literally, but being a piggy pig.
Thanks to the amount of times I've been ill from eating off buffets abroad, the idea of those big elaborate table displays you see in cruise ads really turned me off. I also hate having to queue for buffets, always having someone from your table missing, how much people pile their plates up and the wastage afterwards.
I just wouldn't choose to go to a buffet restaurant, and I kind of thought that's all cruises were.
There are 27 restaurants on board the Norwegian Getaway, serving a range of dishes in different ways.
D'you know what though, I loved The Garden Cafe. The food always looked fresh, there were healthy (and unhealthy) options, I spoke to the restaurant manager who said that of course there was wastage but after years in the business he had the ordering and production down to a fine art.
And I never really noticed people piling their plates up and not eating it, not like that all-inclusive I did in Sharm el Sheikh where after dinner there'd be piles and piles of wasted food on the tables.
I couldn't get enough of The Garden Cafe for breakfast, even though I could go for a served breakfast at either the Taste restaurant, or Savor. Never actually made it to either, the hot sauce bacon bagels were too good.
The Garden Cafe was also a good option on excursion days as it served food all day and you got it immediately – great for when you're too tight to buy food while you're off the ship but hungry when you get back on.
The standard of food was amazing on the ship. Apart from my hot sauce bacon bagels of a morning, my favourite dinner was the fillet mignon steak at Cagney's Steak House and the Japanese Teppenyaki night.
Whatever your dietary need, I can guarantee you'll be catered for well on the Norwegian Getaway. And if you want to avoid buffets all together you totally can, although I wouldn't recommend it. Mmmm yes to those bacon bagels.
---
READ MORE: My Review of the Scarlet Lady Cruise Ship, from Virgin Voyages
---
5. Over touristy tours
I didn't want to go on a cruise because excursions look ridiculously over touristy and scammy.
When I backpacked Belize for two weeks I went to check out the cruise port in Belize City and it was ridiculous. Basically over priced tat, American bars and locals taking the piss with their prices. It didn't feel anything like the rest of the Belize I'd seen. Going to Belize City cruise port is not the same as going to Belize. It's just not.
Best of Roatan, in Honduras
The first 'shore excursion' as they're called was on Roatan, in Honduras. My group was on a 'Best of Roatan' trip. This included a drive to a high point for the view, a visit to see the 'traditional' Garifuna dancers (surely this is the equivalent of someone coming to England and watching Morris Dancers?), we tried some bread, and then were taken to a site of old, traditional Honduran houses and offered jewellery to buy. Then we went out to an old shipwreck in a boat and back again. Was that really the 'best of Roatan', at £64?
Cozumel ATV and snorkelling, in Mexico
The next excursion was an ATV drive on Cozumel. They told us we'd need to buy face covers, at $5, for the dirt, so we all paid out. And then we proceeded to do about 10 minutes on the ATVs, 20, absolute max, on roads, or at most well trodden dirt paths. Not quite the off roading ATV trip I'd been excited for. Then we came back for an inevitable tequila tasting, given by a family of producers, to try and get us to spend $70 on a bottle of organic stuff.
Not for me.
Following that was snorkelling. The first time I ever went scuba diving I did it near Cozumel in Mexico and it was incredible. I was excited. So there I was again, snorkel and flippers on, about 20 of us, heading underwater to see what life was like on Mexico's famous coral.
We saw a starfish, which 17 people then descended on to photograph, I hung back, as did another two, who when everyone had moved on saw their chance and tried to get in to take a selfie. Once done, he, the big Australian guy, stomped his flippers on the ground, heel first, missing the poor starfish by just millimetres. I came up from underwater and shouted at him to be careful, that he nearly killed it, and he just looked at me, laughed and swam on. Hated him.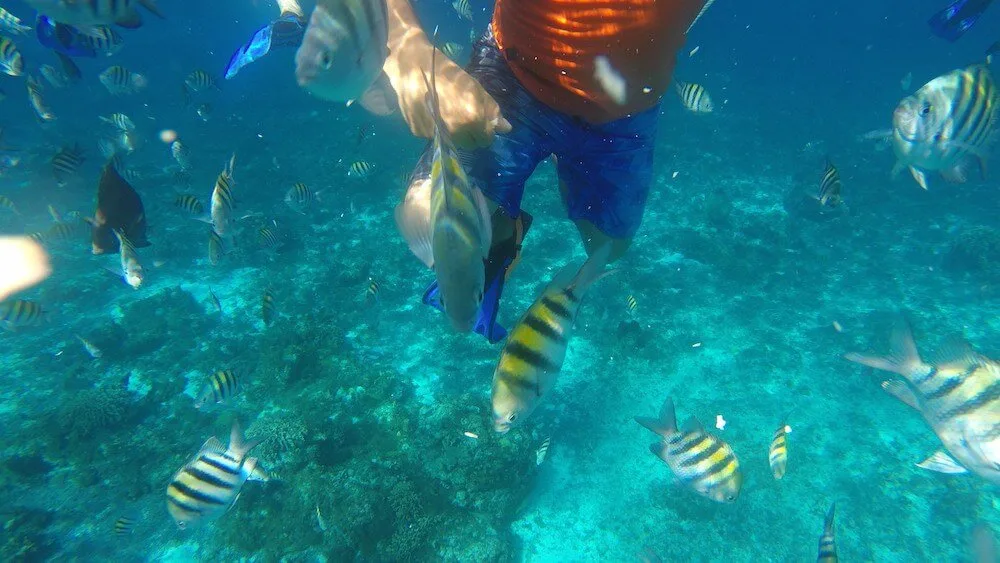 Anyway, we carried on. Our guide tempted fish with bits of bread, we saw these ones, and then, about 15 minutes later, got out. That little excursion came to £96! Yeesh!
I don't want to be a Negative Nancy, but these tours were exactly what I expected on a cruise. I would've rather explored on my own, which is what we did the next day in Costa Maya, Mexico. After walking through the expensive, fake looking cruise port, we went to the beach, had a massage, drank a few beers and it was brilliant.
I'm absolutely aware of the money cruisers bring to ports, and how they support the economy, but I just felt we were being taken advantage of.
Maybe I'm just a travel snob, maybe it's because I'm happy going off alone, or maybe it's because I know from my travels and research that these places are better than what we saw, but I just felt like they could've done better. Both excursions were very disappointing.
6. The forced fun
I didn't want to go on a cruise because I hate being made to join things or have fun in situations which definitely aren't my idea of fun.
The way the ship was set up you could have as much or as little forced fun as you like. There were activities all day long, which I could've joined, but I didn't. I almost went to bingo one day, until I realised they wanted $40 a card. The prize was in the thousands – fair enough.
There was dancing classes, art shows, antique talks, mini golf, sports demonstrations, films, cupcake decorating, karaoke, pool side games and mojito tasting, among at least another 100 things. You could totally fill your day with activity after activity, if you like. But there's no pressure to join in anything.
You can be that cynical Cindy on the sidelines, just like me.
7. All those people = sickness
I didn't want to go on a cruise because I'd heard people get sick, a lot.
Yep. I got ill. I seem to get some sort of issue everywhere I go now. I barely ate for a day, thanks to the issues I was having. After all they did on the ship to try and stop the spread of illness with so many people in a relatively small area, I wanted to get some drugs to help from the doctor but they wouldn't even give me Immodium without a prescription, which was going to cost $149 to see the doctor and then $30 for the Immodium.
Yeah, not paying that. Thankfully a good sleep, some vitamins I had from home, and I was fine to hit the Garden Cafe buffet come morning. Phewww.
8. Scared of bad Wi-Fi
I didn't want to go on a cruise, in case the Wi-Fi didn't work. Seriously.
Again, the only experience I'm basing this on is that river cruise in Russia when I was promised Wi-Fi, only to have it work at most half the time. And it's not just for selfies and to keep an eye on my Facebook friends, ok? I need to work. I'm always keeping an eye on my businesses and blog, even when I'm on holiday, I'm not really.
Wi-Fi is my lifeline.
Thankfully, the connection on board was absolutely brilliant. Even when I was out, somewhere in the middle of the ocean, those all-important emails kept coming through.
9. Queues to get on and off the ship
I didn't want to go on a cruise because I HATE queueing.
This one time, I was in Oslo in Norway and I saw a huge queue of people waiting to get on a massive ship. Just seeing that actually put me off cruises for years. I assumed that that was normal for getting on and off cruises and seeing as I have just below 0% patience, the thought was not my favourite.
But, so it turns out, I'm happy to say that was not the case. In fact, there was never more than a 30-second queue to get on or off the Norwegian Getaway. On the approach to the ship from the excursions there'd be staff giving out cold towels and fruity water, offering a seat in a gazebo, and welcoming us back before we boarded.
It was dreamy.
All so good, so far, until the final disembarkation. Two hours. Two hours of standing in a queue with my heavy rucksack and shuffling along every few minutes to be allowed back into Miami. To be fair to them I think this was a real anomaly and just unlucky, but it was still annoying.
Apart from that, which I guess is for our security, queueing was never a problem on the Norwegian Getaway.
Would I go on another cruise?
I really enjoyed my week on the Norwegian Getaway, really enjoyed it. I can see how it's the perfect trip for anyone who wants to let loose, enjoy some sun and drinks and not worry about a thing. The fact that everything is paid for upfront means it kind of feels like you're getting it for free.
You don't have to do anything, or work anything out for yourself, meaning you can totally switch off. I think it would be the perfect trip if you have children, or if you need a holiday from a stressful job.
I could also see it being a great work retreat. The Wi-Fi access was great all over the boat and sitting working on my balcony was an absolute dream.
It's not the cultural, immersive backpacking experience, mingling with the locals, that I'm used to, but I did feel super relaxed by the end of it, and like I'd had a proper holiday.
So, to answer my question, of course I would.
---
How to do the Norwegian Getaway Cruise
Getting there
Norwegian Air operates a direct year round service to Fort Lauderdale, less than an hour's drive from Miami, where the Norwegian Getaway sets sail from. Norwegian Air and the Norwegian Getaway are not the same company, yeah I thought they were too, just for a minute (or a few days, oops).
Fly to your Norwegian Getaway with Norwegian Air and it'll be by a fleet of brand new Boeing 787 Dreamliner aircrafts. They're faster, greener and help reduce the effects of jet lag.
There are two cabins – Premium (starting at £499 one-way) and Economy (£159). Prices include all taxes and charges. I flew back home in Premium (from NYC though) and had 14 inches extra leg room, drinks, dinner, luggage included and access to the Korean Air lounge too.
To book visit norwegian.com/uk or call 0330 828 0854
Joining the cruise
I was on the Norwegian Getaway 7-night Western Caribbean from Miami fly cruise. I visited Miami (Florida); Roatan, Bay Islands (Honduras); Harvest Caye (Belize); Costa Maya (Mexico); Cozumel (Mexico); and back to Miami (Florida). This cruise is priced from £1643 per person based on two people sharing an inside stateroom and departing London Heathrow on 4 March 2017.
You can find out more about booking a cruise on the Norwegian Getaway at ncl.co.uk, or phone 0333 2412319.
*I went on the Norwegian Getaway in December 2016 as a guest of NCL in return for a review.
All thoughts, photos and words my own.