Guys, it was awesome. Really, really enjoyed my weekend in The Hague. It's a manageable size city for a weekend break, making 48 hours in The Hague a great idea. Only if you can't spare more that is. I still feel like there's loads left for me to do when I go back. Which I will, I'm thinking in spring.
The biggest attractions in The Hague are usually touted as the museums – I went to a few – but there's also the shopping, the cool bars, the beautiful sites, and the easy cycling. The Hague isn't just for historians.
If you're planning a weekend in The Hague any time soon, here are a few places I'd totally recommend you enjoy.
Fun things to do in The Hague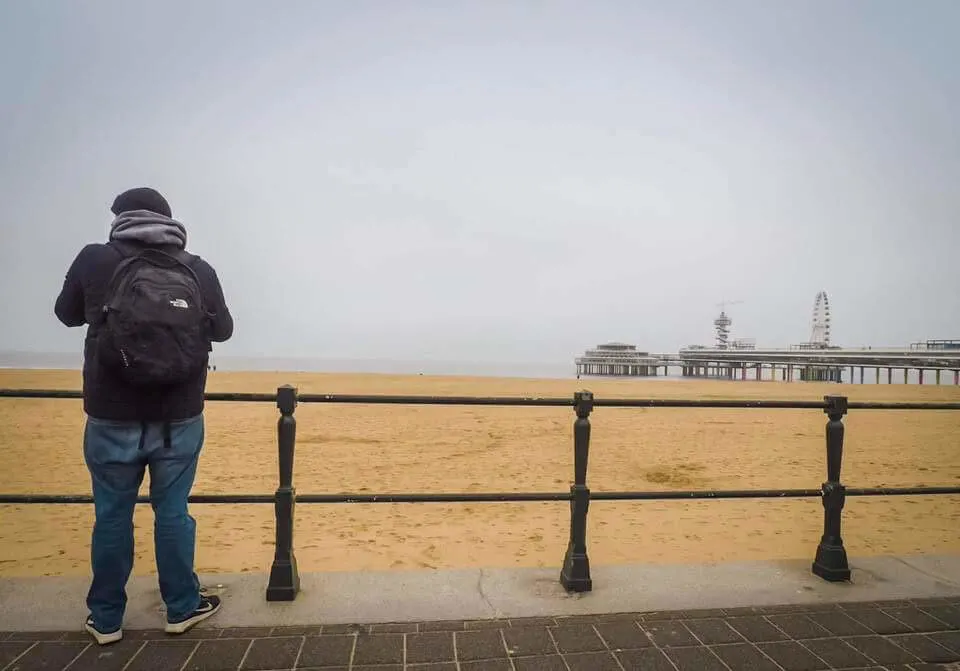 Scheveningen Beach in the Hague
I loved it at Scheveningen Beach. Cities with a beach are always a winner for me. With it being November, it was starting to get dark when we arrived at 4ish.
It was easy to get there from the centre of The Hague, just a 20-minute bus ride away.
The bus stops right behind the pier and you can just walk through the shopping centre to get to the beach. This beach must be amazing in the summer. It's so deep, and sandy, and is lined with bars and restaurants.
After a few minutes of pictures and gazing out into the water we realised we were freezing and so headed over to the pier in search of warmth and some sort of late lunch.
Honestly, best pier I've ever been on. There were cool boutique shops, artisan foodie places – basically like a street food market – bars, and as you can see, windows all the way down to look out to sea. At the end of the pier was the SkyView de Pier.
For just €9 you can go up on the big wheel for a few minutes. We'd timed it well with dusk falling. At the ticket office they sell beer and wine that you can take up with you.
Loved it. Especially as the cabins were heated.
You could see all the lights from the beachside bars and restaurants one way, and the neverending sea meet the horizon, the other. We could watch other tourists doing the bungee jump and zip line next to us. Outside.
Honestly don't know how they could even consider doing that, let alone actually take the leap.
Once our time was up we went back to the pier to finish off our drinks, before heading back into town via the bus.
Madurodam Model Museum
One of my favourite things we did in The Hague was to visit the model museum at Madurodam. It'd been Ben's idea to go, I wasn't convinced. But once we were there I thought it was great.
The whole museum is basically a replication of the biggest and best buildings in the Netherlands on a scale of 25:1. It's totally made me want to see more of the country – some of the buildings were incredible.
While you're there you kinda just wander around looking at the buildings – some are interactive – and read the information that goes with them. It really gave a perspective of how huge they were – Schiphol Airport was like a whole village. There was also a coffee shop, gift shop, cinema and canteen IRL, not model size.
Madurodam would be a great cycle ride from the city, through the parks. Too cold for us though, and not enough time.
Museums in The Hague
Mauritshuis
Visiting the Mauritshuis is one of the top things to do in The Hague. This is where the original The Girl With the Pearl Earring painting by Johannes Vermeer is hung.

It's weird seeing a super famous painting. I've been lucky enough to see a few in my life, and after you've had a lifetime of the hype, and then you see it, and it is what it is: a painting, it's a bit of an anti climax. Well, at least for someone with only a small interest in art, like me.
Everyone was stood getting their selfies. Not nearly as crazy as when I saw the Mona Lisa in Paris, but there was still a buzz in the room. I just kept thinking of the film.
Check out the building though…
Panorama Mesdag
The Panorama Mesdag was a bit of a wild card for us. In fact, we weren't even really sure what we were going in to see.
It starts off with a 'behind the scenes' / 'how did he do it' exhibition of the making of the 360 artwork by 19th-century artist Hendrik Mesdag. He created a huge panoramic beach painting of Scheveningen Beach detailing the view in 1881.
Here's a small portion of it that now I look at it, definitely doesn't do it justice…
The cylindrical painting is more than 14 metres high and 120 metres in circumference – it's the largest painting in the Netherlands.
They played the sounds of the sea to really help with the immersive experience.
Escher Museum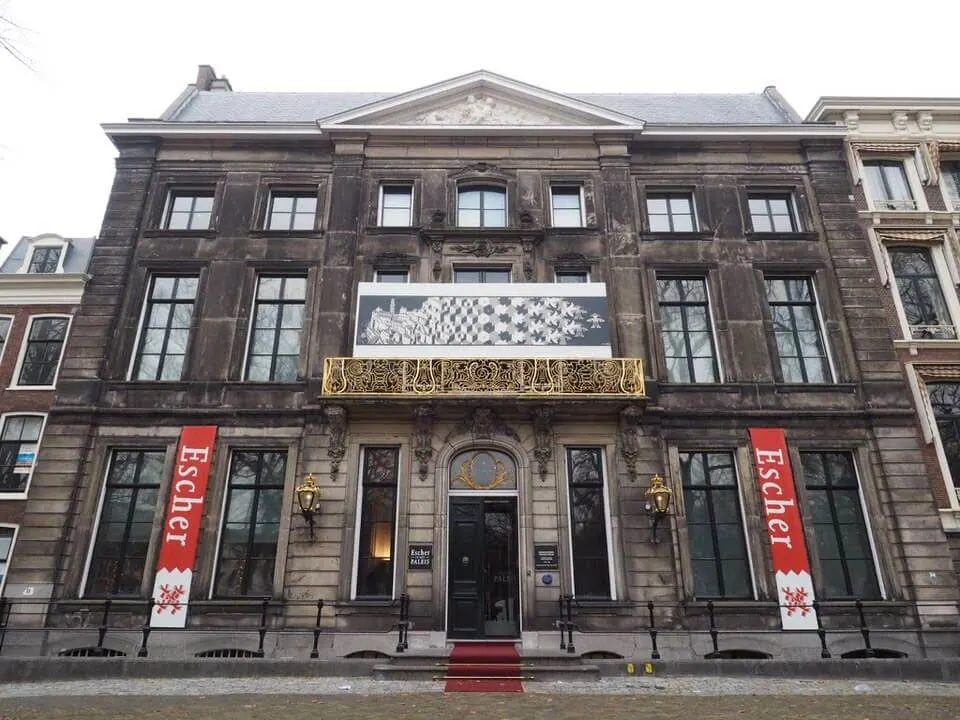 I can totally remember studying Escher in graphic design at high school. Once I saw the designs in the museum, I was like 'ohhhh, himmmm'.
The museum is filled with his trippy drawings and clever creations to bend your mind. This was Reddit before Reddit was a thing – weird takes on every day life.
Best restaurants in the Hague
Breakfast
Zeta
Stay at Zeta Beds, in the centre of the GrosMarkt, and you'll get your breakfast included. An amazing breakfast – avocado, Dutch cheese, toast, egg, yogurt and granola.
All my breakfast dreams.
Even if you're not staying there, they welcome in any hungry people for a breakfast feast.
I only tried Zeta for breakfast (three times) but the lunch menu looked pretty sweet too. And, from 5pm they have Asian-speciality chefs come in and change up the menu. It was obvious from the amount of people around all day long that it was a good choice!
Lunch
Mugs & Mermaids
Mugs & Mermaids is absolute Instagram gold – just look at their account.
This drink here is actually a white chocolate, made blue, with some sort of unicorn powder.
The lunch menu was epic. I was feeling pretty carb overloaded by this point so went for a tuna salad, with a bit of sneaky avocado thrown in there. Tasted great.
Mugs and Mermaids is a great little bar with a good price too, and not too far from the centre at all.
Bleyenberg
Bleyenberg is beautiful. If I had a restaurant I'd want it to look just like this.
Bleyenberg is a cafe cum restaurant cum bar cum roof terrace, spread out over four floors. I went for lunch as soon as I arrived and had this tasty and warming tomato soup, and a shakshuka too. Delicious.
I went back on the Friday night with Ben to check out the roof terrace, and lasted about two minutes outside before retreating in to the DJ. Perfect for summer though, and definitely worth a look for a high up view.
This place, and the next few would be great for dinner too.
—
The pier at Scheveningen Beach
I'm going to guesstimate there were around 10 places to eat on the Scheveningen Pier. There were pizzas, burgers and fish and chips options for starters. I was tempted by all of them but given it was about 4pm and we hadn't had lunch but did have dinner in three hours, I went for the Kibbeling at Kibbelking.
It was basically three pieces of tasty fried fish with a choice of side sauces. I went for the Dutch option – when in Holland…
—
MingleMush
MingleMush is a covered street food market right by the Den Haag Centraal – The Hague's Central Station. There were so many tasty options in there.
It was a cool place for an evening and at around 5pm on a Sunday, when we were there, the bands were setting up for the evening. There's table service for the drinks, and you get up and get your own food. I'd totally recommend the Pad Thai.
Where to go for drinks in The Hague
Hotel Des Indes
Hotel des Indes is the only boutique 5-star hotel in The Hague. This is where people go when they really want to impress!
We went along for a cocktail or two, along with a few tapas before dinner. Divine, darrhhhlings, you definitely should. You're on holiday, so treat yourself!
Groote Markt
The Groote Markt is kind of the epicentre of the city – when it comes to drinking anyway. It's a pretty main square surrounded by bars. There's lots of outdoor seating, with heaters blasting out, and blankets and lots of people sit here after shopping and have a great old time.
There are lots of bars here to choose from, including Zeta.
The Gold Bar
The Gold Bar is located inside the Hotel Indigo and was once an old bank. It's beautifully designed, and the old characteristics have been included in the modern design. Go downstairs to check out what they've done with the old gold vault – it's pretty cool.
Dinner
Didong
I don't think I've ever had Indonesian outside of Indonesia. So when The Hague Marketing Bureau took us to Didong I was excited, and confused about what to order.
Thanks to old time colonialism there's a strong Indonesian influence in The Hague, which is well reflected in the restaurant choices.
I was advised to just go for the selection dish, at €20. It was an absolute taste sensation, although I don't know what each item actually was. Anyway, just go, and choose the Didong special plate. You'll thank me for it, I promise.
Restaurant 't Goude Hooft
And lastly, for this trip, the Restaurant 't Goude Hooft. The food here was INCREDIBLE. Y'know how I often say things were delicious, well, this was one of my absolute favourite meals this entire year. Sushi!
There was actually a whole range of cuisines available but we decided to go off the sushi menu and try it all. We had the salmon poke bowl, boneless ribs, the chef's special sushi, duck gyoza and then another portion of sushi on the side.
BEST sushi I've had outside of Asia, no exaggeration.
Also, the cocktails were so nicely presented, and so well made. The restaurant is part of the hotel and had a great atmosphere the night we went. There was a soul singer wandering between the crowd doing her thing and getting people to dance along.
We ended up staying here about three hours and were some of the last ones to leave. By then she had the staff up dancing as well as some of the guests. It was a great night!
Getting around the Hague
The best way to get between The Hague attractions would be to cycle. It was just too cold in the middle of November though – wasn't feeling it. It's quite a small place with lots of cycle lanes, and not many cars on the road – also, lots of green spaces.
But if you can't cycle, getting round on the buses and trams is easy too.
You can buy an all day tourist pass for the transport for €6.50, which will get you everywhere you want to go. You just need to remember to tap in and out whenever you pass through.
There are so many places to visit in The Hague that if you want to see as many as possible it makes sense to get transport between them. If you have time though, I'd definitely recommend you walk as much as possible. That's how you see the beautiful canal views, the pretty cafe scenes, and at least a few of the many impressive buildings The Hague has to see.
Where to stay in the Hague
I stayed at Zeta Beds, one of the latest hotels in The Hague's portfolio. It used to be a hostel but now it's a super trendy, hipster place right in the centre of Grote Markt, which is the centre of The Hague.
The location was perfect for getting around the city and seeing as much as possible, and still being able to get back to charge my phone / have a nap / grab my coat.
My room was basic – with tea facilities, TV, a chair and two single beds – and roomy. I liked the white vibe and there was a great shower. All the rooms are different in this bespoke hotel, so you can book one to suit your budget.
I had the terrace room, although it was far too cold to be sitting out on that at the end of November.
How to get to the Hague
You could get the Eurostar to Amsterdam from London. You'll come into Amsterdam Centraal Station and from there, it's about an hour's train ride to The Hague Centraal.
Or, you can fly.
I flew from Southampton to Amsterdam at 7am and landed at 8:30am. I was only in the air about 45 minutes though.
From Amsterdam's Schipol Airport, it's just a 30-minute train to the centre of The Hague. I then took a tram about 5 minutes to Gros Markt to get to the hotel above. It was a 5-minute walk from there.
It's also possible to drive to The Hague from England. From Hull, you can get the ferry over to the Rotterdam, and then The Hague is a 30-minute drive from there.
I was invited to The Hague, by The Hague Marketing Bureau. Some of the experiences above were organised by them, and some, me. I really enjoyed my time in The Hague and hope to go back ASAP!
Pin me for later
More on visiting The Hague