The clue's in the name. The Mendip Hills Area of Outstanding Natural Beauty is stunning. Rolling fields, towering trees, view after view point. And, all in a relatively close proximity.
The Mendips are the perfect destination for a weekend road trip in the UK whether you're looking for something different to do in the UK from abroad or you want to explore more of our own country.
Head to the Mendips and you're in Somerset. A British county famous for its cider, fudge and farms – and Glastonbury Festival. The locals are known for being friendly, for having a wonderful accent, and sometimes, a combine harvester (can be offensive).
Somerset has all the beauty of 40 miles of British coastline and is also home to Exmoor National Park, but today we're looking at what to do in the Mendip Hills, aka 'the Mendips'.
---
READ MORE
The All-Time Best Campervan Routes in the UK
Itinerary for a Jurassic Coast Road Trip
Itinerary for a Weekend on the Isle of Wight
40 Unique Things to Do in the New Forest
58 Brilliant Things to Do on the Isle of Wight
---
Mendips road trip in a campervan
This whole Mendips road trip is only about two hours of driving – give or take. Some of those roads can be pretty tight which slows you down. But, feel secure in the knowledge that I made it – two days of driving – in a VW California Campervan and I didn't even get a scrape.
We rented our campervan for the Mendips from Camptoo – 'the airbnb of the campervan world'. We had a lush VW California which was around £120 per day, plus cleaning and booking fee.
– Post in collaboration with Camptoo
Our campervan host Mike was really nice and totally made us feel confident about driving the van. He gave us a full run down before we left and answered any messages super quick.
Thanks to the van we were warm and cosy in what turned out to be one of the worst weather weekends of 2019 in England. Still managed to have a great time though, and we'll just have to go back and complete our Mendip Hills road trip when the sun's out.
Here's what I'd recommend for your weekend trip to the Mendips.
Mendips Hills Road Trip Map

1. Cheddar Gorge
Hands up if you like cheese and fudge tasters?
Everrryyyyone?
Well, Cheddar's lovely little shops are full or the sugary / cheesey treats. It was hard to walk away from the cheese fest that was the Cheddar Gorge Cheese Company, and their cheese straws, but I'd already gorged on a bag of £1.20 fudge and things were getting out of hand.
Actual 'Cheddar Gorge' is made up of huge (450m) limestone hills looming above the winding road. The drive through the gorge is pretty special, with plenty of car parks on the way to sit and admire. We found one which was flanked by mountain goats climbing up the gorge. That was fun.
Within Cheddar Gorge you can pay £19.95 which gets you access to six attractions including Jacob's Ladder (viewpoint), the Clifftop Walk, and a few caves.
Or, you can hang around the tea rooms, the trinket shops and the town of Cheddar. There are some cute restaurants, a National Trust shop, and a crazy golf course. Go and take a look at the waterfall too.
Many Mendip Hills hikes start from here. We tried to do the National Trust one across the top of the hills but got totally rained off within ten minutes of getting soaked through. With the right weather, and £20, you could definitely spend the day in Cheddar quite easily.
Where to stay in Cheddar Gorge
CAMPING SPOT: Cheddar Mendip Heights Camping and Caravanning Club Site
We stayed at Cheddar Mendip Heights in our campervan. We arrived coming up to closing time and the owner was really nice about staying open. It was a lovely site, overlooking the Mendips with great views.
It was only a ten minute drive from Cheddar Gorge.
There were toilets, showers, a whole utility area and a playground too. We paid £25 to stay here for the night, with an electric hook up, and had everything we needed.
READ MORE: The Best Campervan Accessories
2. Priddy
Cheddar Mendip Heights was just a few minutes walk (15ish) from the village of Priddy. I wouldn't really recommend this being a main focus of a trip, but if you're in the hood then they have a great country pub called the Queen Victoria Inn.
We were ravenous and walked down from the campsite at around 8:30pm to get some dinner. Cue a deliciously cheesy lasagne, and a fish and chips to warm us up after a rainy day. Friendly bar men and a thriving bar completed the 'country pub' experience.
3. Wookey Hole
Right, day two? Fancy some caving?
You can go to Wookey Hole, just a ten-minute drive from the campsite and get under the Mendip Hills. Featuring 8 different caves, all lit up, Wookey Hole is pretty cool.
Also, pay for access to them and you also get access to 20 other Somerset attractions nearby.
4. Wells
Just another ten minutes on from Wookey Hole, you'll find the city of Wells. Here you can check out the Wells Cathedral and the 'only medieval close in England', Vicar's Close, just next door.
You can also see Wells' impressive Bishops Palace with its gardens and chapel, and just hang out in the market town.
Save yourself for dinner though – there's a treat waiting for you at the Woodford Lodge around Chew Valley Lake.
5. Chew Valley
It'd been grey and rainy all morning but as we arrived at Chew Valley Lake, the sun came out and lit up our lives, literally. It was just the pep we needed after a wet day.
We were here for Woodford Lodge. We'd found it on Google search and it turned out to be an excellent choice for a lunch. We went for the fish sharer board for two. Oh my days – never seen anything like it. Vegans look away now.
We had whitebait, salted anchovies, lemon anchovies, prawns, shell on prawns, trout, salmon, chips and bread, for £32. Dreams.
Absolutely stuffed we decided to go and park up around the lake and enjoy the view from the campervan.
We opened the windows, put the pop up roof up and just chilled and listened to music – for hours actually. That's the beauty of the campervan!
Camping at Chew Valley Lake
We camped nearby at the Chew Valley Lake campsite. After that huge lunch we didn't want much dinner and so just ate crisps and drank wine in the campervan while playing cards.
It's amazing how when you're closer to the elements, you're more in tune with them. Rather than being around a house, with lights on all over. I was ready for bed soon after dark, and slept well.
Chew Valley Lake was a fancier campsite to the night before. We only booked our sites on the go and with it being peak season we were limited with what they had. We ended up paying £33 for a luxury parking space, with hook up and all sorts that we didn't use.
The toilets and showers were really nice though!
6. Thatcher's Cider
If you hire a campervan for this Mendips road trip you'll have water and gas in the van. Using this we could make egg butties for breakfast to save a bit of time and money. You'll also have a fridge to keep your beers cool.
As you drive through the Mendips you'll find spaces to pull over and admire the views over Somerset – make the most of them. Cows and sheep are dotted around, and you can pop into farms advertising their wares.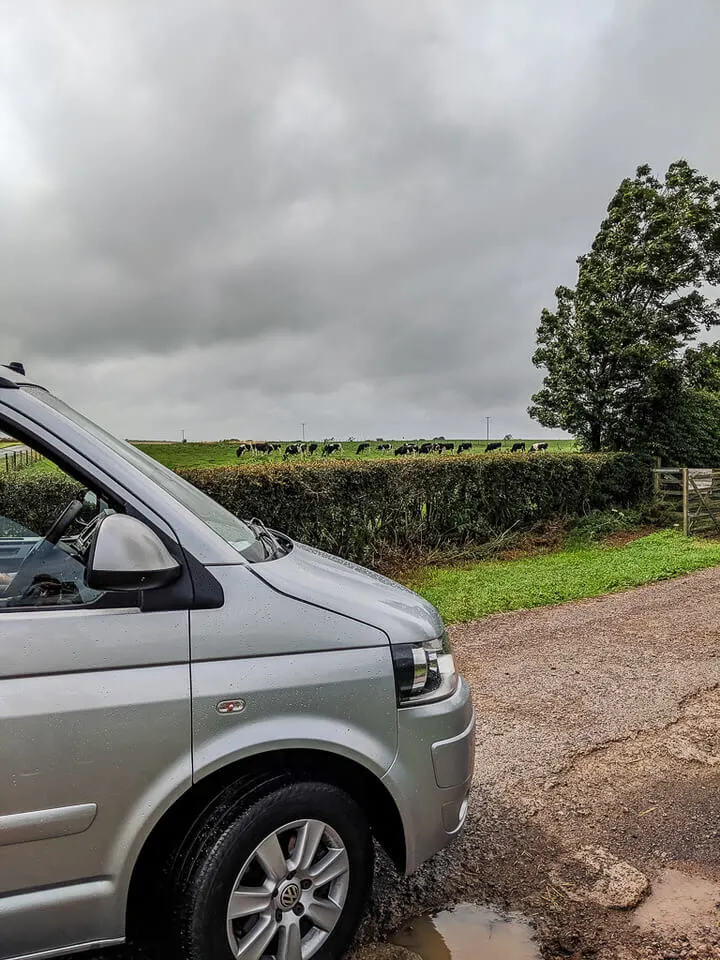 Blagdon Lake is a beautiful spot to pull up and explore.
You're in cider country now, and the Thatcher's Cider farm is one of the most popular to look around.
The owners of Myrtle Farm, as it's known, can tell you a few stories about the Thatcher family and show you how cider production has changed over time. Make sure to book in advance as they're very busy.
7. Mendip Activity Centre
Don't drink too much because, well, A, someone has to drive. And B, there's lots of fun to be had at the Mendip Activity Centre.
From skiing and snowboarding, to canoeing, abseiling and archery. Just check what's on before you go and book in if it's busy. Or, just turn up and pot luck on what's available.
8. Strawberry Line
The Strawberry Line Heritage Trail is a pedestrian route that's closed to cars and spans from Yatton in North Somerset, to Cheddar in the south. The 10-mile Strawberry Line goes past settlements, through wetlands and hills – right through the Mendip Hills. It was once a railway line, no longer used.
This is the perfect opportunity for you to walk, cycle or run past the nature and fauna of the Mendip Hills in a totally safe way. There's even a restored station along the way, only accessible to two wheels and feet.
Rent a bike and go and explore!
Camping at Boyd Lake
We actually spent our third night of camping at the Boyd Valley Lake near Bath, as it was on the way home. We paid £14 for a basic campsite with just two toilets and a shower per gender. It was absolutely fine for me, and the guy who owned it was really nice.
This is the kind of campsite I'd choose for my future campervan adventures.
More things to do in the Mendips
The Mendip Hills are also popular for horse riders, climbers, kayakers and fishers. The tree lakes I mention are all popular spots for fishermen/women. Mendip Hills walks are very popular too, especially around Cheddar Gorge.
One of the other popular things to do in the Mendips, is to walk the Butcombe Brewery Trail. sampling ales as you go. Just to warn you though, it's a 46-mile walk, around the six Butcombe pubs of the Mendips.
I'm out, but good luck to you on that one!
READ MORE: Check out my post on the best campervan gadgets here!
---
Explore more of England
NEW SITE: I recently launched a brand new website dedicated entirely to days out in England.
It's called… DAY OUT IN ENGLAND. Ha!
It's packed full of local knowledge, awesome things to do, and more.
Few of my favourite posts for you: how about the best adventurous days out in England, or the most popular English beaches? I've also put together a guide on saving money on days out, and even an English food quiz too. Go and check it out – you're guaranteed to learn more about England!
Where next?
How to Spend 24 Hours in Bath
Day in Bristol: What to Do in 24 Hours
or how about going international with some of the best campervan routes in France
About Camptoo
Launched in the Netherlands in 2014, Camptoo is a sharing economy platform that connects the owners and renters of campervans, motorhomes and touring caravans.
There are over 2,500 vehicles to choose from across Europe and a further 400 across Australia, with more being added every week. Vehicles are properly insured to allow both owner as well as renter a carefree holiday, with Camptoo providing all the necessary paperwork, checklists and roadside assistance. For more information, visit www.camptoo.co.uk.