Ever wondered what is Italy known for exactly? From gastronomical creations like pizza and pasta to ancient Roman landmarks, Italy's food, legacy and culture have made it one of the most famous nations on the planet.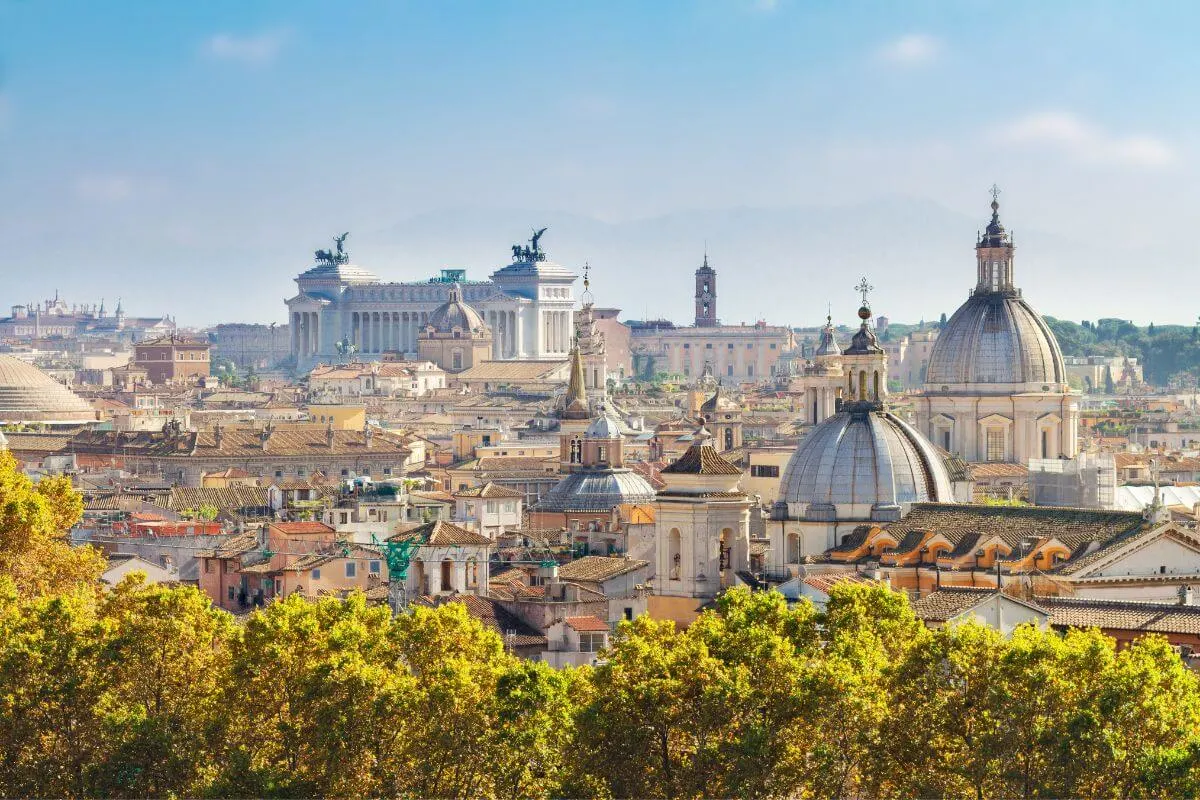 With its incredible cities and medieval hamlets that lie in landscapes including rolling vineyards, rugged coasts and towering mountain ranges, Italy is one of the most famous European nations for good reason.
This spectacular country gave birth to the Roman Empire and the Renaissance, which both shaped the world as we know it today. Historical legacy aside, Italy's cuisine is found the world-over. Pizza, pasta and wines like Pinot Grigio are staples in just about every nation nowadays.
So, let's take a look at the most iconic cultural, historical and gastronomical aspects of Italy.
Why Italy is famous
Tasty food, incredible cities, spectacular art… here are just some of the things Italy is famous for.
1. Pizza
Italian cuisine is adored the world-over, but no Italian meal is more iconic than the pizza. While you can order this cheesy comfort food from pop-up stalls, takeaways and restaurants everywhere, there's nothing quite like digging into the real deal in Italy.
If you really want to taste an authentic pizza, you might want to visit its birthplace – the city of Naples. Since the 18th century, the authentic Neapolitan pizza has contained just three ingredients: dough, mozzarella cheese and San Marzano tomatoes, which grow in the volcanic soil of Mount Vesuvius near Naples.
2. Pasta
Before moving on from the subject of Italian cuisine, we need to give a shout out to another dish that's made a name for itself all over the world – pasta. You might be familiar with some variations of pasta, but there are over 300 that originate from Italy.
While travelling around Italy, you'll notice that each region and even restaurant has its own twist on many traditional pasta dishes. If you want to try some of the most famous, order a carbonara in Rome, a Bolognese (ragu in Italian) from Bologna, or a pesto from Genova.
3. Espresso
Need a morning boost after a long slumber? Get your energy the Italian way by downing a shot of espresso with your breakfast.
Espresso is a type of strong black coffee that's brewed under intense pressure. It's usually served without milk or sugar in a shot-sized mug. If you're feeling a little groggy, this is the drink that'll get your brain cogs turning.
This little drink originated in Venice towards the beginning of the 20th century, though nowadays, you'll find it in just about every café and restaurant throughout Italy. And there's no need to limit yourself to drinking espresso in the morning – the Italians enjoy an espresso pick-me-up at just about any time of day.
4. Vespa
The Vespa might just be the most iconic vehicle to originate from Italy. In fact, the Vespa – which means 'wasp' in Italian – has been manufactured by Piaggio within the borders of Italy since 1946. Over 75 years later, Vespas sell in their millions every year around the world.
The Vespa was made famous by classic films such as Roman Holiday in 1956 and La Dolce Vita in 1960. Even if you're a little too young to remember such hits, you'll undoubtedly recognise the Vespa's smooth-retro looks.
5. Luxury cars
It's not just sleek scooters that have put Italy on the road map – this nation has a long legacy of manufacturing some of the biggest, fastest and most luxurious cars in the world. Ferrari is practically synonymous with sports car racing, but other well-known brands such as Maserati and Lamborghini hail from Italy.
While visiting Italy, you can learn about the heritage of the country's car makers at various museums. Head to Maranello to browse the engineering masterpieces at the Ferrari Museum.
More interested in Lamborghini?
You can explore the Lamborghini Museum of Technologies in Sant'Agata Bolognese.
6. Historical landmarks
We all know that Italy was the birthplace of the Roman Empire, but did you know that this historic nation has also hosted civilisations such as the Etruscan, Greeks, Arabs and Normans?
Many cultures and creeds have left their mark on the great nation of Italy, which you can still see today in the form of historic monuments and landmarks.
You'll see an abundance of Etruscan ruins in cities like Lazio. For insights into the country's Greek heritage, pay a visit to Segesta in Sicily, Paestum or the Valley of the Temples. You'll see examples of Roman architecture throughout Italy, from the ancient city of Pompeii to the iconic Colosseum in Rome.
If you want to embark on a journey back to medieval Italy, I suggest visiting a few small hamlets and towns in the hills and countryside. San Gimignano and Sorrento are a couple of my favourites.
7. The Renaissance
The Renaissance refers to the period of time that bridged the Middle Ages to an era of renewed prosperity, fuelling the birth of new cultures and the revival of classical art and architectural styles. And it all started in the spectacular Italian city of Florence.
Renaissance-era architectural highlights of Florence include the Brunelleschi-designed Cathedral of Santa Maria del Fiore, Giotto's Bell Tower and the Pitti Palace. Browse the Uffizi Gallery to admire works from iconic Renaissance artists like Raphael, da Vinci, Botticelli and Michelangelo.
8. Rome
The Italian capital, Rome, is one of Europe's most-visited capitals – and for good reason. This amazing city is home to an abundance of relics from the glory days of the Roman Empire, which had an immeasurable impact on the world as we know it today. Besides its Roman legacy, Rome is just a fantastic place all round, from its delicious food scene to its Classical architecture.
Must-visit attractions in Rome include Roman landmarks such as the Colosseum, the Pantheon and the Roman Forum. Less ancient but still centuries old and equally as iconic are attractions like Saint Peter's Basilica, the Spanish Steps and the Trevi Fountain. You can pick up some great souvenirs in Rome while you're there, too.
9. Venice
With its network of gondola-laden canals that weave between 118 islands with Renaissance palaces, cathedrals and historic squares, Venice – the Floating City – is one of the most awe-inspiring human creations in the world.
Around 170 canals meander through the city of Venice, and there are 400 bridges that connect that city's islands.
While you're here, check out architectural gems such as the Piazza San Marco, the Doge's Palace, the Rialto Bridge and Saint Mark's Basilica.
10. Pompeii
Besides the capital, Pompeii is probably the most famous ancient Roman city in Italy. This fascinating archaeological site was destroyed by the eruption of Mount Vesuvius all the way back in 79 CE. The layer of ash and lava that covered the city preserved its buildings, streets and even people.
The ruins of Pompeii were buried under ash for well over 1,500 years until the city was rediscovered during the 16th century, and it's still being excavated today.
11. The Vatican
Spanning a total area of around 100 acres, The Vatican City is the world's smallest nation – but it's one of the most culturally and spiritually significant places on the planet for billions of people.
Landlocked within Rome, The Vatican is the spiritual centre of Catholicism and has been home to the Pope for over 600 years.
Some of the most noteworthy structures inside The Vatican include Saint Peter's Basilica, the Sistine Chapel and the Vatican Museums. I'd recommend booking a guided tour that include skip-the-line admissions so you can beat the queues.
12. The Leaning Tower of Pisa
The Leaning Tower of Pisa is one of Italy's most iconic architectural marvels. As the name suggests, this ancient bell tower leans at an angle of around 5.5 degrees. While the tower was actually designed to stand upright, its distinctive slant has made it one of the most recognisable structures on the planet.
The Leaning Tower of Pisa is just one of four buildings that make up the stunning Campo Dei Miracoli. You'll need a good few hours to really soak up the place, especially given that you'll likely be among thousands of other visitors.
13. Cinque Terre
The five coastal villages that make up the Cinque Terre along the Italian Riviera might just be the most idyllic human settlements on Earth.
Characterised by colourful houses that climb steep cliffside terraces, the Cinque Terre villages offer sprawling ocean views, hiking trails and traditional trattorias that serve tasty seafood specialities. Here's my list of some of the best food in the Cinque Terre you need to try.
You can visit all five of these unique villages by following the Sentiero Azzurro cliffside hiking trail. Read my guide to hiking from Monterosso to Vernazza to learn more.
14. Amalfi Coast
While I'm on the subject of amazing coastlines, I need to mention the Amalfi Coast. Along this 50 km stretch, you'll see stunning seaside resorts, rugged mountains and cliffs, rolling vineyards and lots of charming little fishing towns, not to mention some of Italy's best beaches.
15. Italian Wine
I've already discussed a couple of Italy's vineyard regions, so I should probably give a shout out to the nation's wine itself – Italy is the world's largest producer of wine, after all!
In a typical year, Italy produces around five million tonnes of wine per year. Some of the country's most popular wines include Pinot Grigio, Cannonau di Sardegna and Pinot Bianco.
If you're travelling around Italy, you might want to explore some of the famous vineyards in Tuscany. Winemakers such as Ornellaia produce bottles that sell for well over $1,000.
READ MORE: The Castles in Trentino You Need to See
16. Italian Lakes
Italy's landscape isn't just gorgeous vineyards, historic cities, medieval hamlets and coastal villages – it's also characterised by its pristine lakes, especially in the north of the country.
If you're visiting Italy with the family, I'd highly recommend stopping by Lake Garda, where you can explore famous attractions ranging from the Grotte di Catullo archaeological site to the Rocca Scaligera fortress. For a slightly more upscale getaway, head to a scenic destination like Lake Maggiore or Lake Como.
Visiting a few of them is a great excuse for an Italy road trip to see more.
17. Milan
Want to revamp your outfit in the world's de facto fashion capital? Milan is home to luxury brands such as Versace, Fendi, Gucci, Prada, Armani, and Dolce & Gabbana. Even if its just for an hour or two of window shopping, you simply need to explore the high-end fashion district of Quadrilatero della Moda during your visit to Milan.
Shopping destinations aside, Milan boasts an incredible cultural and historical legacy. While you're here, you can discover the 18th-century Teatro alla Scala opera house, the Leonardo da Vinci Museum and the Santa Maria Delle Grazie Church, where you can admire da Vinci's The Last Supper.
It's one of the best spots for a long weekend in Italy.
18. Gelato
Last but not least on my list of famous things about Italy is something sweet – the tasty gelato!
Gelato – which literally translates to 'frozen' in Italian – is similar to an ice cream, though it tends to contain less fat and pack in more flavour. In my opinion, the gelato is essentially an upgraded ice cream. The gelato also came first, having been around since the 16th century. Rumour has it that the ice cream cone was invented in New York by an Italian in 1896.
What are your favourite things about Italy?
The list above of things Italy is famous for is far from exhaustive – it could go on forever when you consider the country's rich cultural and historical heritage. However, if you want to experience life like a local during your time in Italy, you might want to visit a few cities, taste a few delicacies and see a few landmarks listed above. You could also pick up a few Italian souvenirs while you're there.
Are there any famous aspects of Italy that you think deserve a mention in this article? Have I missed any of the country's most iconic sights, dishes or cultural quirks? Let me know in the comments below.
Quick list of things Italy is famous for:
Pizza
Pasta
Espresso
Vespa
Luxury cars
Historical landmarks
The Renaissance
Rome
Venice
Pompeii
The Vatican
The Leaning Tower of Pisa
Cinque Terre
Amalfi Coast
Italian Wine
Italian Lakes
Milan
Gelato
---