I genuinely don't know how I ended up on a 4-day castle tour of Italy's Trentino region. I swear I didn't sign up for that particular one. I'd been to a blogging conference in Trento, and part of the ticket price included a press trip in the Trentino region after.
Somehow, I was placed on the castle tour. We were meant to be getting a sample from the Sound of the Dolomites Festival, which was swiftly cancelled at the first prediction of rain (never appeared). Which, I guess was the connection.
– Views from cycling up towards the Dolomites in Trentino
– I like to learn by doing, not by listening, always have
Castel Valer in Trentino
And so, as we approached the third hour in the Castel Valer, and were told about yet another important person from Italy's past I'd never heard of or asked about, I was genuinely unsure I could go on any longer. I tried to escape to the terrace, but the Count – who owned the property and was showing us around – stopped me in my tracks.
Count (accusatory tone): "Have you seen everything in there?"
"Yes (sir)."
"You can't of. Go back in."
I did not take to his tone. And so as he lit up a cigarette in the dining room of the old castle, his house, I used that as my cue to leave. I'd intended to use asthma as my excuse, but he let me be with just a disproving look following me out.
Castel Valer is a beautiful property. Beautiful. But did I want to know the entire backstory of everything in there?
No.
Historians would say we were lucky to be shown around by him. Me? I'd recommend you go and explore the wonderful grounds, incredible terrace and historical rooms by yourself.
—–
As we approached our second castle of the day I had an internal panic. I absolutely can't face it. It's the being stuck, expected to listen, to interact, and then do what exactly with the information?
I was on the press trip with an 18-month year old and his frustrated cries were me, without the social pressure of not crying.
READ MORE
Castel Ivano in Trentino
But as we climbed nearer Castel Ivano, standing beautiful, proudly on the mountain verge, my uncultured resentment softened. We walked the final stretch to the top, the gates opened and the trailing flowers and hanging baskets made the castle look even more impressive.
I remembered how lucky I was to be here, to see this.
We were welcomed in by our guide who started to tell us about Trentodoc, the sparkling wine of the region. Having already done three Trentodoc tastings, in three days in Trento, we knew the drill.
"Do you know about Trentodoc?" he enquired.
"Yes!" Came the resounding reply from our group.
"Shall we just drink then?"
"Yes!"
And so, it became my favourite castle of the trip: Castel Ivano.
We relaxed in the castle grounds, made our way through his Trentodoc cellar and looked out to the impressive Dolomites. He told us about his life there, while we pottered around taking photos and sampling his repertoire.
– Could there be a more beautiful location for a castle?
Castel Pergine in Trentino
The first night we arrived we went to Castel Pergine. A remarkable building atop a hill, of course, that had been revitalised as a restaurant complete with a relaxing outdoor space. The food was elaborate – heavy on the meat, and as rich as the moneyed who used to own the place. Now it belongs to the region and is one of the most impressive castles in Trentino.
Castel Thun in Trentino
Castel Thun seemed more like a manor house than a castle. We didn't have a tour in this one but were free to roam as we wanted. It was a VERY windy day and as a castle, it was totally exposed to the weather.
As the last castle of the trip we decided to wander around inside and then get a quick coffee at the on site cafe outside. The views were just unreal.
Castles in Trentino
– Inside Castel Thun
I enjoyed being around the castles, in their grounds, and in their vicinity, but if you don't want to know everything there is to know about the castles then the tours are too much. If you're like that, then I urge you not to totally dismiss the castles of Trentino, but just choose them wisely and make your own way round with a few stops for Trentodoc in between.
Instead, buy a guide book and explore Trentino's castles in your own time.
Castles visited in Trentino
– Castel Pergine
– Castle Ivano
– Castle Valer
– Castel Thun
There are so many other things to do in Valsugana, Val di Non and Val di Sella, that you can easily combine a Trentino castle tour with a few other delights of the region.
Cool Things to Do in Valsugana
I don't know what the best things to do in Valsugana are, but here are the Vulsugana activities I enjoyed most from my week in Trentino.
Castles and culture in Valsugana
1. Look around the Forte colle delle Benne
Don't sign up for a tour, unless you're really, really interested. It was about two hours and far too in depth for me. You can get a lot of the information from the boards.
The fort was cool though, and totally worth a hike up the mountain for. The views from the top were awesome. It took about an hour to walk up there, and then we got driven back down, so there is parking if you prefer.
Castel Pergine is an impressive feat, high up in the mountains. We had the tour, which yes, was too long for me (see above), but the castle lovers enjoyed it. My favourite part was the comfy sofas outside and Aperol Spritz's for aperitivo hour. You can also grab some dinner here (but leave enough time – took ages).
3. Cycle from Borgo Valsugano to Malga Costa
This was the highlight of the trip for me. We picked up the e-bikes from town and made our way up the hill. The scenery was absolutely incredible.
We cycled up to see the Artesella land art via Villa Strobele. Huge works of art just amongst the peaks of the Dolomites – amazing! .
Food and drink in Valsugana
Somehow we managed to wangle lunch on the pier here, out on Lake Levico. I mean, it was pretty special. Perfect weather and the food was probably the best of the trip.
Also, we had a Trentodoc tasting and enjoyed watching everyone play on the lake too. The Lakes are one of the main things Italy is known for.
5. Go wine tasting at Cantina Romanese
The chief wine maker here had some amazing stories from his life in Trentodoc. We were ushered to his front room and learnt about how he'd named his wines after his family members. He'd also created a wine named after his mother, called Gabriella. His Grandfather had gone blind before he got to see her and so in tribute, the wine's label is done in brail.
Also, they age their wine and keep it in perfect conditions down the bottom of Levico Lake. When it's ready they will scuba dive down to rescue the bottles from the treasure chests. How amazing is that?!
He was very generous with his wine – have fun!
Oh this place was lovely. Located right at the start of the art trail it's a natural haven in among the trees and foliage. I ordered a salad, thinking it would be healthy – and then the biggest salad of all time arrived.
Order one of the ice creams on a stick for dessert – the lemon one – that was pretty special too.
This was the amazing wine tasting that cheered this castle philistine up. As soon as we walked in I could feel my love of castles strengthen – one with Trentodoc? Where we just stand around admiring the castle with a glass of wine in our hands?
YEP!
That night we went for dinner at the Agritur Rore, which was one of those fancy farm to table places. Located in the heart of the Dolomites the views were just stunning all round. I managed to get seated before the rest of the group and got a seat looking outwards, so top tip for you there – get in early!
You get what you're given here – good job it was delicious!
Hotels in Valsugana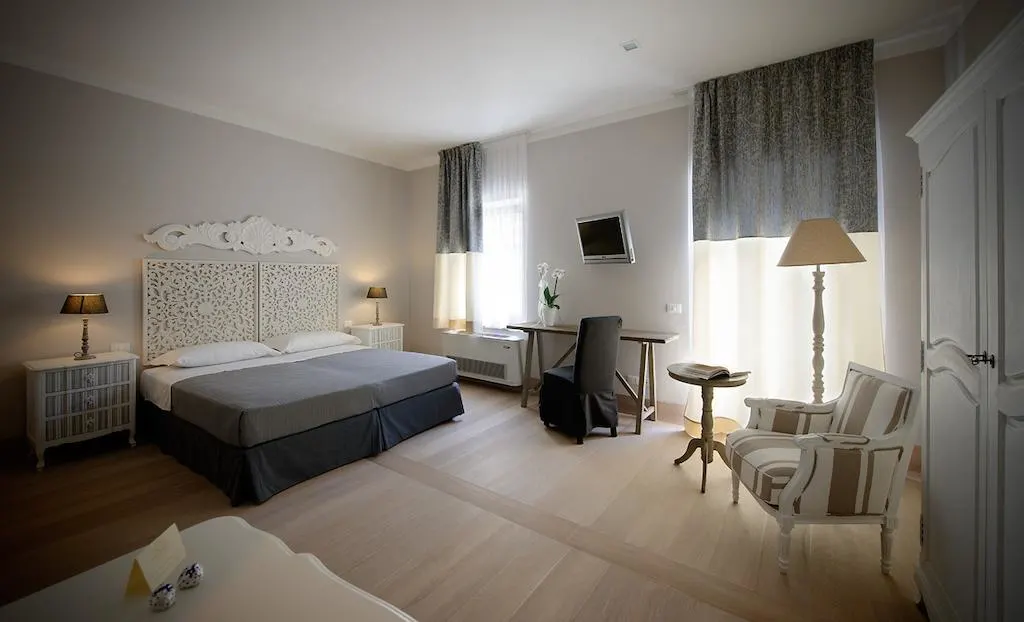 I stayed at the calming and serene Locanda in Borgo. My room was just inviting me to sleep – I had a huge bathroom and it was well located in the centre of Borgo Valsugana. The breakfast came included and was fresh and lovely. Really liked it here. After a crazy weekend in Trento, staying in a budget hotel, it was an absolute luxury.
Cool Things to Do in Val di Non
'Val di Non', means 'Valley of Nothing' in Italian, but trust me, it does not deserve that name.
Val di Non is well-known for its apple orchards, and there are big factories processing them all. The Melinda Factory has huge rooms dug into the Dolomites used to store the apples at optimum temperature. They supply over 21% of Italy's apple needs. But there's more to the area than apples (I asked why they didn't make cider – no response) so let's see what else you can do in Val di Non.
This is the castle that nearly killed any interest I have in castles forever. I mean, the castle was beautiful. It was the three-hour tour that nearly finished me off.
Definitely still recommend visiting though – stunning location in a beautiful place.
Oh, another highlight of my week in Trentino, Lake Tovel. It was just absolutely beautiful. Definite Canada vibes with the Dolomites meeting the lakes in glistening perfection. Nature at its best.
There was a hotel and restaurant there if you want to make a bit more of your trip. Otherwise, just go for a walk around the lake. It really is a stunning place.
A nice spot for some lunch. We were on the set menu, another bowl of risotto!
The gelato options out the front looked amazing. But we didn't have time, gutted.
4. Dinner at Ristorante La Margherita
We had a lovely aperitivo reception here. And then a tartar for starter – not for me. I can handle a lot of food, but steak tartar is one of the few things rattling around on my 'does not eat' list.
Great place though, with an amazing spa. If I went back I'd totally stay here – shame we didn't have more time to relax but if you're in the area. Pop in for dins!
5. Walk the rocks
We walked from the village of San Zeno to the to the St Romedius Shrine. It was a fun journey along the pathway of the rocks, and sometimes you had to bend really low to get through.
Once you're at the top you'll find the shrine for travellers. It's a pilgrimage for some – who want to leave a dedication to their newborn at the church.
You can also see a bear that was rescued from horrible captivity, and given more space in captivity (wouldn't survive if it was released) and get a snack from the shop – ice cream!
We arrived at the Coredo and Tavon Lakes, went for a walk around both, and then as we arrived at the end a picnic had been set out for us. Absolutely amazing. My heart rejoiced.
The picnic basket was prepared from Strada del vino e dei sapori del Trentino and featured an array of delicacies from the area. Meats, cheeses, apples (of course), crisps, wine and beer. If you want something a little special around the lake, with a taste of the area, then this is a blummin fabulous idea. They'll drop off the picnic and pick it up afterwards.
– The wonderful group of bloggers I got to spend the week with
Hotels in Val di Non
Hotel Viridis is LUSH. The location is just perfect. From the terrace you can see out over the impressive view of Lake Santa Giustina and all the apple fields. I had a great room with an impressive view, but also, blinds to block it all out.
We ate here on the final night and the food was great too.
Visiting Trentino in Italy
The Trentino region of Italy is absolutely, totally underrated. It's so lush, so green and there's so much to do there for every interest too.
I really, really enjoyed exploring Trentino. Would definitely do again.
I was a guest of Trentino Tourism in Italy. I'd been at a Traverse travel conference, and you could go on a press trip afterwards. All thoughts and words my own.
More on travelling in Italy
Where to Go for a Long Weekend in Italy
25 Awesome Things to Do on Lake Maggiore
Top Tips for Your Weekend in Milan