Visiting Barcelona for 3 days?
Famous for its art, food and beachside location, the fun you can have in Barcelona can easily fill a few weeks, if not MONTHS. Most people, however, only need to know what to do in Barcelona for 3 days. A long weekend in Catalonia's capital – the perfect getaway from the UK. This is ok if you're planning on going back. And if you're not, you soon will be.
I think I've been to Barcelona, maybe, 9/10/11 times now. And I'm going back again in March. My bro lives there, but also, it's the best city in Europe. And I've been to a lot of cities in Europe.
If you've never been before, and you need to know what to for 3 days in Barcelona, let me be your straight to-the-point guide.
1. The Sagrada Familia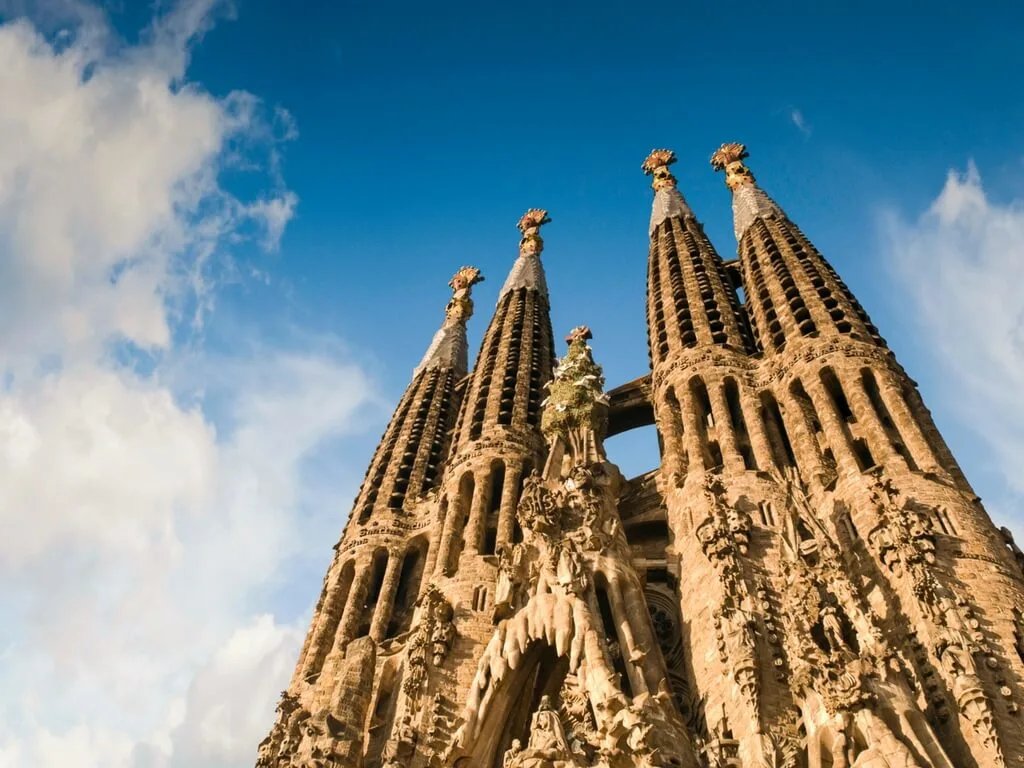 This church has been in progress for over 135 years and is an iconic building worldwide. Designed by the famous Antoni Gaudi, the church, in the east of the city, is as much a museum on him as it is a place of worship. Even if you're not into architecture, the extreme detail on both the exterior and an interior with the light, colour and unique designs is incredible.
Standard tickets cost €15 and should be booked in advance to avoid lengthy queues. If you can splash out for the early morning pass before everyone gets there, it'll be well worth it. Expect to spend about 3 hours here.
23 Reasons Why You Need to Go in the Sagrada Familia
2. Passeig de Gracia
Shops like Jimmy Choo and Burberry et al are boring as, but, the streets they're on are normally totally picturesque. And that definitely goes for Passeig de Gracia. This long, wide street runs from the district of Gracia down to Placa Catalunya, the city's most famous square, and is home to some of the most impressive shop windows you'll never be able to afford.
Along here you'll also find two more of Gaudi's buildings, La Pedrera and Casa Batllo. Both are beautiful from the outside as well as in so make sure you give them the admiration they deserve as you wander on down.
You could spend anything from an hour to, probably three days here – depends how partial you are to a spot of shopping.
3. Las Ramblas
Hands up who wants to get their wallet stolen? Yeah, well get those paws back in your pockets and your eye on your handbag if you're exploring Las Ramblas. That's definitely not to say you shouldn't venture on down, but just be warned and wary – as a tourist you are prime pickings here.
Las Ramblas is classed as the heart of the city and it's here you can get a real flavour of the vibrant nightlife, variety of food and artistic flair the city has. You'll pass by pretty spots like the Gran Teatre de Liceu, the Placa Reial and Miró Mural and be able to see where the city dissects into the different neighbourhoods. Pick up the Las Ramblas trail at Placa Catalunya and walk the mile-long stretch of street running down to Port Vell and Colombus Monument.
4. Gothic Quarter
The Gothic Quarter (Barrio Gotico) is so called thanks to the labyrinths of Gothic architecture laid out for you to explore. The buildings here are impressively designed and wind around small roads and narrow alleyways to form one of the most fascinating parts of the city. If you're going to Barcelona for 3 days let yourself get lost here and you'll be treated to pretty boutiques, hidden wine bars and old tapas restaurants.
---
5. Barcelona Cathedral
Look out for the Barcelona Cathedral in the Gothic Quarter, also known as the Cathedral of the Holy Cross and Saint Eulalia. The impressive looming building juts right out of the narrow streets. Even if you don't want to go inside, just sitting on the steps and taking in the life in the busy square below is great entertainment. And if you're feeling that Barcelona heat, plonk yourself over the road for an iced coffee or Sangria to sit and admire the view.
6. Barceloneta Beach
It may not be the biggest or most beautiful you've ever seen but Barcelona's beach area is worth a visit, if not to just lie in the sunshine and soak up the social vibe of Barceloneta. The tall and narrow houses that used to belong to fisherman in this area create a quirky feel and add to that a mix of bars, burger joints and watersports and you have a cool area to chill your beans in.
7. Montjuic
Barcelona is a one of Spain's most beautiful cities and it's good to get some perspective on that from the mountain of Montjuic. You can travel up here by funicular then a cable car from the Parallel Metro Station, or you could just walk up the steps. Once at the top, explore the castle and watchtower built back in the 1600s. They may once have been great spots for watching out for enemies but now serve as the perfect place to grab an ice cream and take in the 360 views of the city and sea below.
Make sure you come back for the fountains at night – they're set to music and all lit up. Definitely one of my favourite things to do in the city.
---
Barcelona is a thriving city that's ever-evolving, and is widely considered as one of the most popular spots for tourism in Europe. If you intend on visiting the province but are wondering what to do in Barcelona, there's a vibrant range of activities ranging from art to architecture.
With so much to explore there really is something for everyone. Barcelona is well known for its mixture of fun and culture, and its incredible buildings are unmistakable and unforgettable.
8. Casa Batlló
Casa Batlló is a remarkable sight, and was originally a conventional house built in 1877. It was later restored in 1904. It's a must visit destination, a historic landmark that is constructed from stone, forged iron, and ceramics.
It was highly criticised during its development due to its radical design, which broke many bylaws of the city, but has since become one of the most recognised buildings in Barcelona. This renowned architectural masterpiece was designed by Antoni Gaudi, and is identified as a piece of the Modernisme or Art Nouveau period. The building is decorated with mosaic tiles, and the roof is arched like the back of a dinosaur or dragon, creating an eye-catching view for public viewing pleasure. There are theories that the building is rounded to the left centre and terminates at the top in a turret or cross, representative of the lance of Saint George, the patron saint of Catalonia.
The building is a legendary icon of art, where light, colour, and shapes interact with glass, wood, and stone, encompassing Gaudi's characteristic, breathtaking style. For those who are intrigued by this prospect, you can book tickets online for a cultural tour which lasts roughly one hour, providing an in-depth view of the history behind the building, while giving the public an opportunity to wonder at the sight first hand.
9. Casa Vicens
This is Gaudi's first important building, and was built between 1883 and 1888. It's an imaginative residential property that was originally designed for a wealthy family who owned a ceramic factory – this is reflected in the style of the building. There are Islamic architectural influences in its façade, creating a surprising setup to complement the astonishing view observed from the outside.
10. La Pedrera
This is one of the main residential buildings that Gaudi built during his historic architectural run, and encapsulates imagination and style. It is arguably more of a sculpture than a building, and consists of undulating stone that creates harmony, with forged iron balconies which underline irregularities of the natural world. The building was first recognised as a World Heritages site in 1984, and is one of Gaudi's most unique sights.
11. Parc Güell
This was built between 1900 and 1904, and as part of the UNESCO World Heritage, the building contains a garden complex that houses a series of buildings. Gaudi once lived here, and the style he incorporated when designing the location was 'trencadis', which consists of surfaces with irregular ceramic pieces. It's reminiscent of the Art Nouveau period. The park in the area is the perfect place to enjoy a peaceful day out, with an opportunity to observe a dynamic work of art while enjoying nature.
There are multiple places to visit in Barcelona, and whether you choose to observe architecture or other vibrant areas which are worth researching before you visit, Gaudi's architectural treasures should remain on your list of must see attractions.
---
---
Unusual Things to Do in Barcelona
Looking for weird things to Do in Barcelona?
The likes of the Sagrada Familia and Las Ramblas are iconic sites everyone has to visit on a trip to Barcelona, but what about those things a little less crowded and a little more unusual?
Barcelona isn't short on a few of those either. Read on for the weirdest things to do in the Catalonian Capital.
12. Drink among the fairies
When you have one too many, you can sometimes be at risk at seeing things that don't exist. In the bar of Bosc de las Fades, you'll experience exactly that. The name literally translates to 'fairy bar' and whatever twinkly scene your imagining, the bar won't disappoint.
Located off Las Ramblas – Barcelona's main boulevard – this magical bar has sprawling trees, hanging lanterns and the odd fairy hiding in the corner.
Enjoy a cocktail, walk around and see what you can spot.
13. Get a dose of happiness
What started off as a small family business has now become something of popular pitstop in Barcelona. Happy Pills shops are designed to look like pharmacies and built to give shoppers a dose of happiness with a serving of sweets.
You choose your own pill bottle, cram it with the goodies you think will do the trick and choose an amusing sticker that states exactly why your sugar fix is needed.
From there, stash them in your bag and whenever you need a pick-me-up you'll have just the thing.
14. Celebrate the spring onion
A calcot is kind of a cross between a leek and a spring onion. They grow in abundance between January and March in the region of Catalonia and they're loved so much that entire street parties revolve around them.
Calcotadas are where people come together, barbecue their calcots, dip them in a tasty sauce and dangle them above their head before slowly eating. This messy affair requires a bib but if you find a community calcotada in a districts like Gracia, Borne and Raval, the mess is worth it.
15. Marvel at the human towers
It seems totally insane and highly dangerous to stack dozens of people hundreds of metres high but castellers, the act of building a human tower, is a long standing Catalan tradition.
From June to November you'll catch these crazy climbers at festivals or even taking part in a team practice in the local villages. Sticking on the sidelines is weird enough for this one.
16. Bathe in a quarry
Barcelona has the pools and it's got the beach, but if you prefer to bathe somewhere a little different then look to the city's north and Parc de la Creueta del Coll. Formerly a quarry, it was saved from developers by the local council who then transformed the quirky setting into a public park complete with waterways and an impressive artistic sculpture.
Take the bus to the quarry and you'll be able to take a dip in what feels like a little piece of city paradise.
17. Visit Marilyn
Sitting mid way down Las Ramblas is the city's Erotic Museum, which is a unique one in of itself. What makes it a tad more unusual is the Marilyn Monroe impersonator who stands on the balcony outside the museum all day waving at passersby. Wave back at her from below or enter the museum for a close encounter with Barcelona's most glamorous lady.
18. Add to your nativity
In the classic nativity scene there are the three kings, three shepherds and baby Jesus. Oh and did we mention the dude defecating in the corner?
It seems anyone outside of the Barcelona region missed the memo on the caganer character but a visit to the city means you can return with a new nativity addition. The mini figurines of this pooping character are on offer in most tourist shops, which means you can purchase your own pooper and look forward to a Christmas complete with the caganer.
19. Explore the sewers
Take it underground and explore what lies beneath Barcelona in the city's sewers. La Fabrica del Sol is a team that leads small groups through the sewers, which these days are rubbish free and cool to explore, especially when you consider the unique architecture Barcelona has.
Jump off the metro at Verdaguer and see the underside of Passeig de Sant Joan.
20. Visit the supercomputing centre
If you're a fan of the tech domain and a know you're way around a computer, you may get excited to discover that Barcelona houses one of Europe's biggest supercomputers.
MareNostrum apparently had a big role to play in the invention of the microchip and is now so sacred it's housed inside a former church called Torre Girona on the Polytechnic University of Catalonia's campus.
21. Go to the Hospital de la Santa Creu i Sant Paul
The Hospital de la Santa Creu i Sant Pau is usually cited as the pinnacle of Catalan modernista style. Built under the direction of Lluís Domènech i Montaner it's very different from the other hospitals that were constructed in the area at the time and is definitely the most beautiful.
Work started in 1901 and finished almost 30 years later in 1930. Located in the Naval district of Barcelona the Hospital de la Santa Creu i Sant Pau was a modern and spacious facility, known for its separate pavilions surrounded by gardens and streets and really took into account the patients' quality of life.
The brick building at the main entrance with its clock tower, is the hospital reception. Many famous artists worked on creating the sculptures here and they're still intact for us to see today.
I think I actually stood open mouthed when I found out there was a whole underground tunnel network connecting the wards. How cool is that?!
The site was declared a World Heritage Site by Unesco in 1997 and I couldn't believe it was a working hospital. The architecture reminded me of Istanbul with all the mosaic and intricate detail of the buildings. Maybe time in hospital wouldn't be so bad if you got to stay here…
More things to do in Barcelona for 3 days
Go to La Boqueria Market

Try doing a food tour
And a market tour
Go up in the cable cars
Do the Hop On Hop Off Bus
Visit Parc Guell
Eat your way round El Born
Go to the Picasso Museum
Take a well-earned siesta (all part of the culture!)
---
---