There are so many stunning photo spots in Barcelona, the most difficult part of getting a good photo in Barcelona will be narrowing them down. It's such a characterful city, with unique and interesting Barcelona viewpoints all over the place.
I've genuinely lost count of the amount of times I've been to Barcelona, 10, 11 maybe… but there's always something new to see there. Especially if you open your eyes with a camera in hand.
Barcelona's photo spots are plentiful. Located on Spain's northeast coast, the city has the best of both natural worlds. There's the beach on one side, the mountains on the other and all the winding streets and amazing architecture in the middle.
So, today I want to take you through some of my favourite spots in Barcelona for photography.
Where to Take Photos in Barcelona
Scroll down to see how to win a trip there!
– Post in collaboration with Lottoland
1. Bunkers del Carmel
This is one of the most popular photo points in Barcelona. To reach 'The Bunkers' you have to take a bus a little north of the city. There you'll find a historical spot housing Spanish civil war bunkers that now serve as one of the best vantage points of the city. You can perch on the walls and peer down to see Barcelona running from your feet to the water.
Alternatively find someone with a moped to take you up those steep hills. I managed to get my brother involved.
2. Placa Espanya
This area is fairly built up and less about treetop views and more about taking in the beautiful buildings. You have the Venetian towers, Poble Espanyol and the Montjuic Fountain all running parallel to the old bullring. This spot is great to snap at any time but come Friday night, when the water, music and lights are on, it's got an extra boost of beauty.
Definitely a good spot for anyone feeling confident with their night photography skills.
3. Arenas
If you'd like this same view but from up top then enter Las Arenas. It may look like a simple shopping centre but this old bull ring has a tier at the top filled with bars, restaurants and a 360 viewing point. Also, travelling up in the lift while looking out to the Montjuic Mountain could be a pretty cool experience – especially if you're making a video.
4. Casa Batlló
As a house designed by Gaudi, you wouldn't expect anything less than beautiful – even from the outside this casa is unique. Its mosaic design with curved windows and colourful glass make it lovely to look at. Stand on the opposite side of Passeig de Gracia and if you time it just right you'll catch the light as it bounces off the building.
I've taken a tour round the inside too, and my top tip would be to arrive early before the hoards. This is without a doubt, one of the best photo spots in Barcelona, but, trouble is, a lot of people know that.
The interior is so uniquely and beautifully designed – it's perfect for some unique and memorable pictures. Check out these free photo editing apps if you really want to make your pictures pop.
---
5. Sagrada Familia
No list of Barcelona's beautiful would be complete without an entry from the Sagrada Familia. This epic church is set to be finished in 2026 but has been a work in progress since 1882. Something that takes that long to be build has to be worth a photo. This ever-changing façade means no two photos are likely to be the same so make sure to get yours.
Photograph from each of the four facades at different times of the day to compare your pics and maybe even create a montage. On the north facade there's a little park you can sit in and admire the view with a bit of distance, from a bench.
6. Montjuic's cable car
Take your camera to the cable car and get some unique city views on the ascent from Parallel metro station to Montjuic. If your stream isn't quite full by the time you reach the top, fill it up with photos of the mountain's medieval castle. You'll need to pay extra to get in there, but while you're up there you might as well, right?
Make sure to get a cable car with clean windows!
Just to note, pictured is the cable car that goes across the beach, not the one from Montjuic – bit more modern those ones.
7. Parc Guell
Trekking to the highest peak in Gaudi's playground promises yet more amazing views, something you're now seeing this city isn't short of. Not only will you be able to spot the W Hotel, Sagrada Familia and Montjuic, but you'll get the views accompanied by Gaudi's great mosaics. No filter necessary.
I'd definitely advise you to take some time to explore the park. It's here that you'll find some of Barcelona's best photo spots. Cute doorways, mosaic pillars and hidden decorative creatures too.
8. Tibidabo
Tibidabo is one of my favourite words to say, and also one of the best photo points in Barcelona. Wonderful views, and a higher than the city vista. It's basically a compact entertainment area just outside of the main part of the city, with an incredibly impressive church.
If you manage to get a a good angle of Tibidabo, perhaps at night time when the light on the mountain highlights the lone church, then that's a win. If you manage to trek to the top and get a photo of from the top complete with the famous ferris wheel, then that's an even bigger win. Whatever way you capture Tibidabo, it'll be one for the gram.
9. Barceloneta fishing houses
Head to the beach area of Barceloneta early in the morning and you'll catch the sunrise as it cracks through the narrow streets of this area. Once old houses for fishing men, the colourful buildings with makeshift washing lines towering above have you truly feeling like you're in Espanya.
This is one of the more unique photo spots in Barcelona, so if you're looking for a place away from the crowds – this is the one.
10. W Hotel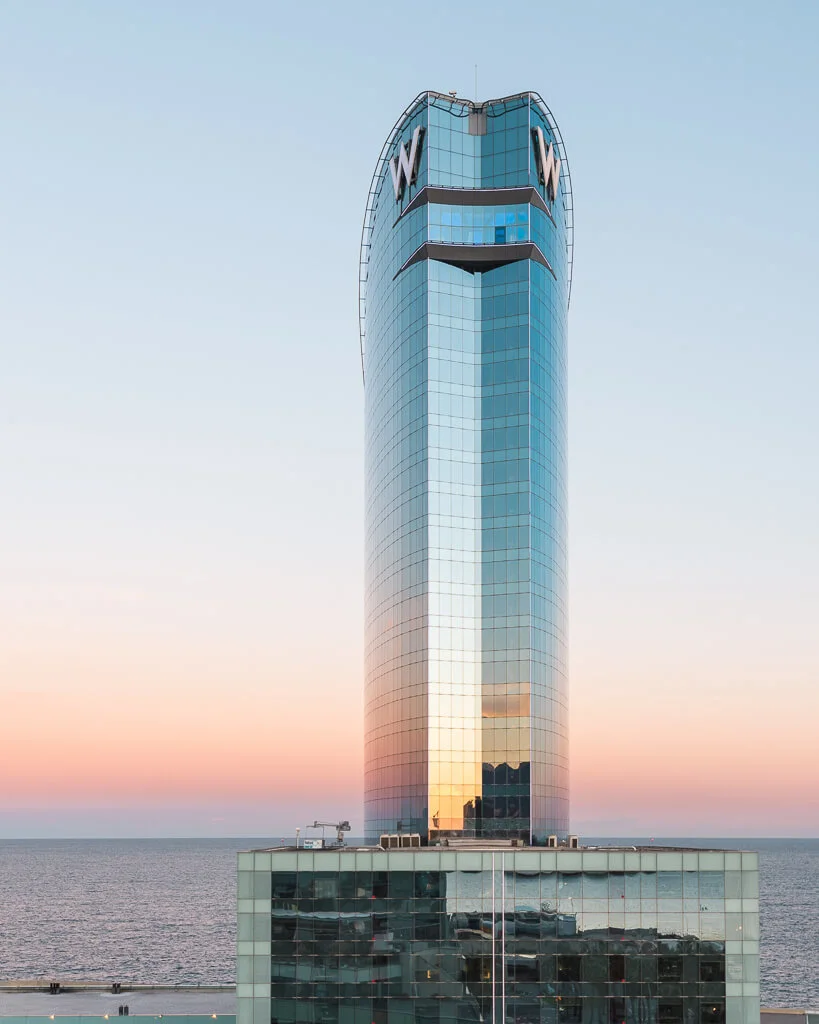 From rustic to really quite suave, you can visit the W Hotel's bar and lounge and enjoy your view with a cocktail. The hotel sits on the beachfront and is easily spotted by its fish fin shape. The outside is one of the most photographed and iconic views in Barcelona, but don't let that stop you from going inside to the W Lounge or Eclipse bar and getting great views of the sands and seas below.
Good food photo locations in Barcelona
One of the best things about Barcelona is the food. Tortilla and bravas, seafood and paella – there's no culinary limit to this seaside destination. And while it's extremely easy to fall into the tourist joints or be tempted by the top restaurants, a good looking meal for you to photograph doesn't always have to come with a hefty price tag in Barcelona.
Tapas and paella don't have to cost a fortune, and they make for great pics!
11. El Nacional
If you'd like to match up your love of beauty with that of great food then head to El Nacional. This fancy food hall located off Passeig de Gracia is simply stunning. Pop inside for a peek or plonk yourself down for a meal. Either way you'll be enchanted by the historic décor and amazing ambience that throws you back circa 1920s.
If you're into taking pictures of yourself in these Barcelona photo spots, then you'll want to dress up for this one.
12. 100 Montaditos
Often it's the advice to stay away from chain restaurants but 100 Montaditos has managed to retain its traditional Spanish feel despite its growth. Located in a few different spots across the city, like Urquinaona and Rambla de Catalunya, 100 Montaditos is the perfect lunch spot serving a wide selection of mini Spanish sandwiches between €1 and €3 each. The idea is that you can indulge in a few different varieties and don't have to be confined to the one filling. They even have dessert sandwiches so you can mix and match your sweet and savoury.
Go during the day for the best light for the those tapas pictures.
13. Makamaka
Combining our love of beautiful beaches and juicy burgers, Makamaka is a Barcelona favourite situated by the seafront. This cool cafe professes to be a '70s-inspired watering hole for locals and travellers to share burgers, cocktails, and plenty of besos'. The al fresco spot, cool décor and fruity cocktails fit the description. And with all burgers under €10, it's a guilt-free way to get your fill of food. Sit outside on the benches for the beach vibes.
14. La Boqueria
Back in Barcelona's bustling area of Las Ramblas, you'll find the famous Boqueria market. Entry here means instant sensory overload and extreme culinary temptation. Aside from being a treat for the tummy, the fruits and sweets make for a vibrant snap that just has to be captured. It's stocked full of various vendors selling traditional Spanish dishes of meats, fishes and fruits so a quick stroll around and you can easily leave with a full belly. If you'd rather take a seat, the market has a few permanent bars where you can pull up a stool and pick what you want from the counter. The most famous is Bar Pinotxo where beef stew, cockles and gazpacho are menu favourites.
Be prepared for some stall owners to be annoyed if you're only there for the pics – this is a working market and they have been known to get annoyed at the tourists.
15. Buho
Passeig de Sant Joan has a number of restaurants dotted along the length of the long street and many of them offer a 'menu del dia', a set lunchtime menu. Buho is no different charging around €12 for 3 courses and a drink, and that cheap price doesn't mean a drop in quality. Whether it's the burger of roasted veggies, the goat cheese salad or homemade brownie, this rustic corner restaurant packs flavour into every dish.
This is definitely one of those cafes that belongs on the 'gram.
16. Bar La Plata
If it isn't broken, why fix it? That seems to be the motto of this Gothic Quarter restaurant. Bar La Plata has stuck to the same menu of tomato salad, Catalan sausage, fried fish and anchovies since opening in 1945. The small yet traditional bar is cosy, casual and affordable but it can be difficult to get a seat at the weekend so try stopping by on a week night.
A great Barcelona photo spot for one of those – 'I've arrived!' Facebook pics.
17. Carrer de Blai
Carrer de Blai in the Poblesec neighbourhood holds a collection of eateries all imitating the Basque country style of eating. Pintxos are a small serving of classic Spanish dishes, such as tortilla or octopus, served on a piece of bread on a cocktail stick.
You can head into any of these bars, fill your plate and pay only a few euros per stick. With loads to choose from and fresh pintxos constantly making their way to the counter, it's a fun, easy and cheap way to eat. Also, super photogenic.
18. Cerveceria Catalana
Cerveceria Catalana sits off Rambla de Catalunya and is a popular spot with both locals and tourists with waiting times often lasting up to an hour. The wait however is worth it with top dishes like cabreaos, crispy camembert and veal soon spinning out of the kitchen and onto your plate.
Stylish, sophisticated, and well presented – just like us.
Well, those Barcelona photo spots should keep you busy for at least a weekend in Barcelona, if not a month.
---