Who knew there were so many free things to do in Paris, hey?
Not me.
I set myself a little challenge to see as much of Paris for free as possible in 24 hours. I ended up spending €64, but that was because it was raining so I had to take the bus and Metro instead of walking, and I had to drink that carafe of wine to dry me out and warm me up.
I saw a grand total of 17 free Paris attractions, and would absolutely recommend them all. Here goes…
Awesome free things to do in Paris
1. Galleries Lafayette inside and rooftop

Head straight up the escalators and don't stop till you get to the top, or you could be at risk of spending a euro or two (hundred). Galeries Lafayette is a luxury shopping centre, but you're not here for the clothes, handbags and make up, the building is stunning. This is a great spot to pick up some souvenirs from Paris to remember your trip by.
Look up while you're inside to see the colourful stained glass roof and dramatic dome. Then find the magic stairs leading outside and you'll be welcomed with a FREE view of Paris – Eiffel Tower and Sacre Coeur in the distance all included.
There's a wine bar, restaurant and ice cream shop up top, but we're talking free, so ignore them and focus on the scenery. There are even deck chairs up there and everything.
2. Printemps Shopping Centre
Just a few minutes walk from Galeries Lafayette you'll find the Printemps Shopping Centre. Apparently there's another roof top garden here, but err, I think I was so mesmerised by the roof up there I forgot to look for the secret elevator. It was also raining so I was drenched and was seeking the shelter.
Anyway, although I missed the view outside, I did get to admire the roof above.
3. Eiffel Tower and Champs des Mars

It's €25 to enjoy the view from up the Eiffel Tower, but once you're up, you look out over Paris, and there's no Eiffel Tower on the skyline, making it one of the worst Paris views in my opinion. Le Tour de Eiffel is Paris.
So, my recommendation to include a trip here on your free Paris itinerary would be to grab a bottle of wine / beers / French stick, and sit in the park surrounding the tower – the Champs des Mars – and relax and enjoy the scenery.
It's free!
Word of warning: do not buy the nougat from the stall nearby. They lured us in by letting us try loads, just enough so we felt guilty and bought some, and didn't tell us (we didn't ask) the price before they bagged it up. It was only a slither and cost €13. And then just as Kellie made me hand over the money (I didn't want to) she started having some sort of allergic reaction and her throat started itching and swelling up. I ate a big chunk and didn't want anymore, ever, ever again, so I reckon that was €13 totally wasted.
But back to the picnic. Get yourself some supplies from a Monoprix somewhere – olives, meats, etc – pop to the boulangerie for some bread and the wine shop to sample their best. Remember the bottle opener and a blanket / sarong and enjoy the view.
If you do want to go up the Eiffel Tower, I'd definitely recommend booking your tickets beforehand to jump the queue, and make sure you get summit access to the top. You can book your Eiffel Tower tickets with GetYourGuide here.
4. Walk round the Latin Quarter
The Latin Quarter is one of the cheapest areas of Paris to eat. Here you'll find plenty of set menu offerings and drink deals too.
Boutiquey shops, cute churches, crepe stands and galleries are standard here, and are all free to look around.
5. Cimitière du Père Lachaise
When I asked my Facebook followers what I should do in Paris for free, the Pere Lachaise cemetery was the number one suggestion. This is where Oscar Wilde, Jim Morrison and… I didn't actually know anyone else… are buried. Some of Europe's most famous writers, poets and philosophers are here, I'm just not really up on that side of French culture.
Whether you know them or not, the cemetery is pretty cool, and all kinds of eerie. Huge tombs, one after another, line the winding path, engraved with the names of people rich enough to afford a plot here. Spooky, but fascinating, and all free.
6. Canal St Martin
This is the cool, arty, part of Paris, yes, even more arty than the other arty parts of Paris. With little shops, boutiques and plenty of bars and restaurants, you're going to have to exercise some restraint if you plan to last an hour or so here for free. Remember, eating's cheating.
7. Sacre Coeur
I love the Sacre Coeur – the actual building, the steps and the vibe around it. On this particular visit I went early on a Friday morning so there weren't many people around. Go a bit later in the day and the stairs are full of people admiring the view, with a beer or wine and street entertainers doing their thing.
You can go in the Sacre Couer for free, just to pop your head in, but it does cost to go up the towers. Or I recently learnt about this cool scheme where you can sleep over for free, if you promise to pray while you're there. True story, honest.
This is one of the best cheap things you can do in Paris. Just make sure you buy your beers / wine / bottle opener from the bottle of the hill first. Last time I went there was no takeaway wine to be found in Montmartre, and the time before that we'd thought we were all clever bringing little bieres up and then realised we didn't have a bottle opener. It was €10 to get one from the tourist shop.
Sit up here and you have incredible views over Paris and you can watch this guy showing off his mad skills with a football and a lamppost.
8. Moulin Rouge
Hey sister, go sister, better get that flow sister.
Yeah, I'm a teenager of the noughties, Moulin Rouge was a big deal when I was young. Admittedly, it doesn't look like the most exciting prospect from the photo above, but it was early. Go later on in the day, preferably after sun down, and it's all lit up and totally exciting. Well worth a photo outside with the rest of the tourists.
This one time, I paid to go and see it. And we drank aaalll the Champagne and had a brilliant night. Loved it.
9. Shakespeare bookshop
Paris' Shakespeare bookshop is legendary. It's been there for years, and before that was a hidden wine shop during prohibition.
Anyone with an interest in books will love it as soon as they walk in, guaranteed. It felt like every book I've ever wanted to read lined the haphazard shelves in there. I took my time to admire the titles and covers. One of the first things I'm going to do when I get a house is to sort out my book collection – I have nowhere to keep them now so I'm tied to my Kindle.
You're not allowed to take photos inside unfortunately, but it was basically a labyrinth of little rooms and nooks to sit and read, from floor to ceiling, wall to wall. Incredible.
10. Street art, everywhere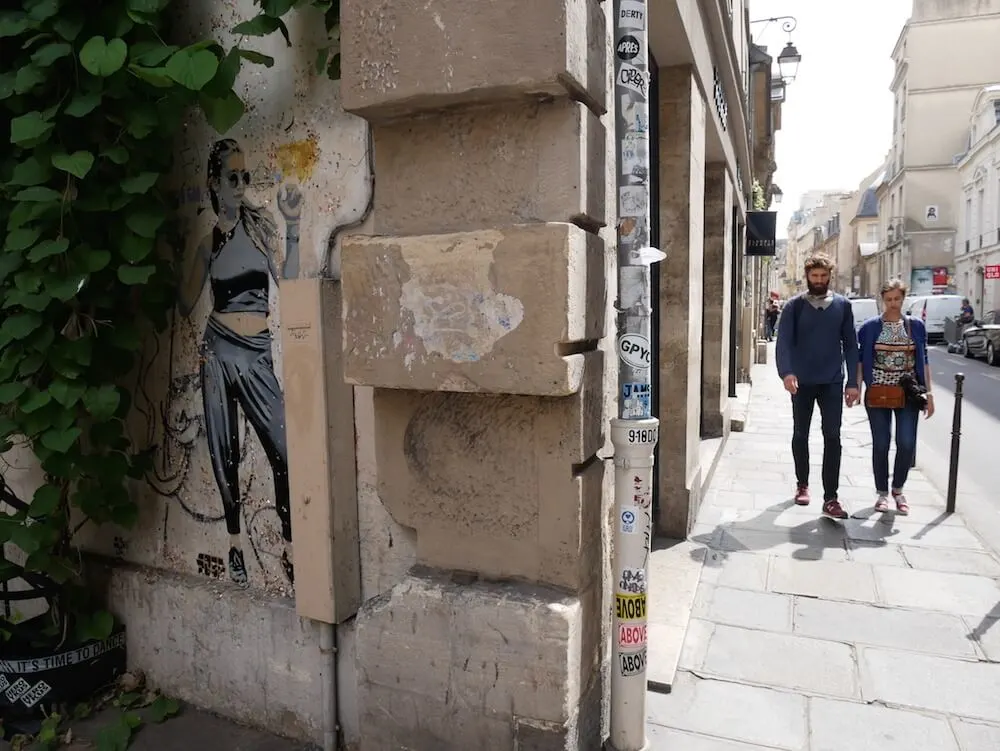 Good quality street art, like actual art, rather than graffiti is all over Paris. Keep an eye out for your favourite pieces – the Rue de Martyrs is a good place to start – and get inspired for a little home decoration. Maybe.
11. Notre Dame
I still haven't been inside the Notre Dame Cathedral, despite having been to Paris nine times. Can't believe it.
It's free and I wanted to go, but when I was there it closed at 6pm, so I was an hour late. It's still an awesome building to see from the outside though. Next time, I'll go in.
12. Promenade Plante
The Promenade Plante is a 5km stretch of old railway that's been redeveloped into a garden. You can walk from one side of Paris to the other in total safety and above the cars and traffic below. It's completely free to do and has lots of benches and places to chill along the way. Take a picnic and relax!
13. Arc de Triomphe
The roads around the Arc de Triomphe are crazy. Again, I was too early for the total carnage to have started above, but if you can imagine the equivalent of 7ish lanes of cars, not in lanes, but trying to get round the roundabout all horns a honking, you'll understand the Arc de Triomphe roundabout.
You can pay to go up, around €9, or you can just admire from below. The Arc de Triomphe stands at the top of the western end of the Champs-Élysées and was built in honour of anyone who'd fought for France. It's home to the grave of 'The Unknown Soldier' too. Make sure to take the tunnel over to explore more, it really is a cool structure with a great sentiment.
14. See the Louvre
The Louvre is one of the most visited museums in the world – it's home to the Mona Lisa after all. You'll need a ticket to get in – around €20ish – but you're free to hang out in the gardens and the courtyard all you like. This is where you can get the ultimate Louvre touristy photo of you holding the point of it (like this). If you're going to spend 3 days in Paris, or more, I'd definitely recommend you go and have a look.
The Louvre takes up all the buildings around – that glass bit is just the entrance. Relax, hang out, laugh at the tourists trying to get the photos, and then join them.
15. Musee Carnavalet

I wanted to add a museum into my day, even though I'm not actually that into museums, unless they're sex or science ones (always good for a laugh), which is what bought me to the Musee Carnavalet.
The Museum looks at the history of Paris via '2,600 paintings, 20,000 drawings, 300,000 engravings and 150,000 photographs, 2,000 modern sculptures and 800 pieces of furniture'. I probably saw about 5% of that. I don't last long in museums, but I do like a walk through. And seeing as it was free, and right in the heart of the Marais, there was nothing to lose.
16. Abercrombie and Fitch store
Another recommendation from my Facebook followers, the Abercrombie and Fitch store on the Champs Elysee was crazy fancy. The photo above is just the entrance. Inside there was five floors of over priced clothes, but most amazingly the opulent beams, details and art work on the walls. I'm not going to spoil it with a photo but it's well worth checking out.
And it's right by Laduree, the macaron shop too.
17. Walk round The Marais
The Marais is another great spot for eating, drinking and shopping, or, in our case, window shopping. So many cute streets, so little time. You'll find Paris' most famous falafel shop here, the Musee Carnavalet, and lots of galleries. You'll also find the Anne Frank Garden here, another free activity, although I ran out of time.
Just another reason to get back to Paris ASAP!
17 Awesome Free Things to Do in Paris
In short: for you to screenshot
Galleries Lafayette
Printemps Shopping Centre
Eiffel Tower and Champs des Mars
The Latin Quarter
Cimitière du Père Lachaise
Canal St Martin
Sacre Couer
Moulin Rouge
Shakespeare Bookshop
Street art, everywhere
Notre Dame
Promenade Plante
Arc de Triomphe
The Louvre
Musee Carnavalet
Champs Elysee / Abercrombie and Fitch store
Walk round the Marais
Top tips for seeing Paris as cheaply as possible
Cheap food in Paris
You'll notice from my Paris price breakdown above that most of the money went on food and drink, there's not really any getting away from that. And of course, one of the best ways to discover and explore a city, is through its food.
I don't think free food and drink exists in Paris, and nor should it. I had some tip offs on edible freebies from my readers but sadly none of them came true. I did however, get a free croissant from my hotel on arrival, which was nice.
There are so many opportunities for cheap food in Paris though. Crepes, croissants, french sticks with a picnic and the markets for starters.
Supermarkets in Paris
Monoprix is your friend. If you're going in the summer you have all the opportunity for picnics you could ever desire. Bring a picnic rug and you won't ever have to eat at restaurant prices.
Don't go to the Monoprix near the Gare du Nord though, it was about four times the price of the other ones in the city.
L'As du Falafel
My falafel from L'As de Falafel, although touted as the best falafel I was ever going to have, and not quite living up to it, was definitely the most packed falafel pita I've ever had. And at just €6, it was a cheap and tasty lunch, even if I did end up dropping the sauce all down myself.
The Latin Quarter
Head to Rue de la Harpe in the Latin Quarter for more cheapo food, to eat in. There were so many places offering three course menus for €10. I honestly can't believe the value I got from my €10 set dinner at 'La Petite Hostelliere' (see pics above!).
Mussels (so good)
Steak with pepper sauce and frites
Cheese board with two chunks
Bread side
The wine was €7, three quarters of the price of the meal, which seems crazy, but I'd already seem the price on the menu so I can't claim they tricked me. And it was really good, and came in a carafe, and left me feeling all warm and happy in the dull rain. So it was fine.
I can definitely recommend La Petite Hostelliere, and the surrounding places in the Latin Quarter looked good too.
Laduree Macarons
I can't imagine that I will ever go to Paris without scoffing a few of these. My friend Kellie and I devoured these last time I was there, in the bar out the back, but to save a few euros buy to take out and enjoy sat on a bench outside. A true taste of Paris and just €2.10 each. Make like Marie Antoinette and eat them all.
Les Refuges des Fondus
Cheese! At Les Refuges des Fondus you can get a meat or cheese fondue, a starter and a dessert for €20. I love it here. I've been three times now and would definitely go again Last time I went there was five of us so we ordered 2 meats and 3 cheese, which was just the right amount and meant we could try it all.
One of the best parts about going here is that you get unlimited red or white wine, served in a baby bottle, for the duration of your meal. Not that I would down my drinks especially to get more or anything. The area aornd
I love Les Refuges des Fondus so much it's got a full review here.
Cheap drink in Paris
Pheweeee drinks in bars and cafes are expensive in Paris. You're looking at around €6 as standard for 500ml. Which depending on the exchange rate (€1 to €1 when I was there!) could do you in. I kept trying to scout for cheaper but no luck. I only bought one drink in a bar while I was there, that €7, 250ml carafe I told you about.
I also bought a beer in a random shop for €1.80 to enjoy while admiring the Eiffel Tower. You can drink in public spaces in Paris, within reason.
Promises of €2 coffees and iced lattes enticed me into a coffee bar near the Sacre Coeur, until I realised my latte was actually €5 and small. You need to watch the prices in Paris, or you can end up spending a fortune. Most expensive coffee I've ever bought per ml I think, even more than that weasel poo coffee I tried in Vietnam, meant to be the most expensive in the world. I realised that if you leave out the milk, you can save a lot.
If you want to do Paris on the cheap, you're going to have to get used to drinking in parks, or, even worse, not drinking at all.
There are free water points all over Paris, although admittedly I never used one. Apparently some even offer sparkling water. I'll leave you to find out where those beauts are.
How to find cheap Paris accommodation
I loved my hotel. Loved it. I somehow managed to get an awesome deal on booking.com (nothing to do with my #travelbloggerlife) and got this usually £200ish hotel for £40, the Hotel Brittany. So when they misled me with the breakfast for €12 I couldn't really complain. The way the guy told me about it I thought it was in the price, but I should've known. I mean, if a coffee is €5, they're not going to give me a breakfast like that, are they?
You can get hostels for around £20, so if there are two of you a cheap hotel definitely works out the best deal. Booking.com is my favourite website for finding hotel deals…
Getting to Paris
I love the Eurostar. It's so weird that you can sit on a train for 2-3 hours, from the centre of London, and then be in the centre of Paris. So easy!
You can sometimes get deals for around £60 return, you just need to keep an eye on them. Sign up to the newsletter, that's how you get to find out about the cheapos – or you could even get a bus for £10, from London Victoria. Crazy.
Getting around Paris
The best way to get around Paris on a budget is undoubtedly the city bike scheme. The Velib bikes, as they're called, are €1.70 for 24-hour access. With this you get half an hour for free, as many times as you like. Each additional half an hour is charged at €1. This means you can travel Paris for FREE for 24 hours, if you keep docking it back in after 30 minutes.
Amazing!
The only downfall is that when it rains, like it did for at least half of my 24 hours, biking round Paris seems totally unappealing.
Step up, the buses!
I took four buses in Paris. I prefer being overground if I'm in a new city – it helps me to fit the city together and is a much more interesting view point when you're too tired to walk. The buses in Paris are easy to navigate, alongside Google Maps of course, and a quick check with the bus driver to ensure you're headed the right way.
My favourite bus route, took me around the Eiffel Tower up to my Hotel Brittany. I passed the Palais Royal, the big wheel and the tourist area near the Louvre without having to do any walking at all. Any route is €2 and you can just pay your driver when you get on. You need to validate your ticket when he gives it to you, in the little machine, or you've essentially jumped the buses for free. Not good.
The Paris Metro is easy to use too. It's €1.90 and works the same as most metro services with the lines clearly coloured and written, and the stations lighting up on the tube map as you pass through.
Any other suggestions for free things to do in Paris? What did I miss?
READ MORE: The Best Motorhome Trips in France
---