"SHOOOOOEEESSSS"
From the moment the surgical-masked woman on the front desk screeched at me to take my shoes off the second I entered the door, I knew the capsule hotel in Tokyo was going to be an experience.
It had taken me an hour to find the Shinjuku Kuyakusho-mae Capsule Hotel, even though it was apparently just a ten-minute walk from the Shinjuku Station. A whole 60 minutes with over 20kg on my back in my bag and getting more frustrated by the minute.
Tokyo is a 'high' place. All the buildings have 6 to 8 floors. It's not like in England where you can simply look down a street to see if your destination happens to lie on it. In Shinjuku you have to look, all the way down, then all the way down a level higher, then a level higher, all the way until you're as high as the 8th floor and you've forgotten the strange collection of letters you're supposed to be looking for anyway.
So a bit of friendliness and warmth would've been lovely.
No chance.
The Shinjuku Kuyakusho-mae Capsule Hotel
I'd ridden the elevator up to the 6th floor as instructed, taken my big hiking boots off as ordered (with the 20kg bag still attached, I was like a tortoise unable to carry his shell) and I was at the front desk at one of the most famous capsule hotels in Tokyo. Apparently there was nowhere to store my valuables though and I'd have to come back later to find my capsule – not until 4pm at the earliest – but thankfully, I was allowed to dump the backpack.
I laced my boots back on again. It was January and I felt like I'd spent a good proportion of my past week in Tokyo taking my hiking boots off, and putting them on again in the blast of a freezing cold doorway to keep up with tradition.
So 4pm came around and, sick of carrying the laptop around all day, I was back at the front desk of the Shinjuku Kuyakusho-mae Capsule Hotel on the dot, sans shoes. They got their own little locker. I was given a list of about 20 rules, which I had to sign. Mainly that there was to be no noise, no shoes and no joy, anywhere in the building.
Or along those lines anyway.
My capsule
I found my capsule all lit up with a yellow glow ready to welcome me in. I assume they have some kind of switchboard downstairs to flick you on when you check in as the surrounding ones were still dark.
I was on the bottom row, and pretty happy about it after looking at the ladder my second level friend was going to have to climb. Each capsule had a pull down blind for privacy – much better than the door I'd expected from the photos I'd seen.
That would've been just that little bit too 'morguey', even for me.
I had a key to a numbered locker nearby where I found my yukata (Japanese pyjamas – baggy trousers and a kimono top), a face towel, a body towel and some slippers, all folded and stacked nicely on top of each other. It kinda felt like it was my first day in prison.
This locker was for my valuables, but I just stuck all my winter wear in there to get it out the way and brought my valuables with me to my capsule.In my capsule there was a TV, a radio (both in Japanese), a mirror, a shelf and a mattress. The capsule was about as big as a small double bed. I could lie in it with my valuables down the side, and in a new experience for Japan it was actually long enough for me, at 5ft 9, to lie in without my feet hanging over the edge.
I liked it – it felt like one of those dens you'd make as a kid. I enjoyed having a place for everything and the relative privacy compared to the hostels in Tokyo I'd been staying in.
Tokyo's capsule hotel facilities
I went for a look around the building, which took all of 5 minutes. There were showers – clean, with all the gels and potions you'd need, and slightly futuristic looking – toilets (with all the buttons and functionalities I'd become used to), mirrors with hairdryers, and that was about it.
It was basic, no frills, but had everything you could need for a good night's sleep and a freshen up.
Sleep in the pod
After going out to explore Shinjuku to find some dinner I was back again. Still no smile or sign of warmth from the front desk, yikes.
I took the lift up to my floor – the only female one in the 6-floor complex – and found it a lot busier than my check in. I locked away my winter wear again, changed into my yukata and did a lap of the capsules in my new one-night-only pyjamas to see what my new capsule buddies were getting up to.
The fact that everyone was wandering around in their yukata and slippers gave it a feel of some sort of exclusive retreat. Not a capsule hotel we'd all paid around £20 per night for, and the prison vibes I'd felt earlier had evaporated.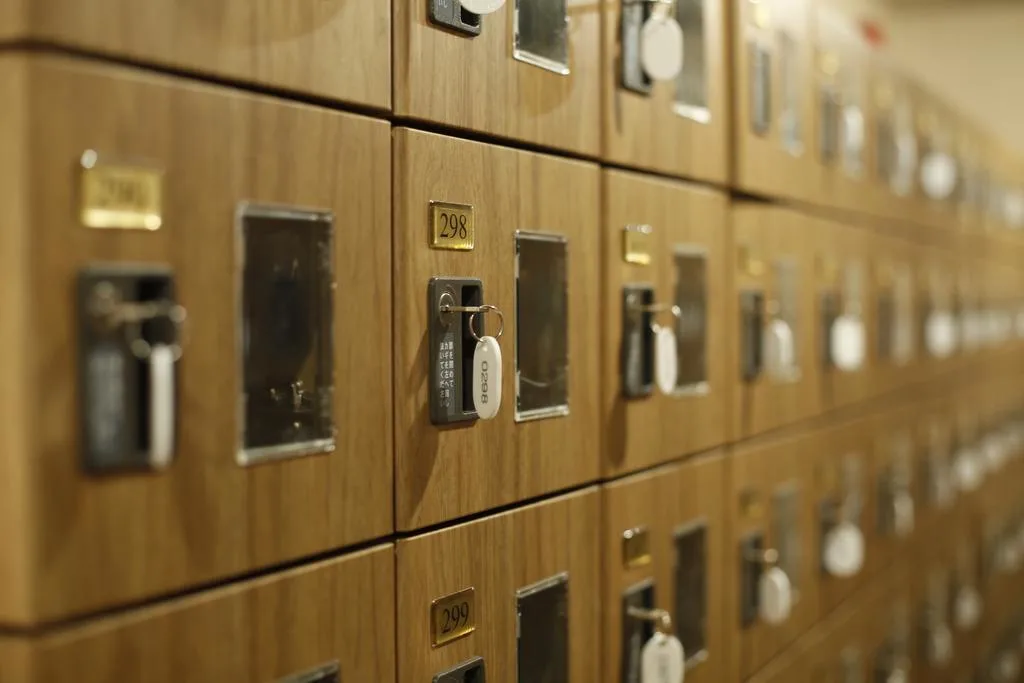 My fellow capsulers were all 'heads down, get ready for bed, mustn't acknowledge anyone'. Remember, no shoes, no noise and no joy.
I came to love those rules though. I had the best sleep I'd had since arriving in Tokyo a week earlier. It was so quiet. The Shinjuku Kuyakusho-mae Capsule Hotel was so warm compared to the OTT air-conditioning in my previous ryokan hotel too. It was only when the receptionist's announcement came over the individual capsule's speakers at 10:30am that we had 30 minutes to leave, that I woke up.
I enjoyed my stay so much I ended up booking in the next night too. Unfortunately whether you're staying two nights or not, they don't let you leave your stuff in the day, otherwise I definitely would've stayed for longer.
I had to gather my things, check out, check in my bag for a few hours, and again, take my laptop around with me for safety. Good job I was in a great location in Shinjuku.
Staying at a capsule hotel in Tokyo is such a key part of Japanese culture I'd definitely recommend you give it a try when you're in the country.
---
---
Have you seen my Tokyo video?
---
More on my travels in Japan
https://vickyflipfloptravels.com/streets-of-tokyo/
https://vickyflipfloptravels.com/bizarre-maid-cafe-tokyo/