If you're searching for the perfect Japan 3 week itinerary to help plan your trip, then STOP: you've found it.
Tokyo flirts with modern trends; Kyoto is steeped in history. Osaka treats you to budget eats and shopping while Fukuoka is a lesson in humble living. All these unique cities come together to form one of the most popular travel destinations in the world: Japan.
What I find most enticing about Japan is that every region and every season gifts you with new sights and traditions! It's impossible to see it all at one go – even if you're lucky enough to have three weeks to do it – but this 3-week itinerary for Japan will let you sample your fair share.
Keep in mind that this is a loose itinerary for three weeks in Japan!
You can spend longer in cities you're interested in or mix around the order for your 3 weeks in Japan. If you're worried about the cost of transport, the handy JR Rail Pass is a great bargain for intercity travel.
I've also clustered activities together on a day-to-day basis based off location, but feel free to play around with your Japan 3 week itinerary.
How to Spend 3 Weeks in Japan
I'm lucky enough to have spent months in Japan, let me take you through the best 3 weeks in Japan itinerary for the best trip ever.
TOKYO: Day 1 – 4
With its high traffic of international flights, Tokyo is the perfect place to start. It's also a good idea to start with the most expensive city since budgets tend to get tight near the end of trips. This way, you won't have to worry about running out of money at the end of your Japan 3 week itinerary.
Day 1: Shibuya and Shinjuku
At the heart of Tokyo is Shibuya, the perfect first glimpse of the metropolitan. Sit at a café along Shibuya Crossing to people watch, or hop around the various malls and boutiques.
Next-door Shinjuku is another commercial district full of department stores, shopping malls, restaurants and nightlife options. You can:
Shop at Keio Mall, Mylord, LUMINE , NEWoMan, Marui, SEIBU Shinjuku PePe and more.
Meander through Shinjuku Park's three distinct areas; the stunning Japanese Garden, manicured French Garden, sprawling English Garden and additional greenhouses.
Kabukicho's famous izakaya houses are a must when it comes to night-time dining.
For bars and clubbing, drop by the LGBT+ friendly Shinjuku ni-chome.
---
When you're travelling in Japan and going online, keep your information safe with a VPN. This way you can enjoy secure and private access to the internet. With a VPN you can connect to your country's content (hello Netflix!) and protect your identity online. This is vital for banking to prevent others seeing what you're doing by sending your data through a proxy so it's masked. Sounds important hey?
Check out NordVPN for more details.
---
Day 2: Yanezen, Ueno Park and Asakusa
Yanezen is a charming neighbourhood with the remnants of Edo Tokyo – think cobblestone paths, numerous shrines and wooden shop fronts. I highly recommend a quick walk through Yanaka-Ginza Shopping Street and then a sweep of Nezu Shrine and its mini trail of torii gates.
Follow up with one of Tokyo's biggest green spaces for your Japan 3 week itinerary. Ueno Park isn't just for relaxing walks; it's also home to Ueno Zoo, Tokyo National Museum and the Tokyo Metropolitan Museum of Art.
Continuing on the artsy, nostalgic trend, head over to Asakusa. Once the merchant hub and red-light district of Edo Tokyo, the district still features traditional styled streets and buildings. Within the area are:
Sensoji Temple in all its vermillion, tiered glory.
Nakamise Shopping Street for Japanese souvenir shopping and cheeky pictures.
Skytree Tower on the other side of Sumida River, within walking distance. The observation deck is worth visiting; you'll come down with a camera roll full of panoramic shots!
How about staying in a capsule hotel in Tokyo while you're there, or maybe, a maid cafe? Lots of things to think about when you're planning a Japan trip.
Day 3: Tsukiji, Tokyo Tower, Harajuku
If you are willing to wake up early, grab some fresh sashimi rice bowls at Tsukiji Fish Market first thing. You might not be able to witness the legendary tuna auctions anymore, but the generational restaurants here are an amazing sight to see. The fish market is one of the most popular things to do in Tokyo.
Next up is Tokyo Imperial Palace, just a short walk from the iconic Tokyo Station. Explore the grounds or sign up for a guided tour so you can catch a glimpse of the Emperor's residences.
Tokyo Tower is for those who didn't get to go up Skytree Tower. Not only is it a shining red beacon, it's also a great observation deck.
Other iconic Tokyo sites include Yoyogi Park and adjacent Meiji Shrine. Pray for health and fortune at the latter before leaving the leafy respite for noisy Harajuku on the other side of the tracks. Harajuku is fashion heaven! If you're a fan of eccentric styles or simply want to experience all that Japanese fashion has to offer, this is the best shopping district there is. It's one of the most unique places to see in Tokyo.
Day 4: Disneyland
End your Tokyo visit with a full day at Disneyland and DisneySea! Hands down the best Disney experiences I've ever had, fit for both families and young-at-heart adults. When I visited it was the opening of the new Frozen parade – loved it! It's even more bonkers than the American one, and everyone dresses up too!
KANAZAWA: Day 5 – 7
Historical and moody Kanazawa is a break from Tokyo's modern eccentricities for your 3 weeks in Japan. Plan to arrive in Kanazawa before noon so you check off all these area attractions!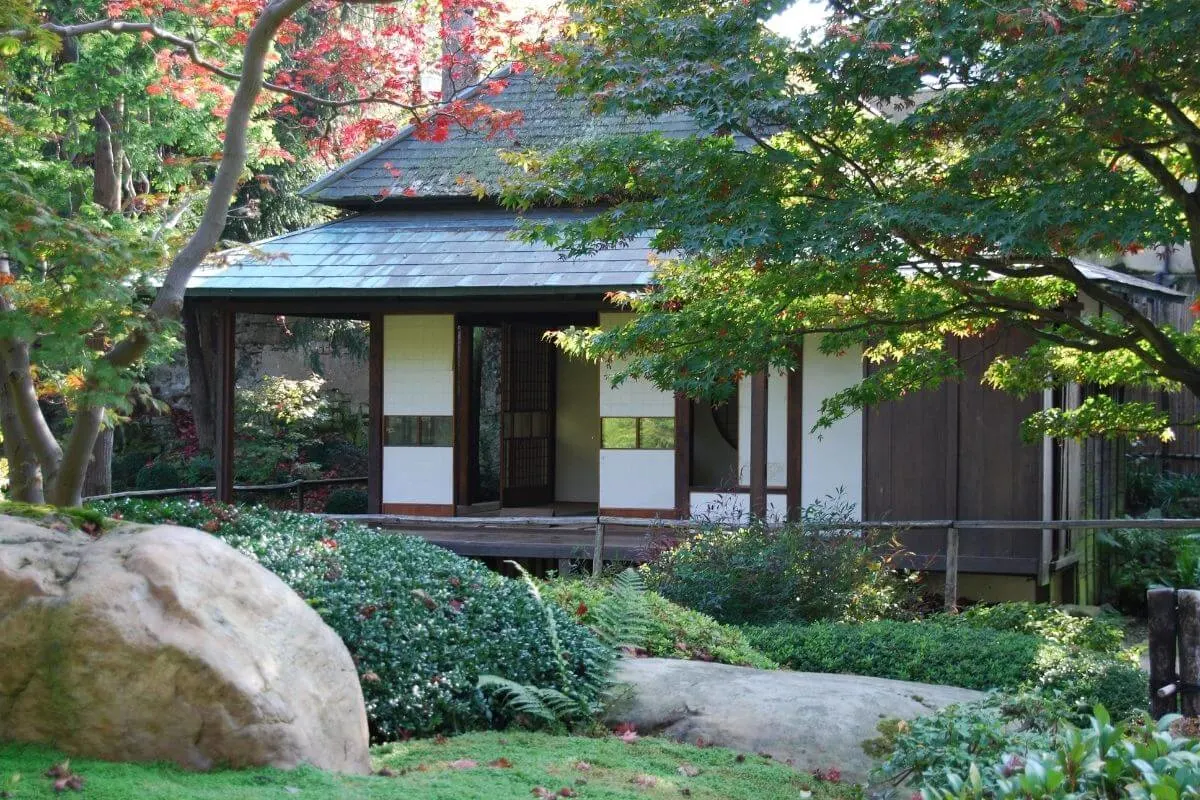 The tea house district and samurai district are Kanazawa's gatekeepers to tradition. Beautiful wooden frame houses have been transformed into shops that sell traditional handicrafts and other cultural goodies. You can also sign up for craft making classing or tea ceremonies for that dose of cultural experience.
Take a day trip to Takayama for more historical architecture! I love walking down the narrow streets and feeling the nostalgic vibe. A must on your three weeks in Japan.
Shirakawago is another postcard-landmark – a mountain village known for its clasped palms' thatched roofs. It's absolutely stunning in the winter, like a world of its own.
I haven't gone there personally, but Kaga Onsen Village is a hot-spring getaway guaranteed to rejuvenate!
OSAKA: Day 8 – 11
Osaka, while developed like Tokyo, is a lot more laidback and friendly. Enjoy the mix of historical attractions and plenty of indulgent eating. I love Osaka and have quite a few dedicated blog posts on it – see the links below.
Osaka is a definite must on any Japan 3 week itinerary.
Day 8: Osaka Castle, Museums and the Dotonbori
Start your Osaka leg at Osaka Castle, the center-piece of Osaka's history. Once the base of imperial rule (under the Tokugawa clan), the remaining structures include walled defenses, a moat, citadels and a beautiful main building.
To enrich this tour experience, continue onto the Osaka Museum of History for a more detailed lesson! It's fascinating to hear and read about the city's transformation.
I've always enjoyed more interactive historical displays, which is why the Osaka Museum of Housing and Living caught my eye. It doesn't just tell you how the streets and districts developed; there are actual street replicas and costumes so you can step back in time!
Foodie or not, Dotonbori is your next destination. Blocks of covered streets are dedicated to authentic Osakan cuisine – from Takoyaki to okonomiyaki to ramen stalls and wester-styled cafés. You can spend hours eating here.
Walk off your food baby with kilometers-long Shinsaibashi. This shopping street is nothing you've experienced before. Independent boutiques, thrift stores, small eateries, budget and branded buys line the covered walkways. You can shop the newest trends at reasonable prices; maybe even buy an extra suitcase for your purchases.
To round off your day, pamper yourself at Spa World. Alongside themed hot spring pools are deep massage and skin treatments. You deserve some relaxation on your 3 weeks in Japan.
Day 9: Umeda, Shinseki & a River Cruise
If you're still experiencing shopping fever, wake up with a visit to Umeda. I like to call it the "hub of all hubs" because of how all the train lines pass through the station. Another reason is because it is a mecca of shopping malls. Yodobashi Camera is your go-to for electronics and home goods; EST, Lucua and Umeda station's underground shopping streets are best for street wear. You may also want to hit up Umeda Sky Building for its gorgeous and unusual garden observatory.
Alternatively, Nipponbashi Denden Town is the retro persona of Osaka. Hunt down geeky merch like limited edition models and posters, or buy cheap gadgets to bring home.
Colorful, neon-striped Shinsekai is just next door so walk over to check out its futuristic vibes. Tsutenkaku Tower, while not modern by any means, was a pop cultural hit back in the 1900s because it captured what a technological future looked like those days.
For lunch or an afternoon treat, you'll want to be at Kuromon Market. This specialty market has been around for generations, composed of narrow walkways lined with stalls. They specialise in traditional sweets, skewers and seafood so you definitely won't be going hungry! You can also pick up some souvenirs for people back home. There's some great Japanese food to try here.
Given enough time, make your way to one of Japan's oldest shrines: Sumiyoshi Taisha. Built in the 3rd century, it shows off an elegant and unusual architecture – straight roofs, forked finials and bright red everything. Within the estate is the beautifully arched Sorihashi Bridge; it's the setting of a legend or two.
End your day with an Osaka River Cruise. What's better than a light drink and nibbling on snacks as you drift past brightly illuminated landmarks?
Day 10: Universal Studios and Osaka Aquarium
Universal Studios Japan is awesome!
This full-day itinerary will bring you around rides like Space Mountain and Backdraft to the exciting Harry Potter World. Hogsmeade appears in the flesh so you can buy your wand and a butterbeer to celebrate. Then you're welcome to head up to Hogwarts for a thrilling Hippogriff ride.
Keep in mind when you're planning a Japan trip that the new Nintendo World has just opened here too!
If you finish early, Osaka Aquarium is just a bridge away. Explore more worlds, this time underwater, or take a spin on the Tempozan Giant Ferris Wheel.
You can find out all the other day trips from Osaka in this blog post. And see how to have an amazing 24 hours in Osaka too, if you want it all timed.
Day 11: Visit Kobe
Aside from Tokyo, Osaka is another great base for people who like day trips.
Kyoto, Kobe and Nara are all within train's reach – in fact, Kobe can be reached in approximately half an hour. Take the Hankyu line to this port city for a fascinating, hilly day of exploration. Some things to see and do on your three weeks in Japan include:
Climbing up Mount Rokko for both reviews and hilltop restaurants.
Climbing to the top of Akashi-Kaikyo Bridge.
Or, admiring panoramic city views from Kobe Port Tower.
Scouring Kobe Harborland for prime entertainment and shopping.
Eating out at the historic Chinese hub of Nankin-machi.
Visiting Kobe Nunobiki Herb Gardens for a dash of nature.
I spent an awesome day in Kobe, and one of the best things I did there was to eat KOBE BEEF at the Kobe Meriken Park Hotel. Honestly, if you have the money, it's an absolute taste sensation you'll never be able to replicate.
Just watch this video…
---
KYOTO: Day 12 – 14
One of the most culturally rich cities in the world, Kyoto is a must on any 3 week itinerary for Japan. You can taste its history (literally – thanks to the multitude of traditional eateries) and spend hours unravelling the stories behind its gorgeous architectures.
Day 12: Just eat and drink your way round
Arrive in Kyoto via Hanku Express train; it's less than an hour away from Osaka for your convenience! The Ramen Street above Kyoto JR Station is worth a visit. It features ramen from all corners of Japan, from butter-based broth to rich pork bone soup.
Make Teramachi Shopping Arcade and Nishiki Market your first downtown stops. The former is another covered shopping street with cute small shops and unique animal cafés. A few twists and turns later, you'll find yourself at the latter – seafood restaurants call in customers while housewives shop for new kitchen tools.
Meander your way towards your first sample of Kyoto tradition at Gion district. Geishas, traditional Japanese performers and entertainers, still live within these cobble-stone streets. Brick and wood make up the shell of traditional restaurants, and a great backdrop for photos. In fact, I actually dressed up as a Geisha while I was there, and walked around. It was fun, but a tad weird by myself. The area is particularly atmospheric during sunset and evening, so make it here in time for dinner.
Day 13: all the Kyoto temples and shrines!
You're free to visit as many temples and shrines as you can on your day in Kyoto, but I definitely recommend these legendary names:
Kiyomizu-dera Temple for its gentle, uphill trinkets street and elevated pagoda. Pray for love and success while dressed in a kimono for photoshoot purposes!
Kinkakuji, a Buddhist temple known for its gold-leaf covered building and surrounding rock garden.
Ginkakuji, another famous temple that features a serene strolling garden and "silver" pagoda.
Fushimi Inari-taisha Shrine for its fall aesthetics. A long, riveting train of vermillion torii gates trail up into the mountains for breath-taking views.
There are lots of great day trips from Kyoto to consider for your 3 weeks in Japan too.
Day 14: Arashiyama
Set off for Arashiyama, a beautiful space just beyond the borders of central Kyoto. Togetsu-kyo Bridge acts like a portal into this "island"-like neighborhood, complete with its own set of temples. Some must-sees include:
Bamboo Groove and its people-pulled carts.
Tenryuji Temple for its dramatic dragon statues.
Kameyama-koen Park is a great respite away from the crowds.
Okochi-Sanso Villa for more outstanding mountain views and pleasant tea spot.
Katsura Rikyu Imperial Villa for its historical worth and natural surroundings.
Gioji Temple for those who haven't had enough of temples yet.
Check out these facts about Japan to give you more background and context to your trip. Number 8 is a bit of a shocker, and number 9 actually!
HIROSHIMA & MIYAJIMA: Day 15 – 17
History isn't all about beauty – sometimes we have to be reminded of the tragedy too when you're planning a Japan trip. Take a trip to Hiroshima to learn about Japan's wartime losses. To lift your spirits, follow up with a few hours at Miyajima.
Hiroshima is always a popular choice for anyone visiting Japan for 3 weeks.
Day 15: Hiroshima Peace Museum
Instead of the usual train ride, consider taking a bus into Hiroshima so you get a glimpse of Japan's green countryside.
Hiroshima Peace Museum & Park is an essential Japan itinerary item, if only so that we pay proper respects for those lost to war. It was built in commemoration of those who died during the bombing of Hiroshima in WWII. While its exhibitions can be unsettling, the museum is an important memorial and an even more important lesson about peace.
For more historical relics, visit the A-bomb Dome.
I recommend taking it slow in the afternoon, perhaps going to a bathhouse and soaking away the grimness of the morning.
Day 16: Miyajima & Momijidani Park
Dedicate a day on your Japan 3 week itinerary to the beauty of tradition after your emotionally gruelling day yesterday! Itsukushima Island, or Miyajima, is home to the vibrant Itsukushima Shrine. Take a ferry over and look for its giant floating torii gate – get your cameras ready. If you're lucky, you might even witness a traditional Japanese wedding.
Once you're done asking for blessings and drawing your fortune, Momijidani Park, which is right below Mount Misen, is another unmissable sight. Over 200 maples cover the valley park, making for a stunning watercolour of fall.
Next, hit up the Mount Misen Walking Trails. This slow, winding walk is best enjoyed at your own pace. There's no hurry to reach the peak; the views will wait for you. If walking isn't for you, take the cable car up top.
Day 17: Hiroshima Castle
More history awaits at Hiroshima Castle. Like most Japanese castles, it comes with a defensive moat and citadels around the corners. Explore the quaint estate and its attached museum to learn more about the city.
Before you leave Hiroshima, drop by Shukkeien garden for its unique ponds and bridges. There's a traditional tea room inside so you can sit and appreciate the views. It's especially beautiful during cherry blossom period.
If you have time to spare, quickly scour through the adjacent Art Museum.
Set off for Kyushu to complete your Japan 3 week itinerary!
KYUSHU: Day 18 – 21
Like Kanazawa, Kyushu is a free-for-all. Located at the southwestern-most part of Japan's main islands, it's known for its natural attractions and historical cities. In fact, you'll find active volcanoes, natural hot springs, interesting museums and cozy towns.
Fukuoka is the main city of Kyushu, home to one of the largest shopping complexes in Japan: Canal City. Had enough of shopping? I suggest visiting the spiritual and quiet spaces like Dazaifu Tenmangu, Kushida Shrine and waterside Ohori Park. You can also take a ferry to Nokonoshima Island, where its sprawling park takes two to three hours to cover!
Hike up Sakurajima or Mount Aso, both active volcanoes with stunning terrain. If you want an active adventure for your 3 weeks in Japan, then give this a go.
Beppu is a coveted hot springs town – you can bask in hot springs from dawn to dusk.
For something unexpected, Huis Ten Bosch is a theme park which replicates a Dutch town. Definitely not something you'd expect to see!
To round off the list with something mystical, I present Kinrin Lake – shiver through the morning mists as you stroll around its perimeter.
More places to visit in Japan
Hope you've enjoyed this 3 week itinerary for Japan. If you have even more time in Japan, or want to swap out some of the fun Japan activities I've suggested, then here are a few more ideas for you.
How about staying at a temple in Koyasan? Or the Rainbow Park Summit in Fukui is one of the most impressive things I've ever seen in Japan. There are lots of fun things to do in Shiga, around Lake Biwa too.
Seriously, you can have a lot of fun in Japan in 3 weeks, and I hope you do!
---
PIN THIS 3 WEEK ITINERARY for JAPAN FOR LATER