A few years ago my family decided to do something different, and spent Christmas in Tenerife. We had a great time, and a real Christmas to remember. If you want to do the same, here's what to expect…
The five of us – me, mum, dad, my brother and sister in law – flew out to Tenerife South Airport for a sunny Christmas in Tenerife filled with family and fun, but none of the bad weather and 'will it snow?' of England.
We packed up our presents, our Christmas Day games, and festive attitudes and flew off to the island.
We had a great time.
Apart from a minor problem with the flight (see below) all went wonderfully, even with Ryanair. Flying at Christmas can be notoriously difficult though.
If you have any troubles then Flightright's Ryanair delays compensation can help you to get refunds for delayed or cancelled flights, whether it's the airports' fault or the airline. Flyers now have more protection than ever before and Flightright will help you to ensure you get what you pay for.

The Berlin-based startup specialises in tourist rights for flights from and to European countries.
The apartment we rented in Radazul had a balcony and so we spent a lot of time on that, looking out to sea. We had three bedrooms and a decent kitchen and lounge too. Of course we went out to explore but it was nice having the shared social space of an apartment too.
If you're thinking of spending Christmas in Tenerife I'd definitely recommend it, and I hope this advice helps you to plan your trip.
Let's start with the most important thing in Tenerife at Christmas shall we?
Where to eat on Christmas Day in Tenerife?
We had our Tenerife Christmas Day Lunch at Pearly Grey, which my brother had found online. I'm all for trying out the local cuisine but we wanted a traditional Christmas Day lunch for 25th December.
It was one of the few Tenerife restaurants open on Christmas Day, and even fewer offering a traditional lunch.
When we arrived we were a bit confused that it was in a hotel, with half naked people sunbathing all over the place. We'd all dressed up in our festive best. We had a cocktail on the boiling hot terrace looking out to sea, and then were beckoned on in.
The restaurant was lovely, and the food fantastic. There was such a nice atmosphere in there, and the experience really made our day. We had three courses with wine and Champers.
Only trouble was, it was on the other side of the island to Radazul, in the famous Playa de las Americas. Fine by me, but poor dad couldn't drink. He made up for it when we got back though, don't worry.
Where to stay in Tenerife for Christmas
We decided to stay in Radazul for our Christmas Tenerife trip. A few reasons – the main one being we didn't want to be in British Christmas Central: the aforementioned Playa de las Americas, and the second, we'd found a great apartment.
If you stay in Playa de las Americas, you will have more facilities open at Christmas. But, seek out somewhere else, and you'll have more of an authentic feel, and the calm that comes from staying out of the most touristed part of Tenerife.
Our apartment was in one of those blocks, looking out to sea.
Visiting Santa Cruz at Christmas
Santa Cruz de Tenerife is the capital of Tenerife, and so of course we headed on in to see what was going on for Christmas. We found a few markets – mum bought a musical, dancing tree which seemed to bring her hours of joy. Or at least, an hour. Bet she's still got it somewhere.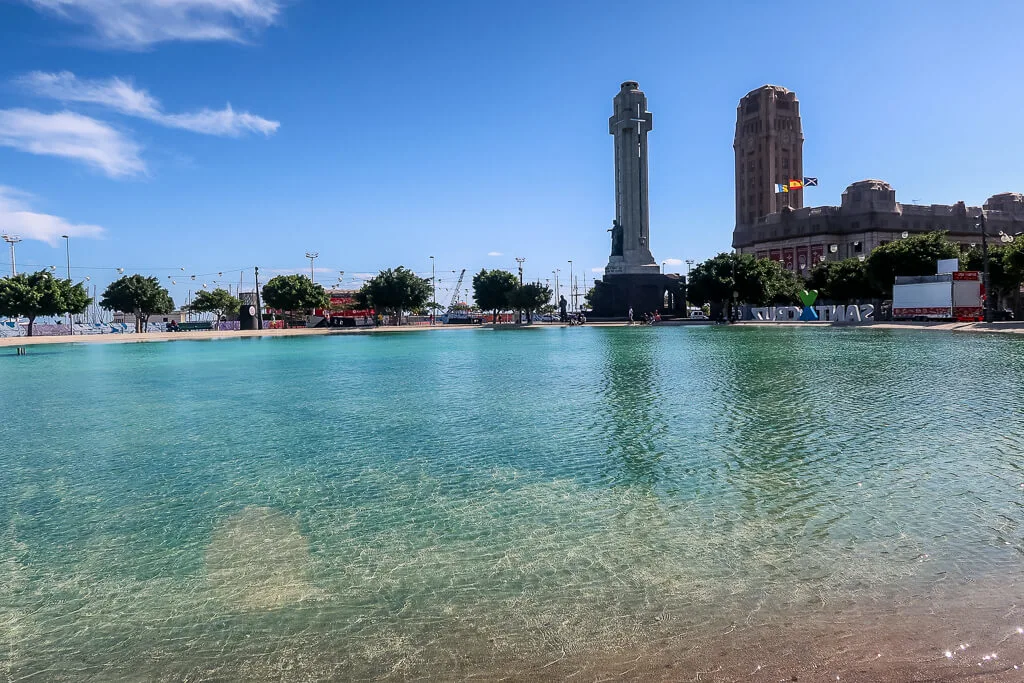 We also found a nice area by the water for a drink, with a beautiful Christmas market lined with lovely things I wanted to buy. It was row after row of delicacy food and handcrafts.
As for the rest of SANTA Cruz, we found shops, a few good places to eat, and a festival city centre with a lit up Christmas Market that we seemed to have just missed.
If you need to pick up some last-minute presents in Tenerife, then Santa Cruz is a good place for shopping. Especially seeing as there's a Marks & Spencers, perfect place to pick up your Christmas Pud!
Other things to do at Christmas in Tenerife
Drive up Mount Teide
This is the biggest mountain in Tenerife, actually, a volcano, and where, if anywhere, you're going to see snow. We tried to drive up, but mum was terrified of the 'sheer drops' (mountain roads), and it was taking a long time and we weren't even half way. And it was getting dark.
If you want to drive Mount Teide, then I'd suggest you go for it in the morning, and be prepared. There's a National Park up here, so if you're into your hiking, this is the one. You could book this stargazing experience to make your trip up Mount Teide really special…
Check out a free concert
We were too busy playing Charades in our apartment, but if you want something different and oh-so-Tenerife to do on Christmas Day, then head to Santa Cruz.
The traditional Concierto de Navidad (Christmas Concert) is put on by the Tenerife Symphony Orchestra at 9pm down by the harbour. And it all ends in a firework display – ooooOOOooooo.
---
Fancy doing my WORLD CHRISTMAS QUIZ?
---
Take a boat trip
There are boat companies and charters advertising trips to see whales and dolphins out at sea. I mean, that'd be a cool way to spend your Christmas Day this year, wouldn't it?
Go to La Laguna
La Laguna is the former capital of Tenerife, and is now a UNESCO World Heritage Site. Visit here for a few hours to see the difference between modern and old in Tenerife.
Weather in Tenerife at Christmas
It was never really 'sunbathing' weather for us. It was hot, on the balcony, really hot, but too breezy to be hot enough on the beach for sunbathing. I had to buy a jumper in Santa Cruz one day as I'd totally under packed. It was warm enough to walk around with a tshirt and jeans, but there was definitely a breeze on the coast.
I'd say it was around 23C in the day.
The hottest I was in Tenerife was drinking my cocktail waiting for my Christmas dinner on Christmas Day.
Costs of Christmas in Tenerife
This was our Tenerife Christmas 2017 spending budget.
CAR HIRE: We paid £210 for the car hire between the 5 of us. Seat Altea, 5 doors with boot space.
So, £38 each. Plus petrol on top of that.
ACCOMMODATION: And we paid €1030 for the three bedroom flat for 6 nights.
So, €206 each. Plus a deposit, which obviously being the fine, outstanding citizens that we are, we got back.
FLIGHTS: My flight from Manchester to Tenerife was £200, with no luggage or seating, with the almighty / dreaded Ryanair.
So, £200 each. My parents paid extra for legroom and cases for them. It was a year of giving 'experiences' for presents that year!
SPENDS: I'm afraid I have no idea how much I spent, but with the balcony we had we did have quite a few meals at home. That saved a bit. Also, we didn't really go out in the evening. In Radazul there wasn't much to do. And with the 5 of us, we had everything we needed at home.
Awww, isn't that nice.
Flying to Tenerife at Christmas
Just a warning about the flying to Tenerife at Christmas.
My dad booked extra leg room at the front of the Ryanair flight.
BIG MISTAKE.
We flew on the 22nd December (to the 28th), which meant a lot of stereotypical Brits drinking as much as possible to celebrate the season. There was a constant queue of Brits waiting for the toilet, pushing into dad who was on row 1, but seat C, and just generally being loud and annoying. If you're gonna splash out on front row seating, make sure to get in A, B, E, F. Don't get the aisle seat!
Mum and I were perfectly fine sat back with everyone else, drinking our Ryanair Proseccohoho.
How to book this Christmas in Tenerife
Our apartment has been taken off homeaway.co.uk (which I much prefer to AirBnB) which is sad, as I wanted to write about it. But just so you know what we got for 1030 euros.
You can check out the apartments in Tenerife on Booking.com, or AirBnb or Homeaway.
For our €1030 we had 223 m2, with 3 bedrooms, 2 bathrooms and an independent toilet. We were 100 metres from a pool, which we didn't actually use. We had Wi-Fi, a TV, a fridge, a freezer, oven, microwave, electric coffee maker and washing machine. We also had a 45 m2 terrace with table and chairs. We were right by the beach, with a few restaurants, bars, shops, a pharmacy and a bank. It was a lovely place to stay.
Christmas in Tenerife
My Christmas in Tenerife was my first experience of spending Christmas away from home. I've spent every, single, one in the Midlands, in England, at my parents house.
I really enjoyed it. The flight was easy, car hire was great, and Tenerife was lovely. I loved having my Christmas breakfast on the balcony in the sun. I'd absolutely, definitely recommend a Christmas in the Canaries one day. It's one of the top winter sun destinations.
Just let me know if you have any questions about our trip. I love talking about Tenerife at Christmas!
---
Pin Christmas in Tenerife for later
---
More on travelling at Christmas
45 Christmas Gifts for Bloggers
Christmas by the River Market, London Bridge