I spent six days on Gili T, or Gili Trawangan to give it its full name. The beautiful paradise island attracts party people, scuba dubas and snorkel lovers as that's pretty much all there is to do there. I like to think that despite my injury, I made a good effort at doing all the cool things to do on Gili T and would like to share my new found knowledge with all my beautiful readers.
I can't lie, or pretend to be cultured, the week has consisted of too many Bintang beers, sitting on the beach or in bars, food at the night market and drinking games that only ended to go to the clubs.
Gili T is pretty cheap, but the trouble for me was that it was so cheap I consumed more, totally cancelling out the cheapness. Standard behaviour. I spent around £200 for the week, accommodation, beer money, food and all. Here's how…
Cool Things to Do on Gili Trawangan
Read on to find out the best Gili Trawangan things to do, including where to stay, what to eat, where to party and what to drink.
Enjoy this Gili T travel guide.
---
1. Stay at La Boheme Hostel
La Boheme absolutely deserves its place on this best things to do in Gili T list. It's thanks to this hostel that I had as an incredible time on the island as I did. As soon as I checked in I met some cool people, and we stuck together for the few days I was there.
I had some great sleeps here, thanks to the rooms being so dark, and there was plenty of social space for meeting new people. It was only a short walk to the boats and the main strip, and the staff were awesome too.
Also, free pancakes.
La Boheme was one of my favourite hostel experiences of ALL TIME. Stay here!
HOSTEL: Check out the latest prices for La Boheme on Gili T here
2. Go scuba diving
Don't stress about finding the best price for scuba diving
If you want to go scuba diving on Gili T, there's a cap of $35 for everyone. Just chat to people and go with one you like.
3. Day trip to Gili Meno or Gili Air
Gili Meno and Gili Air are so close and easy to get to from Gili T, you'd be mad not to.
You can do the booze cruise below, or just chat with the local fishermen to take you over. The other islands are more peaceful if Gili T gets too much for you!
4. Do yoga at the Yoga Palace
You get a discount if you stay at La Boheme as it's just opposite. I loved doing yoga here – it was one of my favourite things to do on Gili T – as it balanced out the boozey week.
EDIT: This has now shut down. Sad times. There are quite a few other yoga places on Gili T though, just ask around and look out for signage. Namaste.
5. Go snorkelling
The Gili T snorkelling trip that's advertised everywhere on the island is actually pretty shit as you don't see much and you're packed onto a boat. I'd actually still recommend it though as it's cool to get out on the water and dive in from the sides. There's some amazing marine life here.
Also great fun and a good opportunity to meet people too.
6. Drink at Sama Sama Reggae Bar
Watch out for the steps though.
Don't stub your toe worse than you've ever stubbed it before at Sama Sama Reggae Bar, like I did. Meant I couldn't do anything but drink and eat for the week. Terrible.
The front of my toe was falling off and if I'd been in England I would've gone to A&E. I just drank through the pain though – gutted that it meant I couldn't put a flipper on to go scuba diving.
Honestly, it was so painful my toe was throbbing for days. Especially grim when I had to wash the sand out of it at the end of the night with a high power hose.
Sama Sama Reggae Bar is really cool though.
7. Don't pay to get on the daily boat party
Find the right people at night by this bar and you can get a band to get in free. Probably only works for the ladies TBH.
---
Where is Gili T?
The Gili Islands are made up of three islands off the coast of Bali and Lombok in Indonesia. There's Gili Trawangan, Gili Meno and Gili Air. I spent all six nights on Gili Trawangan, affectionately known as Gili T. On day four I decided to take the boat over to Gili Meno – a paradise island more popular with honeymooners than party people. It was stunning.
I just lay about reading The Bell Jar for the second time and eating my new favourite lunch, Nasi Goreng – spicy rice with egg on top and prawn crackers on the side.
To get around Gili T you can either walk, like I did, or use one of the horse and carts. There are no cars on the island so the only traffic sounds you can hear are the horn of the guys in the cart. These are pretty scary when you're walking round at night though – the horses suddenly appear eerily in the distance. Reminded me of the Woman in Black film.
---
8. Eat huge burgers at La Petit Grill
Or the falafel, or the veggie curry, or the Nasi Goreng, it's all good.
La Petit Grill also has happy hour between 6 and 8 and you can get cheapo beers and cocktails with tapas.
As you'll have noticed, one of the main things to do on Gili T beside getting in the water is to sit around and eat and drink. Nothing wrong with that!
9. Hang out at the treehouse at Kuta Bar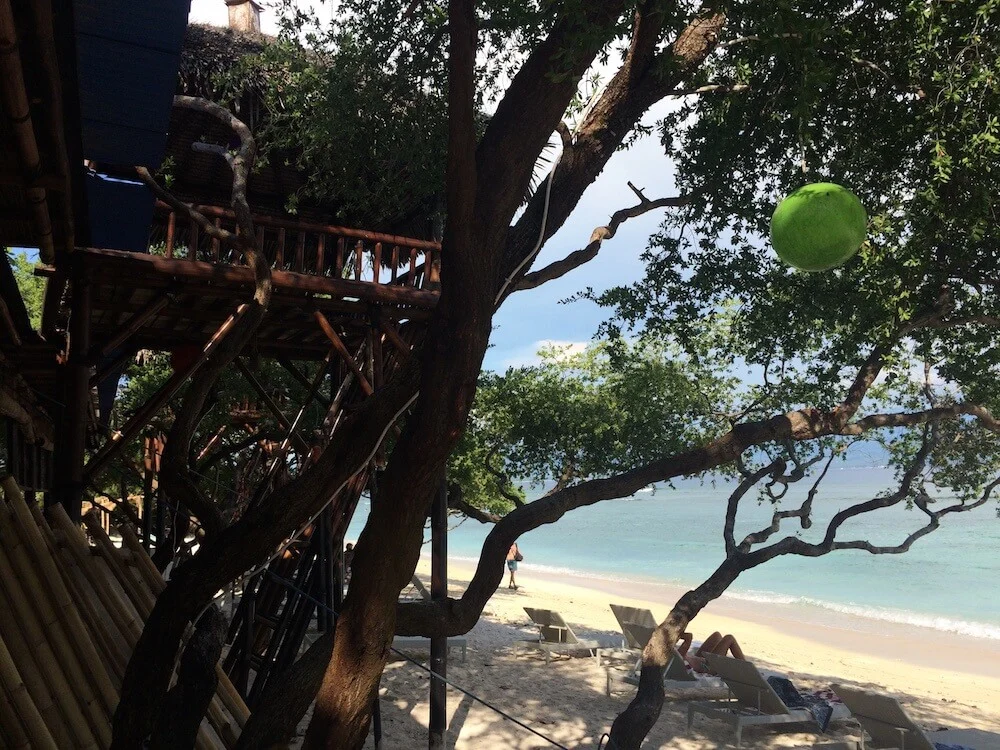 Oh I LOVED this treehouse. Such a cool space if you can get some of your La Boheme friends together. We had some shroom shakes (totally legal on Gili T) and just chilled up there for the evening.
Trippy!
If you're wondering what to do in Gili Trawangan – get high! Up the tree I mean…
10. Watch the nightly turtle show at the Lombok Grill
I didn't actually get to do this but apparently the turtles all come up as the sun sets and you can see them from the restaurant. It's one of the most popular Gili T activities, especially for loved up couples on Gili Trawangan.
11. Rent a cycle and explore the island
The ones that charge 30k probably don't have brakes so you might be better off paying 50k. I did and had a lovely day by myself exploring the whole island.
Great if you want to get more perspective on Gili Trawangan than just the bars and the bottom of the ocean.
I randomly saw this reggae band having a photoshoot. Thought you'd like to see the photo.

12. Chill out in the day at The Surf Bar
They were playing Tracy Chapman when I went. Loved it.
Just, chill.
13. Go there at sunset too
We played Frisbee as the sun went down and they pumped out some minimal techno tunes. In those minutes life was brilliant, even more so than usual.
I was so happy here.
14. Find the nightly party
There are loads of clubs but every night there will be one particular one that holds the party. It will be crazy.
One of the best nights on Gili T was spent in a treehouse overlooking the beach at Kuta Bar. The six of us from the hostel had a few beers on the go and ended up chilling in there for over 7 hours just watching the sun set and playing games.
Some nights were spent drinking the hostel and others at the ridiculous amount of bars and clubs that line the beach at the front of the island.
15. Eat desserts at the night market
The night market on Gili T is amazing, and open every night. There's so much to see and eat, and it's all so tasty too. Look for the queues to find the best food on Gili T.
Us three girls agreed the donuts were some of the best we'd ever tasted.
16. And get some fresh fish or meat
You can pick what you want and then it's all cooked to order. Choose it raw and they'll give you a shout when it's ready.
Can't get much fresher than that!
17. Enjoy the nightly cinema at Villa Ombak

Villa Ombak is one of the swankiest places to stay on Gili T.
This cinema is one of the most popular things to do on Gili T pre-drinking time. Just remember to load up on bug repellant first. They're worst when the sun goes down.
18. Drink from a coconut from the stall at the top of the island
Didn't quite catch the name, but that's all the fun of your trip to Gili T – discovery.
Sup on a coconut from here and not only will you really feel like you're on a desert island, it's also good for you.
Great to match this up with your Gili T bike ride.
19. Go shopping
Spend all your spare money on jewellery, or bikinis, or I heart GT tshirts you'll never wear again. There are actually some really nice shops on Gili T – go and have a look around and support local businesses!
20. Just relax
There's virtually no crime on Gili T and if anything goes wrong the facts are brought to the village head who decides the punishment.
Check out this tourist mug who was forced to do the Walk of Shame on Gili T after robbing another tourist last week.
21. Chill and read
Sit on the beach bean bags lining the beach and read a book – buy a drink and you can stay all day. Heaven is yours!
22. Eat at Kayu Café
I had a delicious halloumi and quinoa salad with a smoothie at Kayu Cafe on Gili T – definitely recommend.
Perfect for lessening the guilt of all the huge Bintangs I was drinking.
23. Watch the sun set at Exile Bar
What to do in Gili Trawangan? Enjoy those sunsets!
I had fish fingers at Exile Bar, with a cold beer – they were huge and delicious. I'd love for you to experience the same joy I did.

24. Jiggy Boat Party
The Jiggy Boat Party is one of the top things to do on Gili T. It's a #BoobsCruise – if that's your thing. That's the kind of vibe we're dealing with here.
It's a 5-hour boat party around the Gili islands. Setting sail at 2pm you'll get free shots, the chance to party into the sunset, and Indonesia's best DJs too. Prices for Jiggy's Boat Party start at around $30.
25. Go in a glass bottom boat
If you're on Gili T you don't have to join a scuba or snorkel trip to see underwater, find a glass bottom boat to go in and you can still see under the ocean.
A great way to experience underwater Gili without getting too wet!
26. Gili Trawangan view point
One of the most unique things to do on Gili T, is to watch the fantastic sunsets. It's hard to imagine better ones, well, they were pretty sweet in Bali too. But anyway…
The highest point on Gili T to watch them from is the popular viewpoint in the south of the island. From here you can see Lombok and Mount Rinjani, and Bali with Mount Agung.
27. Get a Tattoo
There are a few places offering tattoos on Gili T, one with bamboo. Think carefully before you commit to a tattoo. This is one of the very few things to do on Gili T I haven't done.
28. Take a cooking class
There are a few cooking schools on Gili T for you to get involved in. Why not learn a new skill and recipe to take make to your mates at home. Nasi Goreng will always impress!
29. Walk around Gili T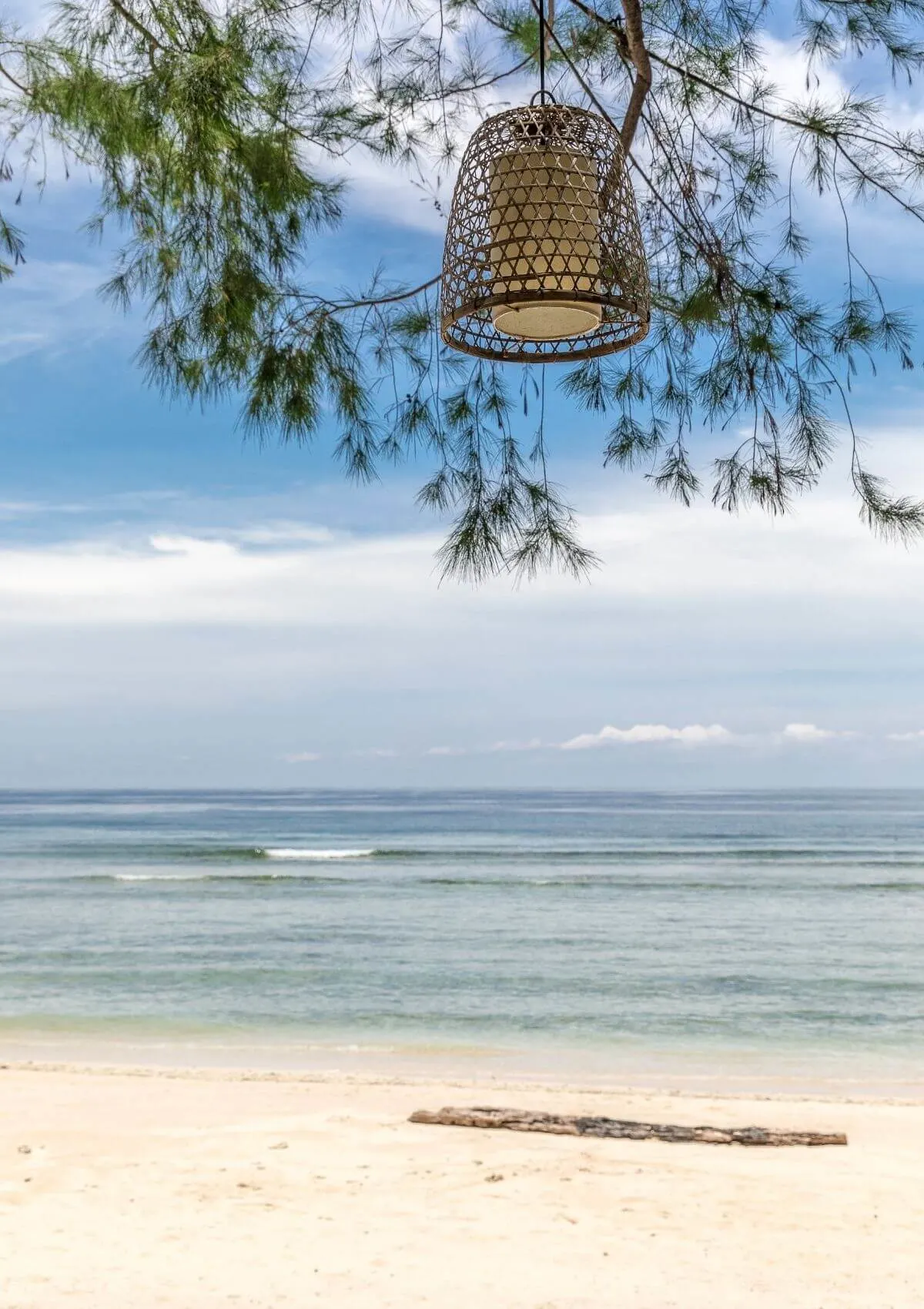 This wouldn't be a great things to do in Gili Trawangan blog without just saying the obvious – take the time to soak up what you're seeing.
Walk round Gili T, take some pics (respectfully), and just enjoy being on the island. One of the best Gili Trawangan activities is to just do nothing.
---
How to Get From Gili T to Gili Meno
Gili T is an awesome party island, as I've said, but if you're over that way I'd strongly recommend you go to Gili Meno too. Getting from Gili T to Gili Meno is easy.
Here's your complete guide on how to get from Gili T to Gili Meno. The prices may have gone up a little though…
The easiest and most popular way to get to Gili Meno from Gili T is to walk down to the harbour, to the white building next to the fruit shop, and buy a ticket. The Gili Island Hopping ticket is 35k one way (£1.81) and 70k return. Any maths minds out there will see there is no saving. But if like me you manage to lose the return ticket on Meno, you get to pay 105 instead.
The journey from Gili T to Gili Meno takes around 30 minutes and you'll be rewarded for your efforts with views like this…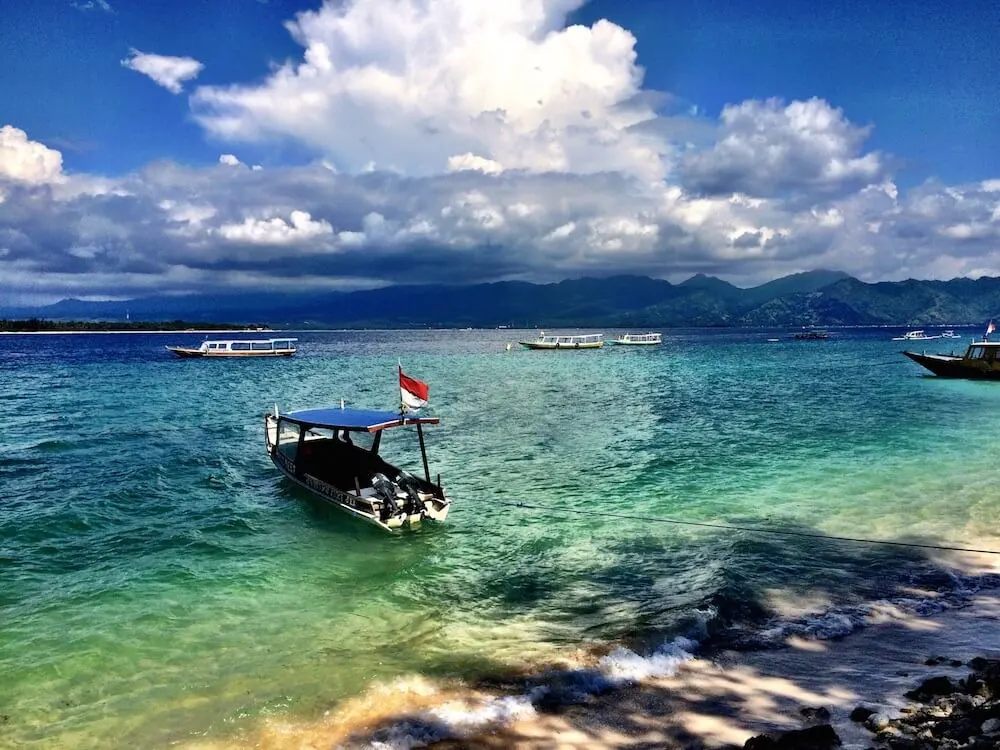 The Gili Meno to Gili T island hopping boat also goes to Gili Air afterwards.
You can bring all your luggage on the boat to stay on the island, or you could just go as a day tripper, like I did. It leaves at 9:30am and comes back at 3:20pm – the perfect amount of time to get a feel for Gili Meno.
Gili T is an awesome party island, as I've said, but if you're over that way I'd strongly recommend you go to Gili Meno too. Getting from Gili T to Gili Meno is easy.
Things to do on Gili Meno
Not much!
And that's the beauty.
I walked round the circumference which took an hour. Then I saw a man collecting flip flops off the beach so decided to help with the clean up. Then I sat in a hut on the beach for a few hours reading and eating Nasi Goreng. There were some good waves and I saw a few dive shops too but the whole point of Gili Meno is to relax, take in the beautiful paradise surroundings and chill out. I'm getting real good at that.
Getting back to Gili T from Gili Meno
I was at the harbour where I was dropped off at 3pm. Just enough time for an ice lolly to lick while I was waiting. The boat was dead on time at 3:20pm and it took about 20 minutes to get back to Gili T.
Easy and as you can see from the photos, well worth it!
Visiting Gili T
With the lack of decent Wi-Fi, cool people and basic living it reminded me a little of my Tao Sailing Experience in the Philippines, although I don't think anything will ever be quite the same.
After six days I decided it was time to move on from Gili T, and Lombok was calling. I got an apartment there with the team I met at La Boheme restaurant.
Just 12k for the boat (70p) and a quick motorbike ride and here I am to spend the last few days of my Indonesia jaunt chasing waterfalls and hopefully hiking volcanoes.
Things to do on Gili T
I had a brilliant week exploring all the cool things to do on Gili T and was sad to leave but excited to get away from all the delicious temptations the island offers.
If you're ever in Indonesia or travelling South East Asia I'd definitely recommend adding it to your list of things to see and do.
Has this made you want to go to the Gilis?
---