Nha Trang is totally overshadowed by Hanoi and Ho Chi Minh, but put the name in Google, browse the images and you'll quickly realise you've been missing out. There are loads of great things to do in Nha Trang – I've been twice.
Looking at the coastal town with its turquoise waters, it's an easy sell to spend a few days here doing nothing but chilling. However, the area has loads of cool things to do in Nha Trang. The southern city has a great mix of spas, scenery and seaside activities, complete with a little injection of that Asian randomness you always seem to get (ahem, water puppets) in Vietnam.
Here are just some of the many things you can do to in Nha Trang to make the most of a trip there.
52 Coolest Things to Do in Nha Trang
1. Freshen up with a dip in an egg mud bath on the mountainside.
2. Enjoy your eggs on the inside with every eggy concoction you can think of at The 100 Egg Restaurant.
3. Opt for a more traditional spa and get all the healing ju-ju at Thap Ba Hot Springs Centre.
4. Visit the big white buddha at the Long Son Pagoda.
5. Barter your way through Thanh Market.
6. But save enough of the budget for a visit to local handicrafts villages.
7. Pop by the Gothic Revival Style Nha Trang Cathedral.
8. Work up a sweat with a trek to the top of Hon Ba Mountain.
---
Here's the best two-week Vietnam itinerary on the internet, promise.
---
9. Cool off with a jump in the Ba Ho Waterfall, after walking the 17 miles to get there.
10. Tick off the weird and wonderful with a visit to the Nha Trang Water Puppet Theatre.
11. Take a dip or enjoy a cocktail at the Oasis happy hour.
12. Take at least one trip in a pedicab – a tuk tuk.
13. Test out your Quentin Tarantino knowledge at the Tarantino bar. I randomly stumbled on this one night and it's so cool.
14. Fuel up with breakfast at the Dam Market so you can go full throttle on the retail therapy.
15. Head south to visit the floating fishing villages.
16. Take it easy for a day on Nha Trang Beach – beautiful sands.
17. Embrace the mad scientist within on a visit to the Alexandre Yersin Museum.
---
READ MORE:
My Cycle from Hanoi to Ho Chi Minh City: 700km
---
18. Spend a night socialising at the ultimate backpacker bar, Why Not?
19. If you've not had your fill of all things egg, make sure to try an egg sandwich from a street vendor. I honestly had the best egg sandwich I've ever had in my life in Nha Trang – not entirely sure what they did to it.
20. Knock some out of the park at one of the many golf resorts.
21. Have a smoothie at the Sailing Club on the seafront.
22. Take to the water on Mamma Linh's party boat.
23. Explore the surrounding areas on two wheels with an off-road motorbiking excursion.
24. Catch the sunset at Ha Van "A" Rooftop Lounge.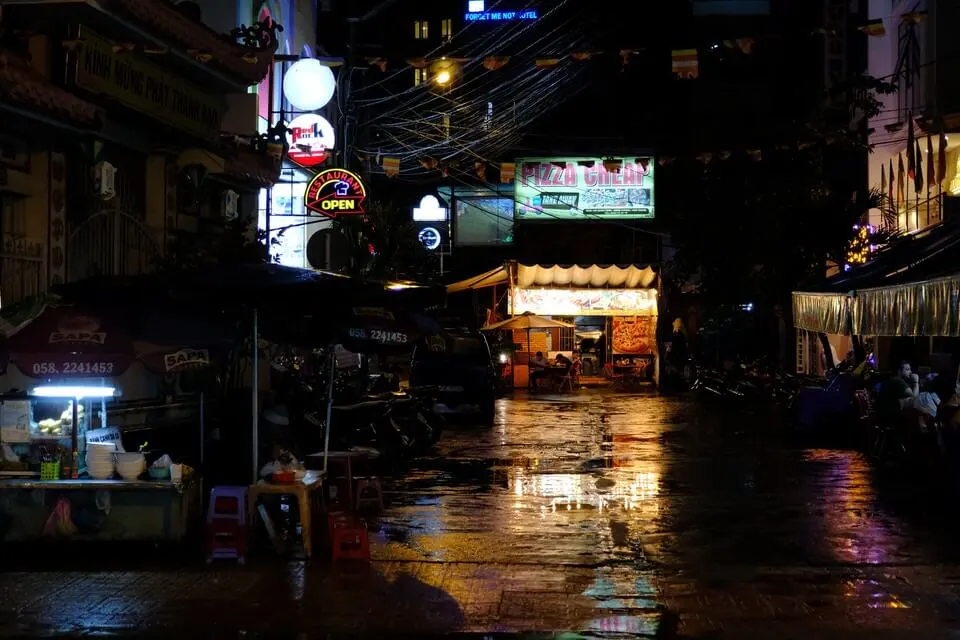 25. Go ape with a visit to the furry friends of Monkey Island.
26. Feel flush when you rent your own speed boat for the day.
27. Sprinkle on some dust and head to Fairy Spring Waterfalls for a swim in the pools.
28. Combine history with architecture on a trip to the Po Nagar Cham Towers.
29. Work those arms with a kayak down the Cai River.
30. Enjoy a cool one with a tour of the Louisiane Brewhouse.
31. Decide you're never leaving after indulging on a street food tour.
32. Let the full belly go down before getting yourself a tailored outfit at Hoang Yen Tailor.
33. Island hop to some of the paradise islets around Nha Trang.
34. Explore underwater life at the National Oceanographic Museum.
35. Pick up some culinary skills with a cooking class.
36. Rise and shine in time to see the fish port in full swing.
37. Love all the black and white photography at the Long Thanh Gallery.
38. Continue to pick up some photography tips at the Do Dien Khanh Gallery.
---
Have you seen my Vietnam travel video?
Check out more on my YouTube channel.
---
39. Hot the waves with a surf at Bai Dai Beach.
40. Eat all the seafood. At every opportunity.
41. But have serious doubts when it comes to trying the favourite dish of jellyfish.
42. Pay your respects to the goddess of the country at Thap Po Nagar.
43. Escape the tourists with a trip to Yang Bay and its pretty waterfalls.
46. Maybe feel a little anxious but totally enjoy a blind massage.
47. Feel spoilt for choice with a walk down the most popular street, Tran Phu.
48. Travel by cable car to the Vinpearl amusement park.
49. And then spend the day going down waterslides and chilling in the lazy river.
50. Lock and load at Nha Trang Paintball.
51. Get PADI certified so you can explore Nha Trang's amazing coral.
52. Or keep it a little closer to the surface with a Funky Monkey snorkelling tour.
---
SAVE TIME & MONEY
Check the prices for your Vietnam trains, buses, flights and ferries here…
---
More on travelling in Vietnam
Travel to Vietnam: How to Plan the Perfect Trip
Perfect Week Itinerary for Vietnam
11 Great Festivals in Vietnam to Time Your Trip By
Most Unique Places to Stay in Vietnam
9 Beautiful and Best Beaches in Vietnam
Pin me for later