Difficult planning a Cornwall road trip, as there's just so much to see in this holiday county. I don't want to give you a regimented 'do this, then this, and at this time be here' kinda itinerary because one of the beauties of road tripping in Cornwall is the surprises and delights you see along the way.
Instead, I'll highlight some of the best spots to check out on any Cornwall road trip. With the current state of the world Brits will be taking a lot more road trips this summer, and Cornwall is one of the most popular counties in the UK to do it.
Make the trip really special and try renting a campervan to make the most of your road trip.
It's best to be prepared and gather all the Cornwall knowledge you can so you've got one up on the next Cornwall road tripper. You don't want to go all the way to the most southerly point in England and then miss the tops sites, do you?
Missed the Minnack Theatre? Oh, you are NOT road tripping in Cornwall right my friend.
Here are the top spots on a Cornwall road trip to make sure to include in your itinerary.
---
Cornwall Road Trip Map
Click to see the map of Cornwall and make your own edits.
---
Do you need a rental car for your road trip? Check out the award-winning comparison site Discover Cars for the BEST DEALS the world over. Book early for the best price!
Your Cornwall road trip itinerary
This Cornwall road trip itinerary will show you the best spots to visit, and where to spend your time. Think of it like an A-List and a B-List, depending on how long you have for your Cornwall holiday.
1. Tintagel Castle and Merlin's Cave
You can't do a Cornwall road trip without visiting Tintagel Castle and Merlin's Cave – seriously. Every good Cornwall road trip goes by these top Cornwall attractions, just to get in with the whole King Arthur vibe supporting the Cornish economy.
There's a cool bridge here, with a plunging drop between the mainland and the outcrop the castle is perched on – good luck walking across that!
---
2. St Micheal's Mount
St Micheal's Mount is probably the top place to see in Cornwall. Hit it up in the right kind of weather and it's seriously majestic.
St Michael's Mount is an island with thousand years of history, this day out destination promises legends, myths and isolated beauty. What's more magical than a cobbled causeway that zigzags its way to the base of island, a path hidden once the tide comes in?
The crowning piece is the castle, which sits atop the wealth of greenery covering the sloping mount. Surrounding it are more intimate and curated gardens, maintained by the St Aubyn family and the small community of islanders.
Check the tide times to really make the most of your visit.
---
Tips for your Cornwall road trip
The roads in Cornwall can be very tight, especially if you're coming over from the US and you're used to the roads there.
Be polite and courteous to other drivers and accept that sometimes the Cornish locals aren't the friendliest to tourists. Also, they have somewhere to be, you're just on holiday. Let it go.
Getting stuck behind a tractor is pretty standard, there are potholes and speed cameras everywhere and you need to watch out for cyclists at all times.
But, you'll be fine. All part of the fun!
---
3. The Minack Theatre
The Minack Theatre is a stunning theatre built into the cliffs. The open-air amphitheater is carved out of a cliff-side at Porthcurno Bay, and the stage is directly backed by open sea. You can see the entrance on the pic above.
The views are amazing – your eye-line extends from the bay to Logan Rock. Imagine seeing a show here – like my friend Steve did. He's written about how to watch a play at the Minack Theatre here.
---
4. Land's End
Land's End is famous as the end of mainland England. It's the most southerly point which is why people who want to punish themselves cycle / walk / run from John O'Groats up in Scotland – the most northerly point – to Land's End. I have strong memories of going to Land's End to see mum and dad's friend finish a run there.
Despite the whole 'end of the UK' claim to fame Land's End is a lovely place to visit on your Cornwall road trip anyway.
---
Travel in England
You can find more blog posts about England here.
---
5. Chill out in St Ives
So many things to do in St Ives, it could be worth spending the night here. The St Ives Tate is one of the highlights here and countless galleries have set up in its shadow – a wonderful spot for art lovers and modern artists.
The St. Ives Barbara Hepworth Sculpture Museum is a cool place to visit too, and has a cool garden to look round.
One of the best things to do in St Ives on your Cornwall road trip is to just buy a bag of fish and chips, and to sit and admire the pretty harbour here. Just watch out for those gulls!
---
6. Relax in Falmouth
Loads to do in Falmouth, making it another great place to stop on a Cornwall road trip. Let's start with Pendennis Castle –one of Henry VIII's coastal fortresses. The castle is perfectly poised right by the coast with stunning cliff-top views and serene surroundings.
While having defended Cornwall for centuries before the two World Wars, 'Fortress Falmouth' gained a reputation after a soldier's letters were discovered on the grounds. Now it's a great place for all the family to visit and enjoy the grounds.
The National Maritime Museum is another great stop here, and you can take a ferry ride to Skinners Brewery too.
---
7. Go and see Mevagissey
Mevagissey is an essential stop on a Cornwall road trip – just look at how beautiful it is!
Mevagissey is an attractive harbourside village, one of the prettiest in the county. You can go and take pics of the small fishing boats, the old buildings and the pretty narrow and higgledy streets. Enjoy the gift shops, craft workshops, galleries, cafés and pubs, and fish and chip shops of course.
Take the ferry from Mevagissey to Fowey – known as Cornwall's favourite south coast ferry journey.
Don't leave without climbing up to Polkirt Hill for the amazing view over the beaches and bay. In fact, check out these other great things to do in Mevagissey for more holiday inspiration.
---
8. Nanjizal Beach – Song of the Sea Cave
What to see in Cornwall?
This is an absolute must on your Cornwall road trip.
Nanjizal Beach is in a beautiful secluded spot in Penzance. And, great for us, if often pretty quiet – people can't be doing with the hour's walk from the nearest car park. It's totally worth it though, for the natural stone sculptures, archways, caves and freshwater waterfalls. Makes for a wonderful place for a dip.
If you're starting to run out of conversation by this point, here are some fun road trip games to play as you go.
---
Wondering where to stay in Cornwall? CLICK THAT LINK!
---
9. Visit the Lost Gardens of Heligan
The Lost Gardens of Heligan are one of the best places to visit in Cornwall. The restoration project has resulted in stunning diverse wildlife, and a beautiful vivid landscape.
There are Pleasure Gardens and Victorian Productive Gardens, Bamboo tunnels and ancient woodlands. Massive ferns and rhubarb alike converge onto you; take the suspended rope way to rise above them all.
Don't miss it!
---
10. Climb Brown Willy
Lols at the name. Brown Willy is actually Cornwall's highest point at 1,378 feet (420m) and so a definite do on a Cornwall road trip. Obviously, you can get a good look at the county from up here.
Up on Bodmin Moor you'll find Brown Willy Summit Cairn and Brown Willy North Cairn are popular destinations for walkers wanting to make the most of the fresh Cornish air.
You can book good value, reliable car hire with Rental Cars – use this link for the best deals.
---
11. Relax on the beach at Bude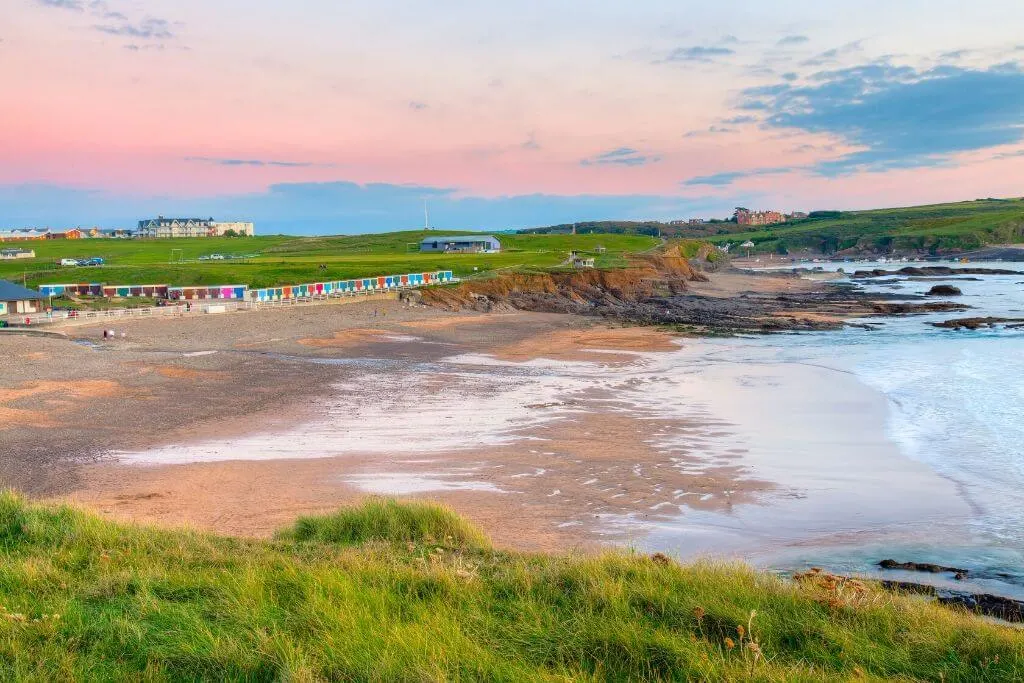 Bude has twice been voted the best beach in the UK – so you know it's worth the journey on your Cornwall road trip, although it's usually pretty busy too. Cornwall's best beach?
---
Save money on your Cornwall road trip
If you want to save money on your Cornwall road trip, and you're planning on seeing more of England, then it's totally worth joining the National Trust and / or English Heritage schemes. Even if you're just in England for a few weeks it can work out cheaper if you plan to do a lot of sightseeing. And all the money made goes to preserving England's national heritage.
---
12. Enjoy the beach at Perranporth Beach
I mean, I swear we hear about Durdle Door all the time (check out my Jurassic Coast Road Trip) but Perranporth Beach has its own archway in the rocks you can enjoy. Not pictured – go and find it yourself.
And if the picture of the golden sands above doesn't get you there, nothing will.
---
13. Venture down the Bedruthan Steps
Legend has it that a giant created these steps to get across the moor, whether you believe it or not, the Bedruthan Steps are one of the top spots on a Cornwall Road Trip. The waters here are stunning. Also, it takes quite a bit of effort to get down, which means there's all the more space for you as people just can't be bothered.
---
14. Look round the Eden Project
Visit the Eden Project on your Cornwall road trip and you can expect an epic, nature-bound paradise. The bubble-like conservatories host South African flora in one, Mediterranean fruits in another and one is a rainforest biosphere.
You'll find everything in here. The Rainforest Canopy Walkway is a classic, but I also enjoyed hearing stories about the cocoa plantations and how it feeds into the harvesting process. Enjoy a day at the Eden Project and you'll learn about wine production, paper making, the evolution of brewing and medicine compositions.
Keep an eye on the events page for your dates and you might find a cool band or festival there too.
---
15. Lanhydrock Castle
Lanhydrock Castle is an estate of 900 acres – giving you lots to look around on this stop off. Of course the manor is the main attraction complete with impressive state rooms and a wonderful nursery wing to look round. The kitchens, sculleries and storage spaces burrowed in the house foundations also make for an interesting visit.
And there are tea rooms, so totally worth it just for that.
---
16. Padstow
Padstow was a favourite spot for us as kids. I've read that it's popularity has kind of ruined it now though, and Rick Stein has basically slapped his name all over the fishing village with restaurants and food outlets. I still would though.
Foodies love it here, Rick Stein and all, and there are loads of things to do. Museums, surf schools, boat trips, cliff top walking and cycling – all in a standard day here.
Check out these facts about Cornwall to learn more about where you're going!
---
17. Newquay
Good old Newquay. What's not to love?
Well, the drunk teenagers, that's what. Although, once upon a time I was one of those drunk teenagers. In fact, two years running. Loved the place!
They've tried to clean Newquay up a bit, so I've heard. But it's still a gorgeous place to visit out of season, especially Fistral Beach. Keep an eye on the festivals and events in the town too!
---
More things to see on your
Cornwall road trip
18. Flambards Theme Park – a kids amusement park.
19. Restormel Castle – one of the four chief Norman castles of Cornwall.
20. The Lizard Peninsula – beautiful most southerly point of the British mainland.
21. Men-an-Tol stone at Morvah – cool stone to climb up and explore.
22. Cotehele House – stunning National Trust House.
23. Zipwire at Adrenalin Quarry – a 490-metre zip line over a quarry, reaching 40mph. There's also an aqua park, coasteering, a swing over nothing, and axe throwing!
24. Dozmary Pool – the pool where it's said King Arthur received his sword, Excalibur.
25. Bodmin Moor – if you like blustery, moody moors, you'll love it here! Check out Golitha Falls too.
26. Lusty Glaze Beach – beautiful secluded cove on the outskirts of Newquay.
27. Jamaica Inn – one of the oldest inns in Cornwall, unique character!
---
FANCY POPPING OVER TO THE SCILLY ISLES?
Here are all the best things to do on St Mary's for you.
---
Cornwall road trip
I hope this has introduced you to some of the delights of a road trip in Cornwall. I really didn't mean for it to be so long!
I spent at least ten summers in Cornwall, as a child, and still didn't manage to see everything – ooo, I forgot Mousehole and St Just actually – and I'm so looking forward to going again soon.
Any questions, let me know. I hope you have a brilliant time!
---
Explore more of England
NEW SITE: I recently launched a brand new website dedicated entirely to days out in England.
It's called… DAY OUT IN ENGLAND. Ha!
It's packed full of local knowledge, awesome things to do, and more.
Few of my favourite posts for you: how about the best adventurous days out in England, or the most popular English beaches? I've also put together a guide on saving money on days out, and even an English food quiz too. Go and check it out – you're guaranteed to learn more about England!