Looking for free things to do in Chattanooga? Then look no further! Chattanooga has fun things to do for people of all ages.
I visited Chattanooga in Tennessee when I was travelling from the south to the north of the US, over three months. It was a random stop for me, but also one I'm glad I made after I went to the fat camp. I hadn't heard of Chattanooga before I visited, but I actually happened to go at the anniversary of the Chattanooga Choo Choo – which is the song the city is most well known for. Big celebrations all round!
I'm revisiting my trip across the US, and so I thought I'd sift through my pics, and let you know all the great things to do in Chattanooga to get you inspired to visit. It's a great spot to visit after or before you've been to Memphis for the weekend.
This list contains all you need to know about things to do for free in Chattanooga, budget or cheap things to do in Chattanooga, and things to do in Chattanooga with kids.
Free Things To Do in Chattanooga
1. Lookout Mountain
Lookout Mountain does have some paid attractions like Ruby Falls and Rock City, but you can also find free hiking trails here. Check out Sunset Rock at Lookout Mountain for an amazing view of the city skyline and the Tennessee River. I recommend checking this out at sunset!
2. Coolidge Park & Walnut Street Bridge
This park is a local favourite. The park is next to the Tennessee River along Chattanooga's North Shore.
The park is famous for having one of the longest pedestrian Bridges-Walnut Street Bridge-which stretches over 2,000 feet long. The area is historic and the bridge dates back to 1891.
It also has a water fountain, rock climbing, picnic areas, and a historic carousel. And, there are plenty of great food options on both sides of the bridge.
It's not free, but this North Shore & Coolidge Park 90-min Segway Tour would be great fun to be able to see more of the park in a short amount of time.
3. Chattanooga Market
The Chattanooga Market is open every Sunday from 11am to 4pm from April to December. And while the market is technically free, if you do want to buy any local gifts or snacks, you'll want some cash on hand. The market features live music, local goods, crafts and artwork. It is located at the First Tennessee Pavilion and is free to peruse.
4. Brainerd Mission Cemetery
If you like Native American history, you don't want to miss the Brainerd Mission Cemetery. It's home to only 60 graves but is also the site of a Cherokee Indians mission. The Cherokee once lived in Chattanooga.
If you're into the supernatural and the after life, there are quite a few ghost tours to try in Chattanooga to learn more. You'll traverse haunted sites, get the inside scoop on where and when the ghosts hang out, and get to learn more about the ghostly goings on of the area.
5. Tennessee Riverpark
This Riverpark has a great trail for walking or biking along the Tennessee River. The trail runs for 16 miles so you could easily spend hours here. There's also a playground, places to fish, and bike sharing available.
6. The Passage
For more Cherokee and Native American history, check out the passage, which is the start of the Trail of Tears. It's a memorial to the forced removal of the local Cherokee tribes from Chattanooga to what is now Oklahoma.
7. Nightfall Concert Series
From May to August, you can enjoy free live music every Friday night in downtown Chattanooga. The Nightfall Concert Series starts at 7pm and offers music across all genres, including some international acts.
8. Chickamauga National Military Park
The Chickamauga National Military Park is located on a historic battlefield from the US Civil War. You can go explore and learn more about the war. The park also has some historical reenactments, sightseeing, and indoor museum, and trails for hiking or running.
9. North Chick Blue Hole
Check out these swimming holes along the North Chickamauga Creek Gorge!
The stream is broken up by boulders which create pools of water you can swim in, and some are as deep as ten feet. It's perfect to cool off on a hot day for free. And, there are some hikes nearby.
10. Chattanooga Choo Choo Holiday Inn
This train station-turned-hotel is another popular glimpse of history. Check out the historic 20th century train station or visit the gardens and see the old train engine. And, if you're a history buff you'll be interested to know that several US presidents used this train station including Woodrow Wilson, FDR, and Teddy Roosevelt. Staying at the hotel starts at $140 a night, but it's free to explore!
And, if you do decide to stay the night, you can reserve one of the renovated train cars to sleep in. As I said, the Chattanooga Choo Choo is kinda a big deal round here.
If you do have a few dollars to spend, then I'd definitely recommend getting on one of the trains here, and exploring the train station. You could do this Derailed Trolley Tour and Train Ride to learn more about how important the trains were to Chattanooga, and to ride a trolley with panoramic windows to take in the city sights.
READ MORE: The Best Hotels in Chattanooga
11. Renaissance Park
Our list wouldn't be complete without another park!
Renaissance Park is also on the Tennessee River but it's unique for its man-made wetland system. The system gets rid of waste to keep the Tennessee River clean.
And, Renaissance Park is known for 'cardboard hill' a steep hill you can slide down with some cardboard! Think of it like sledding in the summer. And, if you don't have cardboard with you, you'll likely find some lying around near the hill.
12. National Medal of Honor Museum
After checking out the battlefield, you can continue your tour of the American Civil War at the National Medal of Honor Museum. The museum features really interesting historic exhibits.
Unfortunately as of 2020 it's no longer free, but I didn't want to take it off this list as it's still well worth a visit. They offer free admission on a limited basis for veterans during Veterans Day and some school groups through an application process, but not for the general public. Since opening a brand new museum next to the Aquarium in February of 2020, they have ticket prices. You can find more on their website at MOHHC.org.
13. Sculpture Garden on First Street
This garden features a peaceful walk through sculptures near the Market Street Bridge. The scriptures are unique and made from various materials and since it's self-guided, it is free!
There are also more sculptures scattered throughout the art district. The art district features murals, and larger than life sculptures.
14. Check out Spaceship House
Do you dream of living in a spaceship? Well then you won't want to miss this. Up Signal Mountain is the Spaceship House which was built in the 70s. At the time, it cost $250,000 to build but it's worth much more now.
15. Dance down Frazier Avenue
Frazier Avenue has free dance lessons. You can learn simple dance steps like the waltz, twist, mambo, and hokey pokey by following the guided instructions in the ground.
16. Walk through downtown Chattanooga
Downtown has a lot to check out including the Tennessee Aquarium, lots of architecture to look at, and delicious foods to try if you get hungry! But, you don't have to spend any money to stroll through downtown and take some pics.
17. Chester Frost Park
Thought we were done with parks? Think again! Chester Frost Park has 280 acres along the shore of Chickamauga Lake. It's a great place for boating, fishing or swimming. There are also picnic areas and an indoor pavilion.
---
Cheap Things to Do in Chattanooga
Besides the free things to do in Chattanooga, here are a few budget options of cheap things to do in Chattanooga.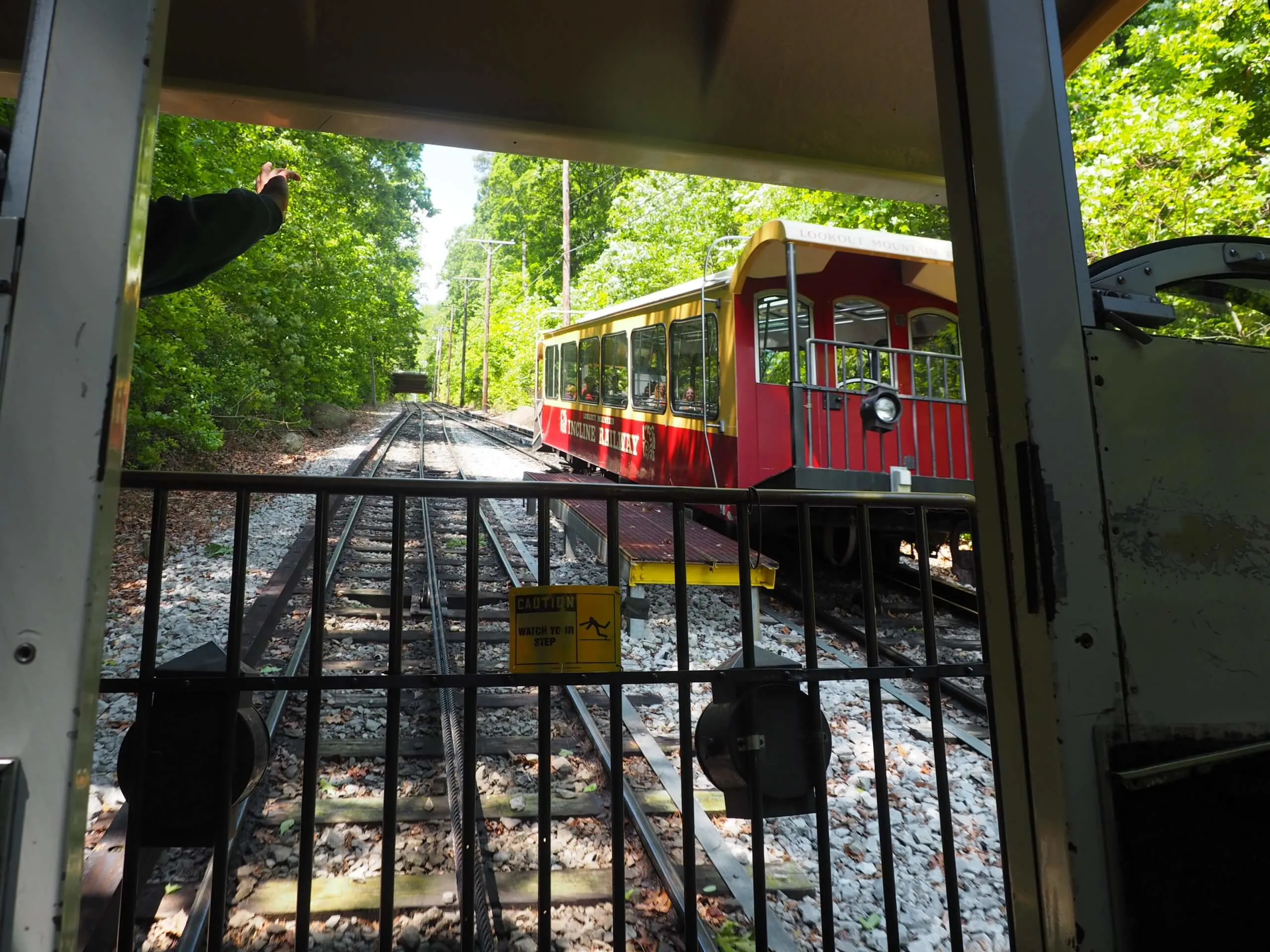 18. Lula Lake Hike
So, remember how I mentioned that Lookout Mountain does charge for some parts? Well Lula Lake is one of those spots. It's a popular hiking spot and because the land is protected and access is limited, they also charge an entrance fee. The entrance does require a reservation and it costs $15 per car.
19. Raccoon Mountain Caverns
Chattanooga has over 7,000 caves! These caves at Raccoon Mountain Caverns have incredible rock formations and gems you can check out. This site has been named TripAdvisor's #1 thing to do in Chattanooga.
Prices start at $6.95 for children ages 5 to 12. Children under 5 are free. And adult tickets are $14.95.
The site also offers camping, cabins, and RV parking.
20. Debarge Winery
For a romantic getaway, or just a getaway, no judgement, check out the Debarge Winery. It's free to visit, but of course does cost for the wine. It's $5 to taste 4 wines.
21. Southern Belle Riverboat
Taking a ride on the riverboat is one of the most popular paid activities in Chattanooga. The Southern Belle Riverboat will give you a tour of the Tennessee River up close. Prices start at $18.95 for children or $29.95 for adults.
22. Baseball Game
If you're in Chattanooga during the Lookout's season, you can catch one of their baseball games. Check out the schedule online. Tickets are fairly cheap but check out their site for the latest prices. The stadium is conveniently located downtown.
TOP TIP: This one hour tour is a great value way to explore more of the city…
---
Things to Do in Chattanooga With Kids
23. Ride the Coolidge Park Carousel
The park's 100-year-old antique carousel costs just $1 per person to ride, but it's definitely worth it! The carousel is also free for kids 2 and under.
24. Hunter Museum of American Art
The Hunter Museum of American Art is part of the arts district in Chattanooga. Adult admission does cost $20, but children 17 and under are free. And, the museum offers free admission to all patrons on the first Thursday of the month from 4 pm to 8 pm.
25. Tennessee Aquarium
The Tennessee Aquarium has two buildings of exhibits covering everything under the sea. It does, sadly, cost $30 for adults but you can spend a lot of time there. And the aquarium offers discounts for college students, faculty and staff. And, aquariums are a great stop for kids!
26. Chattanooga Zoo
Chattanooga Zoo is another great place to show kids some animals for an afternoon of fun! Here you can monkey around, ride a camel, visit the petting zoo, and check out the exhibits. Prices vary by age and start at $5.95 for children under 12. However, children 2 and under are free!
FAQ about what to do in Chattanooga
1. What are the best free things to do in Chattanooga?
Chattanooga is full of attractions great for sightseeing, for free. The parks, mountains, and many of the museums are free. Above is everything you need to know about the best places to go in Chattanooga – don't miss exploring them all.
2. Are there any indoor activities to do in Chattanooga?
If you prefer a quiet place to spend time indoors, Chattanooga has museums, zoos, and aquariums for you to explore. Perfect for a rainy day. Start with Chickamauga National Military Park, the National Medal of Honor Museum, the Hunter Museum of American Art, then to Tennessee Aquarium and Chattanooga Zoo.
These are the best places to go in Chattanooga indoors.
3. What to do at night in Chattanooga?
The fun doesn't end in Chattanooga at night! In fact, it can be even better to experience Chattanooga in the evening. Look out for events at the parks. You could hang out at Nightfall Concert Series, stroll at Walnut Street Bridge, or just have a simple picnic at Coolidge Park.
4. What should I do at Lookout Mountain?
In Chattanooga's Lookout Mountains, you can hike for free, enjoy the view from Rock City Gardens, and go inside the caverns like Raccoon Mountain and Fairyland. You can also relax at the parks like Point Park, Chattanooga & Chickamauga Military, and Flight.
5. Any good things to do in Chattanooga as a couple?
Aside from the daytime activities you can do as a couple in Chattanooga, the night is a great time to get cosy. Try the cruise Southern Belle Riverboat under the Walnut Street Bridge for starters!
6. Are there any family activities in Chattanooga?
Take your family to Chattanooga's renowned parks and museums for picnics and sightseeing. You could start with locations such as Lookout Mountains, Tennessee Riverpark, Chickamauga National Military Park, Signal Mountain, and the National Medal of Honor Museum. Any of these spots are great for families in Chattanooga!
7. What fun things to do with kids in Chattanooga are there?
Chattanooga has lots of kid-friendly spots – enjoy Chattanooga Zoo and Ruby Falls for starters.
8. What to do in Chattanooga with dogs?
Chattanooga's tourism website encourages all types of travellers, including pet owners to visit. You can take your dogs on outdoor adventures at Chattanooga's beautiful parks and hiking areas to stroll and run. There are also the Lookout Mountains, Rock City, Reflection Riding Arboretum and Nature Center, Ruby Falls, Sculpture Fields, and more to do the mentioned activities. All of these are pet friendly and you can spend quality with your doggies in Chattanooga.
What to do in Chattanooga
There is a ton of stuff to do in Chattanooga! You can find free or budget things to do in Chattanooga, as well as plenty of things to do in Chattanooga with kids. Which thing are you most excited about?
If you have questions about free things to do in Chattanooga, leave a comment below!
---