You can pack a lot into 24 hours in Amsterdam, trust me. As one of the most visited cities in Europe I'd recommend going on a week day to really get the most out of your experience, just so you can move around a bit easier to see the sites.
How about a weekend somewhere else in the Netherlands – like The Hague, Rotterdam or Utrecht, and then popping over on the Monday before you get your flight?
Just an idea.
---
READ MORE: Weekend Guide to The Hague
---
In November I went to Amsterdam for the third time in my life, for a whole new experience. And so based on that, and my other two visits, here's how I'd recommend you spend your 24 hours in Amsterdam.
– Post in collaboration with Klook
Itinerary for a day in Amsterdam
You'll arrive into Amsterdam Centraal Station, in the heart of the city. Take a moment to see the huge collection of thousands of bikes outside the station, stacked into double layers. Yes, you'll be seeing a lot of bikes over the next 24 hours in Amsterdam. Get used to them!
There are lockers in the station btw, if you need to store your stuff – €10 a go.
4pm
Drink at SkyLounge Amsterdam
Get up high to really see the best of Amsterdam and to get your bearings on the Amsterdam skyline. The SkyLounge is a swanky place with a nice terrace – perfect for watching the sun go down. You can get cocktails and snacks but if you're on a budget, I'd recommend you stick to the beer.
5:30pm
Amsterdam Pizza Canal Cruise
Get in line for the Amsterdam Canal Pizza Booze Cruise. Get your tickets from Klook and you'll get a tour of Amsterdam's canals, as well as a tasty pizza half way through, and unlimited wine, beer and soft drinks for the 90 minutes.
UNLIMITED.
You'll cruise past Anne Frank's House, see the famous Seven Bridges, go past the canalboat museum and basically just get a better understanding of the layout of the city. In summer you'll see it in daylight, and in winter you'll see the magical lights lining the canal ways.
Obviously, drink as much as possible to really get your money's worth from the €35 cost. Definitely made my money back in red wine.
7pm
Ton Ton Club in the Red Light District
Probably time for another drink right?
This time right in the heart of the Red Light District at the Ton Ton Club. The Ton Ton Club is a retro games bar with arcades, board games and games consoles to rent. It's cool and the perfect retreat from the cold outside – as it was during our November visit.
Keep an eye out for the Condomerie around the corner. A museum / shop featuring an unimaginable amount of condoms, in every design possible. You can pick up some great souvenirs from Holland here.
8pm
Red Light District Walking Tour
One of the most fascinating things about Amsterdam, and one of the things tourists most closely associate with the city, is the prostitution laws that are so different to many other countries.
You have lots of questions, I'm sure.
Join the Red Light District Walking Tour from Klook and your many questions will be answered.
We found out how much they charge, what you can ask for, the risks associated, how good a business it really is, and also got entry to the Red Lights Secrets Prostitute Museum. The building is above an actual red light so people naturally look up to the window and you can see what it's like to be stared at. Honestly, it sounds weird but it's fascinating.
They also have a simulation in there to show what it's really like having dirty old men staring at you, young men laughing at you, and others shying away. Prostitute life is definitely a strange one.
On the tour you'll also be taken round the Red Light District, and the Blue Light District – the transexual area of the city. It was great doing this as a group, I think I would've felt a bit weird on my own.
10pm
Drinks in the square
You might need to digest what you just saw. I'd recommend grabbing the ticket for Red Lights Secrets before the tour ends and then going for a drink before you go. That way you get to see the museum at your own pace rather than following everyone else around.
We went to Lokaal 't Loosje on the Nieuwmarkt for a beer. There are plenty of bars to choose from but this one was lovely and cosy, and the perfect retreat from all the information we'd just gathered up.
11pm
Peep show
If after the drinks and Red Light Secrets Museum you want more, you can go and check out the peep shows for €1. Or, if you really want to spend some cash, go and see Casa Rosso, the famous sex show. It's around €60 to get in but apparently you get free drinks. Personally I can think of better ways to spend €60 – but you have fun!
Or, if you want to carry on the party away from the Red Light District, you could always check out the listings at the super cool Melkweg Club. They have some great bands playing there – I had a great night there a few years ago.
---
READ MORE: Cool Things to Do in Amsterdam at Night
---
Where to stay in Amsterdam
Accommodation in Amsterdam can be super expensive. I managed to find us a sweet deal at a hotel near Vondelpark called Apple Inn. We had a nice double room with a private bathroom and a balcony.
It was €133.51 in all, for the two nights, so €67 each / £60.
Not bad!
---
Day two in Amsterdam
10am
Breakfast
Two options for you. I'll start with my favourite…
Bakers and Roasters – the food here was just absolutely incredible. I had aubergine pancakes, which I've since looked up the recipe of and made twice since I've been home. So many things I could've enjoyed off this menu though. It's a cool and modern cafe with a New Zealand menu, apparently. Absolutely delicious and my top recommendation. If you're in a big group, make sure you book before.
Dignita Vondelpark – a tasty, cosy and trendy minimal breakfast place that served me up that delicious Eggs Benedict above. Great coffee and right near the Apple Inn. Food was yum, but Bakers and Roasters just had the edge.
11am
Vondelpark
Rent bikes and go for a ride around Vondelpark. I wouldn't really recommend you cycle around the city, even though I used to cycle to work every day in London. From my experience the bikes you rent in Amsterdam aren't very good quality, especially the ones we got from the hotel. The brakes were terrible and even in Vondelpark they were dangerous.
Either get them from a good rent shop, or stay off the roads!
You can cycle through the Rijkmuseum – one of the only museums in the world where you can do that. And next door the Van Gogh Museum is well worth a look if you have the time and the inclination. You can go and see the iamsterdam sign on the way too.
Noon
Moco Museum
If you have time after your bike ride, go and check out the Moco Museum, right by the Van Gogh Museum. It's number 7 on the list of the most popular museums in the Netherlands, so you know it's a good one. Featuring street art and pop art it's a great spot for photos, and the millennials love it in there.
Their current exhibition Moco Masters showcases the work of the likes of Warhol, Basquiat, Haring, Koons, Kusama, Hirst and Dali. So if you want to find out about some of the most inspiring artists of the last 100 years, go and check it out!
2pm
Foodhallen for lunch
– Sadly I forgot to take a pic, but here's a cupcake I had in Amsterdam instead
The Foodhallen was spectacular. It's a huge food hall, in a bigger hall with loads of cool stuff for sale from local designers.
I definitely could've eaten a lot more than I actually did in there. We'd kinda only just eaten breakfast after getting up late and sorting the bikes, so we just shared a few dim sum between the two of us. Delicious!
And then, your 24 hours in Amsterdam is up.
Time to take your last photos, gather up your stuff, and head home.
Hope you've had a good time!
---
Pin me for later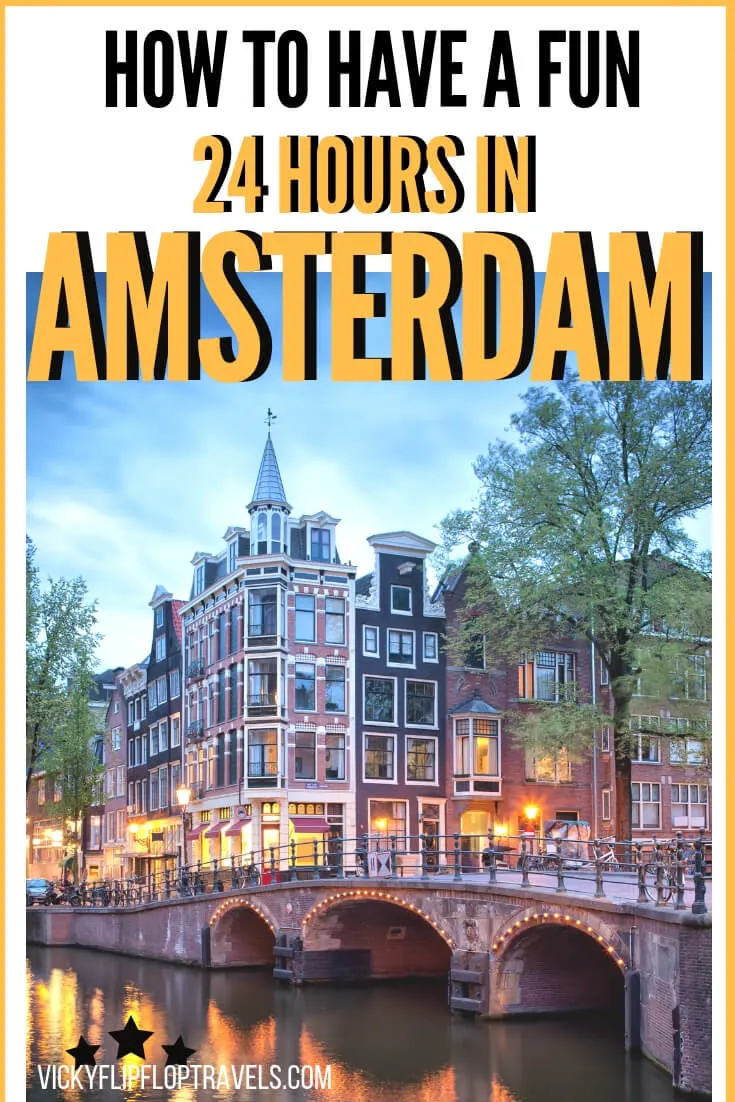 ---
More on Amsterdam
Fun Things to Do in Amsterdam at Night