Have you ever been somewhere, come back and realised there was so much more to do there than what you actually did?
I guess if you're a pro planner who likes reading blogs (!) that might not happen, but it's happened to me with Istria in Croatia.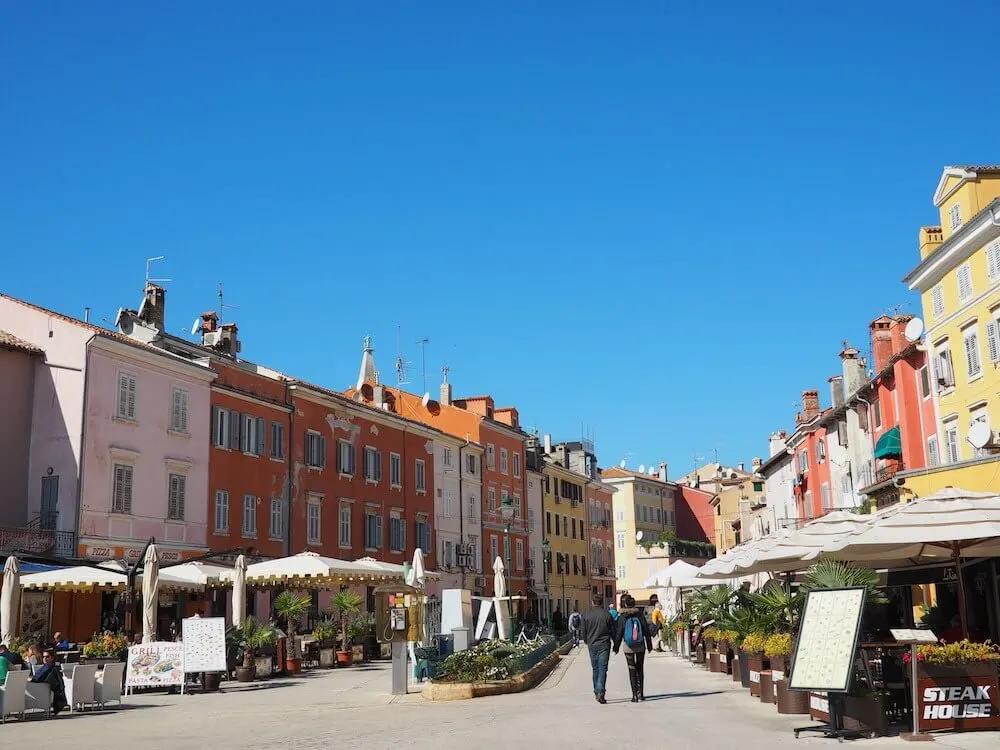 My friend Chloe and I went for my birthday weekend last October. We had a lovely time staying at the Adriatic Hotel in Rovinj – 30 minutes from Pula Airport – and not really leaving the town. We just wanted to relax in our three days. We managed to taste the truffle oil, try the local wines and eat a lot.
But yeah, now that I read up on it a bit more there's so much more to do around there. We probably should've hired a car to explore – but I have no regrets, there's just going to have to be a next time.
Hire a car, or get a taxi for the day
We did debate hiring a car, at some point – mainly because I wanted to see the famous Plitvice Lakes, which is three hours away, but realised that it would just be too far to go in the time we had.
I've been doing my research though, and now that British Airways are launching a direct route from Heathrow to Pula in July, it's the perfect opportunity for a little Istria road trip to take in the sights.
Just in case you wondered – Istria is that bit at the top of Croatia that sticks out and borders Slovenia and Italy.
My suggested Istria road trip route
You don't have to go far to see a lot!
Do you need a rental car for your road trip? Check out the award-winning comparison site Discover Cars for the BEST DEALS the world over. Book early for the best price!
1. Back to nature at Brijuni National Park
The Brijuni Islands are just a short boat ride along the crystal clean Adriatic Sea from the coast of Pula. Look at the map above, where it says 'Pula' in big letters, and then left a bit and up – those green islands, that's the Brijuni Islands.
It's an archipelago made up of 14 islands and so a great place for snorkelling too.
Land animals more appealing? Check out the zebras, elephants, Istrian bulls and goats at the Safari Park on the northern edge of the island of Veli Brijun.
2. Eat and drink in Rovinj
So from this list, Rovinj is the one place I did actually make it to when I visited Istria. I loved it there. I won't go into it now as you can check out my weekend in Rovinj itinerary here. What you can expect though, in brief, is a great spa, a little national park with a cool cycle route going through, boats and some tasty local food too.
This is one of the best European road trips I've done.
3/4. Revisit history at Motovun and Labin
Istria is a very historic area with medieval towns dotted around the hills. Motovun is such a town with beautiful views overlooking the Mirna River Valley. You can expect to find a Romanesque-Gothic bell tower, the Romanesque Municipal Palace, and, if you time it right, the International Motovun Film Festival.
Motuvun's Forest, which stretches the length of the Mirna River Valley is rich in Istrian white truffles, apparently just as good as the French and Italian versions. You can also try the local fine wines here – something to eat those truffles with, right?
In Labin, another medieval town, you can enjoy the views looking out to Rabac, the coastal resort. There's also a sculpture park and an Old Town here for you to explore too.
5. Throw yourself down a slide at the Aquapark
With an impressive coastline of over 250 kilometres in the Istrian Riviera, there's plenty to see and explore when it comes to the beaches. But if you prefer your water fun a little more extreme, check out Istria's two newly opened aqua parks, located right in the forests.
READ MORE: The Best Things to Do in Split
So, you see…
Istria is a great spot for families, friends, couples – anyone. You could road trip around (my preference), base yourself at an idyllic beachfront accommodation or travel between the historic towns, sampling the truffle oil and wines as you go.
And there's so much to do outdoors in the summer, it really is a beautiful place to be.
You can book good value, reliable car hire with Rental Cars – use this link for the best deals.