Rovinj is perfect for a weekend getaway from England. You can fly in to the nearest airport Pula, from Gatwick with Norwegian Air or Stansted with Ryanair, and it takes just over two hours. The airport is basic – we were in and out in about five minutes – and then the centre of Rovinj is just a half hour taxi journey away.
And you're there!
Easy.
Why did I love my weekend in Rovinj so much?
I spent four days in Rovinj with my friend, in October, for my birthday. The weather was great – sometimes hot, but with a definite freshness in the air. We sat out for lunch every day, but it was too cold when the sun went down. This meant days were spent with cava and Aperol Spritz in the sun, while evenings were cosy inside. Loved it.
One of my favourite things about a weekend in Rovinj is that there aren't a million things to do like in other European cities I've been to. In Rovinj you can just chill, enjoy the few things there are to do and make the most relaxing in a place that I found to be cheaper than my recent trip to Dubrovnik and Split.
I think a big part of why I loved Rovinj, came from the Hotel Adriatic. I haven't slept so well for four consecutive nights in years, and my friend felt the same. In fact, I've never known her to sleep so much, and neither has she. When we played Mr and Mrs at her hen party a few years ago, apparently the one thing that annoyed her husband-to-be the most, was her insomnia. I've been on trips with her before and she's usually read a book by the time I've woken up. But there she was, snoozing away from about midnight to 8:30am every day.
It was just so relaxing.
More on the hotel later, but, I was well rested, well fed and had plenty of fresh air in Rovinj, which all helped.
A weekend in Rovinj What to do in Rovinj
– Cycle round the National Park
Our hotel offered free bike hire. So good. We took them up on it every day as it was the best way to get around Rovinj to explore as much as possible. The bikes were super comfy too – city bikes where you can sit up properly to admire the view.
In Rovinj you can cycle all the way round the peninsula on your bike, either turning as you please, or by following the marked bike routes.
Along the way we saw the little shops that would be open for summer and the spots where you could get in the water, complete with steps to enter.
– Go on a boat trip
We'd seen the Nemo boat cruising around the bay when we'd made one of our many Prosecco stops on our bike rides. It was the final day and all of a sudden I desperately wanted to join a boat trip. It was leaving in half an hour, was €10, and took you on a 'panorama adventure' round the bay.
Definitely recommend this. So good to see the view of Rovinj as you leave and come back on the boat, and to see the other islands surrounding this part of Croatia. Bargain that.
– Walk round the town shopping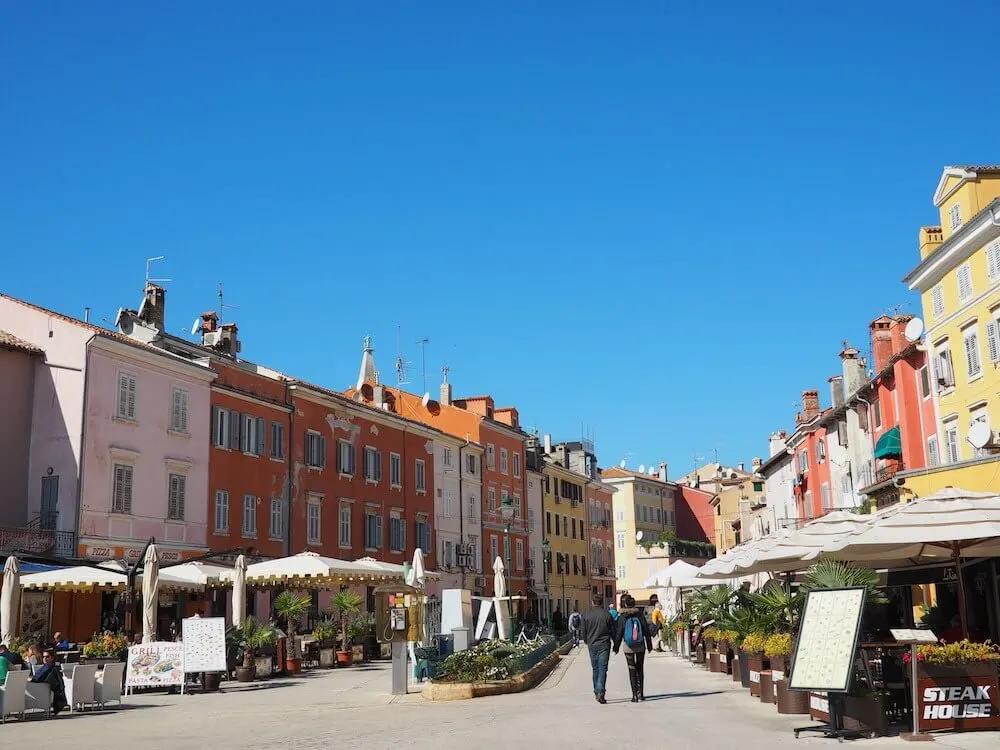 There are so many cute little shops in Rovinj, but it'd be impossible for me to tell you where they were. The best thing to do is explore!
– Walk up to the Church of St Ephemia via Grisia Street
Grisia Street is where most of the art is centred in the city, and it's available for sale. It's cool because it's not like generic art that's made time and time again to take advantage of tourists, but actual works of art that would be a great souvenir from your weekend in Rovinj.
– Truffle oil sampling
Find a shop offering truffle oil tasting and make the most of it. With local cheeses, crackers, ham and straight up truffle oil to show off in Rovinj, you'll have a great time. One of the shops we sampled in also gave us a few shots of the local alcohol too.
– Go swimming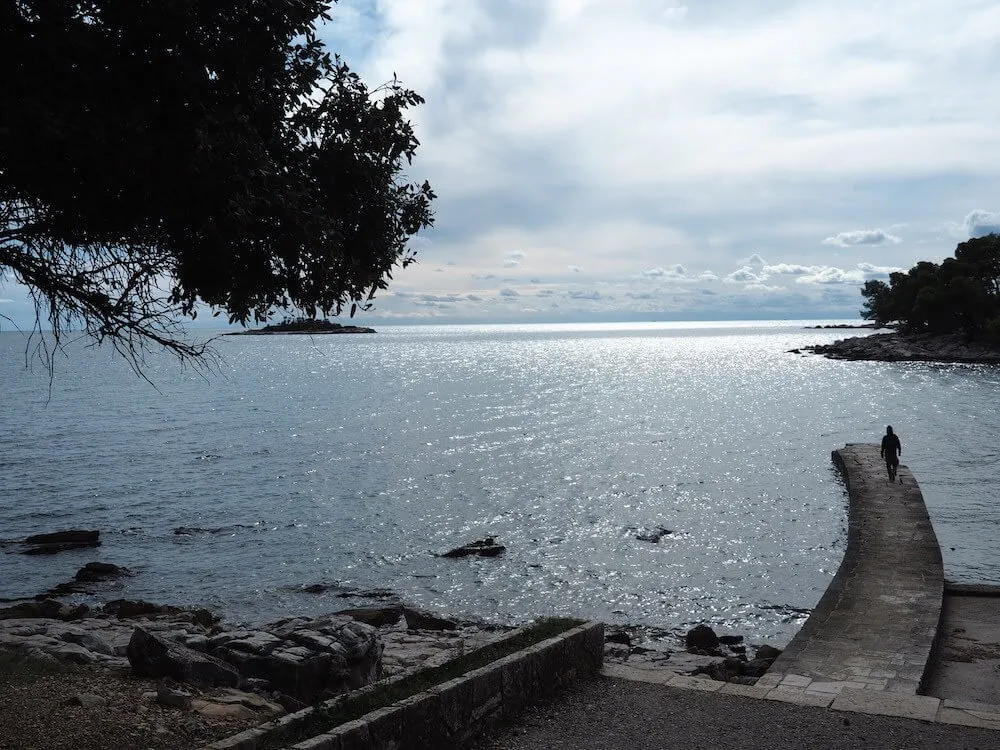 Rovinj is well set up for you to take a dip, almost wherever you like. There are ladders fixed into the rocks, down into the water, making it easy to cool off. Unfortunately, during our October trip, it was just that little bit too cold for us to get involved. Plenty of people were, but we preferred to sit and watch, with a glass in hand.
– Check out the Lone Hotel spa
If you stay at the Hotel Adriatic you get free access to the spa at the Lone Hotel. OMG take them up on it. We did a mad gym sesh and were the only ones in there, followed by a dip in the pool and then a go in their hydro massage spa. There we were swimmers on, having a lovely chat in the sauna, when we saw something a little out of the ordinary out of the corner of our eye.
Yep, it was a nudey spa, but that's just the way they roll in Croatia.
– Get lost
I always feel a little cheated when I see 'get lost' on a list of things to do in a place. But seriously, it is usually the best way to find what you want to see in a place. You need to get lost in Rovinj to really find the cool stuff. You can't really go that far wrong, don't worry about ending up in Split or anything, but this is how you find those cool little restaurants and galleries in the labyrinthine of streets.
– Take a day trip to Venice
I didn't do this, but you could!
Where to eat in Rovinj
So many good places to eat in Rovinj, in fact, I'd recommend everywhere we tried. I've written a whole post on the best places to eat in Rovinj, and try to fit in that sushi restaurant too.
While you're in Rovinj you need to eat anchovies, drink local wine and soak up as much olive oil as possible. That stuff is special over there, trust me.
Where to drink in Rovinj
We didn't 'go out out' in Rovinj, but instead drank like mature adults all day long. It was glorious.
In Rovinj cava / prosecco is only 20 krona a glass, about £2. Wine is the same. I actually really liked this because it meant we drank less, but still felt like we were drinking and chatting the night away as per.
These are the best places in Rovinj for a drink or two – complete with images to demonstrate.
– Mulini Beach Club
– Piassa Grande Wine Bar
– The Champagne Bar
– San Tomasso Bar
Where to sleep
I've only stayed in one place in Rovinj, but for me, I couldn't really imagine anywhere better. The Hotel Adriatic was right in the centre of everywhere you could want to be, and on the water too. We had this incredible view out over the marina.
The food here was great, and breakfast was included in our room price. I was invited to check out the facilities here for a few nights in return for a review, but we liked it so much we extended the trip for €120 per night in low season. Here's what we got for that €120.
Choice from an epic breakfast menu
Incredible hotel room right in the centre of town
Access to the Lone Hotel spa
Bike hire
Tea and coffee in the room
Every evening a saxophonist would set up outside and we could hear him from our room as we got changed to go out. So beautiful.
Our room had a huge bathroom, with a huge shower, massive bed, high ceilings, a big TV, nice windows and a seated area too. There was a fridge filled with locally produced delights, a kettle and a range of teas for you to try. Every night we had chocolates to go to bed, and they bought water to the room too.
Prices at Hotel Adriatic start from €99 per night for a double room, including breakfast.
How to get there
We went from London Gatwick on the 5:50am-9am Norwegian Airlines flight, back at 12:45pm-2pm, which worked out at just £52 each! We added one luggage between us, which came to an extra £60 return so our flights for the four-day trip were £164 in total. Cheap!
A weekend in Rovinj
Rovinj is definitely my favourite place in Croatia. I've been to Split, Dubrovnik, Mljet, Hvar, Korcula, and Zadar, but I just loved the chilled out vibes and friendly prices here. It's also north of Croatia, and so even closer to England too.
Perfect for a cheeky weekend away.
– I was invited to check out Hotel Adriatic for myself in return for a review.
I can honestly say it was one of my favourite hotel experiences ever!