Want to pick up some souvenirs from Mexico? Here are the best Mexican souvenirs to choose between – I love my Lucha Libre mask!
Mexicans love putting their culture on display (and who wouldn't?), but it doesn't end with clothes and music. There is an entire world of artsy crafts that us visitors will definitely appreciate once they get back home, knowing they got something more than just another trinket!
Here are 19 Mexican souvenirs to put on your shopping list before leaving this amazing country. The best things to buy in Mexico are all here.
What to buy in Mexico?
Here's a list of 19 best souvenirs from Mexico to remember your trip by…
1. Carved wood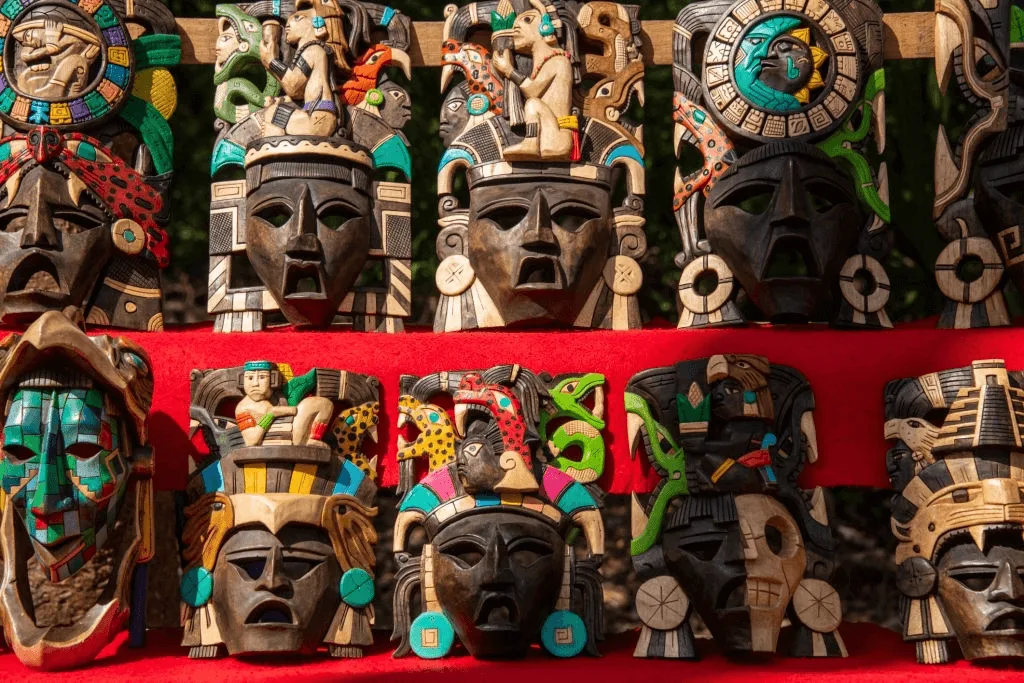 Mexico has one of the oldest civilisations in the world, so it's only fitting that many of their souvenirs are carved out of wood. Carved into various shapes, sizes, and colours, you can find anything from human skulls to entire ships! As long as it is made out of wood, though, Mexico is sure to be able to provide it for you.
2. Bags
Yet another common souvenir from Mexico are bags. They come in different colours and sizes, but most seem to resemble something an angry caveman would carry! Regardless of their intimidating appearance, these sturdy Mexican satchels are perfect for carrying your essentials around with you on your trip.
Definitely one of the most useful souvenirs from Mexico on the list!
3. Coin purses
If you're looking for something a little more decorative than functional in your Mexico souvenir, then look no further than the coin purse. Made out of leather and shaped like various animals, these purses serve absolutely no purpose but to show off your love for Mexico!
4. Wax candles
A relatively new addition to the world of souvenirs is wax candles. These colourful pieces are produced by melting down old crayons, then moulding them into different shapes, colours, and sizes. Perfect as decorations or gifts, they are kind tokens that anybody would be happy to receive and make for great things to buy in Mexico.
If you're looking for things to do in Bacalar, or Oaxaca, or Mexico City – or anywhere in fact, shopping for Mexican souvenirs is always fun, and sometimes enlightening.
5. Tin art
One of the more traditional forms of Mexican souvenirs is tin art pieces. Usually depicting various landscapes, buildings, or even random objects, these little masterpieces are perfect for decorating your house. However you choose to use them, they'll make a great addition to your collection of Mexican keepsakes.
6. Rubber ducks
Another relatively new form of Mexican souvenir is the rubber duck. Featuring many different designs and shades, they're really one-of-a-kind items that can brighten up just about any room you put them in. Be sure to grab one before heading home so that you have something to remember this fantastic trip by when you get back.
7. Furry friends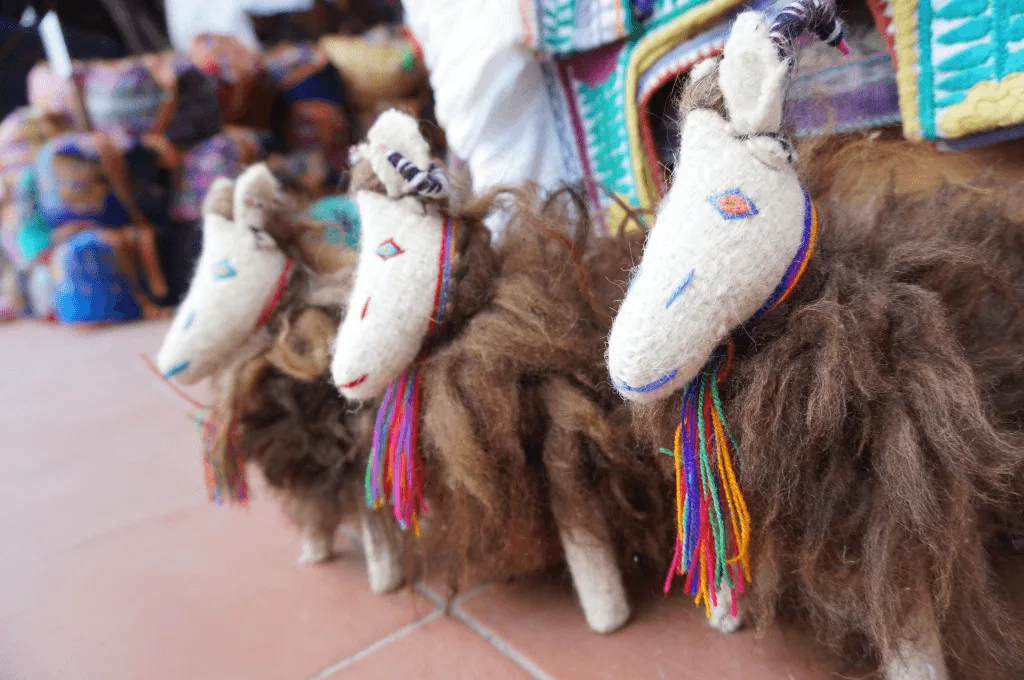 One of the unique Mexican souvenirs is the fur-covered animals. Made out of suede and shaped like various forest creatures, these are an awesome sight to behold. And with so many different colour options to choose from, you'll probably end up buying one even if you don't want to!
8. Painting
Yet another traditional Mexican souvenir is the painting, but this time it can be any size depending on your budget! Whether large or small, abstract or realistic, Mexico has them all. You can even pick up one depicting your favourite local landmark if you want something specific that nobody else will have.
These make for great souvenirs from Mexico for the home, and for friends, especially if they're in any way religious
9. Mexican textile souvenirs
One of the more unique Mexican souvenirs is the textile. These can range from bandanas to shawls and everywhere in between, so it's best if you take a look at them in person before purchasing anything. However, you choose to use them though they'll make for some truly spectacular souvenirs that will last forever.
10. Taxco Silver
Probably the most popular traditional souvenir from Mexico are Taxco silver pieces. These can range in size, shape, and colour, but they're all pretty much made out of pure silver. So whether you want something that can keep Mexican music playing wherever you go or just a simple piece for your collection, everyone is sure to love these little tokens of appreciation.
11. Pottery
One of Mexico's oldest forms of souvenirs is pottery. From statues to ashtrays to even candy dishes, there's a wide variety for you to choose from when buying something in this style. In fact, it'll probably be harder trying not to find the perfect piece for your collection rather than actually picking one!
If you want to pick up a few souvenirs from Mexico to build a collection, these would be a great idea.
12. Molinillo Souvenir
Yet another traditional Mexican souvenir is the molinillo souvenir. Usually made out of wood and featuring a yoke for you to add cream or chocolate to, these are great decorative pieces that will add something unique to your home. In fact, they might even bring you some good luck if you keep one nearby whenever you solve a problem!
13. Handmade Mexican hammock
One of the most interesting pieces to come out of Mexico is the handmade Mexican hammock. Made from twisted pieces of recycled fabric, they're truly one-of-a-kind items that are hard to put into words, so you'll just have to look at them in person to understand!
14. Sombreros
Sombreros are another most famous souvenir of Mexico. These aren't just for show either; they're meant to be worn so you can root for your favourite team or just have a new fashion accessory. Either way, they definitely make a great addition to any collection of trinkets and treasures from around the world.
15. A bottle of tequila
Everyone has heard of tequila one way or another, but what you might not know is the fact that it's a Mexican souvenir. In addition to being a really tasty drink, it also makes for great decoration and can even be used in cooking. It also works as medicine. From 100% blue agave to a margarita mix, you can find just about anything related to this great drink, so it might be a good idea to grab some before heading home.
If you really want to go all out Mexican souvenir though, reach for the Mezcal!
16. Lucha Libre masks
As far as Mexican souvenirs go, masks aren't common, but they're worth buying if you see them available. Whether it's for yourself or somebody else, these unique items will make for an interesting addition to any collection! However, it might be best not to wear them around town unless you want police officers chasing after you…
17. Mexican chocolate
Yet another traditional Mexican souvenir is chocolate, and specifically the type that's made into different shapes. Whether it's tiny rockets or diamonds and hearts, there's a wide variety, but they're all sure to make for some tasty treats! As a bonus, each piece can also double as a great decoration item if you ever want to make your house feel like Mexico.
18. Frida Kahlo Souvenirs
One of the more modern Mexican souvenirs is anything related to Frida Khalo. From paintings to postcards, you'll be able to find just about anything with her face on it, so it might be best not to buy too much, or you'll risk taking up half of your storage space! However, one thing that will never go out of style is her self-portraits which you can find everywhere from hats to t-shirts or even on sheets!
19. Mexican wrestling figures
Another great Mexican souvenir to bring home is wrestling figures. They're not just for show either; you can put them into a ring and have a match!
They're a perfect gift for somebody who enjoys the sport thanks to the fact that they'll be able to remember their favourite wrestlers every time they look at them. However, if you give them away, don't worry about having anybody else to play with since there are plenty of other wrestlers in different colours so that everybody can join in on the fun.
Best souvenirs from Mexico
So, when you're planning your next trip to Mexico, make sure to bring home a few of these amazing Mexican souvenirs. Not only will these Mexican gifts remind you of the incredible time you had in this beautiful country, but they'll also show your friends and family just how much fun you had!
---