There are SO many things to do in Jeju Island, it was difficult to fit them into my week on Jeju. If you're looking for the best activities on Jeju, read on!
I gave it a good go though, and took note of some of the awesome Jeju attractions to visit next time.
– Wondering what to do in Jeju? Go see the Yakshusan Temple!
The plan was to visit the island for Jeju's main attraction: Mount Hallasan. The whole Mount Hallasan National Park is the most popular thing to do in Jeju, and it's thanks to its natural beauty that the whole island has been given UNESCO World Natural Heritage Site status.
I was going to Jeju for a week, with the purpose of climbing Mount Hallasan, and seeing what all the fuss was about.
– Visiting Aewol was one of my favourite things to do on Jeju.
What I didn't realise though, was just how many things to do in Jeju there are. By the time it came to my day to climb, I knew it was the only sunny day I had left in the December I visited, and after spending 6 days by myself, I decided I couldn't face 9 hours of a mountain with only me for company.
Or the danger of hiking alone in a foreign country unprepared, or the weather changing at the top.
And so, I didn't go.
I did, however, find lots of great places to visit in Jeju, so I can write about all of them instead. And, share everything I learned about climbing Hallasan, without actually doing it.
I really feel like there's not enough online about the wealth of Jeju Island attractions – not in English anyways. So let me take you through some of the great things to see on Jeju, to tickle your fancy.
---
Where is Jeju Island?
Jeju Island is off the south coast of South Korea. It's an island 45 miles wide and 20 miles north to south. Jeju Island is a really popular place in the summer for South Koreans to go on holiday, and Japanese people too.
I got my flight super cheap (£16, with baggage! / more on how to get to Jeju Island below) and it was only an hour in the air from Seoul.
When it comes to what to do in Jeju, you can expect paradise beaches, gimmicky museums, stunning coastline and so, many, cool cafes. I thought Jeju was a great place to visit, and seeing as it was winter, I could take advantage of cheap hotels in Jeju too.
---
Jeju Island map
Absolutely key to a great Jeju holiday is to get a really good Jeju Island Map. I picked up a few around the island but this one was the best. You need things marked and the phone numbers for your sat nav too (scroll to the end of this post for that).
Sat Navs in Jeju work by inputting the phone number of your destination, and then they will direct in English. You can read more about hiring a car on Jeju Island in my blog post. You can find out the costs of car and petrol too.
I'd suggest finding this map in the airport before you leave so you can spend your first night marking off the best things to do in Jeju island, and making a list. Or you could get a Jeju map online so you can be prepared in advance. I really liked having a physical copy though.
Google Maps doesn't fully work in South Korea. You can find a location but you can't find out how to get there – something to do with privacy laws conflicting with the ideals of the South Korean government. You'll need to download an app called Naver, which I found really annoying to use but there's no other option.
---
Things to do in Jeju Island
Right, let's get onto some of the amazing attractions in Jeju Island for you to discover.
– Yackshusan Temple is one of the most popular things to see on Jeju.
1. Hire a car
Hiring a car in Jeju is the best way to get to all these absolute nuggets of wonder on Jeju that I'm about to describe to you. I've written a whole guide to hiring a car in Jeju, and driving, so I'll keep this point short. If you plan to hire a car in Jeju, I'd definitely recommend reading that though.
It features everything you need to know, and you should watch this video too.
---
How to Do a Jeju Island Road Trip
Check out my YouTube and subscribe for more travel videos around the world
---
2. Climb Mount Hallasan
Ok, I've already admitted I didn't actually do the number one thing to do on Jeju. But, I did research it so I'll share that with you here.
Mount Hallasan is a dormant crater in the centre of Jeju island, with a crater lake on the top. It's surrounded by another 368 volcanoes. Check out this video, it looks amazing.
– This is the view from the Botanical Gardens on Jeju. Look the other was and you'll see Hallasan.
After admitting on my Instagram Stories that I didn't actually make it up the mountain, a few people messaged to say that even if the weather is good at the base, it might not be on top. So keep an eye on the weather if you want to make the most of your trip, and what to see scenes similar to the video above.
There are four ways up Mount Hallasan.
Gwaneumsa Trail (best views) – 8.7km (one-way) and 8-10 hours return hike
Seongpanak Trail (easiest hike) – 9.6km (one-way) and 7-9 hours return hike
Eorimok Trail – 4.7km (one-way) and 2.5 hours return hike
Yeongsil Trail – 3.7km (one-way) and 2 hours return
Have fun, take water, and money in case you want to taxi down. Apparently if you're lucky there are a few taxis up there, and a bus too, although of course you'll be a slave to their running times.
If you want to climb Hallasan, just make sure you plan it properly.
I didn't actually realise there was a tour that runs year round on Jeju Island in winter. You can find the details of the Mt. Hallasan Small-Group Nature Hike & Lunch here. This is a better way of experiencing it, as you'll have a guide and some support in the unpredictable weather.
3. Coffee and cake at the cool cafes
If you love a slick cafe with waterfront views, then you're going to love the range of cafes on Jeju Island. I thought I'd found the odd beauty, but over my 4 days in Jeju, I realised that they just kept coming and coming.
– If you want to see Cafe Aewol Monsat in all its glory, watch the video above.
–
There are so many wonderfully designed cafes on Jeju Island, but you'll need to seek them out purposely.
These were my favourite cafes on Jeju:
– Cafe Aewol Monsat
– Bomnal Cafe
– Cafe Delmoondo
– Tangerine (more of that beauty later)
4. Enjoy the view at Yeomiji Botanical Gardens
Honestly, I was amazed by the Yeomiji Botanical Gardens. I was trying to work out if I was just getting old, or if these attractions in Jeju really were as amazing as I thought. I think they were.
TBH I hadn't expected much, but even the view from the observation tower was worth the entrance fee. You could see Hallasan, the sea and the Jungnum area too. Great views for anyone who's not up for the Hallasan climb for any reason.
– The Yeomiji Botanical Gardens are one of the top Jeju attractions.
There were six different themed gardens in here to look round, and if you're visiting in winter, like I was, it's lovely and warm inside the greenhouses too. The Yeomiji Botanical Gardens were one of my favourite things to do in Jeju Island.
5. Enjoy the Cheonjeyeon Waterfalls
There are 6 different waterfalls on Jeju Island.
Jeongbang Waterfall
Cheonjiyeon Falls – these are different waterfalls, not just a different spelling
Sojeongbang Falls
Eongtto Falls
Wonang Fall
Cheonjeyeon Waterfalls
Unfortunately it chucked it down on one of my days, the day I'd planned to see more waterfalls. I really didn't fancy struggling by myself at the falls in the rain, so I skipped those. But as you can see from photos online, they're totally worth it on a sunny day.
– The Cheonjeyeon Waterfalls are one of Jeju's top attractions.
So, the Cheonjeyeon Waterfalls – one of the top attractions on Jeju Island – were my only waterfall experience.
They were enough though – especially beautiful in autumn in Korea.
There are three different waterfalls at the Cheonjeyeon Waterfalls, and you can walk between the three. Each one better than the last. Follow the signs to enjoy the amazing bridge connecting you to the Jungnum Complex too. There are stunning views from there, as you can see on the video above.
Also, hot tip, get some of the natural tangerine juice at the start. It's an absolute taste sensation.
Where is Cheju Island?
Jeju Island is also known as Cheju Island. It's also called Quelpart Island. In Korean in full, it's known as Cheju-t'ŭkpyŏlchach'i-do or Jeju-teukbyeoljachi-do, Island.
Jeju Island will be fine though.
6. Spend some time in Aewol
Aewol was my first stop on my road trip, and I just stopped off there to check out what I soon realised was the famous Monsant Cafe (owned by a famous Korean rapper). Turns out it's a right nice little hot bed for cafes and the odd shop though.
Also, donuts.
– Randy's Donuts in Aewol were the BEST
I'd been hoping to get some lunch but as I soon realised there was only cake available. I went in every cafe along the waterfront asking for savoury, but ended up getting a donut from Randy's, at the end of the strip.
Great news though – it ended up being one of the best donuts of my life, if not THE.
Blummin delicious. And huge.
Once I'd managed to peak my blood sugars back up again, I went back to look round Aewol without the Hanger hanging over me. Cute shops, beachfront bars, awesome cafes and a waterfront walk make up this cute little village. This was definitely one of my favourite places to visit in Jeju, and a great place to pick up some South Korean souvenirs.
– If you're wondering what to do in Jeju, add Aewol to your list!
I think this would be a really great place to spend your first night in Jeju, but more on that in where to stay on Jeju below. Genuinely had to tear myself away from the cafes to go and explore, they were that cool.
7. Check out the Yakchusan Temple
This was a lucky find when I was trying to find somewhere that did breakfast at 9am. Unfortunately I ended up with a tuna sandwich at the 7/11 but on the flip side, I got to see this impressive temple. It's one of the most impressive attractions in Jeju.
Just a note on that: I found it difficult to find anywhere that opened before 11am on Jeju. Breakfast did not seem to be a big deal here. One of the very few things I didn't like about Jeju.
If you like what you see at the Yakchusan Temple then you can sign up to a temple experience stay where you get to learn more about buddhist life from the monks. You'll eat with them, meditate, and live a day of life in their shoes – or feet.
– Add the Yakchusan Temple to your Jeju itinerary, it's a beaut!
If not, then just go for a look around like I did. It's totally free and you can even look around the floors of the temple too. I spent over an hour here just mooching about with the freedom of no one watching and an empty temple. It was a wonderfully serene experience, and if you visit Jeju, you should definitely go.
8. Visit the Bukchon Dol Hareubang Park
Dol Hareubangs are a strong feature and force in Jeju, as you'll see around the island. They're known for their good luck and Koreans place them near graves to calm the spirits.
"Dol hareubangs, also called tol harubangs, hareubangs, or harubangs, are large rock statues found on Jeju Island off the southern tip of South Korea. They are considered to be gods offering both protection and fertility and were placed outside of gates for protection against demons travelling between realities."
The Bukchon Dol Hareubang Park aims to educate visitors on the importance of the Dol Hareubangs to Korean culture. It's one of the more unusual attractions in Jeju Island.
A local artist has rounded them up and created a sculpture park, and added his own art in. I really enjoyed my half an hour here, and it'd be great for kids. There's a little cafe too.
Definitely one of the more unique things to do in Jeju Island!
– Teehee
There are plenty of information points to show off their different meanings, and I feel like if you visited here first you'd have a better understanding and recognition when you saw them around the island from then on.
Visiting the Bukchon Dol Hareubang Park was actually the last attraction on Jeju Island I visited.
9. Chill at Woljeongri Beach
This beach was absolutely lush and it's one of the most popular tourist spots in Jeju Island. Unfortunately I didn't have long to enjoy, as I had to get the car back. Also, I feel it's a Jeju attraction that's just a bit more enjoyable in the summer. It was a breezy day!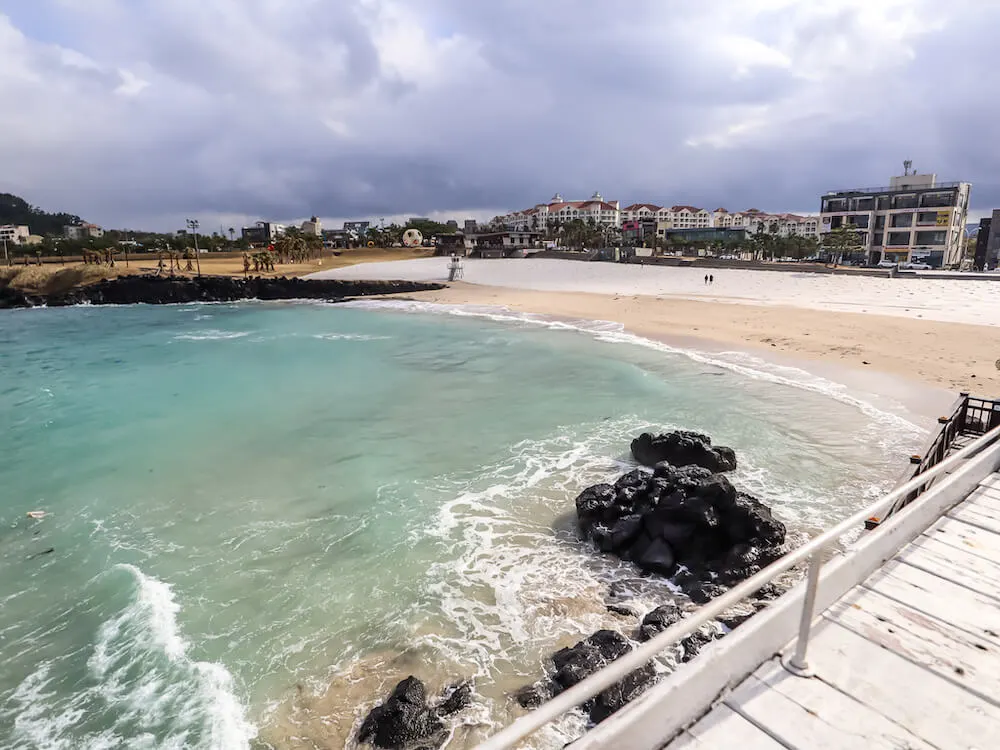 – Woljeongri was one of my favourite beaches in Jeju
Visit Jeju's Woljeongri Beach and you can enjoy the white sands, emerald waters and road filled with tea houses and coffee shops. I loved the view of the wind farms on the horizon too.
Woljeongri Beach is an absolute must-visit on Jeju!
10. Tangerine Cafe
Wondering what to do in Jeju Island? The quirky cafes are a must.
I loved this place. I didn't quite get to grips with the food on Jeju, and it was driving me crazy that nowhere opened before 11. I like a breakfast!
I'd seen Tangerine the day before though, just on the side of the road, but wasn't ready to eat at the time. So after the horrible tuna incident (7/11 sandwich or breakfast, on holiday, in Asia, eugh!) I decided to just drive back and go here. It was the only place I'd seen with any sort of brunch as I know it, and wanted it.
The 10-minute drive back to the Tangerine Cafe turned into 20 in the pissing rain as I couldn't find the phone number online. Tangerines are big business on Jeju, there's no way you can find this annoyingly named cafe on Google.
Absolutely, totally, worth the extra drama of getting there though.
– This was my favourite breakfast in all of Korea!
I got this. And an Americano, and later a latte, and absolutely could not sleep that night.
Still worth it.
Just next door is a really nice home shop where I picked up a few special things for Christmas presents (for myself).
11. Cocktails at The Cliff
Well this was a lovely little surprise when I had found The Cliff while looking for somewhere else on my what to do in Jeju list. Parked up, walked out, and saw this cliff side oasis with its Ibiza vibes waiting for me.
Lush.
– I've tried to find out but no, I don't know why this statue has that hand halfway up!
I didn't indulge, seeing as you can't even have one drink and drive in South Korea. And I didn't fancy sitting by myself with an apple juice.
Great place though, so just wanted to tell you about it. You could spend a few hours here just chilling, playing with the bar games inside and enjoying the view.
12. Gwakji Beach
I loved Gwakji Beach. It was the first place I went after Jeju City and I just felt free from the business of a city I didn't really enjoy, or understand.
I was worried all those things on the beach were some sort of animal when I walked down but they just turned out to be sandbags holding the sheets down (see video). Which, I presume, were to stop the sand flying all over. That's a total guess.
I had a walk around here and just played on the rocks down by the waves. Superb!
13. Hamdeok Beach
Another lush emerald water beach, with white sands. Hamdeok Beach is one of the reasons why people love to visit Jeju so much in the summer. It's a fabulous beach to enjoy and a famous tourist spot on Jeju island.
– It'd be amazing to sit out there on a sunny day, hey?!
Right in the centre is the popular Cafe Delmoondo – it was so busy on the December day I visited. Maybe because the winds were lashing outside and sitting in with a green tea latte and eclair was a great way to enjoy the beach in the winter. The wrap around terrace would be brilliant in the summer.
14. Seongsan Sunrise Peak
My hotel room looked out onto the Seongsan Sunrise Peak – it was great. Meant I didn't feel guilty for not getting up at sunrise to go and check it out.
– Seongsan Ilchulbong Peak from my bedroom balcony at The Playce.
I did try to hike it, but on the winter's day – the same one that stopped me enjoying Cafe Delmoondo in peace – it was closed. Too windy for the hour climb to the top. It's definitely a must see in Jeju though.
"Seongsan Ilchulbong Peak rose from under the sea in a volcanic eruption over 100,000 years ago. Located on the eastern end of Jejudo Island, there is a huge crater at the top of Seongsan Ilchulbong Peak. The crater is about 600m in diameter and 90m high. With the 99 sharp rocks surrounding the crater, it looks like a gigantic crown." – from Visit Korea
I did go down to check out the diving women on the beach, and to see what they were selling. Deep sea diving is a 'thing' for women on Jeju Island, and they do it without any equipment. The Jeju Haenyeo Museum is dedicated to preserving the art, and spreading the word.
– The Haenyo Divers reach these tasty bites to eat without any equipment at all.
You can also see the Dong Amsa Temple in the grounds of the Seongsan Sunrise Peak. There's a free and easy to use car park, and shops and restaurants too. You could book this guided tour of the Peak to get more from the whole experience – UNESCO Sites & Sunrise Peak Hiking Small Group Tour which goes to Manjang Cave, Haenyeo (Woman Diver) Museum, and Seongsan Sunrise Peak here. This is a good way to travel between them if you don't have a car, and an opportunity to experience the sites with someone who knows what's going on!
More activities to do on Jeju Island
I had six days on Jeju, which, was a good amount of time, but you could totally spend longer. Two days in Jeju City was two too many. Head to the beaches.
I spent quite a bit of time each day planning what to do and researching, but this article on things to do on Jeju has already made that a lot easier for you.
Here are a few things I had on my Jeju to do list, but never quite got round to.
15. Pyeongdaeri Beach
Another stunning beach for you to enjoy!
As an island, of course the Jeju beaches are amazing. You could spend weeks travelling the coast of Jeju and still not see them all. When it comes to Jeju Island things to do, the beaches come pretty high!
16. Samyong Beach
This black sand beach is a real anomaly on Jeju Island, and an absolute must see in Jeju. It's also one of the quietest beaches on Jeju – so definitely worth a visit.
The glittering black sand is known to be good for a variety of illnesses. Korean tourists love to cake themselves in the stuff, seriously!
17. Iho Taewoo Beach
A beach near downtown Jeju City famous for iconic horse-shaped lighthouses.
18. Manjang Caves (Manjanggul)
The longest lava tube in Jeju with the largest recorded lava column in the world inside the cave.
19. Jusangjeolli Cliffs
Unique volcanic rock formations that look like rectangular pillars near Jungmun Beach.
20. Oedolgae Rock
21. Hamdeok 5-Day Market
What to eat on Jeju
Fried chicken is a THING in South Korea. A huge thing. Combine the fried chicken with beer and you have Chimeak – a Korean speciality.
Other South Korean must-try Jeju dishes include Okdom Gui (grilled sea bream), Haemul Dukbaegi (seafood hotpot), and Jeon-bok-juk (rice porridge with abalone).
See if you can get the following into your Jeju Itinerary too…
Gimbap
Chicken
Myeongjin Jeonbik Abalone restaurant
Sashimi
Sushi
Black pork
I found the food quite difficult in Jeju, mainly because I went all weird about eating by myself, people looking at me, and not knowing what anything was. I don't know why I went all shy when I've eaten by myself all over the world, and even written a solo eating guide.
I think it was because they eat a lot of strange-to-me things over there, and I'm not familiar with Korean cuisine. I ended up eating a lot of rice, as I couldn't even stomach the hairy pork and slimy abalones. I'd just had a week of eating all kinds of wonderful things in Japan, and I just wanted something a bit more familiar.
Do your foodie research before you go, or just open your heart, and I'm sure you'll fare better than me.
Getting from Seoul to Jeju Island
How to go from Jeju to Seoul
The plane route from Seoul to Jeju Island is one of the busiest in the world, which blows my mind. There are many routes a day, with various airlines.
I chose to travel with Jeju Air on the way there. For some mad reason, which I was very angry at Past Vicky for, I'd booked a flight at 6:30am. Which meant I needed to get to the airport for 5am.
This was crazy and meant I didn't get any sleep the night before as I was so stressed about waking up. I also totally nearly missed it as they chose my bag for a random search.
I actually flew from Jeju to Osaka on the way back, with T'way Airlines. No complaints and it was all very easy. A simple way of getting from South Korea to Japan without having to go back through Seoul.
Getting around Jeju
As I said in point one, I'd totally recommend getting a car on Jeju. If I can do it, so can you.
If for whatever reason you can't do that, then the 600 Airport Limousine bus goes round the island every 20 minutes. You'll just need to tell him which station you'd like to get off at, and he'll charge you a set amount. I used this in and out of Jeju City, before I got my car, and it seemed like a great service.
Although one of them did just go past me once, and waved. I didn't like that. Had to wait for another one to come along.
Where to stay in Jeju
My top recommendation for choosing accommodation on Jeju Island would be to stay out of the cities. Seriously, don't bother with Jeju City, or Segwipo – bit gutted I spent a night in each.
I have no qualms with my hotels on Jeju, but I don't think I chose the best places to stay.
My Jeju accommodation
Decent hotel. Main selling point was that they let me check in at 9am after an early flight. Decent private room with a fridge, TV and bed, and private bathroom. Budget, great if you're just there to sleep or transit from a flight. It was really easy to get to from the airport too, and so easy to get back again to pick up the car the next day.
Book J2 Family Hotel on Booking.com
♥
I went for a room with a bath in the actually bedroom here. It was awesome – I could look over the fields as I bathed, and there was a TV too! I gave up on the Korean in the end and watched a bit of Netflix in the bath instead. It was wonderful.
The restaurant downstairs served some great Korean food, or there was a kitchen in the bedroom if you prefer. I thought the Olleyo Resort was a great bargain!
Olleyo Resort is located within a 15-minute drive from Seogwipo Bus Terminal and Jeju World Cup Stadium.
Check the latest prices on Booking.com
♥
Hotel Alegria was right by the foodie street in Seogwipo, and walking distance to the Harbour. It was in a great location if you want to be in the heart of Seogwipo. The room was lovely, with a nice bathroom and comfortable bed, and I had a balcony looking out to Mount Hallasan too.
Check the latest prices for Hotel Alegria on Booking.com.
♥
Loved it here. It was chucking it down with rain when I arrived so it was great to have everything I needed within a short walking distance. The Playce is like a fancy university halls, with bedrooms with bathrooms, a cafe, lots of activities (if you speak Korean) and a cafe and shop downstairs.
There's also a bar with a restaurant, where I enjoyed a huge portion of chicken and chips – the Korean speciality.
Check the latest prices for Playce Camp Jeju on Booking.com
♥
Your Jeju accommodation
If I was to go again, and had four nights, like this time, these are the places and hotels I'd choose:
Aewol
Jungnum
Playce
Woljeongri Beach
I'd definitely opt for the smaller places by the sea, rather than in the cities. I feel you'd have a better holiday in Jeju doing it like that.
READ MORE: The Best Places to Stay on Jeju Island
Best time to visit Jeju Island
The best time to visit Jeju Island is whenever you can. I loved going in winter as it was quiet and easy to get around. I totally get that it'd be amazing in the summer though, when you can enjoy the beaches a bit more. I'd love to go in the sea in Jeju in summer.
Jeju Island in South Korea is an amazing place to visit. I hope the guides on my site help you to experience the best of it.
Phone numbers for the best Jeju attractions
This is probably the most useful thing you'll read if you're travelling to Jeju. I've gone through and found all the phone numbers for you, of the things to do in Jeju I've recommended in this blog post. This means you can put them into your sat nav easily, to help you get around.
YOU are welcome.
– Mount Hallasan
– Cafe Aewol Monsat
– Bomnal Cafe
– Project 064
– Lucky
– Cafe Delmoondo
– Tangerine (more of that beauty later)
– Yeomiji Botanical Gardens
– Cheonjeyeon Waterfalls
– Aewol
– Yakchusan Temple
– Statue Museum
– Woljeongri Beach
– Tangerine Cafe
– The Cliff
– First Beach
– Iho Taewoo Beach
– Manjang Caves (Manjanggul)
– Jusangjeolli Cliffs
– Oedolgae Rock
– Dongnum 5-Day Market
---
Pin these things to do on Jeju Island for later?