Trying to work out where to stay on Jeju Island in South Korea? Here are the top areas and hotels for you to check out when you're planning your trip…
Jeju Island is a favourite destination for locals and international visitors thanks to its unique beaches and interesting volcanic landscape. It is located just off the south coast of mainland South Korea and can be reached via ferry and plane.
I travelled by plane and had a great few days driving round Jeju Island, exploring all the great things to do on the South Korean island.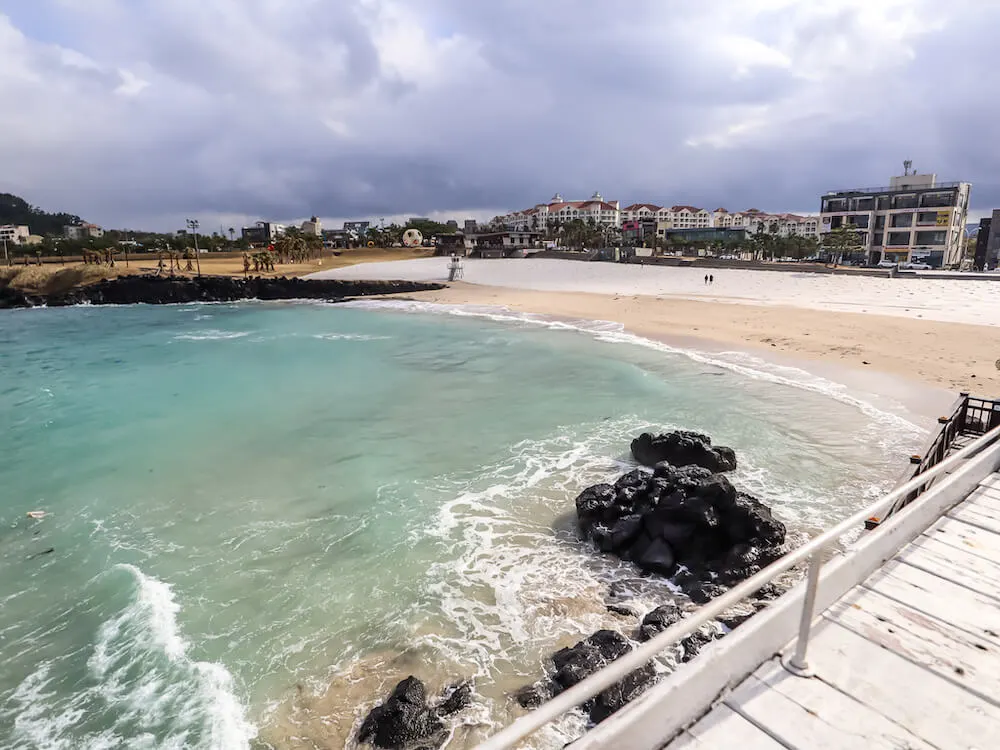 There are many must-see points on the island, which is one of the reasons you have to be a big strategical when it comes to choosing your accommodation on Jeju Island. It's also a relatively big area, especially if you want to see as much as possible – you need to be prepared!
Key areas for hotels on Jeju Island
Jeju City
Jungmun
Seogwipo City
Seongsan
Best Places to Stay on Jeju Island
If you're wondering where to stay on Jeju Island, take a look at these great hotels…
Jeju City
All visitors to the island will land at Jeju City, it is where the airport and the seaport located. Being in this area is a little different. Sometimes, it doesn't feel like you are on an island until you see some tourists walking around with their sunhats and beach bags or you can see the ocean from your window.
Jeju City has everything; from shopping malls, water parks, casinos, and international and local restaurants. It's also the most lively and vibrant area on the island. If you prefer the convenience and unlimited things to do, this might be the best place to stay on Jeju Island for you. But, if you want the glorious beaches, then you might want to skip to the next section of Jeju accommodation.
A sophisticated hotel located in the heart of Jeju City offers comfortable beds, a well-equipped gym, and a rooftop pool with the best view in the city. The rooms in Lotte City Hotel has modernistic infused with minimalism in mind.
This accommodation on Jeju Island ensures guests have everything they need, including a pool bar with views over the city from above. You can also see the mountains and volcanoes on the island.
Book Lotte City Hotel on Booking.com
---
This hotel is more than just a hotel – it's popular for having an amazing live performance theatre. Located a little outside the busy part of the city, Hotel Nanta Jeju is surrounded by green fields, trees, and loads of hiking trails to choose from.
Don't worry about feeling isolated, there is a convenience store in the hotel, a restaurant serving food all day, and a charming seasonal Blue Cafe as well. And for dog lovers, two dogs are living on the walking grounds (don't worry if you have allergies, you won't see them unless you look for them outside). Hotel Nanta surely is one of the best places to stay on Jeju Island.
Book Hotel Nanta Jeju on Booking.com
---
Grand Hyatt Jeju is the place to stay if you are looking for a hotel that literally has everything. It has a shopping mall within the building, a restaurant willing to serve all day, and wellness facilities. The airport is only 10-minutes away and a bus station that will take you to popular spots on the island is only a few minutes by foot.
There are two amazing pools, one is an outdoor one situated on top of the building while the indoor one is heated. A great place to chill out at night or if visiting during the winter months. There are many rooms here, which means during peak season, it should be the last place to get fully booked.
Book Grand Hyatt Jeju on Booking.com
---
Decent hotel. Main selling point was that they let me check in at 9am after an early flight. Decent private room with a fridge, TV and bed, and private bathroom. Budget, great if you're just there to sleep or transit from a flight. It was really easy to get to from the airport too, and so easy to get back again to pick up the car the next day. This is the perfect hotel if you just want to stay in Jeju City a night and be near the airport.
Book J2 Family Hotel on Booking.com
Jungmun
Jungmun is on the southwest of the island. If you plan to visit the Museum of Sex and Health, you should definitely stay in the Jungmun area, it's near the Museum and also a popular beach is closeby. The picturesque Jusangjeollidae, which is the rugged cliff formations are also accessible from this town.
You may go for a hike and see the Cheonjeyeon Waterfalls and visit Alive Museum as well. A very unique Teddy Bear Museum might also be interesting.
Only 750 m from the well-visited beach in the Jungmun, Grand Josun is a delightful estate featuring an onsite restaurant, three fantastic outdoor swimming pools (including a heated indoor pool), and a gym with plenty of machines.
It is surrounded by greenery and well-tucked away from the road which means total serenity. You can take a fun exploration at Yeomiji Botanical Garden. For family travellers, you'd be amazed at the cute and colour children's room with playful beds, there is also a fun play area for kids to enjoy.
Book Grand Josun on Booking.com
---
The Seaes Hotel & Resort offers a place to stay on Jeju Island where you will feel like you are in a tropical garden. The rooms are modern yet once you pull the shades from the window, you will be greeted with trees, plants, and beautiful flowers.
The beach is only a 10-minute walk but if you feel like staying within the resort, you can have a nice little picnic in the garden or visit the sauna that overlooks the garden. To make it even better, each room has a very own private pool, order some fruit and wine – it's a total romantic spot or a relaxing area to spend your day after a long hike.
Book The Seaes Hotel & Resort on Booking.com
---
This perfect lodging on Jeju Island will make you feel like you are on a ranch in the middle of the island. The Minitel Soul Hotel is standing in the middle of the greenery area with a massive overview of the spacious field and the sea. The rooms are fitted with comfortable furniture and the common area has a fireplace lit on at night and during colder months.
It's a family-owned hotel and the owners really go an extra mile to make you comfortable and meet requests you might have such as barbecue equipment.
Book The Minitel Soul on Booking.com
READ MORE: Best Places for Autumn in South Korea
---
Seogwipo City
This city is on the opposite side of Jeju City, the south part of the island. It feels like it's a smaller version of Jeju City, but many things make Seogwipo charming. Here, you will see the amazing Cheonjiyeon Waterfall, Jeongbang Waterfall, Sojeongbang Waterfall, and Soesokkak which is a popular spot for kayaking.
Cheonjiyeon Waterfalls is not far from the Parksunshine Jeju, one would say this is a cool place to stay on the island because of this. The interior design of the hotel is modern while the rooms are quite cosy. The beds are praised by its guests for being super comfortable, it is also matched with floor to ceiling glass windows.
There is a small park nearby and a little convenience store for basic items you will indeed. Aside from that, there is an in-house restaurant and a cafe to keep your stomach satisfied and your energy ready for an adventure.
Book the Parksunshine Jeju on Booking.com
---
If you don't know where to stay on Jeju Island where you can meet locals and other travellers – how about Gudeok Guesthouse? This family-owned accommodation is one of the most affordable and top-rated hotels in Seogwipo City.
A small business but has everything you need from a private room to laundry services. The common area, which is designed with tropical plants and colourful art on the walls, is a spot where you can meet other tourists to share a taxi or find someone to explore the island with.
Book the Gudeok Guesthouse on Booking.com
---
Seongsan
This area is on the east part of the island home to the sought-after Seongsan Sunrise Peak. From here, you can even visit the quiet area of Udo Island which can only be accessed through a ferry. On the island, you can explore Black Sand Beach and Seobinbaeksa Beach.
This is one of the best places to stay on Jeju Island to get away from the big crowd and have a little serenity and quietness while still having everything you need.
You can be away from the big number of tourists and still enjoy comfort in a commercial and modernistic hotel. Only half a mile (900 m) from Seongsan Sunrise Peak, you don't have to hurry to get out of the cosy bed to hike the trail.
You can enjoy the in-house restaurant but there are plenty of restaurants choices in the area as well. The rooms at the Co-op City Hotel are designed with cheerful accents, and some of them have a clear view of Seongsan Sunrise Peak.
Book the Co-op City Hotel on Booking.com
---
The rooms at this accommodation on Jeju Island are what a traditional South Korean room looks like. The common areas are also very traditional removing the futuristic touch of hotels to ensure you will have the perfect South Korean experience. Sungsan Woori House Pension.
Most rooms can host up to three people as well. But there are limited rooms and due to its popularity, it gets booked up quickly during peak season.
Book the Sungsan Woori House Pension on Booking.com
---
I went for a room with a bath in the actually bedroom here. It was awesome – I could look over the fields as I bathed, and there was a TV too! I gave up on the Korean in the end and watched a bit of Netflix in the bath instead. It was wonderful.
The restaurant downstairs served some great Korean food, or there was a kitchen in the bedroom if you prefer. I thought the Olleyo Resort was a great bargain!
Olleyo Resort is located within a 15-minute drive from Seogwipo Bus Terminal and Jeju World Cup Stadium.
Check the latest prices on Booking.com
---
Hotel Alegria was right by the foodie street in Seogwipo, and walking distance to the Harbour. It was in a great location if you want to be in the heart of Seogwipo.
The room was lovely, with a nice bathroom and comfortable bed, and I had a balcony looking out to Mount Hallasan too.
Check the latest prices for Hotel Alegria on Booking.com.
---
Loved it here. It was chucking it down with rain when I arrived so it was great to have everything I needed within a short walking distance. The Playce is like a fancy university halls, with bedrooms with bathrooms, a cafe, lots of activities (if you speak Korean) and a cafe and shop downstairs.
There's also a bar with a restaurant, where I enjoyed a huge portion of chicken and chips – the Korean speciality.
Check the latest prices for Playce Camp Jeju on Booking.com
---
Where to stay on Jeju Island
This island is a very popular destination in South Korea. However, there are enough places to stay on Jeju Island; affordable, family travellers, and of course visitors who want to splurge on luxury.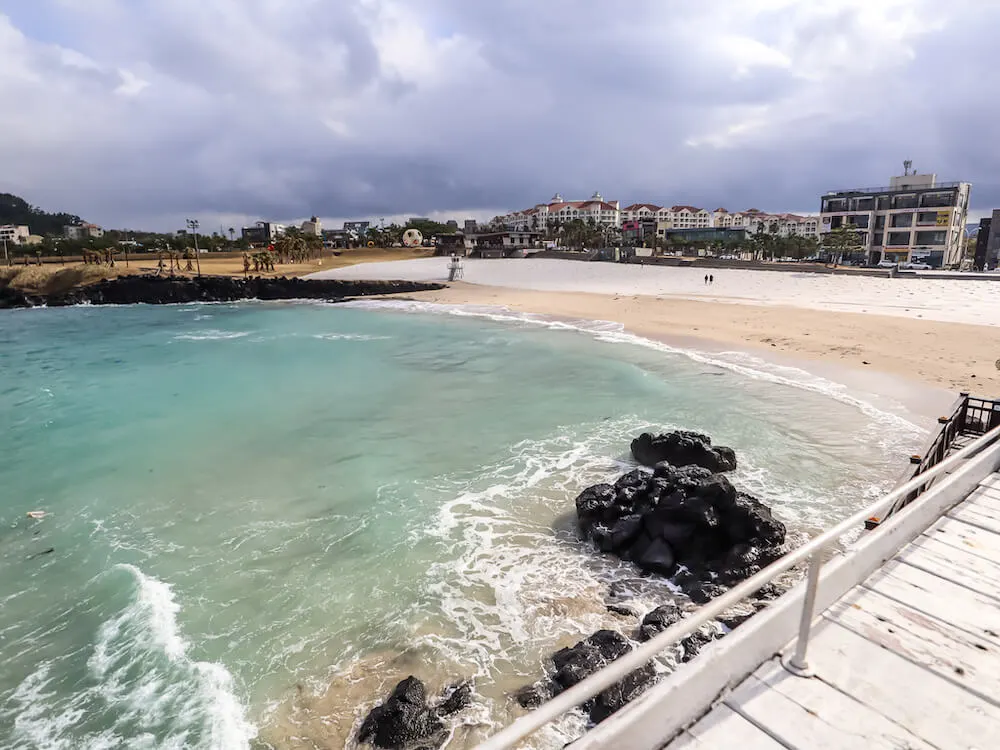 If you want to do lots of hiking, Jungmun and Seogwipo are great spots. For convenience, stay in Jeju City, but for those looking for a little tranquillity, Seongsan is the spot for you.
I personally think the best place to stay on Jeju Island is The Seaes Hotel & Resort, it's an ideal spot to relax. While Grand Hyatt is perfect for having everything I might need plus an indoor pool sounds very enticing.
---