There are some places where being able to speak the language, and communicate, would be really, really helpful. Places like rural Japan, and Papua New Guinea, and Malawi, where they're not quite set up for English tourists to know what's going on.
And I am NOT saying they need to change – I love going somewhere unfamiliar – it's us tourists going there who need to change instead.
We need to learn to speak their language.
– Rula helped me out with my Vasco Mini 2 Translator Review – hero
But, with that taking a good few hours / years – sadly I wasn't quite committed enough to my two weeks in Papua New Guinea to be able to talk sentences.
So, step up the Vasco Mini 2 translator.
I've been given one to review. To see how I think it can help us travellers as we explore the world. To help us communicate and travel just that little bit easier.
Unfortunately, with no plans abroad in my immediate future, I decided to take it to my friend's BBQ, to have a play with it. My friend Rula is from Jordan, and speaks Arabic as well as English so I thought it'd be the perfect opportunity to test the accuracy.
After an initial confusion – basically me refusing to accept I might need to read the instructions – I got the translator working. We could talk through it, Rula speaking in Arabic, and me answering in English, but through the translator. Obviously it was impossible for me to know the accuracy in the Arabic responses to Rula, but she said it was bang on.
We had a lovely chat.
My only criticism was that it didn't pick up on some local terms, which might be difficult when you're travelling. For example, we were in Crayford, and it couldn't process that word, when I was trying to ask where the train station was. More well-known places though – like London or Piccadilly Circus – were easily understood.
Top features of the Vasco Mini 2
– You can be fluent in 50 languages!
With its state of the art speech recognition, the Vasco Mini 2 is great for a two-way conversation. I would've loved to have had this in Japan, and with my extended family in Greece too. It even understands idioms too.
As you speak in in your language, it speaks out in the other language.
– It works (almost) anywhere
You don't even need WiFi to use it. It also comes with a built-in free and unlimited SIM card with a lifetime global data in over 150 countries.
– The design is intuitive
Touch screen, comfortable buttons, with a convenient size that fits right there in the average pocket. It's easy to set up and clear and confident too.
Vasco Electronics are used by police, civil services, public institutions and emergency responders – so you know you can trust them. And there's even a 30-Day Money Back Guarantee, so you know they must be good!
The Vasco Mini 2, in short…
voice translation in 50+ languages

free Internet for translations in 150 countries

96% translation accuracy

perfect pronunciation

SIM card included

pocket translator
---
Award-winning translator
The Vasco Mini 2 won GSMA's 2020 Global Mobile Award (GLOMO) for Best Connected Consumer Device.
Judges described the Vasco Mini 2 as 'a smart and specific product that understands its niche target market – Vasco has kept it simple and focused on making it work well, which are good working principles.'
---

– Gotta think about the facts in the Vasco Mini 2 Translator Review
When would you use the Vasco Mini 2 Translator?
Depending on the way you travel, I feel like you wouldn't necessarily need the Vasco Mini 2 Translator in the big cities. Unless you wanted to have a deep and meaningful chat with someone that is, then the Vasco Mini 2 would be fab.
If you're wondering when the perfect time to use a Vasco Mini 2 translator would be, then think rural. If you're travelling off the beaten track, or in countries not as often visited by tourists, or you need the ability to talk deeper than just polite small talk, then the translator would be great.
The Vasco Mini 2 is a great way to make friends, and travel deeper than just being able to say 'hello'. And if you're travelling long term, you know how important that is.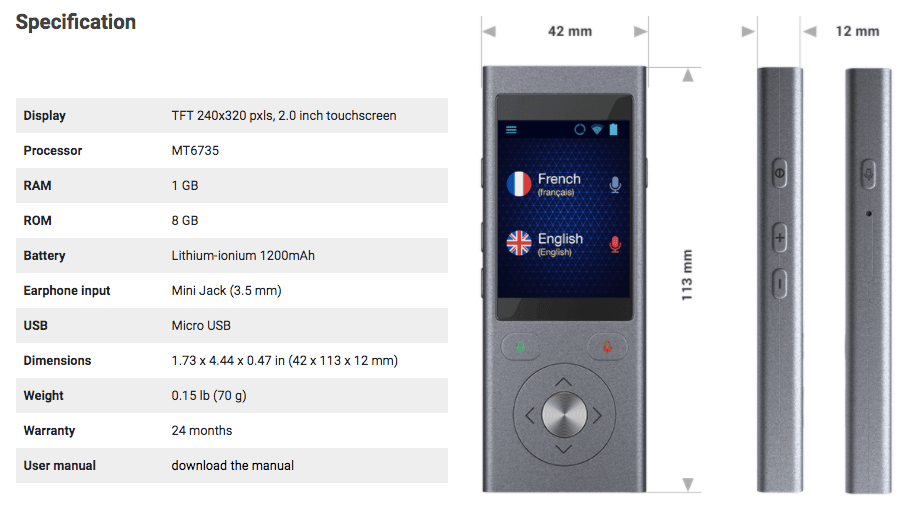 How much is the Vasco Mini 2?
You can buy the Vasco Mini 2 for £324 online, although right now there's a sale with £65 off. The new price is £259.
You can use the translator straight out of the box, and it'll translate like a native speaker.
What do you think? Fancy one? Let me know in the comments below…
---