'And now, five kilometres of downhill!'
Finally.
It'd been a slow crawl of a cycle up the 10% incline on the Hai Van Pass… for me anyway. Our group had made it to the top, to be greeted my cloud coverage, much to the chagrin of the couple attempting wedding photos up there. The view didn't matter. We'd got there, without having to call on the support vehicle.
We'd hit kilometre number 60 of the day and the idea of just sitting there while another 5 flew by was just what I needed to hear.
Cycling Vietnam with Intrepid Travel had been entirely my idea, and so I only had myself to blame as I pushed, tough rotation after heavy revolution, on those pedals all the way from Hanoi to Ho Chi Minh City over two weeks. Thoughts of relaxing at bars, on beaches, trains and planes would come and go in my mind as I drifted between pure happiness and satisfaction, and desperation.
But of course, it was that feeling at the top, the feeling of achievement shared with my group of 11 that made this trip leagues better than any sun lounger holiday.
The Hai Van Pass
The Hai Van Pass Day had been the big one in my mind. We were set to do 90km on the itinerary, with 15 of them uphill. Thankfully for me – 10 minutes and a lot of heavy breathing in – the level crossing gate had come down and us three stragglers at the back had to wait for the train to pass. It was a welcome chance to breathe and stretch for me. Breathe and stretch.
I struggled uphill. Drawing on all my training – which had consisted of 5 lots of 20 miles over Christmas week, on my dad's bike. I'm not a cyclist, but what I lack in skill and knowledge I make up for in stamina. Despite the train, I didn't actually end up too far behind the others. Even though, of course, I had to stop to take in the views, not those wheezing vacuum breaths.
And so, after the jubilation at the top, the descent to our ride to Hoi An began. And what was to be my absolute favourite part of my two-week cycle Vietnam trip.
****
I'd been to Vietnam before, three years ago and following much of this route. But I wanted to see it a different way. Back then it'd been my first trip to Asia, I was bright eyed, clueless and everything seemed to happen so fast – on the buses, planes and trains – that I wanted to slow down and take in Vietnam from the subtle speed of a bike.
****
Starting the Vietnam cycle
– Photo by teammate Gillian, at the front
Our group started in Hanoi, with an introductory bike tour around the city lake. I met the team – a motley crew of Canadians, British, Germans, a token American and a Kiwi – a group that I'm happy to say got on from dusk till dawn. There's just a certain type of person who'd be attracted to cycling every day for two weeks from north Vietnam to south.
I'd been worried about keeping up, worried they'd be super enthusiasts, competitive with every uphill. They were all great though, in their own way. We worked well together, never more than ten minutes within each other at our recurrent snack stops. And thankfully, there were a few others that meant I wasn't always at the back. My biggest worry.
****
---
Read more on travelling in Vietnam
Click here to read all my advice on travelling to Vietnam. I've got over 30 posts, so you'll be well prepared!
Most Unique Places to Stay in Vietnam
9 Beautiful and Best Beaches in Vietnam
Vietnam Advice to Know Before You Go
Your Vietnam Packing List
Travel to Vietnam: How to Plan the Perfect Trip
Perfect Week Itinerary for Vietnam
---
Exploring Mai Chau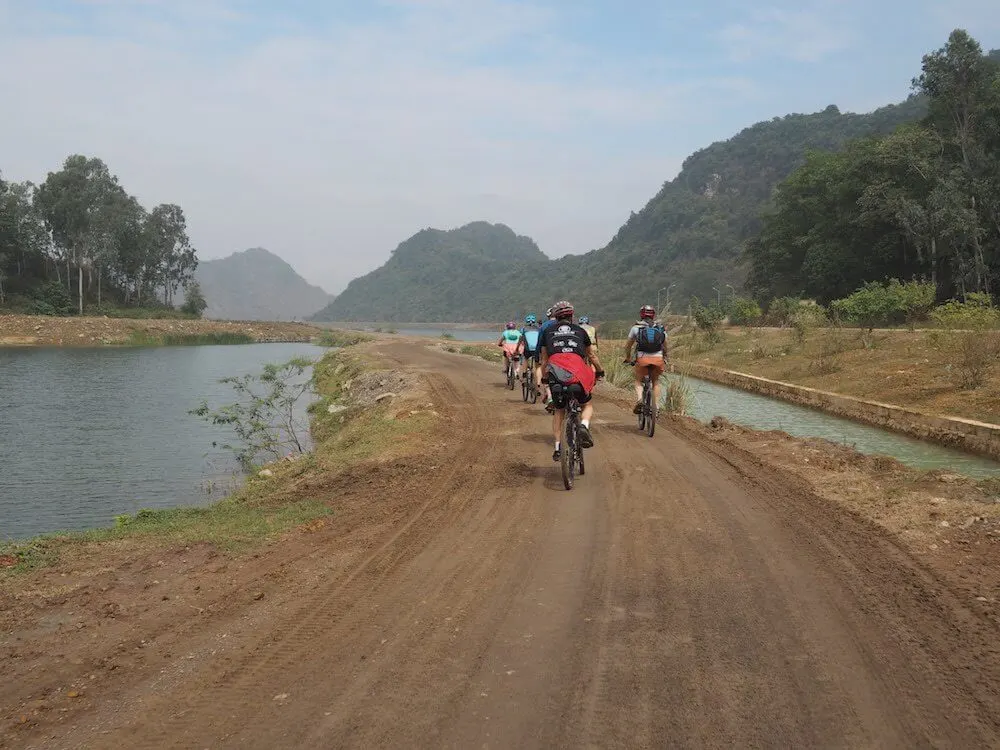 From meeting in Hanoi we cycled to Mai Chau. Travellers talk about wanting to see the 'real' in destinations, which is usually the 'traditional' and that's exactly what we got here. We stayed in a homestay, all 11 of us in one room, on mattresses on the floor surrounded by mosquito nets. At the window it was rice paddies as far as our eyes could see and dinner was served family style round a large table.
Our cycle that day had led us up paths to dead ends where all we could do was to turn around. There'd been storms in the north over the last week, and we were so rural now the effects hadn't been cleared. We loved it. It'd been a good few hours of adventure cycling on dusty roads, and now, finally at the homestay, it was the time to reflect with a Hanoi beer.
I was shattered. Asleep before 9pm I didn't even hear the others come to bed. I woke nine hours later to the cockerel alarm outside our window.
This is where I'm sleeping tonight ? @Intrepid_Travel #LiveIntrepid #vietnam pic.twitter.com/wBBFSiHPut

— VickyFlipFlop (@VickyFlipFlop) January 16, 2017
Sleeping was not a problem on this trip – staying awake past 9pm was the struggle. I barely noticed sharing a room every night as I passed out as soon as my head hit the pillow.
****
The Vietnamese countryside
The first two days, the most rural of the trip were spent high fiveing school children as we passed through villages. We were like celebrities as we cycled past, with the bravest of the children stepping out in front of us arms stretched screaming 'xin chao' or 'hello'! And squealing with excitement if we responded or managed to hit their fives.
Vietnam @Intrepid_Travel bike ride update: things got a little dirty out there today… #liveintrepid pic.twitter.com/oBU1tUTkgh

— VickyFlipFlop (@VickyFlipFlop) January 17, 2017
We rolled on through past hair salons set up in front rooms, with faded pictures of British and American celebs bearing no resemblance to the hair and faces we saw here. We passed market stalls – the most memorable was the pig's face exactly as it was when it was attached, with tongue lolling to the side, mine for just a few Dong. Even in the most remote areas of the North Vietnam outback there'd be at least one stall selling every part of a pig possible, the stallholder swatting flies waiting for their next customer.
The cycle was a fast pace, for me. The photos I didn't get were unfortunately better than the ones I did, but once you're rolling you can't stop. Instead of snapping, I enjoyed the moments.
The stationary school bus packed with children leaning out the windows screaming for us.
The teenagers on scooters laughing in our direction and holding their open hands up for high fives.
Our group scooting out the way for buffalos as they passed on the road, and the herd of cows that took up the whole space, with no effort to move.
The huge trucks passing us, with the drivers looking inquisitively out the windows and honking their horns.
Chickens crossing the road, literally.
Women in the traditional conical hats working the land.
The ramshackle houses complete with cockerels strutting about outside.
Lush lands and limestone mountains – one minute covered in misty clouds and the next as if the fogs had never been there.
***
Overnight trains in Vietnam

We took an overnight train from Nimh Binh to Hue, purchasing some of the local Hanoi vodka before we did to ensure we went to sleep. Turns out there was no need, we were out about 20 minutes into the journey lulled by the gentle chugging.
Us four girls sleeping in the first class four-bed bunks, somehow managing to get all our stuff in, the bike helmets, boots and all. I awoke early, and lay in my bed looking out the window at the lush greenery, shantytowns and dirt roads pass by.
We arrived in the citadel of Hue to explore the walls and palaces of the Forbidden City. We went on to explore the French streets of Hoi An – the most picturesque town of Vietnam and a UNESCO World Heritage Site. It's been restored to look like it did over a century ago and is the spot to buy suits, shoes and dresses tailor made for less than you'd pay in the shops in England.
One day we did 90km in four hours, while in Hoi An we had a day off to explore.
In Nha Trang we swapped our bikes for a boat trip and I never thought I'd say this, but I missed the cycle. I loved the trip more as the days went on and genuinely missed feeling the wind in my hair and seeing the country at the perfect pace. As soon as the weather changed for the sunnier when we disembarked the overnight train in Hue, my interest and enthusiasm had skyrocketed.
Nha Trang, Dalat, Ke Ga, and finally Saigon
Over week two we visited the huge pagoda in Nha Trang and went on a tour round a traditional fishing village. In Dalat we visited the famous Crazy House and cycled round the lake. In Ke Ga we stretched our muscles in the seafront pool with a cocktail or two and in Ho Chi Minh City we happened to be there for Tet, Vietnam's biggest festival.
We partied, we drank and we mourned the end of the trip but a job well done.
The last kilometres were emotional, but perfectly concluded with a huge bowl of steaming pho, enjoyed to the sound of some terrible karaoke blasting from next door. As we found to be totally typical across Vietnam.
***
Development in Vietnam
Vietnam is enjoying huge development right now. Russia and Japan are investing in bridges and tunnels and the landscape and scenery are changing to make way for the millions of tourists the government are aiming to attract over the next few years.
It was jarring – coming in from the rice terraces and time trapped countryside villages, and emerging into the bright lights of Nha Trang and Qui Nhon. We'd cycled through uneven roads surrounded by old push bikes, desperate looking motorcycles and even buffalos still used as machinery, but in these new cities it was hoverboards on the boulevards and modern cars on the recently laid asphalt.
It's selfish to wish a country to stay the same, to retain its 'charm'. Progress can't stop because us travellers want to shop at traditional markets and eat from a side street stool. The change in fortune is exciting for Vietnam – a country whose development has been held back by the financial casualty of the relatively recent war.
That's why the cycling tour was a great way to see the history, and learn about the future. We had a rarely seen insight into the Vietnam that was, not so long ago, and away from the cities is a present reality for some. I saw a farmer using an ox to farm an entire field in Mai Chau, and then a few days later in Nha Trang, Intercontinental building a huge hotel on with cranes along the beach. An interesting comparison within just a few days and kilometres of each other.
Cycling with Intrepid
It's difficult to get a sense of a country when you just drop into the big cities, have questions but no one to ask and try to navigate how best you can. Many tourists end up slaves to Trip Advisor and whatever Google has deemed the top search result.
Our tour was different. Our Intrepid tour leader, Chi, gave me more insight into the country and his life spent exclusively in Vietnam than I could hope to get from any research online. In total we probably spent around 20 hours on the bus over the two weeks and he entertained us with stories of marriage – laughing with a snort when I asked if men get down one knee here – home life, women's rights, religion, serenading us with pop songs and telling us all about the social politics of the villages and cities we'd pass. No question was too tough for him to answer.
He made sure we had all the food our hungry, sometimes hangry, worn out selves could take. He recommended evening places to us – taking us for the best BBQ in tourist-central Nha Trang – a place full of locals without a Western face in sight, but us. Having his support and knowledge throughout the trip added a whole other layer to experiencing Vietnam to the fullest in the time we had.
****
Best sight of the trip
The most welcome sight of all, during the whole trip, wasn't the pagodas we saw along the way, the huge looming limestone cliffs or even the aforementioned 5km of downhill, but the back of the parked bus. This indicated that it was a time for a break on the route. Our driver Li would pass a beaker of lemon water, the mechanic Ti would slice up some watermelon and there'd be containers of delicious nuts, sesame sticks and biscuits to go round. The support team just couldn't do enough for us.
My @Intrepid_Travel cycle Vietnam trip is over! Devo! Big thanks to Chi, Ti, and Ly for getting us through it. Xx pic.twitter.com/bkP7nbvavD

— VickyFlipFlop (@VickyFlipFlop) January 27, 2017

Usually, for me, 80% of the group would already be there, ahead of me, with smiles and words of encouragement of how awesome the last hour or so had been. We'd compare Strava results, pee in a bush, and then press on, with Chi's usual declaration that it was '20km till the next stop'.
Cycling Vietnam with Intrepid was an incredible experience, and I was genuinely gutted when it ended. There were times though, when I really had to dig into myself to get the strength to pedal again.
My elbows hurt from being too tense on the unpredictable roads, my knees ached from the constant rotation and, yes, my saddle area was tenderer by the day. The bus was always there for you though. I sat out for two lots of 20km, both because of the rain.
Of course I look back now and think I should've just done it, but at the time I just couldn't face the cold and wet in the north.
Should you do it?
I've experienced Vietnam as an independent traveller taking public transport, in a couple, and now I've seen it from a saddle in a group.
If you want a physical challenge in a fascinating country, with the comfort of knowing you have a trustworthy team should anything go wrong, this trip is perfect. The Intrepid team, the kind of people a cycle Vietnam trip attracts and the itinerary give a fascinating insight into the country few would be able to experience themselves in two weeks.
The sights, experiences, rewarding work and people I've met on this trip will be with me for a long time to come.
**
If you like what you read, you can learn more about cycling Vietnam on the Intrepid website.
Check it out!
---
---
SAVE TIME & MONEY
Check the prices for your Vietnam trains, buses, flights and ferries here…
---
More on Vietnam